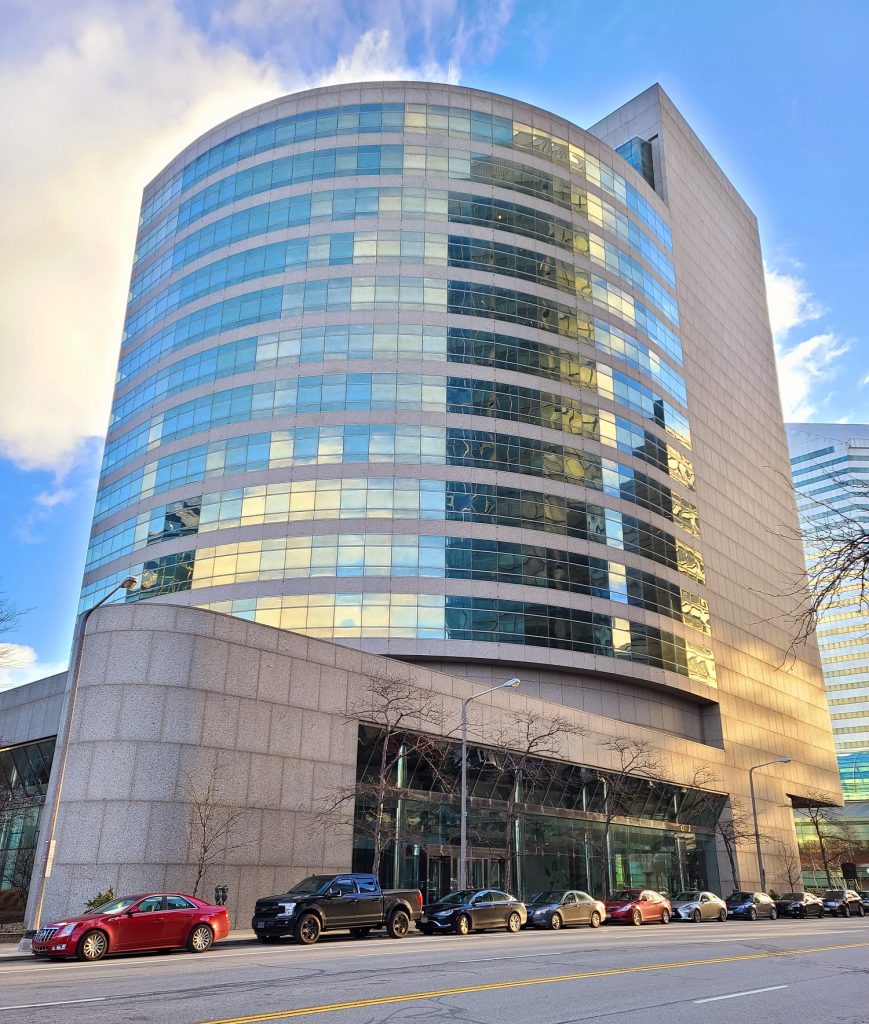 The curving floorplates of 45 Erieview offer sweeping views of Lake Erie for residents, but interior parts of the building cannot be used for apartments because the city's building code requires residential uses to have windows. So the interior spaces will be for work spaces and a wide range of amenities for tenants (KJP).
CLICK IMAGES TO ENLARGE THEM
When you pore over Bluelofts Inc.'s proposed floor plans for the planned remake of 45 Erieview Plaza, several thoughts come to mind. The first one is that this appears to be the first development in Cleveland to take into account new remote-working lifestyles sought in a post-pandemic world.
That becomes apparent when you realize that the proposed development would have a stunning offering of amenities that could turn this building into a city-within-a-city. Such as….
Indoor putting green plus two golf simulators? Check. Movie theater and a community gaming room? Check. Rock-climbing wall, half-court basketball and pickleball court? Check. Co-working lounge and coffee/cocktail lounge? Check. Steam and massage rooms? Check. Barbershop and salon? Peloton video room? Pet spa and grooming room? You get the idea.
It's almost like being on the Axiom in the movie Wall-E – minus the tubby people in the floaty chairs and the acceleration to hyperspace.
But is this building, located at East 9th Street and Lakeside Avenue, cartoonish science fiction, too? That's a lot of costly amenities to put in a building in downtown Cleveland where rising rents are still below those of larger coastal cities.
Bluelofts, combined with investor Kenny Wolfe, each hailing from Dallas, acquired the building and nearby 348-space parking garage for $21 million, according to sources who spoke off the record. There are also 32 parking spaces under the building, located at the southeast corner of Lakeside Avenue and East 9th Street.
Selling the property was New York-based private equity firm Somera Road, county records show. The buyers intend to start $50 million worth of renovations and improvements by November, with optimistic completion date of late-2022 or early 2023, the sources said.
But what makes this project more intriguing is that it is more responsive to a post-pandemic world than possibly any other existing building or pending development in downtown Cleveland. And Bluelofts has experience with live-work conversion projects, mostly in southern cities.
Their plan for 45 Erieview mixes apartments and work spaces for residential tenants in the conversion of a relatively modern, 16-story office tower. This building, constructed in 1983 as the headquarters for the Ohio Bell Telephone Co., may well be the perfect place to accommodate post-pandemic remote-work lifestyles.
The reason is the 492,864-square-foot building has sprawling office floors that measure about 37,000 square feet. Most office floorplates are under 30,000 square-feet; residential towers are even less. The floor sizes perplexed other potential buyers who passed on signing purchase agreements because they couldn't imagine how to use the big floors.
But the curving, outer walls of the building's glassy north face are an attraction as they offer terrific views of Lake Erie. So that's where 200 market-rate apartments will be located. In the interior of the building is where the largely window-less work spaces for residents will be. The city's building code requires residential uses to have windows; it doesn't require them for work spaces.
The presence of so many amenities also will be useful to residents who would live in what is still predominantly an office district. There aren't as many residential amenities here as there are further south along East 9th near Euclid Avenue.
However, James Kassouf, owner of the nearby Erieview Tower and Galleria, is proposing to add residential to the 40-story tower and supportive amenities to the Galleria. But those proposals were made several years ago when Kassouf bought the property. Little visible activity has happened since.
END