Will Cleveland dominate the list of Transformational Mixed Use Development applicants and winners statewide, resulting in a forest of construction cranes across the city in the next year or so? Or will Cleveland projects get left out of this first round of tax credit awards, only to watch other Ohio cities dominate? What Cleveland projects will be submitted and how likely are their victories? What is their competition? (Brivar) CLICK IMAGES TO ENLARGE THEM
Cleveland and Columbus are shaping up to field most of Ohio's Transformational Mixed Use Development (TMUD) projects. Cleveland is where the TMUD was originally brainstormed and where its authorizing legislation was drafted. And it's apparently where a large number of the potential TMUD projects lie in wait.
For those who don't regularly follow this blog, a TMUD is a mega-project. It's a real estate development that's big, complicated, expensive and difficult to do with just private dollars and conventional public subsidies.
Enter the TMUD program. It was created by Cleveland-based Stark Enterprises which saw historic tax credits be used since the 1990s to convert most of downtown Cleveland's obsolete office/commercial buildings into housing, hotels, a few modernized offices, plus some ground-floor retail/restaurants. With downtown's supply of aging, unconverted buildings dwindling, Stark recognized that new construction would be the next stage of reinvigorating the urban core of this city that once ranked fifth in the nation in population.
A new type of public incentive was needed to fill in the gap of private financing to overcome the high construction costs and low rents common in Ohio's largest cities. That incentive became the Ohio Department of Development's TMUD program, which is now accepting applications.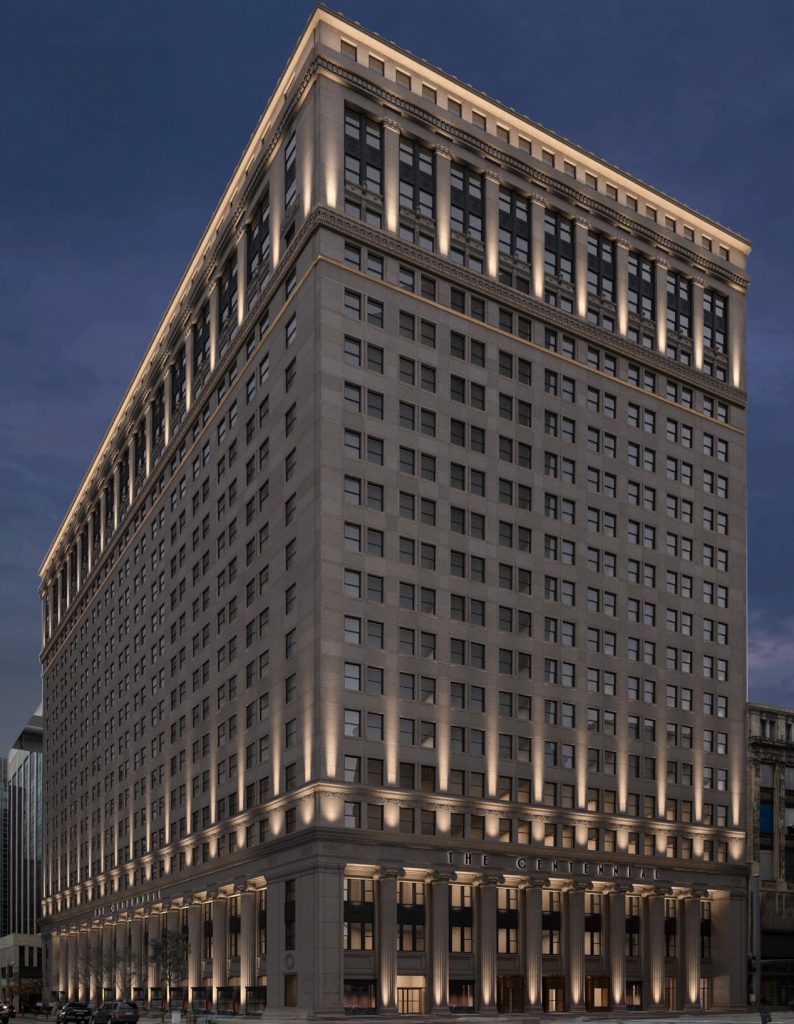 The Millennia Companies' Centennial development is seeking the maximum TMUD incentive available — a $40 million tax credit that will be used to complete the financing for redeveloping the largest vacant building in downtown Cleveland into a city-within-a-city for roughly 1,000 residents and hundreds of workers (Millennia).
Ironically, Stark's own proposed project that instigated the TMUD program may be out of the running for a TMUD credit. In the seven years since Stark first proposed nuCLEus as a $540 million development distinguished by a 54-story tower, its largest promised tenant, Benesch, has reportedly grown tired of waiting. In those seven years, the project's scale shrank and Stark proposed different public financing schemes that ultimately led to creating the TMUD.
Instead of being nuCLEus' anchor tenant, the growing law firm will expand from 200 Public Square into Key Tower, owned by its client The Millennia Companies. That's according to multiple sources who spoke off the record. The move may well leave nuCLEus, the project that created the TMUD, back at the drawing board. And it may be enough of a revision that Stark's new idea for developing 3 acres of parking lots it owns in the Gateway District won't be ready for an application this year.
For a development to be considered a TMUD it must include a mix of land uses, have a development cost of more than $50 million and be 15 or more stories in height or at least 350,000 square feet among all proposed phases. The bill authorizes a nonrefundable insurance company investor or property owner tax credit of up to 10 percent of total eligible project costs for contributions of capital to eligible projects. Up to $80 million in tax credits will be available per year for Major City Projects — those in Akron, Cincinnati, Cleveland, Columbus, Dayton, Toledo — with $20 million for General Projects elsewhere.
The Ohio Department of Development has established scoring criteria to select which projects should receive up to $40 million in tax credits per project. It will favor projects that have demonstrated progress, are nearly ready to start construction and will create the most new jobs and tax collections for their communities. Projects that have almost all of their financing and city approvals, provide community services and social equity such as bringing a grocery store to a food desert and is near a stop on regularly scheduled public transit will score highest.
NEOtrans surveyed real estate development observers in all six major cities to learn about what eligible projects may be submitted this year. None were identified in Akron, Dayton or Toledo.
In Cincinnati, one project appears as though it could be submitted:
The Node, MLK Drive at Reading Road — MLK Investors, a partnership between Neyer Properties and Kulkarni Properties, is pursuing a $500 million mixed-use development with city approvals that includes offices, research facilities, hotel, retail, apartments and parking. Among all phases and structures, including parking, the development would more than double the minimum required 350,000 square feet. Neyer has been a vocal proponent of the TMUD program.
In Columbus, there are several likely candidates for TMUD applications:
North Market Tower, Vine at North Wall streets — Rockbridge Capital, together with Edwards Cos., has stated it plans to request a TMUD credit to help it build a 31-story residential building on the parking lot of the North Market in Short North. The tower will feature 170 residential units, hotel, offices, expansion of the North Market, retail/restaurants and a parking deck. Plans are pending with the city.
The Mondrian, 567-575 W. Broad St. — Located in East Franklinton, this proposed building was increased from 13 to 15 stories by Arch City Development Group and Oz Development Group, in part to be eligible for a TMUD credit. As proposed, it will have three stories of commercial space, three levels of parking, 206 residential units and a rooftop restaurant.
Eclipse, 100 N. High St. — Proposed by Edwards Cos. are 152 residential units above a 350-space parking garage and ground-floor commercial space, totaling 15 stories. The parking deck will also support redevelopment of the vacant Madison's and White-Haines buildings that Edwards also owns next door. The project is going through local design-review.
And, finally, in Cleveland, these projects are almost certainly going be TMUD applicants:
Centennial, 925 Euclid Ave. — In a candid interview with NEOtrans, Centennial's project manager said a maximum ($40 million) TMUD credit will be requested for an historic renovation of the 21-story, 1.3-million-square-foot, $500-plus-million former Union Trust Bank that won city approval. Planned are 868 workforce apartments, 62,022 square feet of offices, 21,978 square feet of retail, a 16,607-square-foot museum and several high-end restaurants in what was once America's largest bank lobby.
Bridgeworks, 2429 W. Superior Viaduct — Although Bridgeworks LLC, a joint venture of Grammar Properties and M. Panzica Development, hasn't publicly stated it will seek a TMUD credit, two sources close to the project were confident it would. Construction of a 16-story, $50-plus-million mixed-use project was increased from being an 11-story building, and an eight-story building previously. Proposed are 130 boutique hotel rooms, mid-building restaurant, plus 170 apartments over ground-floor retail, an 11,000-square-foot park and access to the Detroit-Superior "underbridge" subway deck.
Erieview Tower, 1301 E. 9th St. — Plans have been evolving since 2018 for a $90 million remake of this 1964-built, 40-story office building into 227 apartments, 300,000 square feet of offices, a 210-room luxury W hotel and a rooftop restaurant, according to recent news reports. Those same reports also said the owners, led by the Kassouf family, will seek a TMUD credit to complete their financing. The requested credit may be $10 million or less. The project has not entered the city's design-review process.
Another group of Cleveland-area projects are possible TMUD applicants. Note that an Ohio development that meets the "transformational" description over the entirety of all phases of the development over multiple years can be funded. But many projects are still emerging or being recast. The following Cleveland-area projects have demonstrated less progress. They are still early in their development and fundraising, or are being redesigned.
These Cleveland-area projects are:
nuCLEus, East 4th Street/Prospect Ave./Huron Road — With its largest promised tenant tired of waiting for nuCLEus and expanding to Key Tower instead, the project that led to TMUD's creation is back on the drawing board, sources say. At some point — either this year or next — Stark Enterprises is going to submit an application for a development on the 3 acres of parking lots it owns. But it won't be for what Stark Enterprises received city approval in 2019 — constructing a pair of 24-story towers, one office and one residential, above a pedestal of parking and retail spaces.
Browns Lakefront Transformation, Erieside Ave. — The name of the effort says it all — "transformation." Yet the only portion where construction could occur in short order is an 18-acre swath located north of FirstEnergy Stadium where a temporary parking lot was just built on the lakefront. Other than publicizing conceptual renderings, the project has made little visible progress so far. The Haslam Sports Group and the city of Cleveland are planning major infrastructural changes to accommodate the rest of the decade-long transformation.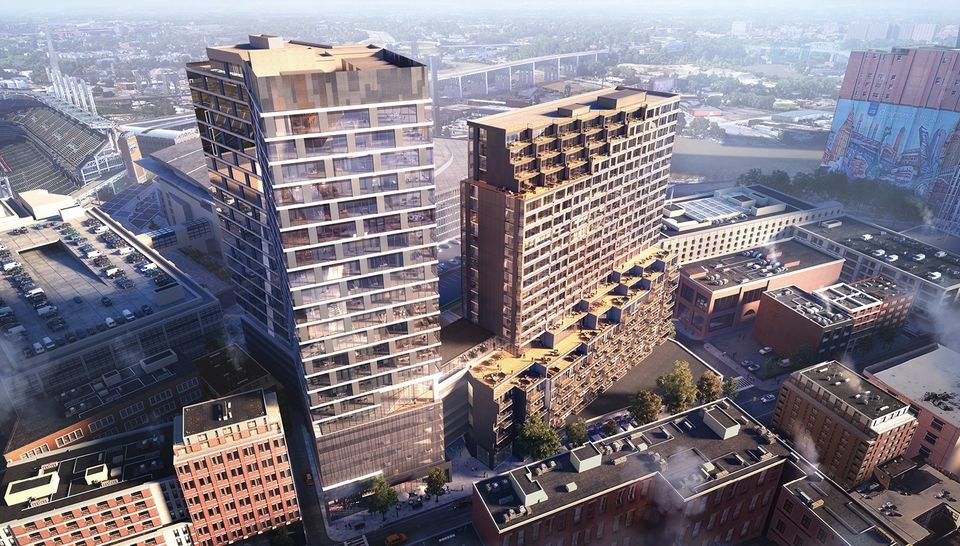 This was the version of nuCLEus whose design was approved by the city of Cleveland in 2019 after the concept was reduced from a 54-story residential tower having a hotel in a bridge building extend over to an office building. The design was reduced further to a single 400,000 square foot office building to accommodate a promised anchor tenant, Benesch. But that wasn't enough to keep the law firm on board with the project (Stark).
Circle Square future phases, Euclid Ave./Stokes Blvd./Chester Ave. — A proposed office building will perhaps be the most difficult structure to finance in the $300-plus-million, multi-tower Circle Square development in booming University Circle. But there is no Trophy Class or Class A office product for lease between Midtown and Beachwood. Midwest Development Partners want to fill that void with a new 13- to 15-story office tower that keeps growing medical/technology firms in the circle. A Circle Square site plan was approved by the city but no schematic plans for the office tower were submitted.
Several other proposed projects that might be TMUD applicants were put on the back burner by their developers. Others have faded away because they failed to attract private-sector financing.
On the back burner is Dream Hotel, 3635 Euclid Ave., a $60 million, 19-story tower next to TempleLive at Cleveland Masonic. The plan was hurt by the pandemic and its assault on the hospitality sector. Another one set aside is the Magellan-Weston project, West 3rd Street at St. Clair Ave. It is a roughly 30-story residential-hotel tower and a smaller office building proposed by Chicago-based Magellan Development Group LLC atop a new pedestal of parking and retail. The huge project would rise on land owned by the Weston Group.
Last and probably least is The Viaduct, 2208 Superior Viaduct, a stunningly designed 27-story apartment tower. Although its backers continue to rattle their tin cup in search of financing, the project has raised very little equity according to sources close to the project. That lack of progress will probably harm any TMUD application they submit. But given the relative lack of competition this year, now might be the best time to pull a surprise.
Other transformational mixed-use projects that have enough of their financing to proceed without a TMUD credit are not listed above. Same with brand-new projects that are very early on in their progress. Those may include a phase two of Intro-Market Square, a redeveloped Westinghouse property, and the first phases of Bedrock's grand riverfront vision, possibly featuring a new office building for Rocket Mortgage and/or a companion residential building.
END