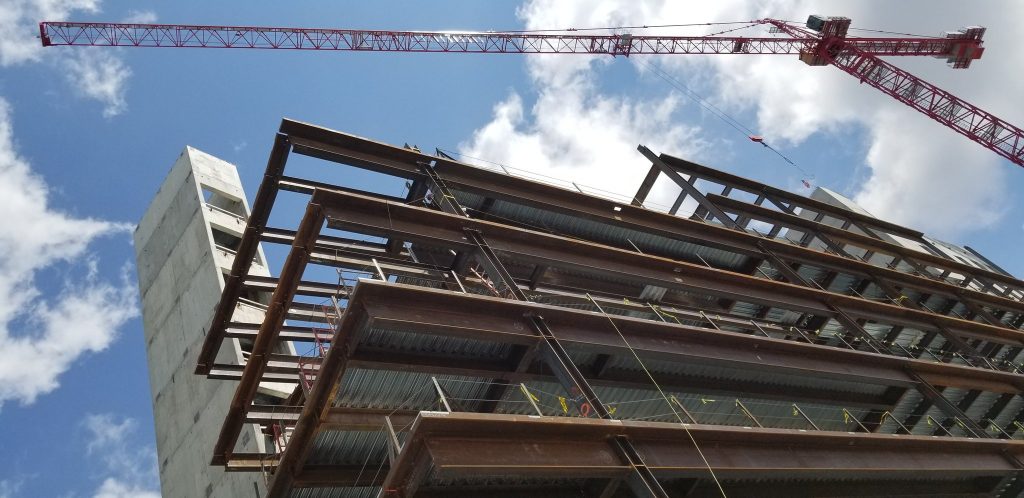 A "whale" in real estate terms is a new building of more than 500,000 square feet. The last one built in Cleveland was MetroHealth Health System's 700,000-square-foot, 11-story, $1 billion Glick Center, seen here under construction in April 2020. If they added four more floors and another 200,000+ square feet to it, it would equate size-wise with what the Cleveland Clinic Foundation now has in mind for its massive new Neurological Institute (KJP). CLICK IMAGES TO ENLARGE THEM
UPDATED OCT. 18, 2021
Cleveland Clinic Neurological Institute subject of major expansion
In a stunning surprise, the Cleveland Clinic Foundation is reportedly pursuing a major expansion of its previously announced proposal to build a new Neurological Institute. The new building was proposed to measure 400,000 square feet. Now, a source very close to the Clinic says the building will exceed 900,000 square feet and bring more than 1,000 new jobs to the global health care system's main campus near University Circle.
And that's just one of several real estate plays involving the Clinic that will add thousands of more jobs to Cleveland's booming health-care employment scene.
The source, who did not wish to speak publicly until more details were finalized, said the expansion was due to the Cleveland Clinic's desire to add more inpatient rooms and to consolidate neurological staff which are scattered at multiple locations in Greater Cleveland. Plans for the prior, smaller building were to offer treatments on a strictly outpatient basis.
With the provision of inpatient rooms, it means the Clinic will need to hire hundreds of nursing and support staff to provide the inpatient care. Currently, the Clinic employs more than 300 medical, surgical and research specialists in its Neurological Institute. Within the institute are 16 centers of care each with multiple departments treating different challenges such as behavioral health, cerebrovascular, brain tumor, multiple sclerosis, epilepsy, sleep disorders and more.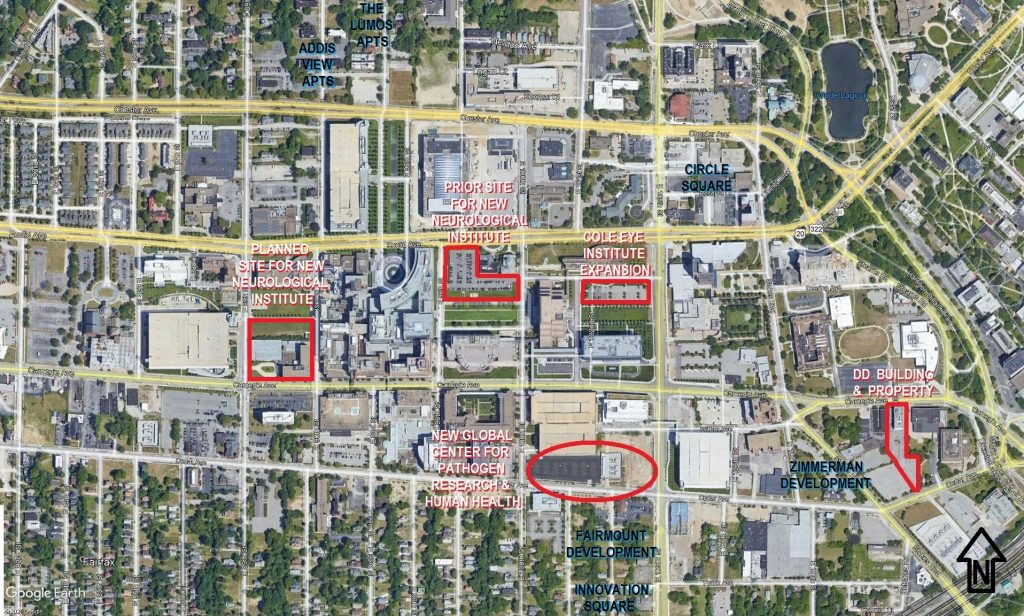 The growing Cleveland Clinic Foundation has a lot of real estate plays on its to-do list for 2022. They include the massively upscaled Neurological Institute, the expansion of the Cole Eye Institute, and the Global Center for Pathogen Research & Human Health whose exact location still is not yet known. Add to that the pending sale of the Clinic's DD Building to a private developer and you've got a busy year already planned (Google/KJP).
Until early this year, the Cleveland Clinic was planning to build the new Neurological Institute in the 9800 block of Euclid Ave., on a surface parking lot next to and behind the East Mount Zion Baptist Church. Now, the location for the new institute will be north of Carnegie Avenue, between East 89th and 90th streets where the Surgery Center (called the P Building) stands. By the end of this year, its employees will be relocated so the 1968-built, eight-story, 160,000-square-foot building can be demolished, the source said.
In its place will be a single structure that may not exceed 15 stories, the source added. That means broad floorplates of 60,000 square feet or more. The site is large enough, offering roughly 3 acres or 130,000 square feet of space. At this time, only massings of the new institute have been designed to determine program needs but could not be shared publicly.
Designing the new Neurological Institute will be two internationally renowned firms — London-based Hopkins Architects and Edmonton-based Stantec Inc., the source said. Many of Hopkins' buildings feature natural lighting within their spacious, open interiors. Stantec has experience with planning that promotes equity, sustainability and placemaking. Both firms design for neurodiveristy by providing subtle clues in lighting, sound, pattern and texture to create sense of place, to relax patients such as those with autism, and identify different uses among different areas of the building.
Among Hopkins Architects' credits is Evelina London Children's Hospital, constructed in 2006. It was Hopkins first health care project. With it, the firm departed from the typical layout of long corridors and bland wards, and planned a simple section of two long blocks flanking a central concourse, which rises the full height of the building (Hopkins).
The Cleveland Clinic's executive leadership reportedly wants the new Neurological Institute to be connected to existing hospital facilities and parking decks, as it appears at this time that no new parking facilities may be provided for the new institute. The Clinic's two largest parking garages are between East 86th and 89th streets and at East 105th Street and Cedar Avenue.
At just over 900,000 square feet, the Neurological Center will be only slightly smaller than the Clinic's largest building constructed to date. The largest is the 10-story Sydell & Arnold Miller Family Pavilion, 9500 Euclid Ave., at just under 1 million square feet. It was built at the same time as the 12-story, 330,000-square-foot Glickman Tower, 2050 E. 96th St. The Clinic's tallest building is the 16-story, 444,000-square-foot W.O. Walker Center, 10524 Euclid, built in 1984 by the Industrial Commission of Ohio treat work-related injuries.
The source said two other locations were considered for the expanded Neurological Center. At either site, the new building was to be connected to one of the aforementioned parking decks. One development site was just west of the old Cleveland Playhouse, 8500 Euclid, which the Clinic acquired in 2009. The other was in the vicinity of East 105th and Carnegie.
The East 105th Carnegie/Cedar area is also where Clinic officials say they plan to start construction in 2022 of a new 400,000-square-foot Global Center for Pathogen Research & Human Health as part of the Cleveland Innovation District. The new pathogens center represents a $500 million investment that will create 1,000 new, permanent jobs. And just north of it along East 105th, between Carnegie and Euclid, is where the Clinic plans to build its 100,000-square-foot expansion of the Cole Eye Institute, also in 2022. It will add hundreds more jobs.
"Whiting-Turner Contracting will provide construction management services on our Cole Eye Institute building and Turner Construction will provide construction management services on our Neurological Institute building," said Angela Smith, Cleveland Clinic's senior director of corporate communications, in an e-mail. "The design and pre-construction process are still underway. Additional information will be shared once more details are available."
She noted that planning is also still in the early stages for Cleveland Clinic's Global Center for Pathogen Research & Human Health. Since it is part of the Cleveland Innovation District and will include additional research space to be located along Cedar for the growth of research operations and training and innovations. Groundbreaking is anticipated in Spring 2022, she said. She was not willing to discuss other real estate matters.
One of those other real estate matters involves a signed letter of intent between the Cleveland Clinic and Cumberland Development LLC to sell the Clinic's six-story DD Building, 10900 Carnegie, the source said. The Clinic uses this building for back-office functions. The source explained that Cumberland will acquire and renovate the 65-year-old, 49,205-square-foot building, then lease it out to start-up technology businesses.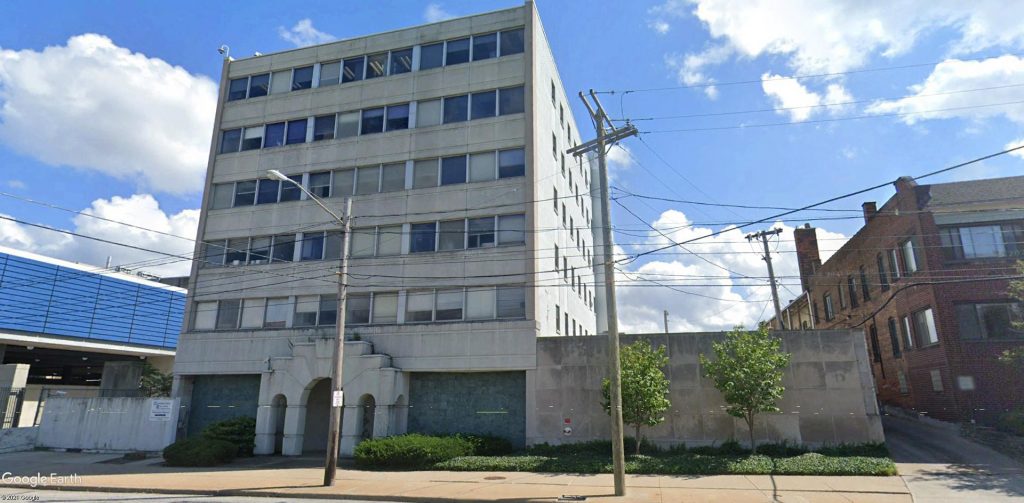 Facing Carnegie Avenue but accessed by car from Cedar Avenue is the Cleveland Clinic's DD Building. The 65-year-old building has served back-office functions for decades but could soon serve a new purpose. Cumberland Development reportedly is near to acquiring the property as a place for tech start-ups to plant their flags (Google).
Cumberland owns another building nearby that's home to tech start-ups — the Baker Electric Building, 7100 Euclid. Cumberland CEO Richard Pace said Baker Electric is fully leased but refused to comment on whether he would buy the Clinic's DD Building. A decade ago, Cumberland renovated and expanded the former Republic Steel Research Center in Independence for the Cleveland Clinic's Business Operations Center.
Multiple mixed-use developments are planned or underway nearby including the 24-story Artisan Apartments and 11-story Library Lofts apartments and Cleveland Public Library MLK Branch. Both of those are the first phases of the massive Circle Square development on both side of Stokes Boulevard between Euclid and Chester.
Farther north is the first phase of the Addis View Apartments and the Lumos Apartments. To the south, along the west side of East 105th between Cedar and Quincy, are Fairmount Development's mixed-use development with Meijer grocery store and the Innovation Square Apartments. To the east is Zimmerman Development's planned mixed-use project along the west side of Stokes.
END