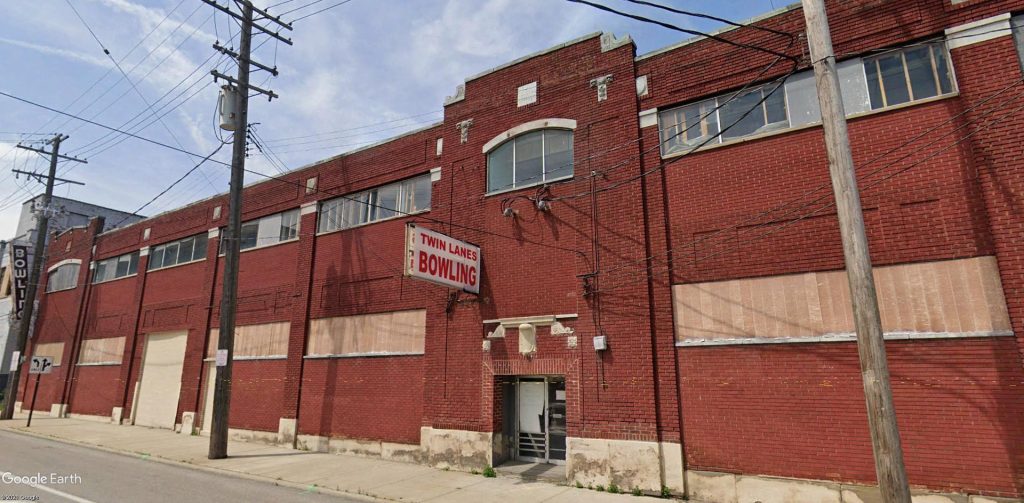 In a neighborhood filled with old industrial buildings and warehouses, a cutting-edge entertainment complex called Euphoria Restaurant & Oxygen Lounge is gradually opening up with new uses and one old one — a bowling alley. The alley is open now and the restaurant is under construction. The oxygen lounge will follow later (Google). CLICK IMAGES TO ENLARGE THEM
A large, historic, two-level bowling alley that was once an industrial building has found new life with a new owner. Or at least a portion of it has found a new purpose and will provide something that Cleveland doesn't apparently yet have.
Partners Christopher Brooks and Thomas Norris Jr. acquired the former Twin Lanes Bowling, 1820 E. 30th, in August under the name Euphoria Restaurant & Oxygen Lounge, LLC with a slightly different address — 1812 E. 30th. And with that new name, you know the old bowling alley is heading in a different direction. But not entirely.
The 46,000-square-foot, two-level bowling alley will retain the 16-lane alley downstairs. The 32-lane alley upstairs that hasn't been used since 2001 will soon gain a new use. That's where an oxygen lounge and stage for live performances will eventually join the mix of uses that will soon feature a ground-floor restaurant offering soul-infused foods and traditional American dishes, Brooks said in a phone interview.
"The bowling lanes need some updating and TLC," he said. "But otherwise the place is in good condition. We're trying to get everything done as soon as possible. But it's not going to be a club. It's a huge space so we can do multiple things with it."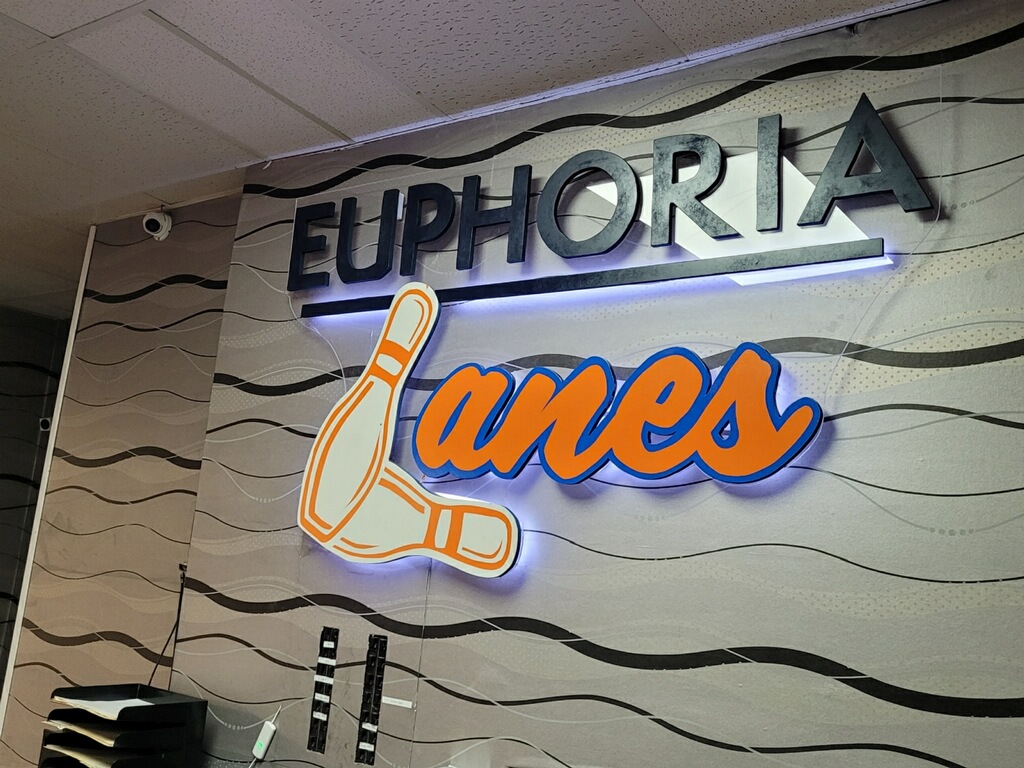 This isn't a sign of things to come. It's a sign of something already here — a 16-lane bowling alley that's open on the first floor on East 30th Street, just north of Chester Avenue. Euphoria Restaurant, in operation at 5000 Euclid Ave. and offering soul-infused foods, could join it as early as November (Chris Brooks).
The bowling alley is open now. And so is Euphoria Restaurant, albeit in a rented space for the past year in the Agora Building, 5000 Euclid Ave. Brooks' and Norris' goal is to hopefully get the new Euphoria Restaurant open by early November. Work is under way right now, as their Instagram account shows. The soul-infused menu will include items such as a soul roll, waffles, chicken, shrimp, pasta, plus some American-style bites like sandwiches, burgers, wings as well as vegan offerings.
"There will be something for everyone," Brooks said.
On the second floor will be live entertainment and a bar along with 10-15 hookups providing pure oxygen. Brooks said he got the idea when he visited Las Vegas and stepped into an oxygen bar for the first time. In it, customers pay to receive purified oxygen through a tube that goes into their nostrils. The oxygen is advertised as 95 percent pure, compared to 21 percent from everyday air you breathe.
"You get fresh, clean air that provides a natural high," Brooks described.
Proponents of recreational oxygen claim that hits of purified oxygen boost energy levels and relieve stress. But since a healthy person's normal blood oxygen is between 96 and 99 percent saturated with oxygen when breathing normal air, some experts question what benefits the extra oxygen could provide. Also, some oxygen bars add scents to the air flow which can be unhealthy for some sensitive people.
The partners don't yet have a timeline to add the oxygen lounge and live performance stage to the second floor. And they may also try to offer in 2022 a rooftop cabana bar with great views of downtown. But their first priority is to get the restaurant up and running and to improve the exterior of the building with new signs, including refurbishing the big bowling sign at the south end of the building, close to Chester Avenue.
Unfortunately, Euphoria isn't located right at the corner of Chester and East 30th where it could gain more visibility. A vacant building in poor condition sets between Euphoria and Chester. Brooks and Norris have been trying without luck to acquire that building from Vardeh, LLC which, in turn, is owned by Lotfi Raheem of Westlake, public records show. He could not be located for comment.
"We're also going to try get murals added to these buildings to spruce them up," Brooks said. "We've been in talks with MidTown Cleveland Inc. about getting them but we won't be able to get in on their mural program in this round. Our goal is to get it (the building in) as good (of a condition) as we can."
"MidTown is excited that another minority owner from the community will expand their business onto East 30th Street," said Richard Barga, vice president of economic development at MidTown Cleveland, Inc. "Supporting small businesses is integral to the vibrancy of the neighborhood and falls in line with the goals of our newly adopted Neighborhood Vision Plan."
Brooks said their Euphoria bowling alley is open to customers from ages eight to 80. They offer bumper bowling for kids and Tuesday night is league night. The alley has hosted the longest active black bowling league in Cleveland. It has been continuing more than 60 years.
Brooks was not prepared to publicly reveal how much the partnership is investing in improving the property, including its 87-year-old building. They acquired it for $350,000 from twin brothers Timothy and Thomas Menge — hence the property's prior name Twin Lanes Bowling.
The twins acquired it from their father Frank Menge who leased the building starting in 1967 and turned the former repair shop into his own bowling alley the next year back when bowling was the participatory sport and social glue of blue-collar Cleveland. Menge picked the spot because it was surrounded by industries and warehouses, most of which had their own bowling teams. The Menge family didn't acquire the property until 1993, county records show.
END