Detroit may offer preview of Bedrock's plan for Cleveland
NEOtrans is receiving word that the proposed Bedrock megaproject in downtown's Cleveland Gateway District may be comparable in scale to a major development in downtown Detroit. When asked how big Bedrock's planned development in downtown Cleveland might be, two sources close to the Detroit-based firm said "Look at the Hudson's Site." For those unfamiliar with Bedrock's development at the Hudson's Site in downtown Detroit, allow NEOtrans to acquaint you. To cut to the chase, it's larger than Sherwin-Williams' new global headquarters.
First of all, it's called the Hudson's Site because it's where J. L. Hudson's flagship store stood. It was a massive department store. At 2.1 million square feet, it was second only in size to Macy's in New York City among U.S. stores. Hudson's was the tallest retail building in the world at 29 stories, 520 feet tall and filled an entire city block along Woodward Avenue. It closed in 1983 and stood empty until it was imploded in 1998. A parking deck was built several years later on Hudson's foundations. Removing the garage and the Hudson's foundations for Bedrock's development was a painstaking task.
The scale of Bedrock's Hudson's Site tower has been a moving target. It was to be 800 feet tall and then 912 feet, making it Detroit's tallest skyscraper by eclipsing the 727-foot-tall Marriott at the Renaissance Center. But a pause during the pandemic shutdown, management changes at Bedrock, plus supply chain disruptions and labor shortages resulting from COVID-19 all conspired to change and slow the project.
Construction is now underway on the tower and is pushing its way on up to 685 feet, or 48 stories above the sidewalk. When completed in 2023, the tower will be Detroit's second-tallest. But the tower is just the half of it. A neighboring building that's 14 stories tall but very wide has nearly topped-out its steel skeleton. The entire project has a price tag of nearly $1 billion.
Now that we're oriented to the basics of the development, let's understand how and why this project could compare to what Bedrock may have in mind for Cleveland.
So we need to understand what the sources, who spoke off the record because they're not authorized to speak publicly about the project yet, mean when they say "Big, like the Hudson's Site." Does that mean square-footage or height? One source says square-footage. The other says height.
We already know the Hudson's site will be 685 feet tall. But it will also be at least 1.4 million square feet not including parking, according to the project's Web site. The design and programming has been adjusted numerous times and may be adjusted again even during construction. For comparison, the Sherwin-Williams' HQ will be 1 million square feet (not including a 920-space parking garage) and top out at 616 feet tall.
The square footage is why it's suggested that Bedrock's Gateway District megaproject in Cleveland will be larger than Sherwin-Williams' skyscraper HQ whose construction started in November. But it's quite possible that it could be true as measured by height as well. Let's do some number crunching starting with the Detroit Hudson's Site which will have these features (see following illustration):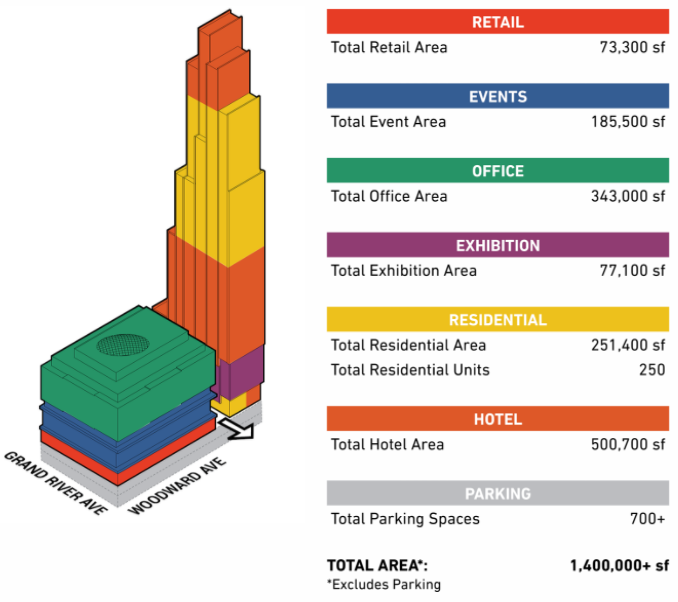 A spatial breakdown of uses of the Hudson's Site in downtown Detroit. These numbers are subject to change — and have changed several times even after construction started (Bedrock).
The Hudson's Site in Detroit is 2.2 acres. The Gateway District site that Bedrock will reportedly buy from a joint venture of Stark Enterprises and J-Dek Investments is 2.85 acres. Stark had planned to build its own megaproject called nuCLEus on that site. Stark is selling the property to Bedrock but not the nuCLEus plans, sources said. Stark has denied there is a pending sale despite public records saying otherwise. Bedrock declined to comment. CBRE reportedly has been hired to sign up retail and office tenants, but they're not talking either.
While it's still very early on, Bedrock appears to want to put two major office tenants together in the same building. One is roughly 300,000 square feet of the back-offices of its sister company Rocket Mortgage; its current lease at the Higbee Building ends Dec. 31, 2026. The other office user is the law firm Benesch, Friedlander, Coplan & Aronoff LLP that wanted 180,000 square feet in nuCLEus before the pandemic. It is not known how much this growing firm needs or wants today. It keeps extending its lease of 120,000 square feet at 200 Public Square. A Benesch spokeswoman declined to comment.
Sources also say a Shinola Hotel is planned for the Cleveland project along with a moderate number of apartments and possibly some condos, based on the Hudson's Site. Shinola Hotel is located next to the Hudson's Site. The proposal for nuCLEus offered 250 apartments and 80,000 square feet of retail with 48,000 square feet of that sought by a Cleveland Live! entertainment venue. Sources said Bedrock wants Cleveland Live! as part of its project.
The biggest difference will be parking. The Gateway megaproject will likely need to have a lot more of it to compensate for the full or partial demolition of the Gateway East Garage. That garage, located just across Huron Road, will be acquired by the Cleveland Guardians for a future ballpark village to be spearheaded by the baseball team's new minority owner Harris-Blitzer Sports & Entertainment (HBSE). It may be the Guardians' majority owner after 2026.
Here is a rough spatial breakdown of potential uses at Bedrock's Cleveland Gateway Megaproject:
Retail/restaurants — 80,000 GSF (based on nuCLEus)
Residential — 200 apartments + possibly some condos (350,000 GSF; based on nuCLEus)
Hotel — 100 rooms (120,000 GSF; based on sources)
Events/sports training facility — 100,000 GSF (based on Hudson's Site)
Office — 600,000 GSF (based on sources)
Parking — 1,500 spaces (500,000 GSF; based on sources)
For Bedrock to pursue a development in Cleveland, it would need an appropriate Ohio corporate entity. And there are some interesting things occurring on that front. Sources said Benesch is representing both Stark and Bedrock in the Gateway District property transfer. Benesch is also handling financing for Bedrock. Their spokeswoman declined to answer questions about these activities as well.
On Jan. 5, Bedrock Real Estate Group LLC was incorporated in Ohio, an Ohio Secretary of State filing showed. Filing the documents was Matthew T. Byrne, 63, of Columbus and a vice president at Lee & Associates. He is a native Clevelander according to Lee & Associates' Instagram account. His LinkedIn page says he worked at Bedrock Development Group since 1992, going back to the company's earliest years. He also works as an owner's representative on development projects which may explain his role in this new LLC. He didn't return a voicemail message seeking comment and clarification.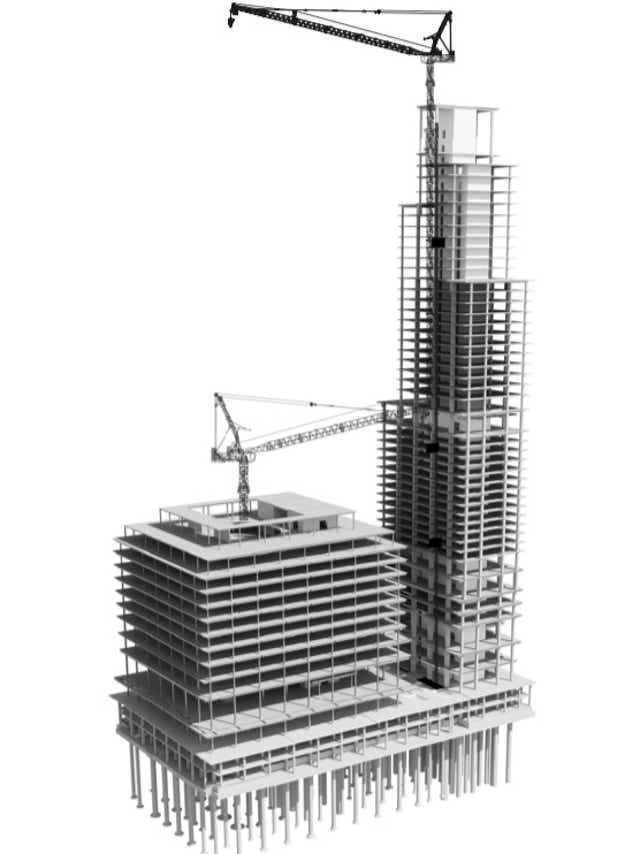 Skeleton of the Detroit Hudson's Site development. It shows the caissons and the two-story pedestal of parking and retail on which the complex would be built. Atop the pedestal will be a 14-story office building and events center, a 685-foot residential and hotel tower with an outdoor public space for restaurants and cafes between the two vertical structures (Bedrock/SHoP Architects).
Other interesting developments on the corporate/property side is that, on or about Dec. 3, 2021, a paper transfer of property in downtown Cleveland was made between two companies under the same umbrella of Rock Ventures, the holding company for all of billionaire Dan Gilbert's companies, including the Cleveland Cavaliers basketball team.
A narrow 8.5-acre strip of land between Huron and Canal roads — between Tower City Center and the Cuyahoga River — was transferred from Rock Ohio Caesars Cleveland LLC to Huron Holdings, LLC. The firm was incorporated in March 2020. Its tax bills go to Bedrock's offices in Detroit. It was incorporated by Honigman Miller Schwartz and Cohn LLP, one of the largest law firms in Detroit. Its statutory agent is the United Agent Group Inc. of Cincinnati.
United Agent Group is also the statutory agent for Huron Holdings Investor LLC, formed Nov. 29, 2021, along with several other firms with intriguing names. Those include Prospect Avenue Acquisition LLC and another firm using its acronym PAA Asset Holdings LLC. They were incorporated on Nov. 23, 2021 by United Agent Group. Those two firms were first incorporated by mistake as "PAA Asset Holdings And Prospect Avenue Acquisition LLC" on Nov. 19 but dissolved on Nov. 23 and refiled under their corrected, separated names. United Agent Group is the statutory agent for all of those companies.
Danielle Gossman, special secretary on behalf of United Agent Group and based in North Palm Beach, FL., signed the incorporation document for Prospect Avenue Acquisition. A message left with the firm's receptionist for Gossman, asking if this firm is affiliated with any other companies including Bedrock, was not returned prior to publication of this article.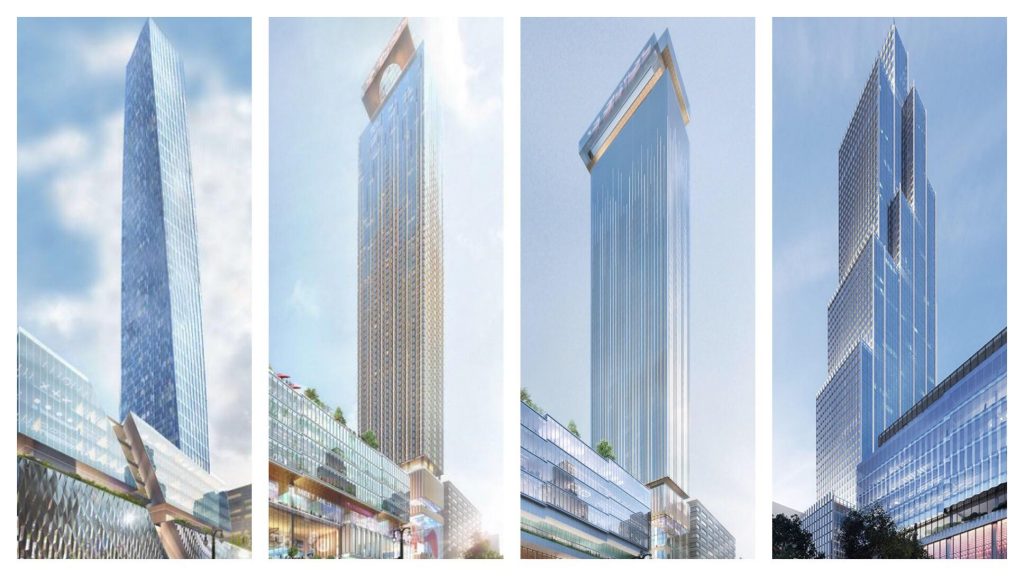 Bedrock's Detroit Hudson's Site has gone through multiple redesigns over the past five years, starting out with an 800-foot tower, then 912 feet tall, and finally an 685-foot tower with two variations. If built in Cleveland, a 685-foot-tall tower would become the city's third-tallest, trailing only Key Tower (947 feet) and Terminal Tower (708 feet) while eclipsing 200 Public Square (658 feet) and the Sherwin Williams HQ (616 feet) that's under construction (Reddit).
Sources said Bedrock was originally seeking to immediately develop the land between Tower City Center and the Cuyahoga River for a potential mixed-use development a year ago, including offices for Rocket Mortgage. Bedrock extended an agreement to retain architectural firm Vocon to conduct programming for that development.
Bedrock also hired design and engineering firm IBI Group of Toronto to provide construction and engineering services and to conduct geotechnical and environmental analyses of Bedrock's riverfront properties. IBI Group staff was to start collecting soil samples from Bedrock's riverfront properties below Tower City Center last winter but the work was postponed into spring and then indefinitely. The work never took place, sources said.
Prioritization of developing that area was pushed back to become the subject of a long-term planning and development effort to take place over decades by Bedrock, as part of the city's Vision For The Valley plan, while Bedrock pursues the Gateway megaproject now. Sources close to Bedrock said the company considers the Vision For The Valley to be a 20- to 30-year dream at this point. That's supported by language in the framework for a development agreement authorized by Cleveland City Council in November.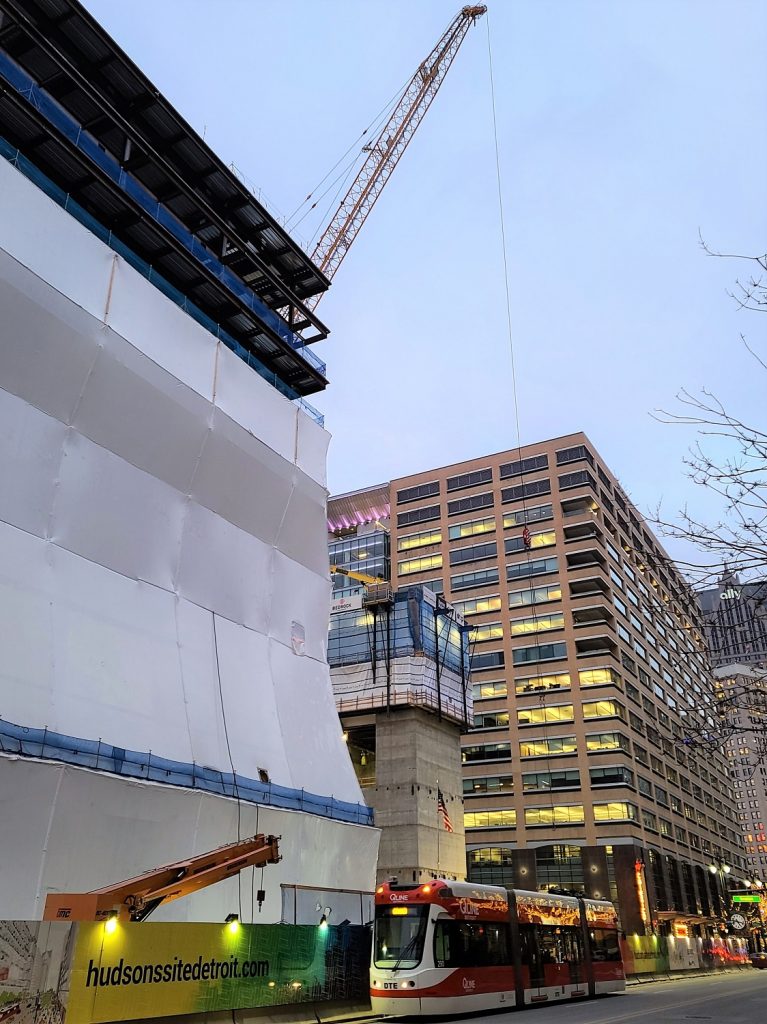 While much progress has been made in construction the skeleton of the Hudson's Site 14-story building, work is just getting underway on the vertical structure for the 48-story tower. In early January, only the start of the elevator core was visible above Woodward Avenue and a Q-Line streetcar (KJP).
"The development agreement is the first step in the city and Bedrock engaging cooperatively to plan and execute on the development strategy, understanding that the implementation of the proposed infrastructure and development will take years," the summary for the framework noted.
The timing of the Gateway development isn't known, but Rocket Mortgage's Higbee Building lease expiring at the end of 2026 may offer some guidance. Bedrock's Hudson's Site has been under construction for four-plus years. It has been slowed by the pandemic, Bedrock leadership changes, the removal of the old Hudson's foundation along with the 2001-built parking garage on that site, plus numerous design changes. It isn't due to be completed until sometime in 2023.
Normally, a project of that scale will take several years to build, preceded by up to two years of pre-development, planning and design review. For comparison, the Sherwin-Williams HQ project was officially announced in February 2020. Pre-development was slowed by the pandemic for six months but started construction in late November 2021. It is scheduled to be completed in late-2024.
In other words, Bedrock would need to announce its Cleveland Gateway megaproject very soon if Gilbert doesn't want Rocket Mortgage to pay rent to a landlord not under his Rock Ventures umbrella any longer than it has to. The Feb. 20 All-Star Game in Cleveland, hosted by Gilbert's Cavaliers, might be an opportune occasion.
END