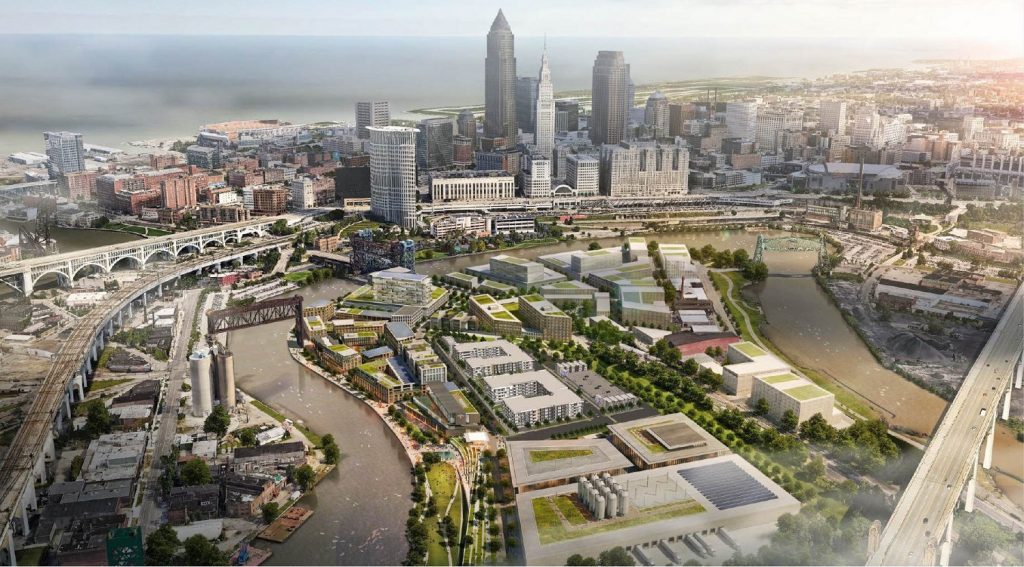 Aerial rendering of Scranton Peninsula showing planned developments including NRP Group's The Peninsula near the center. Just below it is a vision for Great Lakes Brewing Co.'s upcoming expansion. The rest are conceptual massings by Perkins+Will for the Thunderbird portfolio of properties to the west of Flats Industrial Railroad and for the Scranton-Averell Inc.-owned lands to the east of the railroad. They are shown for context only (BKV). CLICK IMAGES TO ENLARGE THEM
Release comes a month after news of project revival
UPDATED FEB. 4, 2022
One month ago, NEOtrans published news from two sources that NRP Group would reactivate its plans for a development with 316 residences and nearly 400 parking spaces on Scranton Peninsula in Cleveland's Flats. Tomorrow, those plans are being presented to the City Planning Commission for final approval (update: final building plans for this and the Silverhills development across the street were approved Feb. 4, 2021 with their landscaping and connectivity plans to be coordinated with each other's).
Because the plans are up for final approval, that means Cleveland-based NRP Group is dusting off its old plans for The Peninsula — a project it sought to build until it stopped development of it in September 2020. NRP Group halted work on The Peninsula as Cleveland and the world were still in the depths of the pandemic and there were few other developments imminent for Scranton Peninsula.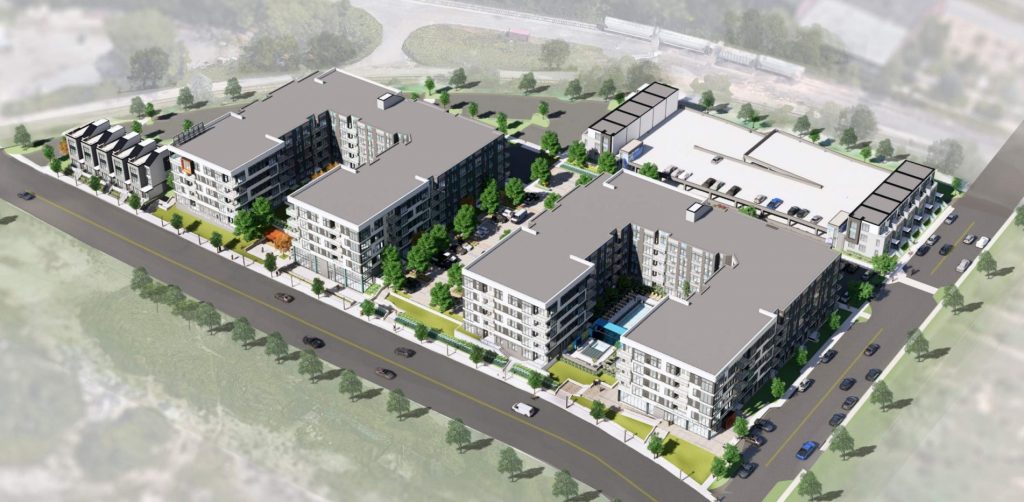 NRP Group proposed 330 apartments and 15 townhomes as part of The Peninsula. Now, NRP Group adds a small retail space in the orange shipping container seen in the frontage of the courtyard for Building B, the northernmost apartment building seen at left. Across the bottom is Carter Road with Flats Industrial Railroad curving across the top of the image (BKV).
But with the early popularity of the new Towpath Trail extension to Canal Basin Park and BrewDog Cleveland's newly opened Outpost brewpub, things are looking up. Add to that the pending construction of a Great Lakes Brewing Co. production facility and riverfront brewpub and the planned 300-unit Silverhills at Thunderbird apartment complex across Carter Road up for final approval by planning commission tomorrow, multiple large developments could be occurring simultaneously on Scranton Peninsula by the end of 2022.
NRP Group's The Peninsula could join that flood of projects soon, because it is up for final approval. For a proposed project's design to be eligible for final approval, it would have previously had to go through conceptual and schematic reviews. The Peninsula had received those earlier approvals for 301 apartments and 15 townhomes. However, there are some refinements that NRP Group's architect, BKV Group of Washington DC, has added to these latest designs in response to planning commission input and recent actions.
Perhaps the most interesting addition is the provision of a 20-foot-long shipping container along the Carter Road frontage of a courtyard for Building B, the northernmost of two five-story apartment buildings. That container would provide a retail/food service space for residents or passersby on Carter's future sidewalk. The retail space was likely added in response to the Planning Commission voting in December to rezone the Columbus and Scranton peninsulas in the Flats with an Urban Form Overlay that encourages mixed uses. City Council has yet to take up the rezoning.
Both apartment buildings will have first-floor active uses with glassy facades on their southern wings that face Carter. Building B will have a fitness center; Building A will have a leasing office and a co-working space. The northern wings of both buildings will have apartments on their ground floors. On the northwest corner of the fifth floor of Building B will be a sky deck that will offer views of downtown and the Cuyahoga River.
In the courtyard of the southernmost apartment building, Building A, will be a swimming pool and leisure pool with a shipping container cabana, fire pits, grill island, cornhole play area and lounge chairs. In the courtyard of Building B will be a terrace offering fire pits, grill counters, tables, seats and possibly even a ping-pong table.
Between the two apartment buildings is a parking lot that received some critiques from planning commission in 2020. In fact, this version of The Peninsula is the second one presented to the commission. An earlier version had all of its parking provided in surface lots, something that wasn't well received by the commission. This version has 381 parking spaces, including a two-level, 196-space parking garage with 10 townhouses bookending it.

A study of shifting a group of five townhouses from the more remote southeast corner of the property, next to Great Lakes Brewing Co.'s planned production facility, to the more residential northern part might make them more marketable. These images show comparisons of before and after the shift, with the red marker showing the viewing area seen in the larger images (BKV).
One group of those townhouses may be moved depending on feedback from commission members. NRP Group's presentation shows moving townhouses to the north side of the parking deck from the more isolated southeast corner of the 7.44-acre parcel. NRP Group has an option to purchase the land from a partnership that is marketing a 27-acre portion of the 80-acre Scranton Peninsula as the Thunderbird development.
All properties in the Thunderbird portfolio have been spoken for. However, not all of Scranton Peninsula is likely to be developed anytime soon. The larger portion east of the Flats Industrial Railroad is owned by Scranton-Averell Inc. whose origins go back some of the earliest property owners in this area nearly 200 years ago and has not been responsive to overtures by multiple developers, sources said. A Scranton-Averell representative has not returned NEOtrans' inquiries.
In addition to the new all-purpose trails built to and through Scranton Peninsula, the partnership that owns the Thunderbird portfolio is seeking to develop a boardwalk along the riverfront to the west of Carter. And since Flats Industrial Railroad is no longer using the track or bridge over the river, it offers an opportunity to further improve riverfront access.
"We are actively working with Flats Industrial Railroad to get that land under control and working with property owners to maximize access to the river," said Jim Haviland, executive director of Flats Forward, a community development corporation.
END