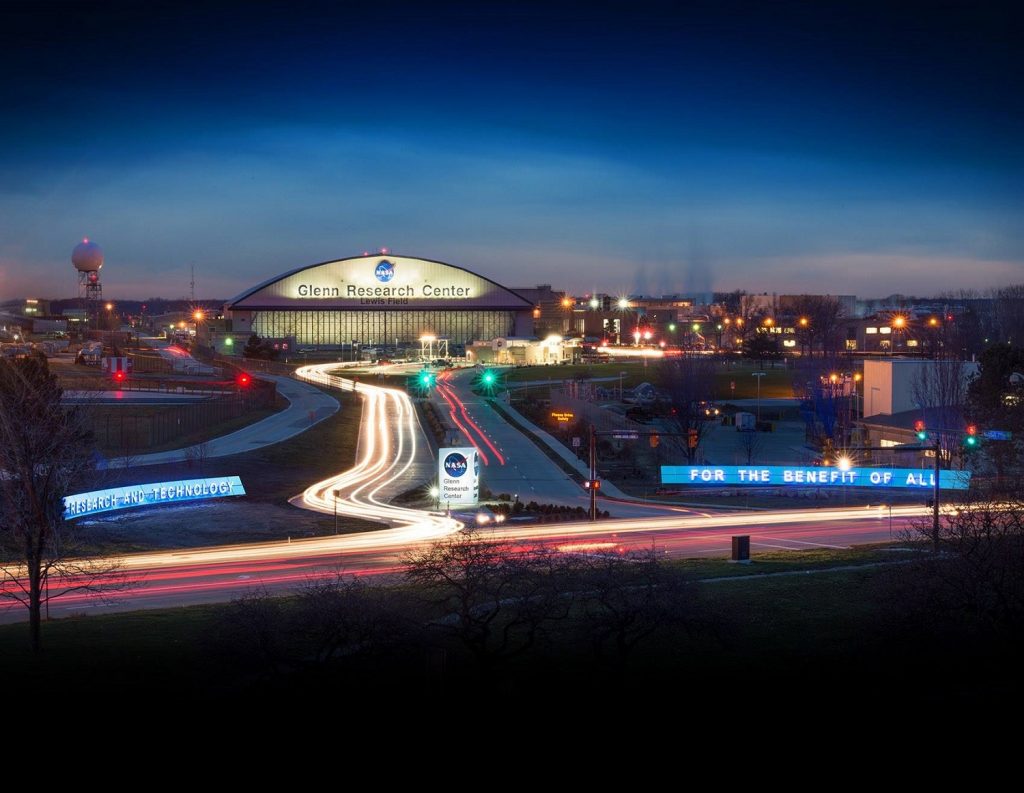 Although many Greater Clevelanders have not set foot on the NASA Glenn Research Facility since before its visitors center was moved in 2010 to the Great Lakes Science Center downtown, this is a view many locals recognize. It features the Flight Research Building, also known as the NASA Glenn Hangar, that dates from World War II as did many nearby buildings. But those are now being replaced with modern office and laboratory buildings (NASA). CLICK IMAGES TO ENLARGE THEM
New offices and labs end five-decade vacuum
Until 2014, the newest office building constructed at the National Aeronautics and Space Administration (NASA) Glenn Research Center pre-dated Ohioan Neil Armstrong making his giant leap for mankind on the surface of the Moon in 1969. Into the early 2010s, buildings at the 325-acre campus looked like they belonged to a school district that hadn't passed a levy in a long time.
To be sure, many office buildings and other NASA Glenn facilities were renovated or retrofitted with new equipment to handle upcoming missions and experiments. But recently replaced structures were outdated. They were built by NASA predecessor the National Advisory Committee for Aeronautics (NACA) going back to 1941 during its quest to help the U.S. develop better aircraft during World War II. After 1958, when NACA became NASA, the campus was expanded to 150 buildings and structures to help America beat the Soviet Union in the space race.
But the last new office buildings constructed at the then-NASA Lewis Research Center was in 1963-64, according to a NASA press release reprinted in The Villager newspaper. The sprawling research complex has wind tunnels, engine test facilities, microgravity research facilities, space communication facilities, test laboratories and engineering offices. Glenn also manages the 6,400-acre Plum Brook Station near Sandusky.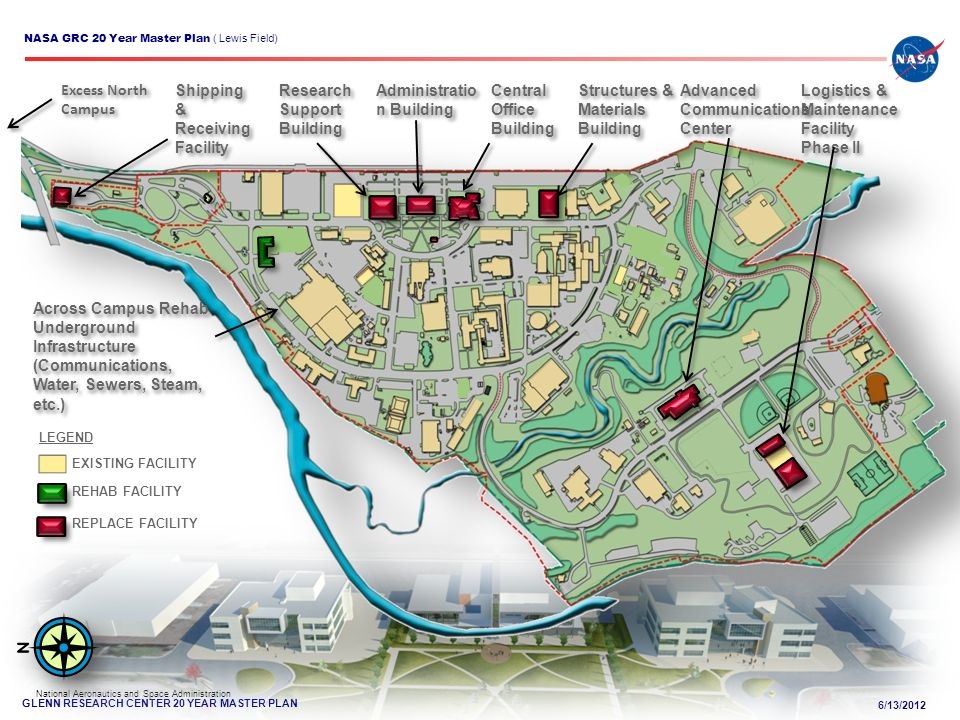 Although already dated, this NASA Glenn facilities masterplan from 2012 shows several of the buildings that the space agency has already built plus others that were planned, including a new shipping and receiving building, Structures & Materials Building, plus a Phase II Logistics & Maintenance Facility (NASA).
Yet, when your buildings are getting old and replaceable, it means your research center is getting old and at greater risk of becoming replaceable, possibly in another metro area. And Greater Cleveland could not afford to lose NASA Glenn Research Center. Why?
There are more than 3,200 scientists, engineers, civil service and support contractor employees at John Glenn Research Center At Lewis Field, said NASA Glenn Director Marla Pérez-Davis at a Jan. 28 City Club Forum. As of 2020, NASA Glenn employees had an average salary of $100,283. This was 52.1 percent higher than the national average for government employees and 42.9 percent higher than other federal agencies, according to OpenPayrolls.com.
NASA Glenn has an annual budget of more than $900 million. A 2020 study by Cleveland State University estimates that the NASA facility has an economic impact of $1.7 billion per year on Greater Cleveland's economy. Its future is on more solid ground as it develops propulsion and power elements with the Artemis missions to the Moon by 2024 to develop a stepping stone to Mars. NASA Glenn is also innovating electric propulsion to change the future of aviation and clear the skies of harmful aircraft emissions as well as researching materials and structures, communications, power and energy storage and biomedical sciences.
To pursue these lofty goals, NASA Glenn needed to replace NACA-era campus structures that dated from 1941. That effort started by drafting a facilities masterplan in 2007 and has been regularly updated since. The first office building to be built since the early 1960s was the Mission Integration Center (MIC) in 2014. Costing $20.5 million and measuring 90,000 square feet, the energy-efficient building also increases workforce efficiency by integrating approximately 300 employees in various project teams under one roof.
Next on NASA Glenn's to-do list was the Research Support Building (RSB), an innovative new building designed to provide a flexible, inclusive and collaborative workplace to meet future mission needs. RSB is a 64,000-square-foot multi-purpose building providing office space for approximately 160 permanent occupants plus dozens of visitors from other NASA centers and contractors.
The building will also have a cafeteria, hoteling spaces, exchange store, ATM, training rooms and conference rooms. The RSB is designed with collaboration in mind, including multiple break-out spaces throughout the building, low partition workstations and specialized concurrent engineering rooms. It has a balcony with an outdoor terrace that reaches out toward the campus main road, offering expansive views and creating a large, covered plaza that leads to the building's main entrance.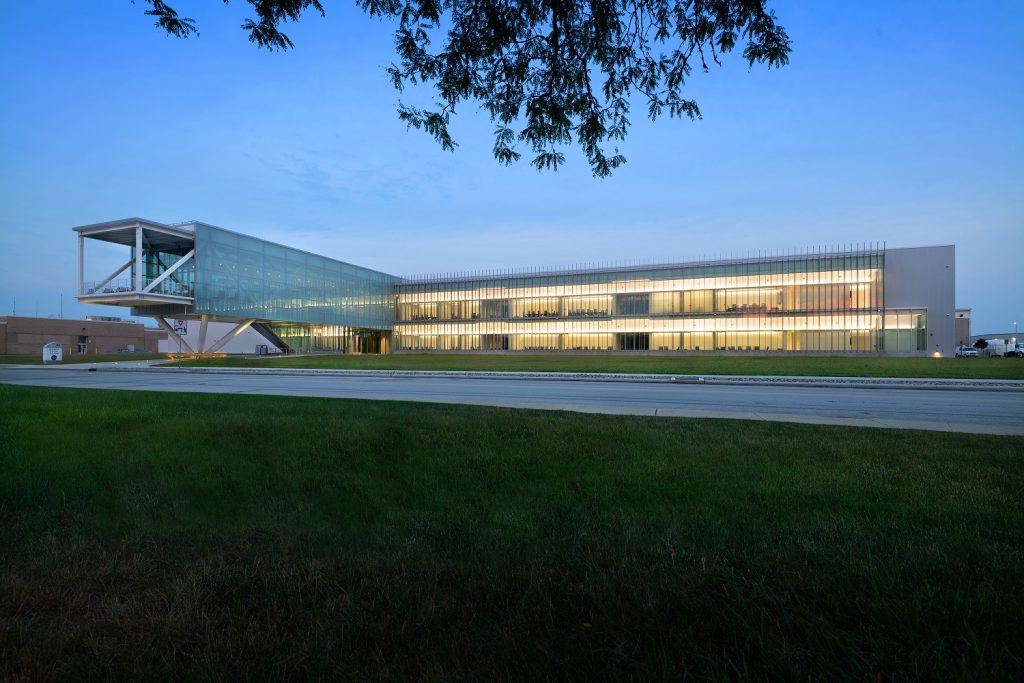 The new Research Support Building was built along the main campus road, called Taylor Road, next to the Mission Integration Center, out of view to the right. The RSB features a unique balcony with an outdoor terrace that looks like a rocket gantry bridge. But instead of boarding a rocket to the Moon or Mars, workers can enjoy their lunch, a cup of coffee or hold a meeting there.
The new building was designed by architects Enrique Norten of TEN Arquitectos and Andrea Steele of Andrea Steele Architecture and built by Walsh Construction. NASA Glenn officials will announce a ribbon-cutting ceremony this spring after the exchange store and cafeteria begin operating.
NASA was awarded the Leadership in Energy and Environmental Design (LEED) Gold certification for this building in November 2021. The environmental features include extensive natural daylight, low-volatile organic compound emitting materials, and water and energy-saving fixtures and appliances. The facility also provides bicycle storage and preferred parking for fuel-efficient vehicles.
"The RSB is part of the center's Facility Master Plan, a multiyear effort to revitalize the central campus and renovate or replace WWII-era buildings." said NASA Public Affairs Specialist Jeannette Owens in a written statement. "The new Aerospace Communication Facility, also part of the master plan, is scheduled for completion this fall."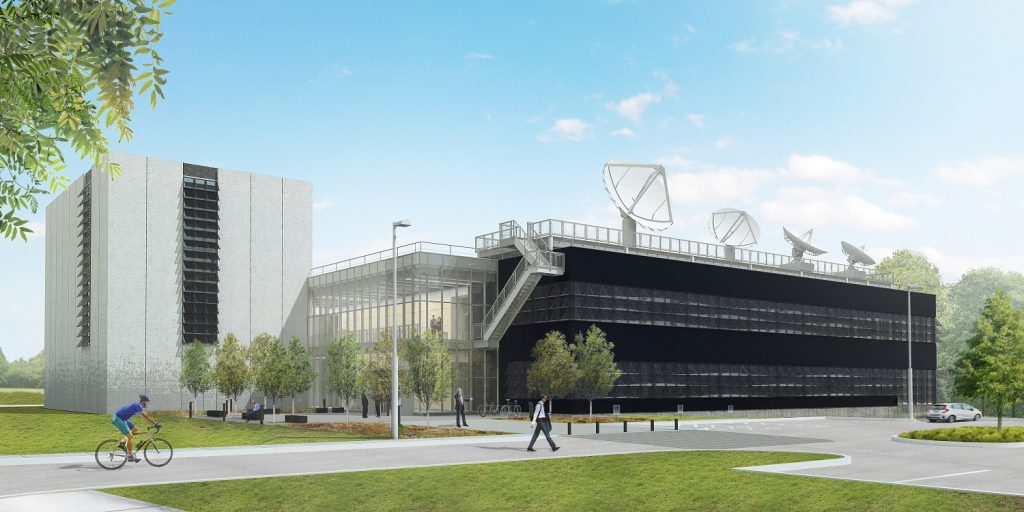 Under construction on West Area Road, just north of Cryogenic Road, the new Aerospace Communication Facility is due to be completed in the fall of 2022. It is the first NASA building in the 21st century to be constructed on the West Area of NASA Glenn. It is proposed to be used for communications during missions to the Moon and Mars or to support autonomous aircraft.
With construction starting in March 2020, the Aerospace Communication Facility (ACF) is the first of the new 21st-century buildings to be built in the West Area of the NASA Glenn campus, located west of Abram Creek. It measures 54,000 square feet and is costing $33.8 million to build. The Austin Company of Cleveland is constructing the ACF, according to Joel Kearns, NASA Glenn's director of facilities, test and manufacturing.
"The ACF positions us to further advance communication technology needed to meet the nation's space exploration and aviation goals, as well as enable commercial and defense communications," Kearns said.
The ACF will be NASA's premier facility for radio frequency communications technology research and development. It will allow NASA and its commercial partners to develop faster, higher capacity communications for future missions to the Moon and Mars. It will also house research in advanced communication for future urban air mobility and autonomous flying vehicles.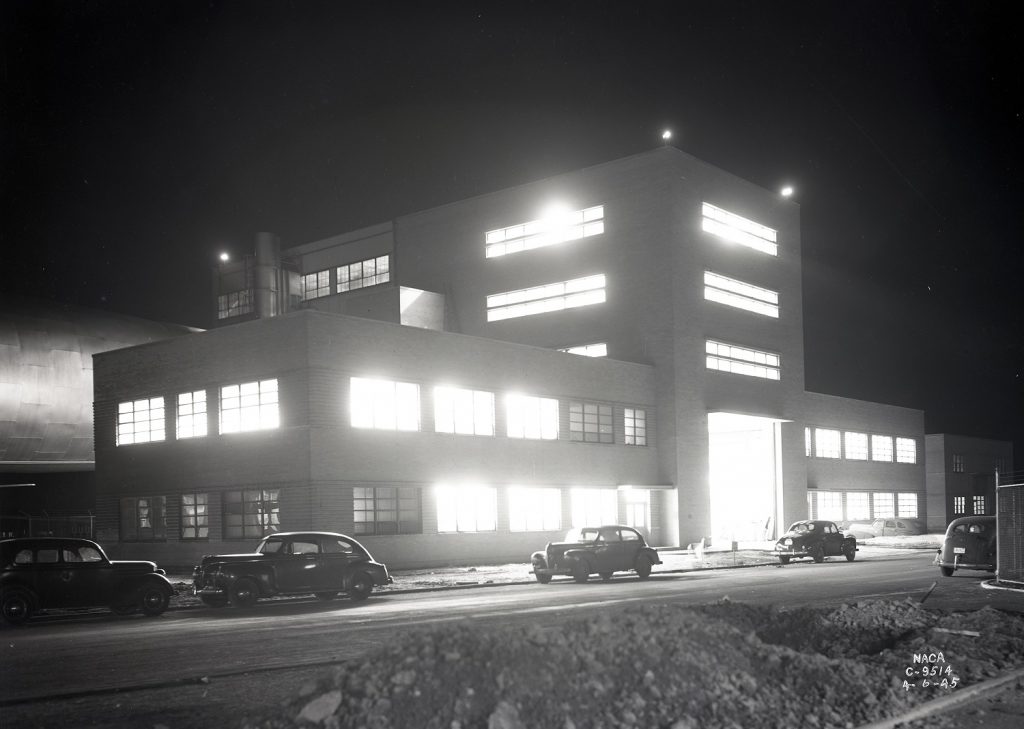 NASA Glenn has come a long way from its earliest days. This is the Altitude Wind Tunnel, Shop and Office Building along Taylor Road on April 6, 1945 when the research center was run by NASA's predecessor — the National Advisory Committee for Aeronautics. Part of the giant wind tunnel for testing aircraft aerodynamics is visible at the far left (NASA).
NASA Glenn is one of only 10 centers operated by the space agency nationwide, including NASA's headquarters in Washington DC. It was originally called the Lewis Research Center, named after George Lewis, former NACA director of Aeronautical Research. It was renamed in 1999 as the John H. Glenn Research Center at Lewis Field to honor U.S. Senator Glenn of Ohio. A former astronaut, Glenn was the first American to orbit the earth in 1962.
"Without the dogged efforts of local officials in 1940, however, NASA Glenn may have ended up at one of the 61 other cities fiercely contending for the facility," wrote NASA Glenn Historian Robert Arrighi in a recent blog posting.
NACA was founded as a federal agency way back in 1915. But when World War II broke out in the late 1930s, the NACA began dramatically expanding. This required a new laboratory to study aircraft engines. In the summer of 1940, communities across the Midwest submitted bids to host the lab. A team of NACA officials ranked the sites based on an impartial set of desired criteria.
"Cleveland — home of the nation's most advanced airport, local aircraft manufacturers, and the National Air Races — received one of the highest rankings," Arrighi wrote. "When local officials brokered a deal with the power company to discount its electricity rates in October 1940, Cleveland took the lead for good. Ground was broken for the new Aircraft Engine Research Laboratory near the airport on January 23, 1941."
END