Of nine local projects submitted, four win TMUD credits
Today, the five-member Ohio Tax Credit Authority board awarded $100 million in tax credits to Transformational Mixed Use Developments (TMUD) to 13 applicant projects throughout Ohio. Of the 42 projects statewide and nine from Greater Cleveland that were submitted for credits, four received a total of $53 million in funding.
A significant portion of that went to one project — the 1.4-million-square-foot, $465 million Centennial redevelopment of the former Union Trust Bank at 925 Euclid Ave. in downtown Cleveland. The Millennia Companies asked for and won the $40 million maximum tax credit allowed for under the new TMUD project.
"We are thrilled to be selected for this inaugural TMUD tax credit award," says Tom Mignogna, Vice President at Millennia Housing Development, Ltd. in a written statement. "This new economic development tool is further evidence of Ohio's progressive commitment to supporting significant developments that meet critical needs throughout the State and, in this case, the City of Cleveland's need for increased access to quality housing and new job opportunities."
These were the TMUD award winners from Greater Cleveland area and all won the amounts they requested:
+ The Centennial won the max TMUD to renovate an office building that's been largely vacant since 2015, despite several previous unsuccessful rehabilitation attempts. Upon completion, the building will house 864 affordable housing units with boutique hotel suites on several floors. The ground floor will house a restaurant, event space, a museum, and The Cleveland Exposition, a tribute to northeast Ohio's rich history. The project is utilizing Low-Income Housing Tax Credits, as well as federal and state historic tax credits. The project is expected to create 300 permanent jobs and more than 3,000 construction jobs.
+ CC Superior Holding LLC, headed by Cross Country Mortgage President Ronald Leonhardt, Jr., won $8,562,068 to offset development costs of $100,506,156.27 for a mixed-use development anchored by CrossCountry's HQ, relocated from Brecksville. Located on the east side of downtown in the Superior Arts District, the project will rehabilitate six continuous historic buildings totaling more than 400,000 square feet of mostly vacant and deteriorating buildings into restaurant, retail, office, and residential spaces. The project is expected to create nearly 1,000 jobs, 600 of which will be entry-level positions not requiring a college degree.
+ Downtown Elyria Redevelopment won $3,414,100 to help offset total development costs of $35,731,000 to rehabilitate 67,000 square feet of vacant buildings into an arena and gaming hub for the Lorain County Community College (LCCC) Esports team. The project will utilize federal and state historic tax credits to rehabilitate the existing, historic Dixon and Robinson buildings, complete with food and dining options on the first floor, as well as two floors dedicated to commercial office space and classroom space for use by LCCC. The project includes construction of a 76,000 square foot, six-story multi-family building featuring 51 units with retail, a wine bar and underground parking. The project is expected to create more than 150 full-time jobs and 348 construction jobs.
+ Uptown Mentor won $1,158,577 to offset $13,960,173 in redeveloping a blighted, underutilized stretch along Mentor Avenue into a lively, pedestrian-friendly community in the downtown central business district of Mentor. The six, largely vacant parcels make up nearly four acres in the heart of Mentor. This project will construct an approximately 43,000-square-foot building that will house restaurant, retail, office and recreation space. The project will also house a medical service provider, a rooftop patio and ample green space. The project is expected to create over 1,500 full-time jobs.
At the same time, five projects in Northeast Ohio didn't win any funding at all. The largest of these was the Circle Square development in University Circle. Although construction of of this multi-structure megaproject is under way, Midwest Development Partners sought $19 million to help finance phase one of the $300 million project. Construction has started on a 24-story apartment tower called The Artisan.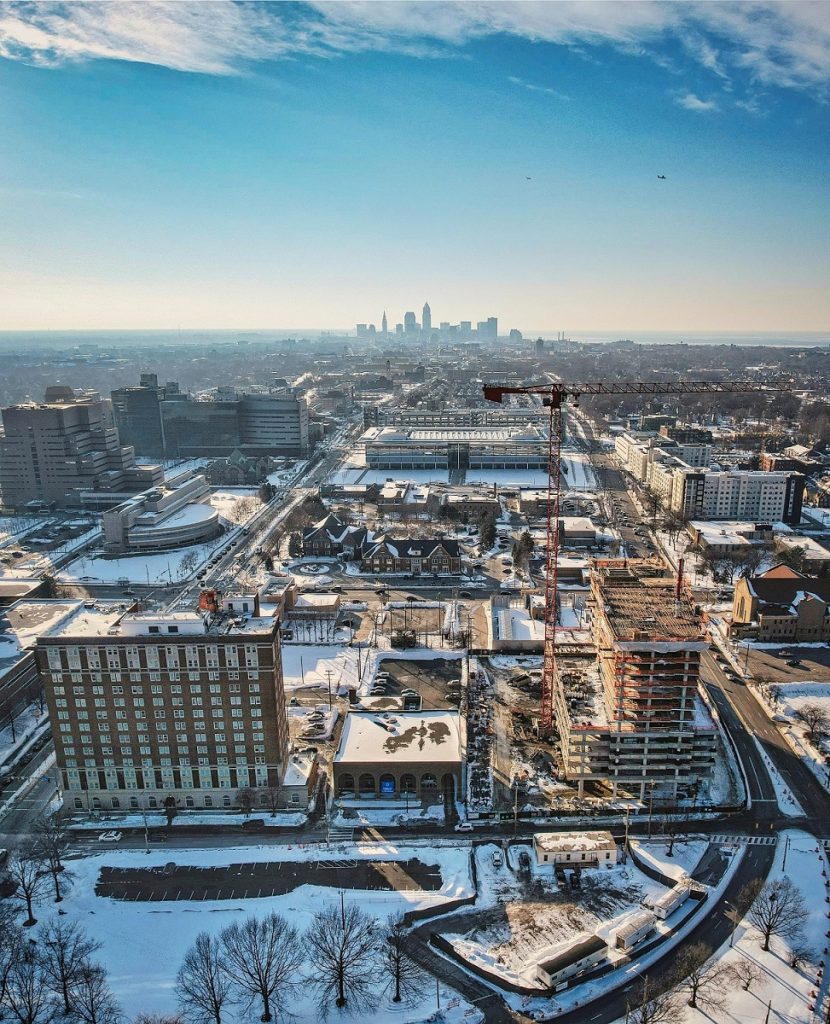 More than half of Greater Cleveland's nine applicants for the first year of the Transformational Mixed Use Development tax credit program are visible in this picture. That includes the under-construction project in the foreground — the Circle Square development in Cleveland's University Circle. Four more applicant projects are in or next to downtown Cleveland, visible in the distance (Matt Sexton). CLICK IMAGES TO ENLARGE THEM
MDP Chief Operating Officer Steve Rubin said construction is due to start this month on the 11-story Library Lofts apartments over a new MLK Branch Library after the Cleveland Public Library (CPL) agreed to increase its financial contribution to the project. CPL Chief Operating Officer John Lang said its project budget is being increased from $15.3 million to $19.9 million to cover the higher cost of construction materials.
Also not making the cut was the 16-story Bridgeworks development at West 25th Street and the Detroit-Superior bridge in Cleveland's Ohio City neighborhood. Developer Michael Panzica confirmed that his development team, including Grammar Properties, was informed last night that their $60 million project did not win a requested $7,944,817.92 in TMUD credits. Panzica said it was too early to comment on the next steps for the projects, such as whether the team would resubmit their application next year or if the project would be scaled down.
Three other Greater Cleveland TMUD applicants did not win the first round of awards. The Kassouf family requested $9,339,623 for the renovation and conversion of downtown Cleveland's 40-story Erieview Tower into 227 apartments, 300,000 square feet of offices, a 210-room luxury W hotel and a rooftop restaurant. A Kassouf representative could not be reached for comment.
Gaslamp Capital LLC led by Daniel Budish sought $8,687,615.20 for its Studio West 117 development centered around the old Phantasy Theater complex on Detroit Avenue at the east end of Lakewood. At least 85,298 square feet of existing buildings were proposed to be enhanced by a large, new apartment across the street on the site of the closed NTB store. Budish didn't respond to an e-mail seeking comment on next steps.
RMS Investment Corp. requested $11 million in TMUD credits for the second phase of The Van Aken District, located at the east end of the Blue Line rapid transit in Shaker Heights. Proposed is the 230-unit Farnsleigh Apartments in connected 15- and 18-story buildings. The first phase featured $100 million worth of apartments, retail and offices. Luke Palmisano, president of the real estate branch of RMS, did not respond to a phone message and e-mail requesting comment.
Regarding the Centennial, renovation work may begin by this summer to return this vacant building to productive use. Mignogna said renovations would take about three years to complete. The Chicago-based architecture firm of Graham, Anderson, Probst, & White originally designed the 1924-built, 21-story Union Trust building in the neoclassical style.
"This project is a perfect blend of Millennia's expertise in multifamily housing, hospitality, and commercial real estate," said Millennia's CEO Frank Sinito. "We have employees at the hotel, corporate headquarters and restaurants who will now have a unique affordable opportunity to live near their workplace, public transit and entertainment. Everyone who walks into The Centennial agrees that it is breathtaking, and this piece of Cleveland history has been inaccessible for too long."
Some of the CrossCountry Mortgage headquarters properties, formerly the Chilcote Co. warehouses at 2104-2230 Superior Ave., are under renovation now. The TMUD credit will allow all of the half-dozen buildings to be renovated and brought back to life, igniting the Campus District on the east side of downtown.
"Campus District is excited for the continued investment happening along Superior Avenue," said Mark Lammon, executive director of the Campus District Inc. development corporation. "This project and others like the now-funded Superior Avenue Midway will transform the Superior Arts District neighborhood."
The Ohio Tax Credit Authority is a five-member, independent board consisting of taxation and economic development professionals throughout the state who are responsible for reviewing and approving applications for tax credit assistance. The authority also has oversight responsibilities that include monitoring and reporting the progress of approved tax credit projects.
To be eligible for a TMUD credit, a real estate development project had to be valued at $50 million or more. It must also rise 15 stories or taller or measure 350,000 square or more among all buildings in connected parcels whose construction or renovation has not yet been completed.
In this first year of the four-year authorized program, there were 42 applicants for $100 million in tax credits statewide per year. Of that, $80 million is available for real estate development projects in Ohio's six major cities with 100,000+ people and $20 million for general applications in smaller cities. However, $76,693,955 was awarded to major city projects and $23,306,045 to general projects. Originally, 33 major-city projects sought $384,892,370.08 while 11 general projects wanted $32,803,543.30.
END