Almost $1.3 billion worth of construction projects that will occur nearly simultaneously will add more than 1.6 million square feet of new buildings and several thousand permanent jobs to the Cleveland Clinic's main campus in Cleveland. To achieve that, thousands of construction workers will be employed over the next few years (BrentwoodMD.gov). CLICK IMAGES TO ENLARGE THEM
Timelines, sites set for Main Campus projects
More, bigger and sooner was the message this week from the Cleveland Clinic about its Main Campus expansion plans. And the sites and timings of those plans got a lot clearer at the Clinic's inaugural Construction Supplier Diversity and Inclusion Day.
The economic engine that is the Cleveland Clinic is about to add thousands of new jobs — both construction and permanent — as a result of its expansion plans in Fairfax, near Cleveland's University Circle. To ensure that minority- and women-owned businesses get a competitive shot at the Clinic's many business opportunities, the Clinic held its first-ever networking event April 6 for suppliers in the healthcare, construction and other business fields. The construction side of it was a dominant theme.
Clinic officials noted that the upcoming campus expansion may be its largest ever for the Main Campus in terms of multiple big projects occurring nearly simultaneously. In total, all of the Clinic's pending construction and renovation projects amount to a significant amount of capital investment, said Ward 6 Councilman and City Council President Blaine Griffin.
"This map represents $1.3 billion in investments being made in the near future," Griffin said on Twitter. "These investments will not only improve healthcare. It will also improve economic opportunities for our community. I'm committed to working with Cleveland Clinic to ensure MBE (Minority Business Enterprises), FBE (Female Business Enterprises) and the community benefits."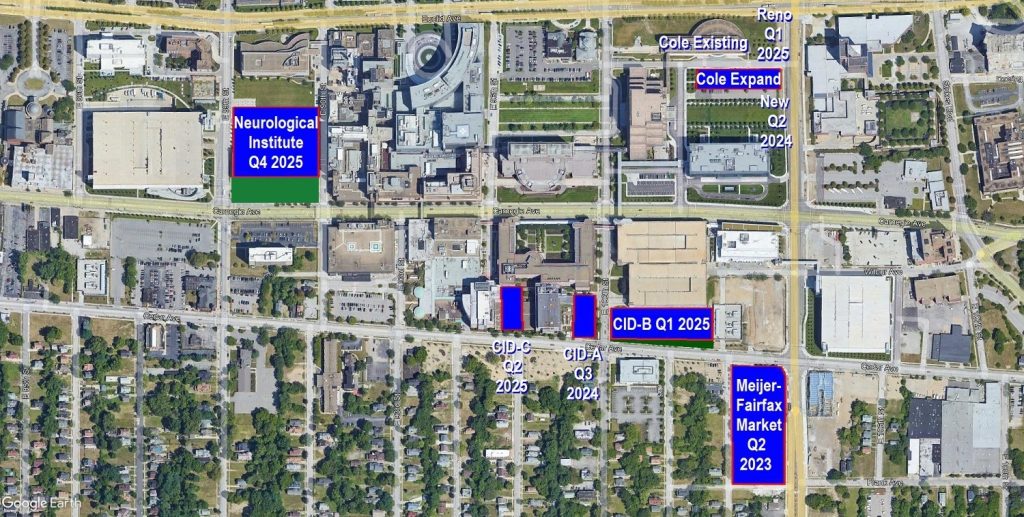 This clear map of Cleveland Clinic's Main Campus construction projects can be enlarged. It is based on the map shown later in this article for reference purposes. Each blue box is a new construction project on Cleveland Clinic property, although the Meijer-Fairfax Market project is being developed by another firm. The existing Cole Eye Institute is to be renovated and expanded. This map shows where each construction project is located and when it will be completed (Google/CCF/KJP).
Thousands of construction jobs are involved. And, after the dust settles, the Clinic expects to add or relocate more than 3,000 new, permanent jobs to its Main Campus that already employs more Greater Clevelanders than any other employer. Nearly 2,000 of those new jobs will be at the huge new Neurological Institute, followed by 1,000 employees at the Global Center for Pathogen & Human Health Research, called the Center of Infectious Diseases (CID) in the supplier event's presentation materials. Lastly, the expanded Cole Eye Institute will likely add about 200 new jobs.
More information was shared at Wednesday's event. Specifically, the timelines for when the Clinic hopes to deliver its major new-construction projects were presented. The timelines show that the Clinic intends to move forward on all of its big projects nearly simultaneously — starting this year.
Fairfax Market apartments-Meijer grocery store — Cedar Avenue at East 105th Street, under construction by Fairmount Properties on Clinic-owned land and to be completed in the second quarter (April-June) of 2023;
Cole Eye Institute expansion — 2000 block of East 105th, 100,000-square-foot new building, to start construction this year and be completed in the second quarter of 2024;
Center of Infectious Diseases-Building A — Cedar at East 100th Street (NW corner), to start construction this year and be completed in the third quarter (July-September) of 2024;
Center of Infectious Diseases-Building B — Cedar at East 100th (NE corner), to start construction this year and be completed in the first quarter (January-March) of 2025;
Cole Eye Institution renovation — Euclid Avenue at East 105th, to start renovations in early 2024 and be completed in the first quarter of 2025;
Center of Infectious Diseases-Building C — 9700 block of Cedar, to start construction early next year and be completed in the second quarter of 2025;
Neurological Institute — Carnegie Avenue between East 89th and 90th streets, to start construction this year and be completed in the fourth quarter (October-December) of 2025.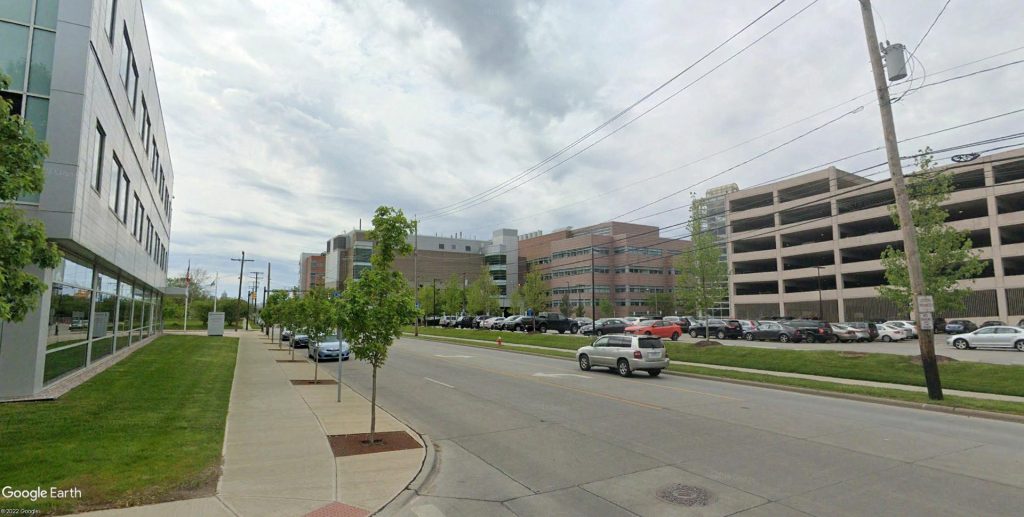 Looking west along Cedar Avenue from East 101st Street, across Cedar are the sites for the three phases of the Global Center for Pathogen & Human Health Research, called the Center of Infectious Diseases. The largest of the three phases, measuring nearly 200,000 square feet and rising about four stories tall, will stand at the right side of this image, next to the AA parking garage (Google).
The largest of these projects is the new Neurological Institute. It promises to be the largest building the Clinic has ever constructed. At 1.1 million square feet, Clinic sources said the new project will eclipse the 10-story, 2008-built Sydell & Arnold Miller Family Pavilion, 9500 Euclid Ave. that measures just under 1 million square feet. To make way for the Neuro building, the Clinic intends to demolish its Surgery Center and adjoining parking garage, 2083 E. 89th St. at Carnegie Avenue.
Starting construction even sooner is the new 400,000-square-foot CID, according to presentation materials from this week's supplier event. When discussing construction projects the global health care system hoped to begin in 2022, Tomislav Mihaljevic, president and CEO of the global health system, left out any reference to the CID in his State of the Clinic presentation in January.
The project remains a priority of the Clinic and the State of Ohio which announced in early 2021 its Cleveland Innovation District along with $265 million in state incentives to help make it happen. The pathogens center project had been considered for years but the global COVID-19 pandemic focused much more attention on it.
The Clinic will start work on the first phase of the new CID by year's end, according to a Clinic source who spoke off the record. That first phase will be located on a roughly half-acre plot of land at the northwest corner of Cedar Avenue and East 100th Street. It will be followed about six months later by a groundbreaking for a larger phase-two building on the other side of East 100th, set on a 1.6-acre parcel. This will be the largest of the CID buildings and will be located next to two garages, each with 1,500 parking spaces.
The third phase may come another three to six months after phase two, or nearly a year after construction on the first phase begins. That third phase is planned to rise on a roughly half-acre piece of land opposite of the T-shaped intersection of Cedar and East 97th Street. A one-story building between the NE and NC buildings will be demolished to make way for it.
Each of the three CID buildings is referenced in Clinic presentation materials as a "tower." But that is a misnomer. The Clinic source said each building will top out at no more than four or five stories. Considering that the footprints for each of the three buildings total about 100,000 square feet and that the overall size of the center is 400,000 square feet, the four-story height of the buildings checks out.
These locations for the Clinic's new CID were chosen in part because of their proximity to the Clinic's and Brooks Automation's new 22,000-square-foot biorepository, 9908 Cedar Ave. This ultra-cold and cryogenic storage facility houses 400 freezers for biological samples to be used in research projects. The biorepository opened in October 2021.
Angela Smith, Cleveland Clinic's senior director of corporate communications, said she could not provide more detailed information at this time about the site for the CID. That includes sharing an official map of upcoming Clinic construction projects like the one shown at the Clinic's inaugural Construction Supplier Diversity and Inclusion Day.
"This was for presentation purposes only," Smith said of the map. "We do not have a final image to share."
At most other times, the Clinic's 100,000-square-foot expansion of the Cole Eye Institute would be a big story. Instead, this project plus a renovation of the 1998-built Cole Eye Institute on Euclid Avenue at East 105th Street isn't getting the same attention. It will, however, boost the East 105th corridor which is seeing a lot of development activity from Circle North, to Circle Square, to the Fairfax Market and Meijer store, to the Square 105 development. Construction of the Cole Eye Institute expansion is due to start by the end of this year.
To spread the construction responsibilities, the Clinic hired different general contractors to build the different facilities. Whiting Turner Contracting Co. will build the Cole Eye Institute expansion and renovate the three-story, 120,000-square-foot building facing Euclid. Turner Construction Co. will build the massive new Neurological Institute while the Gilbane Building Co. will be the general contractor for all phases of the new CID facilities.
END