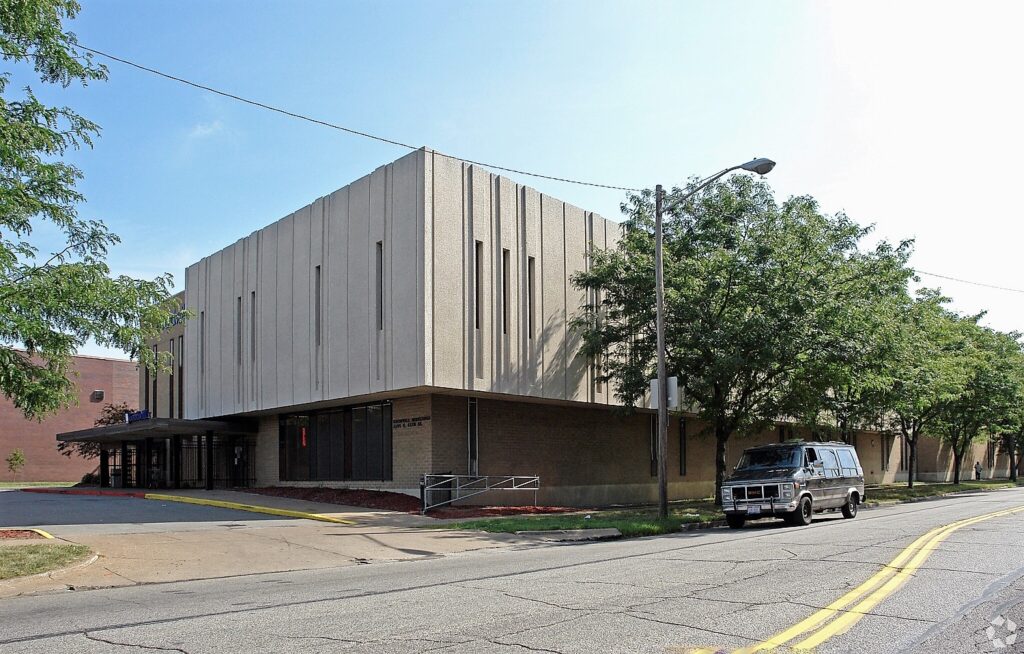 At the northeast corner of East 55th Street and Central Avenue in Cleveland, plans are coming together for the expansion of a food service manufacturing plant by repurposing and expanding the former Goodwill Industries building, later used briefly by the Wahconah Group Inc. (LoopNet). CLICK IMAGES TO ENLARGE THEM
Snap Gourmet Foods may nearly double in size
A food service business that's barely two years old has nearly outgrown its 120,000-square-foot building in Cleveland's Central neighborhood and is already making plans for expansion. Such growth is an increasingly common story for food sector businesses located on the city's near-East Side, especially from Midtown south to Slavic Village, generally along East 55th Street.
Right in the middle of that action is where Snap Gourmet Foods established a USDA-inspected food manufacturing facility in 2020. Their building at 2275 E. 55th St. was formerly owned by Tom Paige Catering Co. Before that, it was the home of the Cleveland Society for the Blind, built on residential land donated a century ago by philanthropist Caesar Grasselli. Symba & Snap LLC acquired the property in May 2021 for $790,653, county records show.
There, majority partners and founders Jason Chamoun, Allan Lam, and Lincoln Yee founded Snap Gourmet Foods in the heart of the pandemic to create what they called an oasis in the middle of a food desert in Cleveland, according to Snap's Web site. The firm provides chef-inspired and healthy foods, with a preference for locally sourced items, that are pre-packaged for private schools, preschools and corporate cafeterias. Business database Manta says Snap has about 40 employees.
The founders of Snap Gourmet Foods are veterans in the food industry having also founded Cleveland-based Symba Brand Solutions in 2017 to serve hospital and university clients and International Food Solutions of Oviedo, FL to serve packaged foods to schools, health care providers and even the military. Chamoun is president of CC Holdings Restaurant Group of Indiana, chief financial officer of Top Tomato Restaurant Group and was president of Cleveland-based Georgios Oven Fresh Pizza.
Their growth has prompted Chamoun, Lam and Yee to look to the neighboring property to the south for elbow room. A source familiar with their project but wasn't authorized to speak publicly about it said the partners have a purchase agreement to acquire 2295 E. 55th, which includes a three-story commercial building built in 1931 but renovated at least once since.
Set on 2 acres, the 82,000-square-foot building, including the finished basement, will reportedly be connected with a structural addition to their existing building to create a single, large complex of more than 200,000 square feet. The source said that, given its pace of growth, Snap could immediately add another two dozen jobs at the expanded facility.
Snap Gourmet Foods is a newcomer to the corner of East 55th Street and Hawthorne Avenue. A long block east on Hawthorne, at left, construction is underway on the new Cleveland Mounted Police Unit headquarters. In the background at right is the long-vacant Fellowship Missionary Baptist Church, built in 1894 as the Tifereth Israel Synagogue (Google).
The LoopNet listing for 2295 E. 55th confirms the property is under a purchase agreement. No information is available regarding the purchase price. It was listed for sale at $345,000. The site is located within a designated Opportunity Zone, offering the potential for tax deferral benefits for qualified investments in the property.
"At this time we officially have no comment," said Yee in an e-mail to NEOtrans after conferring with his partners. Prior to conferring with them, Yee replied to a NEOtrans e-mail that asked for details about the expansion project, responding with "Thank you for your interest. Several of us are traveling this week. How bout we connect Monday?"
Currently vacant, 2295 E. 55th was previously owned and used by The Wahconah Group Inc. which provides cleaning, decontamination, repair and restoration solutions for the global defense, security and first-responder markets. Wahconah acquired the property at auction in 2014 for $388,800 and pledged to hire 200 workers. The company has since relocated to the city's West Side.
Before Wahconah, Goodwill Industries owned the East 55th building now eyed for the expanding food service business. There, Goodwill operated a warehouse and distribution center for three decades starting in the 1970s. It was spread across multiple parcels which were recently replatted by the county as a single parcel at the request of the property owner, the source said. Before Goodwill, it was the site of the Majestic Hotel for 60 years, the largest black-managed hotel in the city and offered a safe place for black travelers.
Another recent development is hoped to improve neighborhood safety and attract more development to the area. On 6.5 acres on the north side of Hawthorne Avenue, east of East 59th Street, the Cleveland Police Department broke ground in December 2021 for a new and expanded Mounted Police Unit headquarters at 6018 Thackeray Ave.
When completed in 2024, the $12 million, 38,000-square-foot horse stables, offices, locker rooms, community room, public viewing area and training facilities will replace the 70-year-old, 11,660-square-foot stables at 1150 E. 38th St. that will be demolished for a future realignment of Dead Man's Curve on Interstate 90. No funding is currently available for the highway's realignment, however.
The expanded Snap Gourmet Foods complex joins a long list of new and/or growing food enterprises in the area. There's the Central Kitchen Incubator, 2800 Euclid Ave.; Central Kitchen Food Hub, 7501 Carnegie Ave.; Green City Growers, 5800 Diamond Ave.; Haus Malts, 6107 Carnegie; CloudKitchens ghost kitchen complex, 3915 Carnegie; Rid-All Green Partnership, 8129 Otter Ave.; Orlando Baking Co., 7777 Grand Ave.; Miceli Dairy Products Co., 2721 East 90th St.; Pierre's Ice Cream, 6200 Euclid Ave.; plus a huge new $30 million Cleveland Cold Storage warehouse under construction on the Opportunity Corridor Boulevard at East 75th Street.
Prior to publication of this article, emails requesting comment and more information were not responded to by Ward 5 Councilman Richard Starr or by Joy Johnson, executive director of Burten, Bell, Carr Development, Inc., a community development corporation.
END