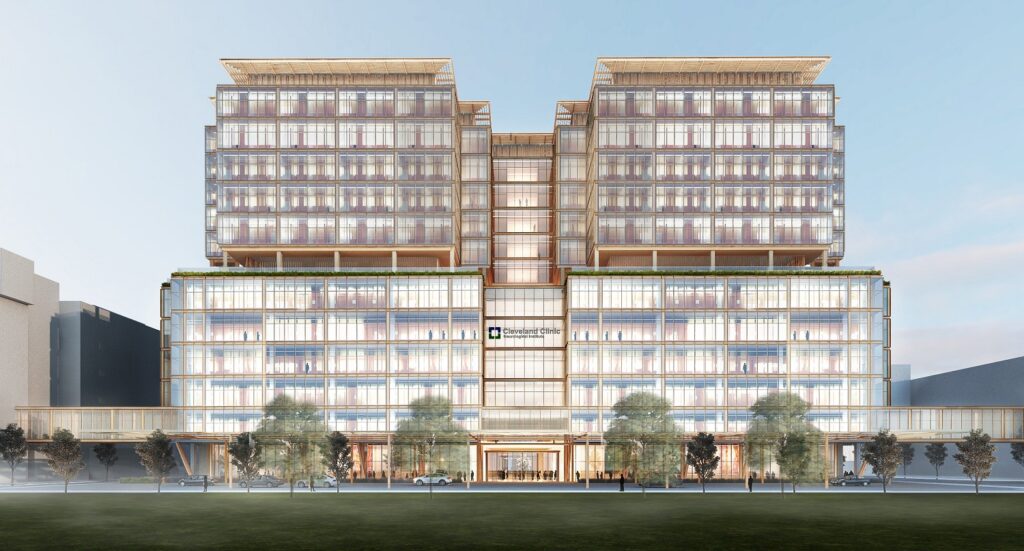 Cleveland Clinic Foundation released this clean version of a rendering of its new, 1-million-square-foot-plus Neurological Institute planned for Carnegie Avenue, between East 89th and East 90th streets. NEOtrans has been sharing this rendering but as a screenshot from a video of the State of the Clinic presentation from earlier this year (CCF). CLICK IMAGES TO ENLARGE THEM
Details of $1.3 billion, 9,500-jobs expansion plans
Citing tremendous growth in the number of patients seeking health care, the Cleveland Clinic Foundation (CCF) today formally announced plans for $1.3 billion worth of facilities expansion worldwide. But most of the new construction projects are planned for its main campus near University Circle in Cleveland.
"Our services have never been in greater demand," said Clinic CEO and President Tom Mihaljevic. "These projects reflect the needs of our organization and will ensure cutting-edge care for the next generation of patients. By building, partnering and innovating with technology, we are preparing current and future caregivers to deliver the best care."
For anyone who has been reading this blog in recent months, the expansion plans will not come as a surprise. But today's announcement confirms what NEOtrans has been reporting and provides some additional details. Among the confirmations:
A 1-million-square-foot Neurological Institute building will be built on the main campus on Carnegie Avenue between East 89th and East 90th streets. This requires demolition of the "P" building (the surgery center at the corner of East 90th and Carnegie) and the attached "PP" parking garage. NEOtrans reported on March 30 that a demolition permit was submitted to the city for this site so the new Neuro Building could be built here and that surgery center activities would be moved to the A, M and S buildings on the main campus.
Proposed demolition of the vacant, former Cleveland Play House buildings, 8500 Euclid Ave., was confirmed, too. NEOtrans broke this story last November and CCF confirmed the site would initially be used as construction staging for the Neuro Building. Potential long-term plans for this large, 11.3-acre plot of land include a new mixed-use neighborhood development project the Clinic said today.
A May 20 groundbreaking ceremony is planned for the Cole Eye Institute renovation and expansion, including construction of a four-story, 150,000-square-foot expansion that will be larger than the existing, 120,000-square-foot Cole Eye building facing Euclid at East 105th Street. The project will add additional operating rooms and procedure rooms.
Today's announcement is largely silent on plans for the new pathogens research facilities. It notes only that "the plans include adding 400,000 square feet of research space to accelerate discovery and position Northeast Ohio at the forefront of pathogen research and preparing for the next pandemic." NEOtrans reported last month that the pathogens center will be constructed in three separate buildings called the Center for Infectious Diseases (CID) along the north side of Cedar Avenue on both sides of East 100th Street.
At 5:30 p.m. Monday, May 16, CCF and Fairfax Renaissance Development Corp. officials plan to hold a community stakeholders meeting discuss the Clinic's ambitious plans for the health care system's main campus. The meeting will be held at the Cleveland Clinic's Langston Hughes Community Health & Education Center, 2390 E. 79th St., according to Ward 6 Councilman and City Council President Blaine Griffin.
The scheduled groundbreaking next week for the Cole Eye Institute expansion is intriguing as no building permit application or architectural plans for this new facility were submitted to the city for zoning and design reviews. Although construction cannot begin yet on this structure, a ceremony can certainly be held, said Clinic spokesperson Katrina Healy.
"No building permits have been filed for Cole Eye Institute because this is a ceremonial groundbreaking," Healy said in an e-mail to NEOtrans. "We are working on the design, and construction is scheduled to start later in the year after the appropriate design reviews and permits are completed."
Jeffrey A. Cole and his wife Patricia O'Brien Cole made a $31 million commitment for the expansion of Cole Eye's clinical and surgical capabilities, as well as to enhance research and education. The expansion will be named the Jeffrey and Patricia Cole Building. Additionally, a $10 million grant from the Timken Foundation of Canton helped support the Cole Eye expansion planning phase and established The Louise Timken Ophthalmic Education Center. Completion of the Cole Eye expansion is expected at the end of 2025.
CCF said its main campus projects will significantly expand research facilities through its commitment to the Cleveland Innovation District announced early last year. These projects will be supported in large part by philanthropy, CCF officials said, and will add more than 2,000 indirect and 7,500 direct jobs that support families, neighborhoods and community life.
The Neurological Institute building will include inpatient and outpatient care, along with imaging and surgical services and research laboratories to investigate the function of the human brain and innovation labs to develop future neurological treatments, the CCF announcement said.
Although CCF says the building will be 1 million square feet, NEOtrans understands from Clinic sources it will be slightly larger than that. That would make it larger than the Sherwin-Williams headquarters under construction downtown and larger than any other building CCF has constructed to date.
NEOtrans began hearing last October that the Neuro Building would be more than twice as large as the 400,000 square feet that CCF had previously anticipated. Designing the new Neurological Institute will be two internationally renowned firms — London-based Hopkins Architects and Edmonton-based Stantec Inc., the sources said.
Currently, neurological services are located at several locations on main campus. This new facility will bring those caregivers and services together under one roof. CCF officials said this will enable collaboration between medical professionals and scientists to better serve patients, foster discovery and cures, and attract the next generation of caregivers.
A $10 million donation from the Charles L. Shor Foundation has supported design and planning of the building. In recognition of this gift, Cleveland Clinic is naming the epilepsy center The Charles Shor Epilepsy Center. Work on the project will begin this year with its first patient expected to be seen in 2026.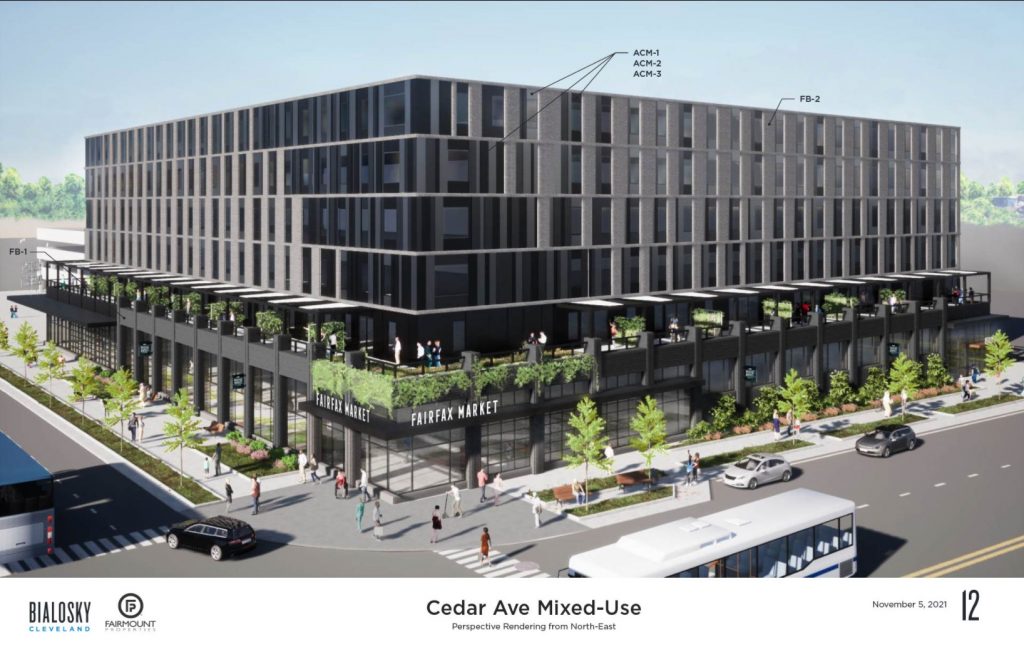 The Fairfax Market development will feature 196 market-rate apartments and a 40,000-square-foot Meijer grocery store. It is under construction on Cleveland Clinic-owned land at East 105th Street and Cedar Avenue. It is an example of the type of neighborhood development that could be pursued for the former Cleveland Play House site in the 8500 block between Euclid and Carnegie avenues (Bialosky).
To spread the construction responsibilities, the Clinic hired different general contractors to build the different facilities. Whiting Turner Contracting Co. will build the Cole Eye Institute expansion and renovate the three-story, 120,000-square-foot Cole Eye building facing Euclid. Turner Construction Co. will build the massive new Neurological Institute while the Gilbane Building Co. will be the general contractor for all phases of the new CID facilities.
Other CCF capital projects of note include:
Mentor Hospital, scheduled to open in 2023
Fairview Hospital renovations to address patient and caregiver needs
Weston Hospital in Florida, expansion of top floor of bed tower
London Hospital in the United Kingdom, which opened in March 2022
"Cleveland Clinic is committed to helping its communities thrive – through better health and economic opportunity," said Bill Peacock, Cleveland Clinic Chief of Operations. "Cleveland Clinic's hiring, purchasing and capital projects make a meaningful, measurable and lasting impact on the wellbeing of our neighbors and our local economy."
These projects follow the recent State of Ohio and JobsOhio $200 million investment and Cleveland Clinic's $300 million investment in the Cleveland Innovation District. This is the largest research effort in Cleveland Clinic's history and will also require philanthropic investment.
Additionally, CCF is collaborating with Fairmount Properties and other community partners to bring a $52.8 million Meijer grocery store and apartment complex called Fairfax Market to 3 acres of land at the southwest corner of Cedar and East 105th to address food insecurity and revitalize the neighborhood. This is an example of the type of neighborhood development project that could be pursued for the much larger Cleveland Play House site.
END