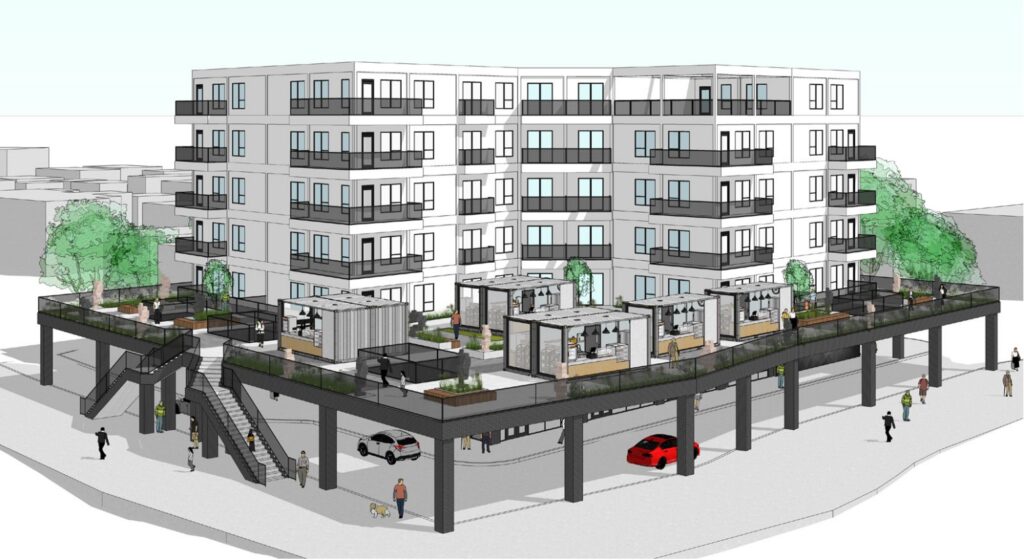 This view is looking southeast from the Inner Belt highway bridge across the Cuyahoga Valley with a terrace built above University Road and Sokolowski Way, formerly West 13th Street, to see downtown Cleveland over the highway. The stairways drop from the terrace to the Towpath Trail that links the lakefront to the Cuyahoga Valley National Park, Akron and beyond (GLSD). CLICK IMAGES TO ENLARGE THEM
Luxury apartments with terrace overlook planned
Two local businessmen are seeking to redevelop the former Sokolowski's University Inn restaurant property, 1201 University Rd., into a six-story luxury apartment and retail building, if the project is approved by the city of Cleveland as designed. The first step in the city's design-review process began yesterday as a Tremont neighborhood block club saw and gave input to the project's plans for the first time.
Members of the North of Literary Block Club were generally supportive of the plans presented to them for the apartments by the site's new owners Giancarlo Calicchia and Michael Nance plus the project's design-build-management firm of Geis Companies. Calicchia and Nance acquired the nearly 0.4-acre site after the 97-year-old restaurant closed in 2020 during the depths of the pandemic. It is due to be demolished.
Proposed to replace the venerable restaurant is a new, 56-unit luxury apartment building with lots of balconies and a large, second-floor terrace to provide a vantage point to see over the nearby Inner Belt freeway as it crosses the Cuyahoga Valley.
That elevated view will provide an unobstructed view of downtown Cleveland, which will reportedly put the rents for these apartments at a premium. Those views will also require a zoning variance from the city as the proposed height of the building will nearly double the 35-foot height limit for the site.
But the terrace will be open to the public and feature up to eight small pods, each measuring about 160 square feet. They will provide spaces for retailers or restaurateurs to offer an outdoor cafeteria setting next to and above the Towpath Trail, which will be reached by two stairways set right next to the path, said Brandon Kline, director of design development at Geis.
"We received very positive feedback and excitement for the public components of the project," Kline said. "Additionally, it was appreciated that we were trying to integrate the past history of the sites."
On the ground floor, will be a 4,178-square foot retail space that can easily divided into two smaller spaces of 1,692 and 2,486 square feet, Kline added. But concerns about parking are common at these presentations and yesterday's meeting was no different.
Parking for customers and employees of the retail space will have to either be on the street or in the lightly used 50-space Towpath Trail parking lot across Abbey Avenue from the site. Per the city's building code, 14 parking spaces would have to be provided on-site for the retail space, meaning another variance would have to be secured from the city.
Along on the first floor will be a 2,440-square-foot building lobby plus the indoor, ground-level parking with another level of parking below street level reached by a ramp. Plans show there are 56 parking spaces within the building for the residents which meets the city's building code.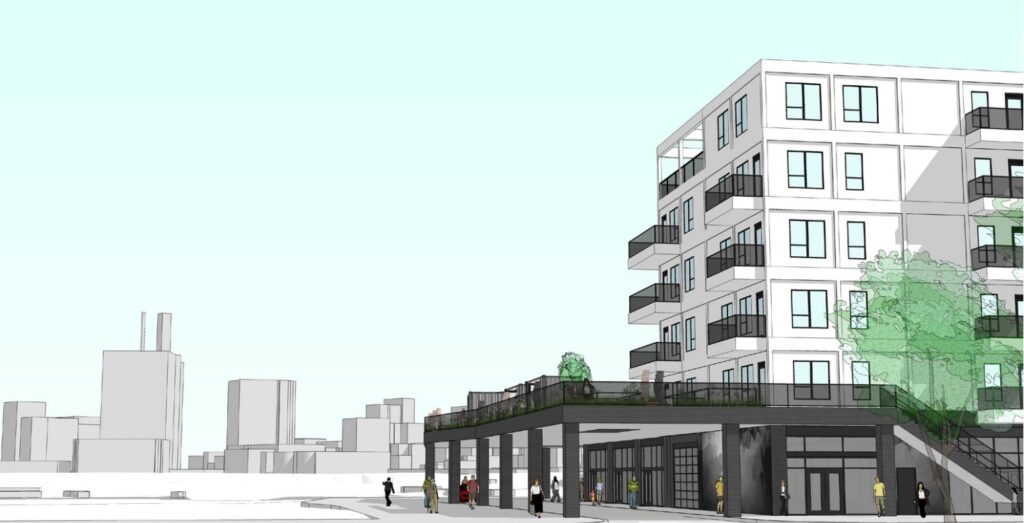 From roughly the same vantage point as the streetview in the previous image, the University Inn Apartments would offer a public deck with this view of downtown. The building color and texture was left blank to gather neighborhood input on a variety of sample materials and colors used in yesterday's presentation (GLSD).
Vehicle access to/from the building's parking is from two locations. The first level, or street level of parking would be reached from Abbey across from the alley West 12th Place. The ramp to/from the lower parking level would accessed via West 13th/Sokolowski Way which is a one-way street going north, turning clockwise east on one-way University, then south on two-way West 11th Street.
Of the 56 apartments proposed, 15 are two-bedroom units, eight are called one-plus bedroom units because they have slightly more space than the other eight one-bedroom units. But the one-plus bedrooms have no windows except for their sliding glass doors to balconies that face downtown. Lastly, there will be 25 studio apartments, plans show.
Also included in the building's design is a sixth-floor, open-air terrace measuring 832 square feet for all residents to enjoy views of downtown. Next to it is a 766-square-foot indoor social room for activities such as billiards, lounging or enjoying a snack or drink. On the second floor, in the building's angle-point, is a 1,788-square-foot amenity room that opens up to the outdoor terrace that wraps around the west and north sides of the building.
No public record could be located showing the purchase of Sokolowski's or how much Calicchia and Nance paid for the property. They could not be reached for comment.
Calicchia, born in Veroli, Italy, is the founder of Calicchia Stone Industries Inc. His studio is located at 722 Literary Rd. in Tremont but he acquired in 2019 a warehouse at 3101 E. 55th St. in Slavic Village for $256,122, county records show. He is known for his massive stone sculptures but he has worked in bronze and wood, too.
Nance is co-founder of 127 Wall Holdings, a minority-owned holding company that supports promising entrepreneurs and businesses. Their offices are located in a former LTK Steel plant office building, now called the Ferrum 77 Building, 3100 E. 45th St. As an investor, he joined a partnership last year to acquire 32 Save A Lot discount grocery stores in Cleveland and other cities from corporate ownership.
This apartment building is the latest of many others that were built recently, are under construction or planned in Tremont. The 26-unit Grosvenor Place, 2430 W. 7th St., opened in 2020. Electric Gardens and its 130 apartments opened a year later at 425 Literary. Treo's 171-unit apartment building is due to open this year at 2461 W. 25th St. So is Waterford Bluffs with its 241 apartments at 2020 Lorain Ave.
Sustainable Community Associates has been busy developing the 59-unit Wagner Awning, 2658 Scranton Rd., The Tappan, 1633 Auburn Ave. and its 95 apartments plus Leavened bakery, and The Lincoln, 2410 Scranton, mixed-use building. The latter is opening this spring. Another mixed-use effort is the renovated Scranton Carriage Works, 2341 Scranton. And help is around the corner at the 60-unit St. Joseph Commons, 2554 W. 25th.
Due to start construction any day is the 142-unit Abbey Avenue Apartments at about 1914 Abbey. The 85-unit West 20th Apartments is planned at 2485 W. 20th St., next door to Treo. A 185-unit property called The Pearl is under consideration at West 25th and Columbus Road. The 97-unit Driftwood apartments is proposed at 1209 Fairfield Ave. Meanwhile early plans are in the works for a mid-rise apartment building at 2781 W. 11th St.
END