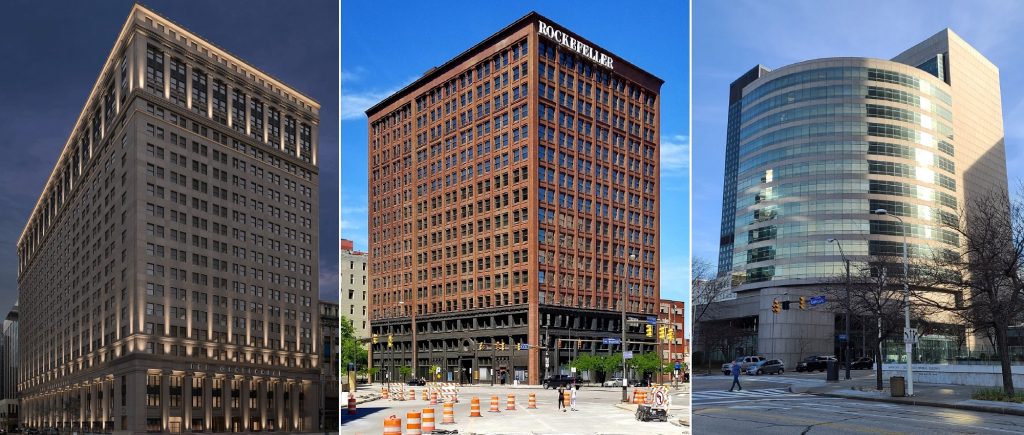 These three large former office buildings in downtown Cleveland are due to start their renovations and conversions this summer into mixed-use structures that will add a total of 1,671 housing units and nearly $700 million in new investment into the central business district. The buildings are, from left, The Centennial, The Rockefeller Building and 45 Erieview (Millennia & KJP). CLICK IMAGES TO ENLARGE THEM
Buildings to add nearly 1,700 apartments
This summer, renovations to a trio of large, former office buildings in downtown Cleveland are due to get underway that will convert their combined 2+ million square feet into mixed uses that will add 1,671 housing units, Class A office and co-working spaces, plus unique restaurant, retail and residential amenities. Total investment is projected to be $687 million for all three projects — The Centennial, 45 Erieview and The Rockefeller Building.
If they lease out quickly, as most of the high-rent urban core residential developments in Cleveland tend to do, these three buildings will add approximately 2,500 residents to downtown. But unlike other, recent new-construction towers downtown, including the 23-story City Club Apartments now under construction at 776 Euclid Ave., these buildings are not expected to command top-of-the-market rents. Indeed, thanks to their physical design or their financing, most of the residential units in these buildings will be marketed primarily as "workforce" housing — for bartenders, waiters, secretaries, nurses and others who want to be at the center of city life but haven't been able to afford it.
That will start to change in two to three years as the renovation work ends and the apartments come on to the market. But that would mean that renovations would have to start on the three buildings very soon. Indeed they will, as it appears right now.
45 Erieview
The project scheduled to start first is 45 Erieview at the southeast corner of East 9th Street and Lakeside Avenue. Renovation work is scheduled to begin shortly before a July 12 "groundbreaking" ceremony, said Zak Baris, President of Comprehensive Zoning Services, a real estate due-diligence and environmental firm based in Cleveland that worked on the project to help get it to this point.
"We're excited to get the project underway," said Baris who expressed his appreciation to the project's developers, Bluelofts Inc. and Wolfe Investments, both of Texas. Leopardo Companies of Chicago is the project's construction manager. The developers won a $5 million historic tax credit from the state last December to help them round out their financing package.
"We can't wait to get started on converting this big, empty building into much-needed housing," said Ike Bam, co-founder of Bluelofts with John Williams, in a written statement.
"This building will add to the heart of booming downtown Cleveland," said Kenny Wolfe, president at Wolfe Investments. "This is our third joint venture with Bluelofts."
The $102 million project will include converting the 16-story, 1983-built former Ohio Bell headquarters into 362 apartments above co-working spaces on the first and second floors and below a rooftop swimming pool. There will be retail, a restaurant and a coffee shop on the ground level but the commercial tenants have yet to be publicly identified. The property includes a neighboring 348-space parking garage plus 32 parking spaces under 45 Erieview. Also in the basement will be an eSports (competition using video games) venue. The 492,864-square-foot building features a distinctive, curving glass façade that offers views north to Lake Erie and west to East 9th Street.
The other two projects don't have groundbreaking dates nailed down yet, but both are expected to start renovations in or about mid-August, according to sources connected to each development but who weren't authorized to speak publicly about them.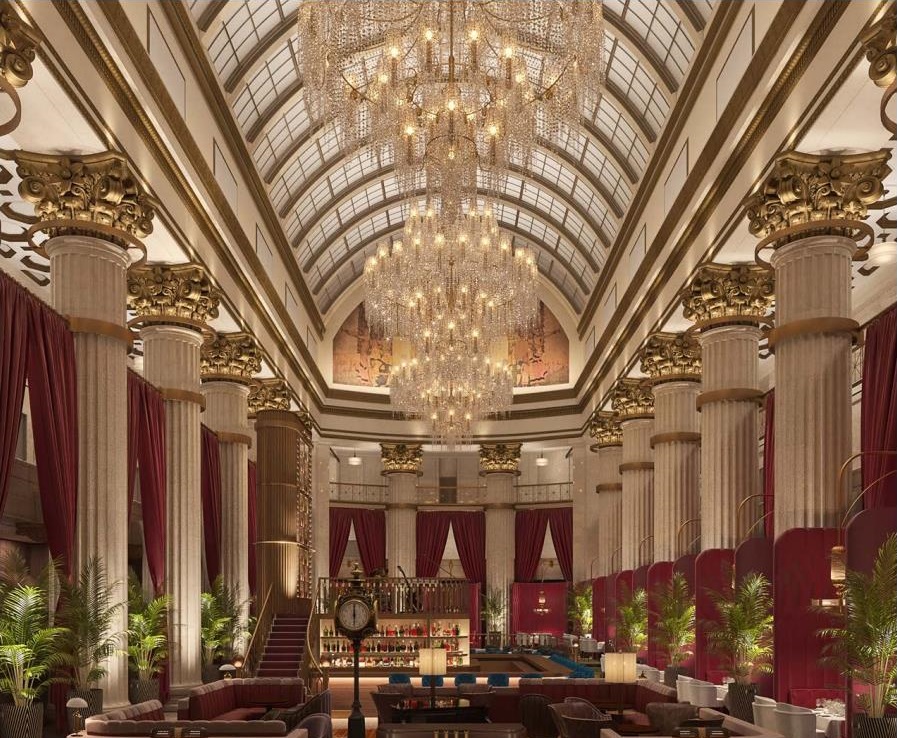 The big daddy of downtown renovations is The Centennial whose massive bank lobbies, the largest in the world when the building opened in 1921, will be renovated into restaurant and museum spaces so the public can continue to visit and admire their grandeur, as this artist's rendering shows (Millennia).
The Centennial
"It's probably going to be before Labor Day," said one of the sources, referring to the groundbreaking ceremony for The Centennial, 925 Euclid Ave. This $465 million project is certainly the largest if not the most complicated of the three. The 1.3-million-square-foot, 21-story, 101-year-old building with its massive interior lobby and barrel-vaulted ceilings was the former bank headquarters for the Union Trust Bank, Union Commerce Bank and, most recently, a regional headquarters for Huntington Bank.
Developer Millennia Companies is finalizing the multiple layers of financing for the project, including two huge state tax credits. One is a $40 million Ohio Transformational Mixed-Use Development (TMUD) tax credit awarded earlier this year and the other a $25 million "catalytic" historic tax credit granted in 2015 when the property was under the ownership of Hudson Holdings. But difficulties in adding other layers of financing due to the building's many non-revenue-generating spaces kept the project from moving forward, testified Millennia CEO Frank Sinito before a legislative committee in 2019 on the need for creating the TMUD credit program.
"Of the 1,300,000 square feet in The Centennial, over 350,000 square feet of the building is non-income producing circulation and other space," he said. "The rents from the other income-producing areas of the building simply are not sufficient to subsidize the costs associated with these very large but non-income producing areas of the building. So, given these realities, it is very important to see — and I think it becomes quite clear — that existing buildings often have an even greater need for the type of financial assistance that SB 39 (TMUD legislation) is intended to provide than new construction does."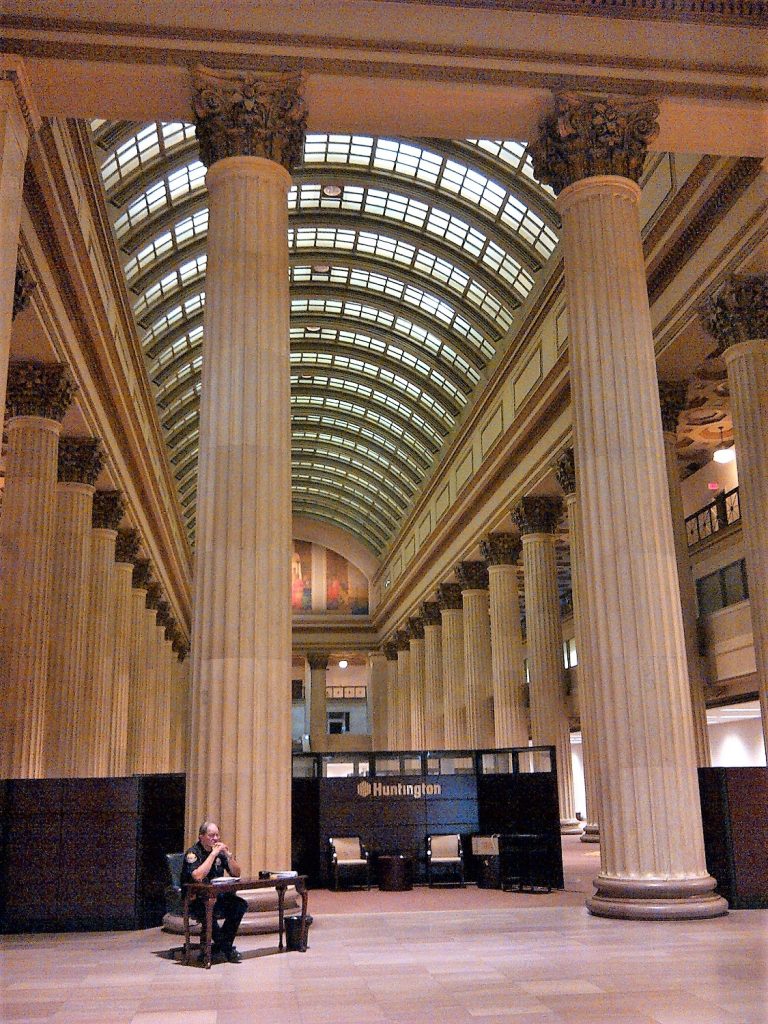 A couple of weeks before it was vacated in November 2011, this is what part of Huntington Bank's lobby at 925 Euclid Ave. looked like when it was still used as a bank. The other wing of the lobby extends off the to right and out of view. It has remained vacant ever since except for occasional special events (KJP).
Also supporting the project are federal historic tax credits and low-income housing tax credits so that all of the housing units at The Centennial can be offered at below market rate. Based on 2020 data, rents could range from $665 to $1,064 for an efficiency, $712 to $1,140 for a one-bedroom apartment, $855 to $1,368 for a two-bedroom unit, and $988 to $1,588 for a three-bedroom suite, according to Millennia.
In addition to undisclosed private financing, the state has committed a $5 million brownfield loan. Plus, there's a $5 million loan from Cuyahoga County and a $15 million loan from the City of Cleveland, said Tom Mignogna, Millennia's project manager on The Centennial. He said the renovation work will take about 36 months to complete. A joint venture of Marous Brothers and Gilbane Inc. is serving as the project's construction management.
Also planned for The Centennial is 21,978 square feet of retail, office spaces for several hundred workers, a 16,607-square-foot museum called the Cleveland Exposition Center, and a ground-floor 7,411-square-foot restaurant with two private dining rooms called The Century Club. Sinito and his wife Malisse created the successful Marble Room restaurant out of another Gilded Age bank lobby nearby on Euclid Avenue. On The Centennial's 21st floor will be a 5,032-square-foot indoor event space with kitchen plus private meeting rooms and a library.
The Rockefeller Building
Another Gilded Age structure is due to go under the knife by the end of August — the $120 million renovation of the Rockefeller Building, built at the direction of Standard Oil founder John D. Rockefeller. The former office building at 614 W. Superior Ave., with its first phase constructed in 1905 and the second in 1910, measures 17 stories tall and 261,264 square feet. The building has fallen into disrepair over the decades but still features much of its original marble, iron, brass and woodwork.
It will be reborn under the guidance of developers Realty Dynamics of Cleveland and Wolfe Investments. The latter is a partner in 45 Erieview, mentioned earlier. Overseeing the renovation work and managing the Rockefeller Building is Geis Companies of Cleveland and Streetsboro. Geis has a track record with historic renovations downtown. They include converting the former May Co. department store into apartments and the old Cleveland Trust Bank rotunda and neighboring buildings at Euclid and East 9th Street into The 9, a 29-story mixed-use complex including a Heinen's grocery store.
The Rock, as it is affectionately called, will see floors 5-16 redeveloped into 436 apartments including 273 micro-unit apartments whose small size will make them more affordable to a wider market. The ground floor will have 12,000 to 15,000 square feet of retail, be it shops, barber/salons, restaurants and/or food hall. Floors 2-4 will have renovated offices, according to Conrad Geis, director and managing partner of Geis Companies.
"When you walk in, you're going to know you're in a Rockefeller building," Geis said. "We're going to stay in line with the design, look and feel of this building to ensure the preservation of the building and the meaning behind it."
Acquisition and development of The Rock was driven by Sherwin-Williams' decision to build its new $300+ million global headquarters across West 6th Street. So were two other nearby $80 million renovation projects now underway. One is the redevelopment of the 1958-built, 22-story 55 Public Square into 205 apartments, 62,295 square feet of modern office space and ground-floor retail/restaurants. K&D Group and Cleveland Construction Inc. are on track to complete the project in 2023. Renovations are also underway at the Marriott's Renaissance Cleveland Hotel on Public Square. Updating of the 104-year-old Hotel Cleveland, the first building in the Cleveland Union Terminal complex (today's Tower City), is due to be finished next year.
END