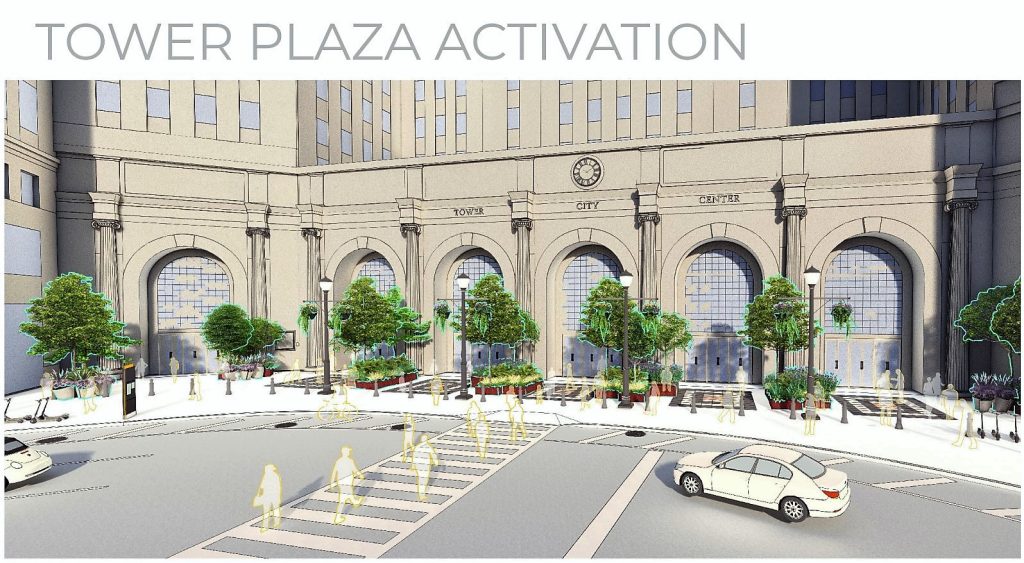 At least a half-dozen shade trees with understory plantings in box planters, plus new sidewalk pavers and lighting are planned by Bedrock for the Public Square entrance to Tower City Center. The Avenue shopping mall is owned by Bedrock while Terminal Tower above this entrance is owned by K&D Group (MKSK/LAND). CLICK IMAGES TO ENLARGE THEM
May enliven Tower City, Euclid, Ontario public realms
Cleveland was once called the "Forest City" because of its many large, healthy trees along its major thoroughfares. One would never know that today after 150 years of industrialization and then neglect in the city's post-industrial era. Now, there are many parts of the city that are devoid of mature trees, notably downtown where the lack of vegetation makes the central business district feel hotter in summer and more windy in winter.
But Bedrock Real Estate of Detroit has released plans to make downtown sidewalks more hospitable, or at least those fronting its own properties in the city's urban core. The improvements include box planters, ornamental trees that are large enough to provide shade, layered understory plantings, new street/sidewalk lighting, reconditioned pavers and other sidewalk surfaces, plus benches outside Tower City's Prospect Avenue entrance. A design and construction team hired by Bedrock will present those plans for review, suggestions and possibly approval by Cleveland's City Planning Commission starting on Aug. 5, according to a preliminary agenda distributed by the commission to local news media.
Overseeing design of the public realm improvements are MKSK architects of Columbus plus LAND Studio and Osborn Engineering, both of Cleveland. AKA Construction, also of Cleveland, is the general contractor with Royal Landscape-Gardening Inc. of Garfield Heights handling the streetscaping and Zenith Systems LLC of Bedford Heights as the electrical contractor.
The investments are a continuation of Bedrock's newly installed Skylight Park inside Tower City Center's The Avenue shopping mall. The indoor park, for now populated by fake vegetation, opened July 16 in collaboration with Cuyahoga Valley National Park and the Conservancy for Cuyahoga Valley National Park. In a press release, Bedrock referred to the setting as "A welcoming respite, Skylight Park will be furnished with benches, picnic tables and chairs for everyone to connect with nature at Tower City."
Bedrock now intends to enhance the outside of its downtown Cleveland properties. They include The Avenue at Tower City, The May Apartments (previously the May Co. department store), 200 Euclid Ave., Cleveland's first May Co. department store (built in 1897 as the E. R. Hull & Dutton Co. store), 2025 Ontario St., plus the former May Co. parking garage at the northeast corner of Ontario and Prospect Avenue. Plus, Dan Gilbert's Bedrock also intends to provide a streetscape to the west side of Ontario outside its former casino. Vici Properties bought the Higbee Building in 2019 and Jack Entertainment acquired the casino operation in late-2020 from Gilbert.
What are Bedrock's goals in making these streetscape improvements?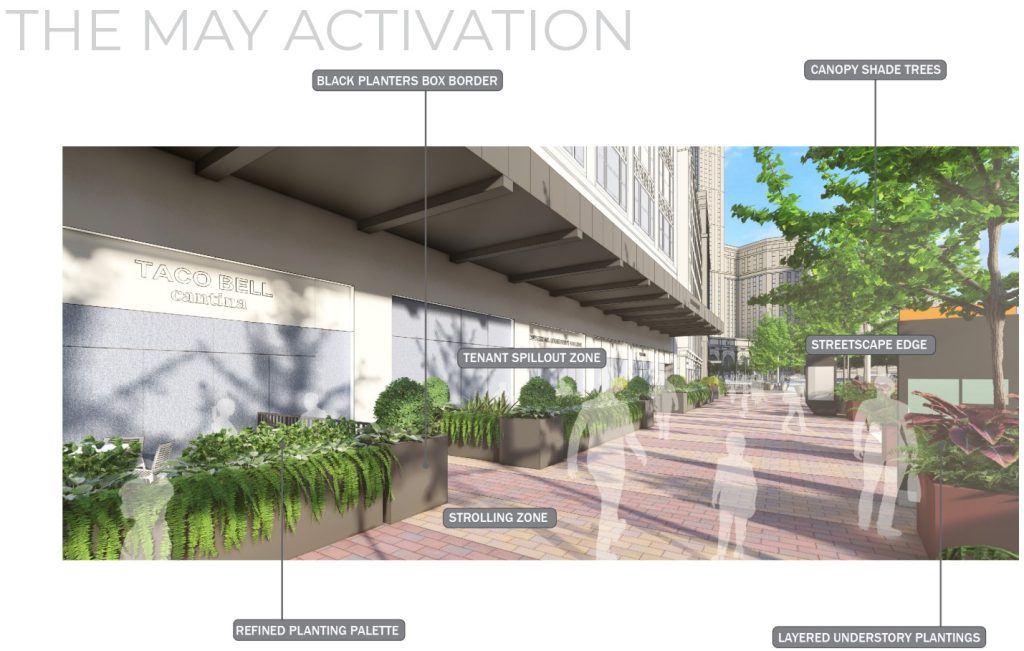 A description of the proposed streetscape improvements along Euclid Avenue in front of The May Apartments and its ground-floor retail spaces (MKSK/LAND).
"(It's a) demonstration of Bedrock's commitment to a 30-year strategic vision, Downtown Cleveland and the greater Cleveland stakeholder community," according to a presentation submitted by the design team to the City Planning Commission. "(We'll) create a more interconnected, walkable, activated, multi-modal experience between destinations including the Avenue of Shops at Tower City, Public Square, Rocket Mortgage Field House, Progressive Field and the JACK Casino."
Additionally, Bedrock's design team said it intends to "Create a year-round destination to attract visitors and to provide downtown residents and businesses with fresh and enlivened environments that helps evolve the narrative of Downtown Cleveland, testing constructs that may evolve from 'temporary activations' to 'permanent interventions'," their presentation to the city reads.
Ultimately, of course, Bedrock's efforts are geared toward improving leasing at The May and in The Avenue. The May has 19 apartments immediately available out of 307 units, for a 94 percent occupancy. Although 62 of the apartments are dedicated exclusively for use by extended-stay customers of ROOST Apartment Hotel. However, the building's 80,000-square-foot retail/restaurant occupancy is only at 50 percent, according to its listing with the CRESCO brokerage.
Occupancy at The Avenue at Tower City was much lower, dipping to just 15 percent in recent years, but Bedrock has been working to bring that back up with new tenants, cosmetic renovations, and special events like concerts and boxing matches to create more foot traffic. New occupancy numbers are not available from Bedrock. NEOtrans e-mailed Bedrock spokespersons Lora Brand and Tom Goulding for more information but did not hear back from either of them prior to publication of this article. Among the questions posed to them was why no streetscape improvements are planned along Huron Road.
Bedrock Chief Operating Officer Ivy Greaner has said for months in press releases and media interviews that a major makeover of Tower City's The Avenue was being planned but would be carried out in two phases. The first phase is underway, including the cosmetic enhancements and new special events. It would be followed by major renovations which have yet to be announced.
Bedrock acquired The Avenue at Tower City Center in 2016 from Forest City Enterprises. In addition to its long-promised major renovations to The Avenue, Bedrock reportedly is interested in significant investments along the riverfront between Tower City and the Cuyahoga River, including new office, residential and hotel building plus expansive public spaces. Bedrock recently hired world renowned architect Sir David Adjaye to help design its riverfront project.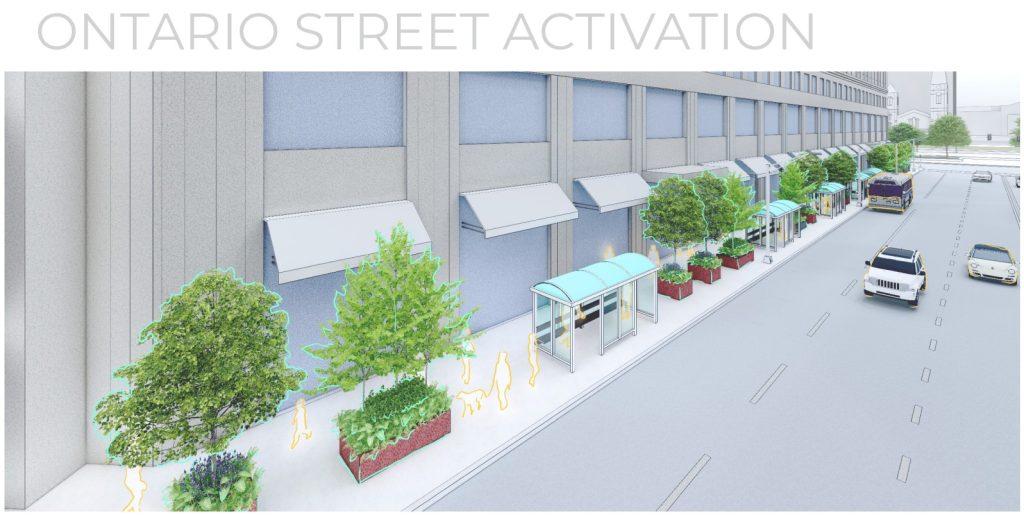 One of the most pedestrian unfriendly thoroughfares downtown is Ontario Street just south of Public Square. This view looks north to the square along the casino's side of the street. Ontario is a largely featureless, windswept traffic sewer where there are multiple bus stops but, based on its emptiness, no one apparently wants to wait for a bus in that environment (MKSK/LAND).
END