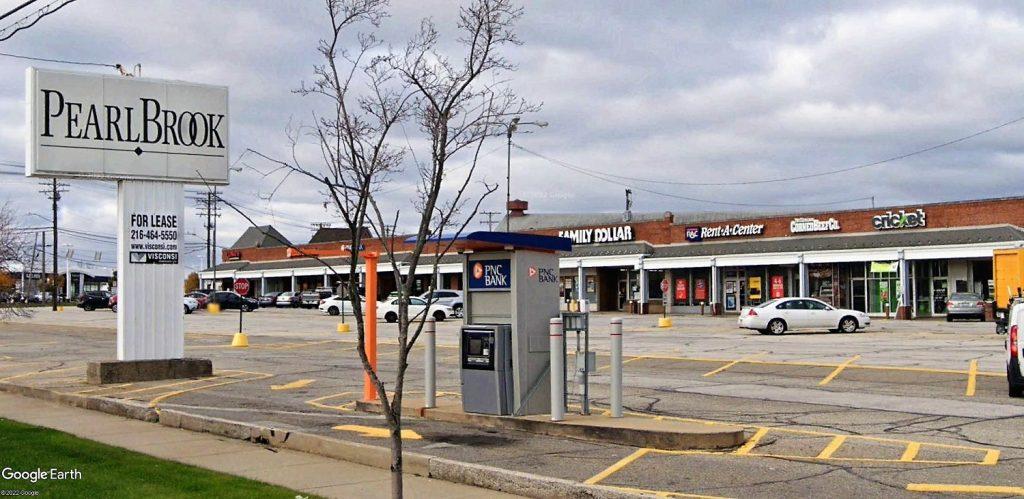 Everything from Luna's Deli & Restaurant at the left to Athens Imported Foods & Deli, a fixture here since 1957 but out of view to the right, will be demolished in the coming months. In the place of the 75-year-old PearlBrook shopping center will be a Sheetz gas station and store plus to-be-named future development (Google). CLICK IMAGES TO ENLARGE THEM
Retail strip to be replaced with a Sheetz station
ARTICLE UPDATED AUG. 5, 2022
An historic retail strip where Cleveland meets Parma, but was often better known for its cinematic and musical neighbors, is due to be demolished. In place of the PearlBrook shopping center will be a Sheetz gas station and convenience store, plus some unidentified future development just north of it. The center, located at its namesake Pearl and Brookpark roads, has been the space between two places ever since it was built.
It was built in 1947 on a then-newly closed streetcar loop track by Brook-Pearl Inc., an affiliate of Anthony Visconsi, on the Cleveland side of Brookpark and owned for 75 years by affiliates of Visconsi Companies. PearlBrook has typically featured about 17 neighborhood-oriented stores and restaurants, give-or-take a few, and was one of the largest suburban-style strip shopping centers in Cleveland at that time. But its neighbors were regional draws. One was the Yorktown Theater that was built in the same year just west of the retail strip on Brookpark. The retail strip was sometimes referred to in the media as the Yorktown Shopping Center.
The other neighbor was constructed in 1950. Federal Stores built a discount department store in what was and is a separate property called Pearl Plaza, 5100 Pearl, in Cleveland's Old Brooklyn neighborhood. The store lasted a couple of decades but was soon subdivided to host its more famous successors.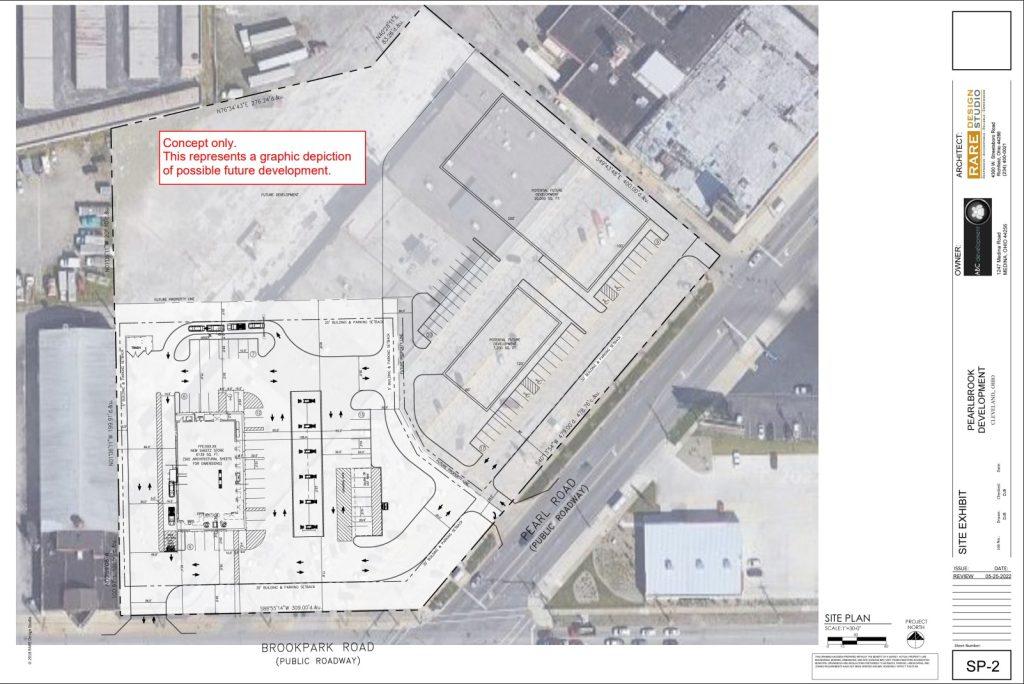 It's a development plan sure to make Baby Boomers and Generation Xer's weep, although the PearlBrook shopping center's bookends were more well known and will still stand even though they are now empty. One of those bookends, at lower left and next to the soon-to-close Luna's Deli & Restaurant, is the old Yorktown movie theater. The other, at upper right, is the Pearl Plaza, once home to a Peaches record store and the Dixie Electric Company/Mining Company nightclub (RDS).
One side became a popular nightclub and the other a famous record store called Peaches. The nightclub was The Dixie Electric Company discothèque in the 1970s and later a pop music dance club called The Mining Co. In between were a mix of stores and restaurants including the popular, 73-year-old Goodman's Sandwich Inn (now the Cleveland Corned Beef Co.). The intersection of Pearl and Brookpark was one of Greater Cleveland's top-10 busiest intersections until Interstate 480 was completed between I-71 and I-77 in 1987, and the Jennings Freeway (State Route 176) was built in 1998.
Neither the Yorktown Theater or Pearl Plaza are part of the redevelopment, but they are what attracted most people to the shops at the northwest corner of Pearl and Brookpark. Yet, neither the Yorktown Theater or the Pearl Plaza are looking very healthy these days. County property records show the movie theater was sold by Loews Theatre & Realty Corp. in 1987 to Yorktown Cinemas Inc. It closed and sold the theater in closed in 1996 to Donald H. Powers. He quickly sold it to the International House of Prayer. It appears to have been transferred in 2020 to Ace Storage Inc. of Delaware.
The nightclub tried to make a comeback in recent with separate themes. Bellbottoms Disco Bar operated by capitalizing on the nostalgia of patrons of Dixie Electric Company/Mining Company but it has since closed. Saddle Ridge had a longer run as a country nightclub with a mix of hip-hop, rap, rock and countrified pop music like Kidd Rock and Gretchen Wilson. It, too, has closed. A mattress store and a wireless communications retailer keep the lights on at Pearl Plaza, these days.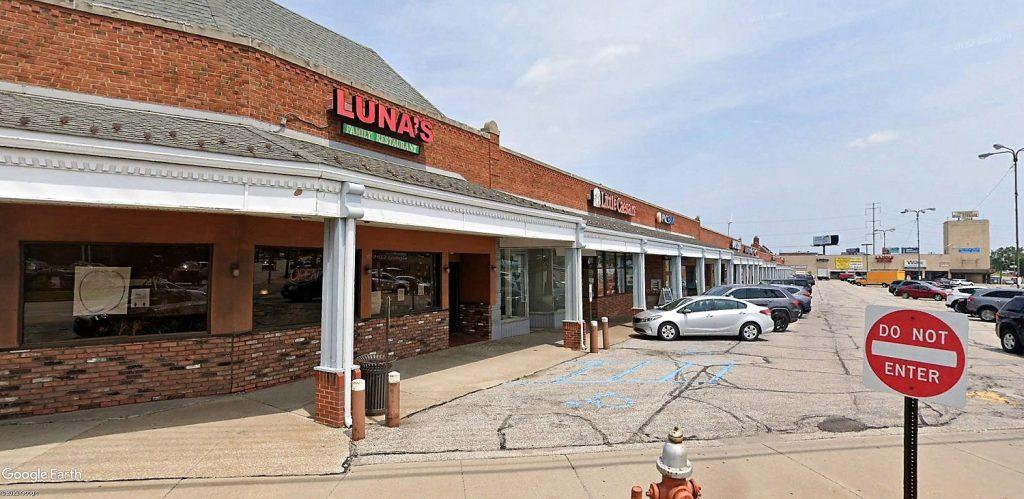 Pretty soon, no one will be able to enter or exit this lot, as the entire PearlBrook shopping center at left will be demolished to make way for a Sheetz gas station and convenience store. In the background at right is Pearl Plaza, built as a Federal department store but became better known as The Dixie Electric Company/Mining Company nightclub and Peaches record store. The long-closed Yorktown movie theater is just out of view to the left (Google).
Between Pearl Plaza and the shell of the Yorktown will rise a gas station and convenience store that received final approval Aug. 5 from the Cleveland City Planning Commission's Design Review Committee. Everything from Luna's Deli & Restaurant to Athens Imported Foods & Deli, will be gone. Luna's has another location on York Road in Parma Heights. Athens Deli moved here a dozen years ago after its lease ran out at its home of 51 years on Lorain Avenue in Ohio City. A demolition permit will be pursued separately and directly from the building department as it does not require design review approval. Its demolition also does not require approval from the Cleveland Landmarks Commission.
"The building is not in a design review district so therefore we don't review the demolition of the existing structure on the site," said City Planner Matt Moss at a July 1 committee meeting where the Sheetz project received schematic approval.
According to plans submitted to the city, the Sheetz store will measure about 6,139 square feet. Under the city's zoning code, the store is required to have 62 parking spaces but only 44 would be provided. That means the developer, ABC Development of Medina, will have to seek a variance from the city's Board of Zoning Appeals.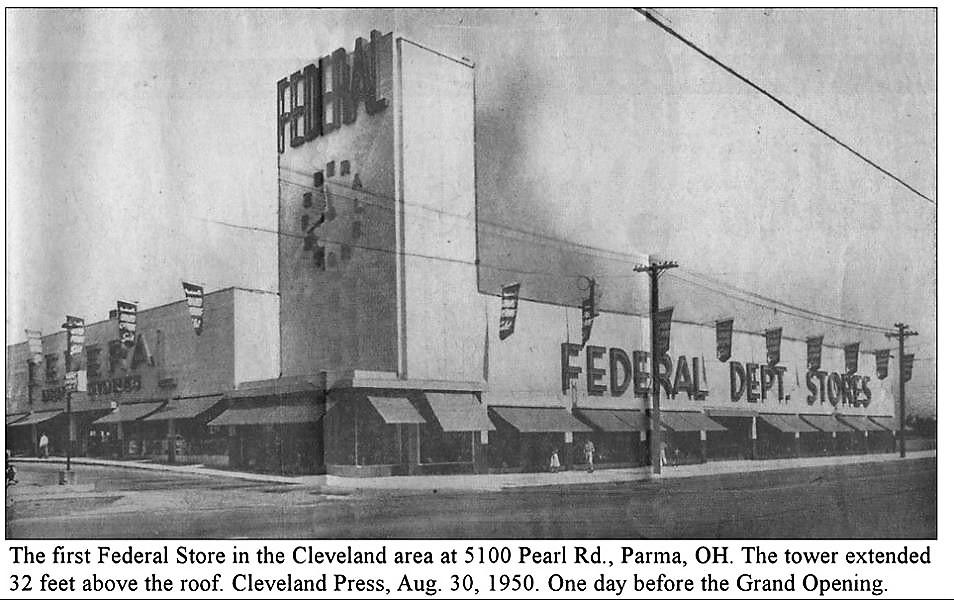 Pearl Plaza was built in 1950 at the south end of the 1947-built PearlBrook shopping Center as a Federal department store. A Peaches record store was established in the 1970s in the near part of the plaza while the Dixie Electric Company/Mining Company nightclub was located in the left, or west side of the property. This view is looking northwesterly from Pearl Road (Clevelandmemory.org).
"I fully support this," said Ward 13 Councilman Kristopher Harsh. "Redevelopment of that intersection is really important. We haven't had anything in many, many decades. It's sorta fallen on hard times. This will be a nice addition to that intersection, especially the landscaping plan I think is with more trees. So I think this is a welcome development project."
ABC is buying the site from Visconsi Companies which has owned the retail strip since it was built according to county records and newspaper clippings. In January, Visconsi split the lot in two on which the shopping center has set. It presumably will sell the other parcel for future development or may already have, based on Sheetz's site plans. Mike Olsen, a Visconsi vice president, did not respond to an e-mail from NEOtrans seeking more information.
There are three other Sheetz stations within about five miles of the PearlBrook location. One is located at Ridge Road and Day Drive in Parma. Another is on Tiedeman Road between Brookpark and I-480 in Brooklyn. The third is at the intersection of Snow Road and West 130th Street in Parma Heights. All Sheetz locations are open 24 hours a day.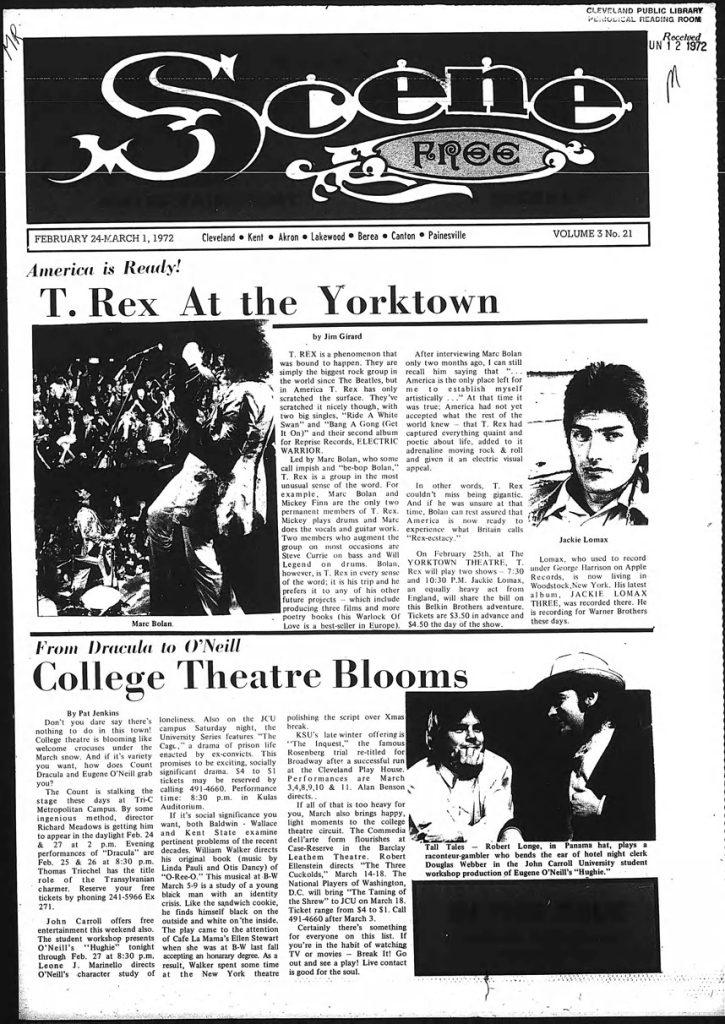 The Yorktown movie theater, built as part of the PearlBrook shopping center, didn't just show movies. Before the theater was "twinned" in 1974, it also hosted concerts including for T. Rex in 1972 when Scene Magazine claimed the English band was the "biggest rock group in the world since the Beatles." The Yorktown was mobbed by thousands of fans showed up to see the group perform live (CPL).
The PearlBrook addition is part of an aggressive expansion by Sheetz in Ohio. They said the local stores will offer Sheetz's "made-to-order" menu with customized specialty drinks and food items around the clock. There will also be a drive-through at the PearlBrook site.
"We are thrilled to continue our growth in Ohio," said company CEO and President Travis Sheetz said in a press release. "Built on the values my Uncle Bob instilled when he founded Sheetz in 1952, we look forward to being a great employer and neighbor."
Ellen Selle, project manager and owner's representative at engineering firm GPD Group of Akron, said the Sheetz store was originally proposed to be set farther back on the lot with the fuel pumps in front, close to Brookpark. But that orientation was changed after gathering input from the city's Near West Design Review Committee to offer a new site layout.
"It brings the building as close as possible to Brookpark Road and still has really good visibility to the front entrance," Selle said at the July 1 meeting. "It really shows the building well with the pedestrian access. You can see the fuel pumps from both sides and it's got a really good landscaping plan with it."
She said the developer and architect Rare Design Studio of Richfield will look at adding some more cluster trees along Pearl and "beefing up the landscaping plan" a little bit more. The former PearlBrook retail strip property north of the one that was split off for the Sheetz station has no current development plan for it. A placeholder development plan for the northern half of the site was included in documents to the city.
It shows a building could built adjacent to the front entrances of Pearl Plaza — the former department store turned nightclub and record store. If so, the loss of public visibility from the street of those buildings, especially the nightclub building in back, may limit their future uses. But that may have been inevitable with the loss of vehicular traffic following their siphoning off to new freeways decades ago.
END