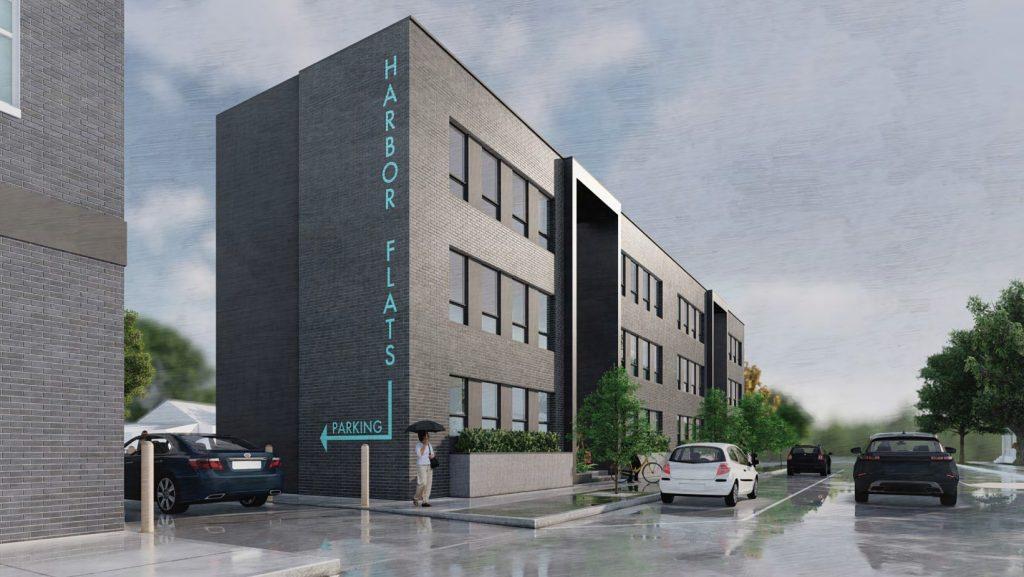 Looking south from Lorain Avenue on the one-way, southbound-only West 44th Street, the planned Harbor Flats apartments is planned for the east side of the street with the Harbor Row townhomes proposed just beyond it. However, some design elements shown here may change, including the signage on the side of the building which is intended to be visible from Lorain. Also, the planter boxes along the front may be lowered slightly (Horton Harper). CLICK IMAGES TO ENLARGE THEM
Housing to build off of commercial phase one
With City Planning Commission approval behind it, the developer of Harbor 44 is ready to set sail on its next phases of the mixed-use development in Cleveland's Ohio City neighborhood. Local Development Partners, LLC (LDP) in 2021 completed phase one at the southeast corner of Lorain Avenue and West 44th Street, called Harbor Street before 1905.
Now LDP is moving on to phases two and three. Unlike the first phase, which was entirely commercial with ground-floor retail topped by two levels of office spaces, the next phases will be residential. The 22,000-square-foot first phase has all but 6,800 square feet of space leased, according to real estate broker CBRE. The property's most visible tenant is the Sherwin-Williams paint store at the corner.
On Aug. 5, planning commission's Design Review Committee gave LDP a unanimous signal to move forward on development of Harbor Row, comprised of 11 for-purchase townhomes, and Harbor Flats, a 15-unit rental apartment building. Final design approval was granted in February for the townhomes but a conditional use permit was added for Harbor Row, allowing the third phase to move forward next. A conditional use permit allows a property owner to use their land in a way not permitted by existing zoning. The zoning for this and the apartment sites is two-family residential, according to the city.
The committee also gave final approval for phase two — the apartment building — but encouraged the developer to follow design suggestions offered by the neighborhood design review committee and for City Planning Commission staff to review signage elements in the future. The committee ultimately gave Planning Director Joyce Huang the authority to sign off on the project's final design. That would allow the developer to move forward more quickly rather than wait for another extra-busy design review committee meeting to get the final OK.
Both structures would rise on vacant lots on the east side of West 44th, just south of Harbor 44. Harbor Flats apartments are planned for between Lorain Court and Apple Avenue. The Harbor Row townhomes are proposed for between Apple and Orchard Avenue. The townhomes were designed by Antonia Marinucci's Cleveland-based firm The Architetta. The apartments are a product of Horton Harper Architects, also of Cleveland. This project has been in the works for more than a year. NEOtrans first reported on it almost exactly one year ago.
"Building upon the success of the first phase of Harbor 44, this development will build new residences," LDP Principal James Asimes told NEOtrans last year. "We've been trying to come up with more small, for-sale products. This is a good way to accomplish that. We want to roll out more of these."
Farther southwest, a dozen Horton Harper-designed townhome-style apartments are replacing two existing houses at 2222 Fulton Road. Called The Clermont, named after Robert Fulton's first steamship, each unit will have a large living room, modern kitchen, full bathroom, plus a washer and dryer. First-floor units will have a front patio with more outdoor space for all residents in the rear of the building.
"The Clermont is designed to provide a more affordable new apartment — with price points that better appeal to the budget of a teacher, nurse, or civil servant compared with other new apartments in the area," according to a project brief published on CoUrbanize.
The aesthetics of the Harbor Flats and Harbor Row projects focus on using materials commonly seen in the neighborhood such as brick and cladding, hailing back to historic architecture types but with a modern interpretation. The development will provide an attractive streetscape with new landscaping and lighting, according to a description of the project on its CoUrbanize page.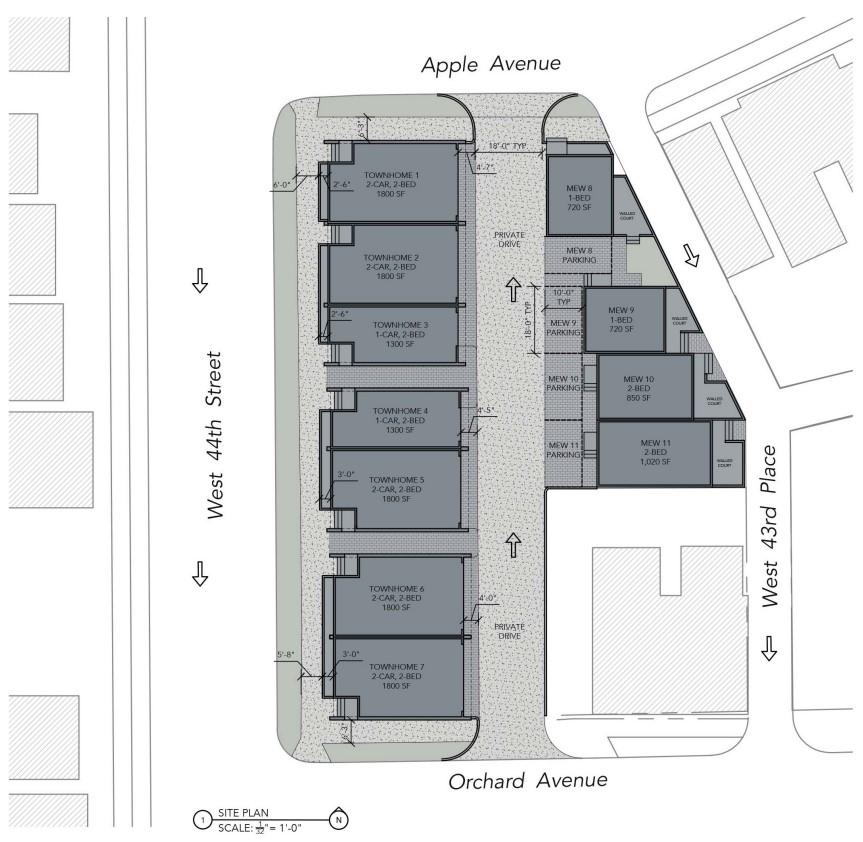 Site plan of the planned Harbor Row which, although listed as the third and final phase of Harbor 44, it will probably be built before the Harbor Flats apartments. North is at the top of the image (The Architetta).
Harbor Flats' apartments will vary in size, offering a broad set of options in both size and price point to appeal to potential residents. Each floor plate features a modest studio, a pair of one-bedroom suites, and a spacious two-bedroom suite. Each apartment, regardless of size, offers private terrace or balcony space for tenant enjoyment and engagement. The walk-up first-floor units and street-facing terraces and balconies aim to engage the street front. New landscaping and exterior lighting will add beautification and safety to W. 44th Street.
"It's a very simple layout," said architect Westleigh Harper of Horton Harper Architects. "These units will be relatively small to keep the price point low."
There will also be a surface parking lot behind Harbor Flats that will provide the overnight parking for apartment residents. Because it is a tight site, Harper said the same parking lot during the day be used to provide spaces for the retail and office tenants of the Harbor 44 at the corner of Lorain and West 44th, Harper said at the Aug. 5 planning commission meeting.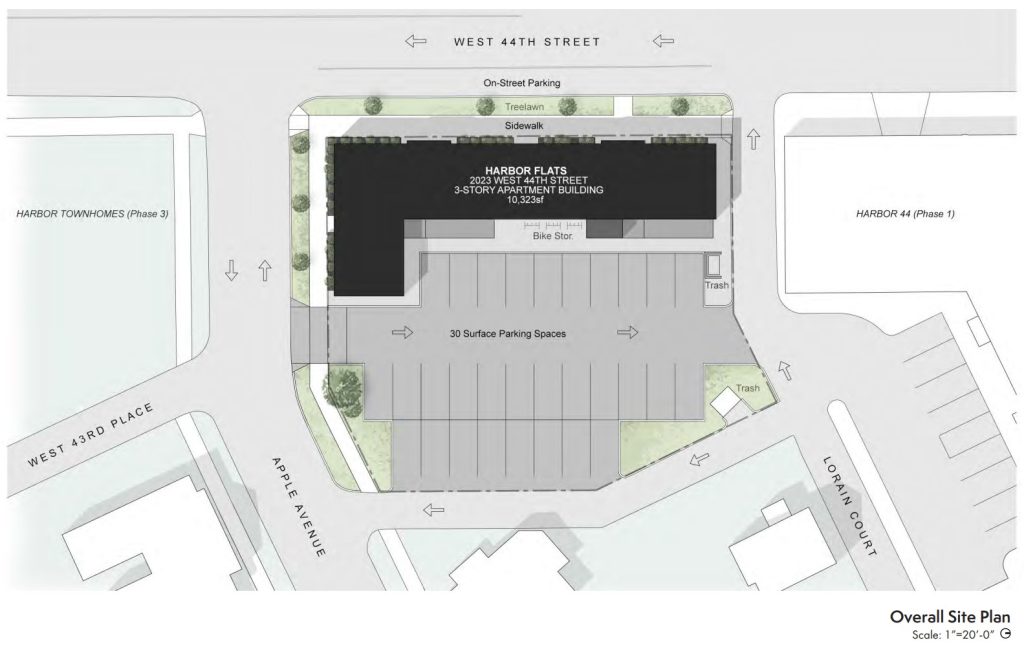 Site plan for the Harbor Flats apartments including its parking lot that will provide spaces for residents at night and for retail/office workers and customers of the Harbor 44 commercial building at right, or north (Horton Harper).
"Our parcel is kind of pulling double-duty where we are accommodating a good amount of surface parking for the retail component on Lorain Avenue and then the remaining property along (West) 44th Street is where we're proposing this 15-unit apartment building," he added. "We're working closely with James (Asimes) and his team to get this project moving along. We have 30 (parking) spaces. Some of that will be for the actual apartments and some of that for the commercial development (in phase one)."
With a recent repaving of West 44th, the street has been re-striped to include on-street parking on the same side of the street as the apartment building. That will provide a buffer to the apartments as will a narrow strip of landscaping between the building and the sidewalk. Plus there will be street trees between the sidewalk and the on-street parking. The developer also intends to bury any electrical utility wires along West 44th "so the street trees can grow without being hacked away by the power companies in the future," Harper said.
Meanwhile, Harbor Row will offer for-sale townhomes that will vary in size to accomplish LDP's goal of offering a range of affordability for newly-constructed homes in the neighborhood, Marinucci said. Seven townhomes will front West 44th, each with its own garage and terrace space. The townhomes will have mansard roofs to give elevated curb appeal without overwhelming height. By keeping the townhomes in clusters of two or three, nearly all units have three sides of windows, providing an abundance of natural light.
Along W. 43rd Place will be four smaller townhomes, known as mews, with an eye towards affordability. Calling back to the history of small cottages that have dotted the alleyways in Ohio City for more than a century, these will be modest in size, providing living space on the first floor and bedrooms on the second floor, Marinucci said. These smaller homes will each have a dedicated off-street surface parking space and outdoor space.
The proposed development is in response to the growth of population and demand for higher-quality urban housing in the southwest part of Cleveland's Ohio City neighborhood. But unlike many new housing units built in Ohio City, these two developments propose to offer a mix of market-rate and affordable units. Construction of the townhomes will likely occur first, even though it is shown on planning documents as the third and final phase.
Although no construction date was discussed, given the typical timelines of the city permit approvals process, it is possible that construction on the townhomes could start by year's end. Work on the apartments, however, might not start until early in 2023.
END