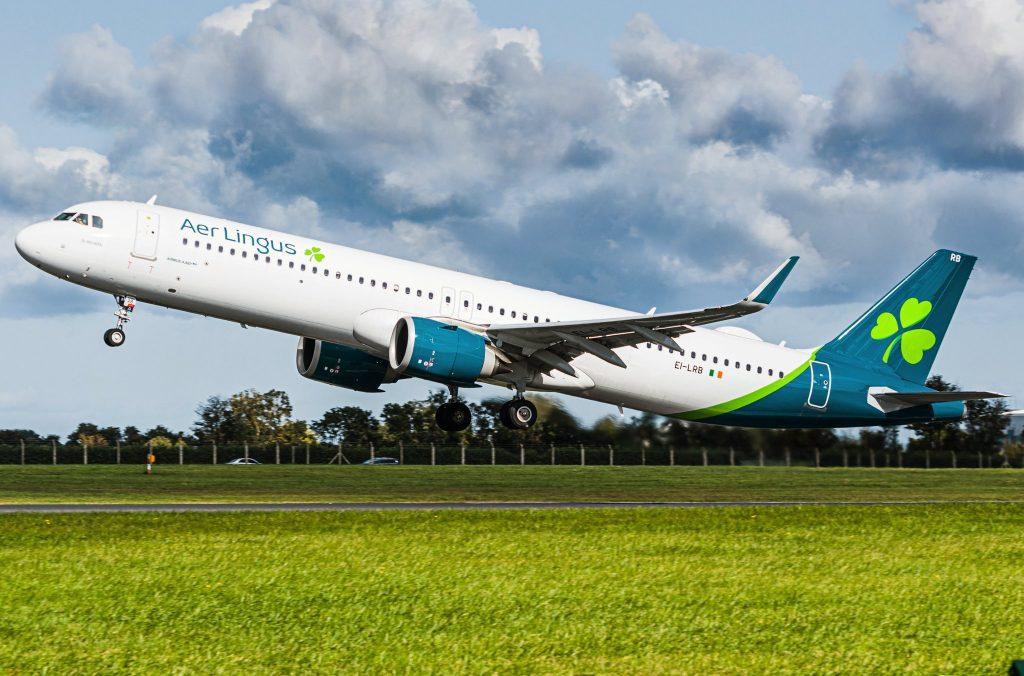 Cleveland-Dublin flights will be offered by Aer Lingus, the flag carrier of Ireland, starting Friday, May 19, 2023, according to the airline's Web site. The flights were added to its reservation system today and trips can now be booked by prospective customers. Aer Lingus will be using a variant of the Airbus A321 plane that seats approximately 200 passengers in two classes — business and economy (Aer Lingus). CLICK IMAGES TO ENLARGE THEM.
CLE-DUB nonstops now available for booking
With backing from Cleveland's civic and business community, Irish flag carrier Aer Lingus has made it official today — Cleveland-Dublin nonstop flights were added to the airline's reservation system and direct trips to Europe can now be purchased. The nonstop flights, the first to Europe from Cleveland since before the pandemic, will start Friday, May 19, 2023, according to the airline.
Aer Lingus will offer departures four times each week and on the same days from both Cleveland and Dublin — Sundays, Mondays, Wednesdays and Fridays. Departures from Cleveland Hopkins International Airport are scheduled to be at 8:20 p.m. and arriving at Dublin Airport, Terminal 2 at 8:50 a.m., for a scheduled flight time of seven hours and 30 minutes eastbound. In the other direction, flights are due to depart Dublin at 3:30 p.m. and arrive Cleveland at 6:50 p.m. for an eight-hour, 20-minute flight, according to Aer Lingus.
At this early date, round-trip fares start at about $457 for economy class and $3,264 for business class for a single adult, the airline's Web site shows. Aer Lingus also offers reduced fares for young adults ages 12-15 years, children 2-11 years and infants younger than 2 years. For the lowest fare in economy class, the flight includes at-seat video entertainment, a complimentary meal and allows a passenger a 22-pound carry-on bag, a 50-pound checked bag, plus advance seat selection and a refund voucher if travel plans change.
The Cleveland flight will utilize an Airbus A321neo aircraft which can be used for short- and medium-distance flights, depending on the seating configuration. Up to 220 seats are provided in a short-distance, two-class layout and 180 seats in a long-distance, two-class configuration. The A321neo is a narrow aircraft with only one aisle and 3×3 seating (three seats on either side of the aisle) in economy class. In business class, seating alternates between 2×2 and 1×1 (dubbed "throne" seats) arrangements, all of which offer lie-flat capabilities.
Cleveland-Dublin flights are sure to be popular with Northeast Ohioans, ranging from tourists traveling to or through Ireland to the rest of Europe, to people visiting family back in the old country, and to business travelers. The latter group includes Northeast Ohio's business community which has substantial links to Ireland. Eaton Corp. has its registered headquarters in Dublin to take advantage of Ireland's favorable taxing policies but its operational headquarters is located in Beachwood. Additional manufacturing, health care and other companies in Greater Cleveland regularly do business in Ireland as they do here.
Many Europeans traveling to the USA prefer to depart from either Dublin or Shannon, Ireland — the only two European Union airports that offer U.S. Customs pre-clearance. Thus, no further customs inspections are required upon arrival in the USA. However, persons traveling to Cleveland better not be late in arriving or making connections at Dublin as its U.S. Customs preclearance station closes at 3 p.m., 30 minutes before the Cleveland flight is scheduled to depart.
Team NEO, a nonprofit economic development group for Northeast Ohio, was instrumental in developing an incentive package that attracted Aer Lingus to Cleveland. Up to $2.5 million in local and federal support for the direct flight over three years is anticipated, including $600,000 from a federal Urban Development Action Grant through the Department of Housing and Urban Development.
The flight was made official today at a press conference at Hopkins Airport before City Council passed legislation authorizing the city's director of economic development to enter into an agreement with Team NEO to provide public "assistance to induce Aer Lingus to start and maintain daily direct flight service from Cleveland to the Republic of Ireland for a period of three years," according to the pending legislation.
Yet the flight will not be offered on a daily basis, despite what the legislation pending before City Council says. Ward 3 Councilman Kerry McCormack, chair of council's Transportation and Mobility Committee, did not respond prior to publication of this article to a message sent by NEOtrans seeking more information about whether the legislation would be amended or if daily service might be provided in the future, after the legislation is passed.
As the capital of Ireland, Dublin is a vibrant center of governance, business and tourism and home to more than 2 million people. Many American and European businesses have established offices in Dublin, especially after the United Kingdom's "Brexit" departure from the European Union. The city, located at the mouth of the River Liffey on the Irish Sea, was first settled by the Gaels in the 7th century.
It remained a tiny, walled city through the Middle Ages until Queen Elizabeth I of England established Trinity College in 1592 and the wool and linen trade with England greatly expanded in the 1600s. Today, Dublin is often best known by Americans as the home of Guinness Beer and Jameson Irish Whiskey which are part of a tour of Dublin distilleries. There are also many famous pubs and musicians who hail from Dublin, including U2, The Dubliners and Thin Lizzy.
END
Our latest Greater Cleveland development news