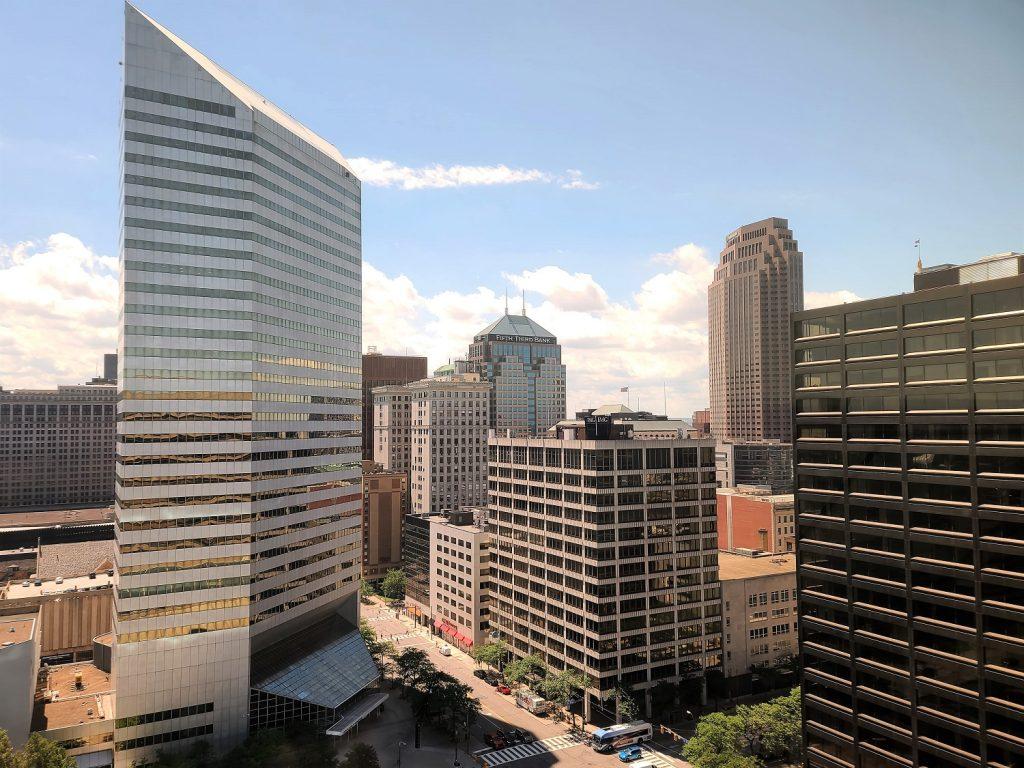 Downtown Cleveland has lost 30 percent of its leasable office space to adaptive reuse projects, mainly residential. The leased space that remains is only 60 percent full on any given day following the pandemic and its instigation of remote or hybrid work policies. Public incentives are being sought to boost the office market downtown with a recognition that it may never be the same again (KJP). CLICK IMAGES TO ENLARGE THEM.
Public incentives sought to boost downtown office market
This week, global real estate brokerage Newmark released its third quarter office market report for Greater Cleveland and the news wasn't good, especially for downtown Cleveland. While three of five submarkets in the metropolitan area saw declining occupancies of office spaces in July-September, none suffered a greater loss than the central business district. That district includes everything from Ohio City east through Downtown to Midtown.
Overall, the Greater Cleveland area saw office vacancies increase in the quarter to 18.5 percent after holding steady at 17.9 percent in the first two quarters of the year. Rents remained relatively steady at $18.58 per square foot. Downtown was starting to recover from the pandemic in the first two quarters of 2022 by absorbing or filling 96,770 square square feet of office space. But in the third quarter, it gave back 67,500 square feet of those gains, the biggest loss in the metro area, Newmark reported.
"Prior to this past quarter, the overall market had thus far accrued positive absorption, but the amount of space given away in the third quarter of 2022 dropped the office market's year-to-date 2022 total absorption to negative 37,521 square feet," the Newmark report noted. "Eight of the last 10 and 12 of the last 21 quarters saw negative absorption."
Downtown, the office vacancy rate swelled to 19.7 percent, the second-highest in the Greater Cleveland market. Only the south submarket — Independence, Brecksville, Richfield, Hudson, Twinsburg and Streetsboro — had a higher vacancy rate at 22.2 percent. Downtown continues to have the highest office rents among all classes at $19.56 per square foot, exceeding the second-place east submarket — University Circle, Beachwood, Bedford, Solon, Chagrin Falls, Mayfield, Mentor — and its $18.73 per square foot rent. But the east's vacancy rate was the region's lowest at 13.7 percent, Newmark reported.
Downtown's vacancy rate would have been far worse if roughly 7 million square feet of office space hadn't been removed from the market by converting it to mixed uses, primarily residential, in last decade. In the early 2010s, downtown had at least half of Greater Cleveland's leasable office space (not including government office buildings). Today, it has just under 44 percent of Greater Cleveland's office space or 16.56 million square feet. That's down from 23.7 million square feet in 2013, according to Newmark data shared with NEOtrans by Terry Coyne, vice chairman of Newmark Cleveland.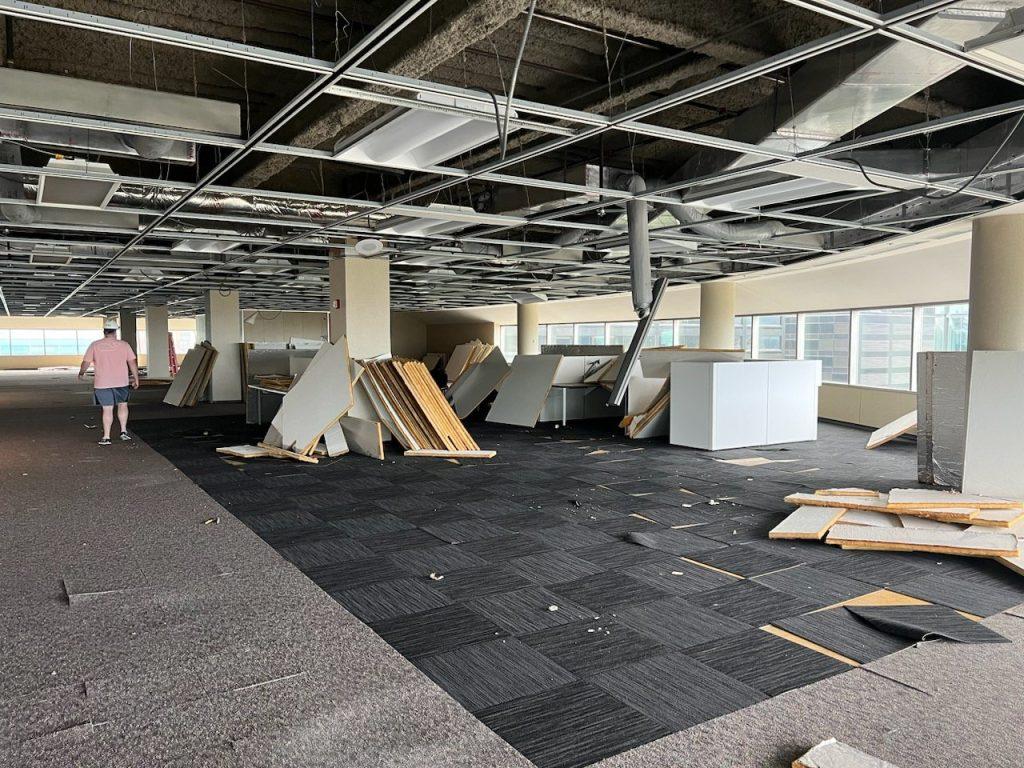 The largest office-to-mixed-use conversion currently underway is at 45 Erieview, led by Bluelofts Inc. and Wolfe Investments, both of Texas. The office space in the 16-story, 39-year-old former Ohio Bell headquarters is being demolished, to be replaced over the next two years by 362 apartments and ground-floor restaurants and retail (Comprehensive Zoning Services).
And that's leased space, not necessarily populated space. Because of the hangover from the pandemic, some of those leases are for offices with no people or furniture in them and since have been put on the sublease market. Other leases are for offices filled with furniture but not always filled with the maximum number of employed people on every day as many office staff are still working remotely from home, or a hybrid office/home basis, said the Downtown Cleveland Alliance (DCA), a nonprofit community development corporation.
In its most recent Downtown Cleveland Retail Profile DCA shared with NEOtrans, the Alliance reports that "Even with the rise of remote work, downtown employers are doubling down on office spaces, and over 60 percent of workers are in the office on any given day." DCA said it is expecting 80 percent of office workers to eventually return to the central business district.
"The office market needs help," said DCA President & CEO Michael Deemer, who has been meeting with businesses to promote downtown to prospective office tenants. "We are also advocating for a five-year job creation grant for new office jobs to the city, an office modernization loan fund to incentivize tenant- and common-area improvements, and piloting commercial tax abatement."
Cleveland City Councilman Kerry McCormack who represents Ward 3, including downtown, did not respond to a text message seeking his input into the idea of creating more incentives for enhancing the downtown office market.
Deemer was a presenter on a panel discussion at the International Downtown Association's 2022 Annual Conference held Sept. 21-23 in Vancouver, BC. The conference, themed "Reinventing: The Communities of Tomorrow," examined what it means to be a vibrant, inclusive community in the new, post-pandemic reality while delving into opportunities for transit, technology hubs, tourism, retail corridors, entertainment districts, sustainability and public safety initiatives. There, he outlined DCA's proposed response to downtown's troubled office market.
Coyne also is urging new public incentives to boost the downtown office market. At the August meeting of the Commercial Real Estate Development Association – Northern Ohio Chapter, he urged the city to adopt incentives to attract more employers downtown and spur new office construction, saying that office workers produce more tax benefits to the city than existing incentives that have delivered new residential spaces and residents. He told NEOtrans he hasn't recommended a specific incentive and hadn't pitched the idea to city officials or to nonprofit groups like DCA.
But Deemer said that some downtown office spaces or jobs may never come back, or those jobs may be worked from the homes of people living downtown. Thus, DCA continues to support the conversion of obsolete or underutilized office buildings into residential, hotel, restaurant/retail and co-working spaces, called adaptive reuse. Some of the biggest adaptive reuse projects in downtown's history were recently completed in the conversion of the May Co. department store conversion, are now underway at 45 Erieview or about to begin at The Centennial and Rockefeller buildings.
"Adaptive reuse remains a central strategy," Deemer added.
The reason for advocating adaptive reuse strategies and projects exists in the city Deemer just visited — Vancouver. It and Toronto are two of Canada's most vibrant downtowns, based anecdotally on the number of construction cranes in the sky and the number of feet on their streets. Vancouver also has more high-rise buildings per capita than most North American cities.
Yet, according to Statista.com in the first quarter of 2022, the central business district of this Canadian city offers less office space — 13 million square feet — than does downtown Cleveland — 16.56 million square feet. Vancouver office spaces command nearly double Cleveland's rents, however — C$51.50 or $37.50 US per square foot compared to downtown Cleveland's $19.56 per square foot. Statista.com also reports that downtown Vancouver has a population of 60,000 people versus downtown Cleveland's 20,000 population.
END
Our latest Greater Cleveland development news