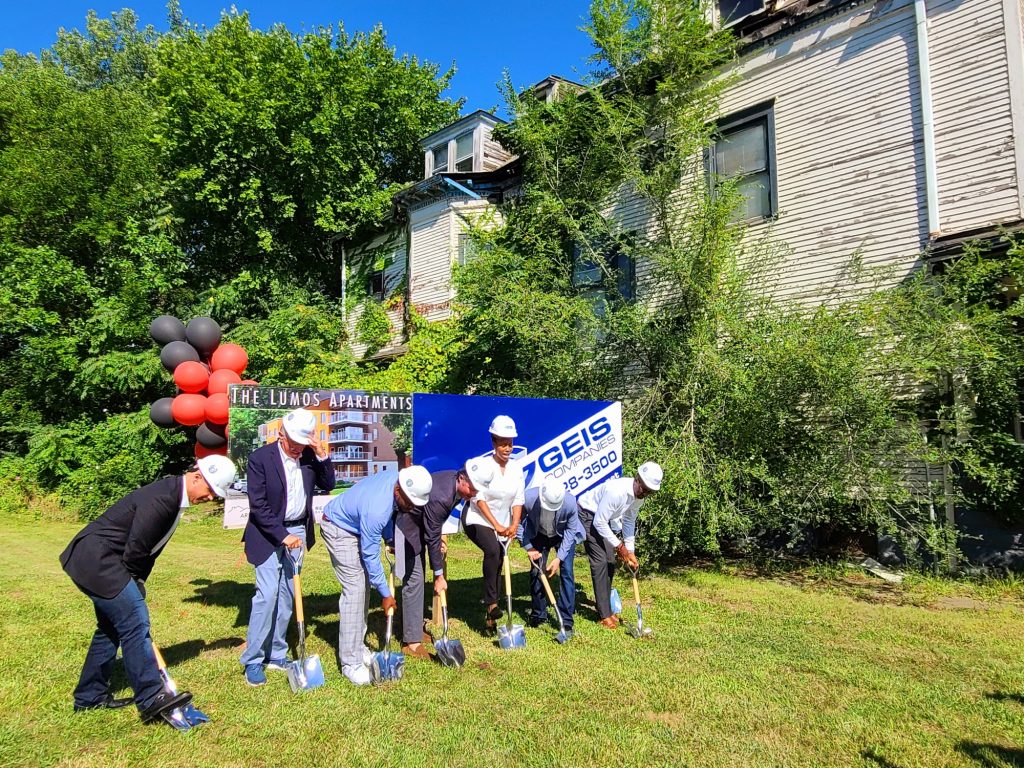 Groundbreakings for new projects are becoming more common in Hough just as the new projects are breaking new ground in other ways, too. That includes investing in residents and their futures. This groundbreaking was in August 2021 for the Lumos Apartments on East 93rd Street that is replacing structurally deficient houses next door (KJP). CLICK IMAGES TO ENLARGE THEM
Affordable housing mixes with market-rate
For anyone who has been watching real estate activity in recent years in Hough, they are probably no longer surprised that investment is growing here. But what may be surprising is that the pace of it continues to increase. And, with that, there's growing interest by local and national investors to make sure that gentrification doesn't take hold and push away people who need jobs within an easy walk, bike or bus ride of booming University Circle.
To do that means addressing a shortage of quality, mixed-income housing in the Hough neighborhood which has been beset by different housing challenges over the last century. In the Great Depression, once stately single-family homes were turned into multi-family boarding houses. During the Great Migration, landlords crammed families fleeing the South into as many slums as possible. And after overcrowded Hough exploded into riots in 1966 came a proliferation of public housing.
Today, the challenge is to find the right mix of market-rate versus affordable housing. There will continue to be market-rate developments added to and near booming University Circle as long as thousands of jobs continue to arrive at new facilities planned or underway at Cleveland Clinic, Case Western Reserve University and other employers in the vicinity. But adding subsidized, affordable and workforce housing that is close to jobs means competitively winning subsidies from some very highly sought-after funding sources.
Some Hough projects are winning those subsidies, allowing their developers to seek approvals from the city of Cleveland so they can begin construction. Developers of other projects still need some gap financing to close their deals but are hopeful that can happen by the end of the year. And most of these are occurring in a small area at the southeast corner of Hough, bounded by Hough Avenue, Ansel Avenue/East 101st Street, Chester Avenue and East 89th Street. Once built out, the area may become a "15-minute city" — a neighborhood where all basic needs are within a 15-minute walk, bike or transit ride.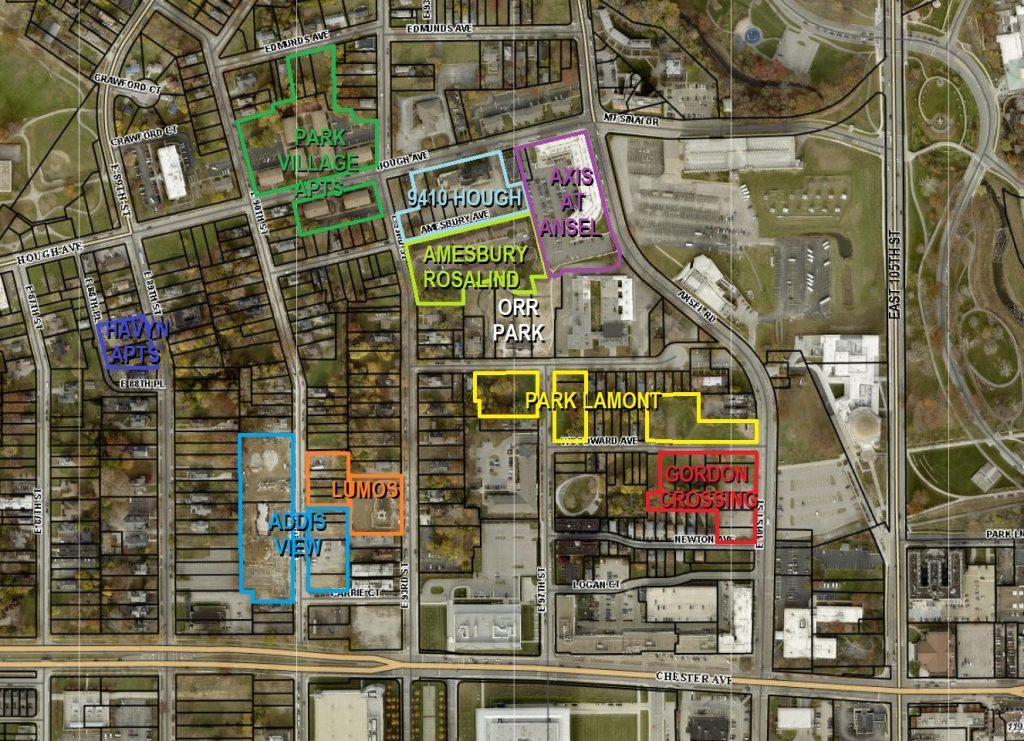 This is a busy map and that's the point. There are a lot of development projects recently completed, underway and planned in this small, southeastern corner of the Hough neighborhood. It's the corner that's closest to booming University Circle and the Cleveland Clinic where thousands of new jobs are coming in just the next few years (MyPlace.CuyahogaCounty.us/KJP).
"We want this to be a mixed-income community," said Khalid Hawthorne, senior project manager at the community development corporation Famicos Foundation that serves the Hough and Glenville neighborhoods. "Historically, there has been a tremendous amount of subsidized housing concentrated in this area. We will welcome the market-rate projects as well as those providing more workforce housing."
Market-rate housing in Hough isn't limited to new construction. Cleveland/Chicago investor Michael A. Nance is putting his money into fixing up and expanding a century-old, walk-up apartment building at 1780 E. 89th in a project he's calling the Havyn Apartments. This 10,905-square-foot building will be more than doubled in size, to 23,817 square feet, so it can offer 16 large market-rate apartments. A 25-space parking lot will be added just south of the Havyn, plans show.
Another market-rate apartment development will break ground on Nov. 14. This one is Park Lamont which will offer a mutli-family apartment building and rental townhomes spread among several lots along and south of Lamont Avenue, between East 97th and 101st streets. Proposed by ARPI Development LLC, investors Agostino Pintus of Cleveland and Kenny Wolfe of Dallas, plus design-build-management firm Geis Companies are 77 housing units — 39 townhomes and 38 apartments. The latter will be in a four-story building that is designed to be the hub for the entire development. In it will be a fitness center, entertainment room, bike storage and scooter bay. Twelve townhomes will be across East 97th and 27 townhomes will rise along the north side of Woodward Avenue.
The same development team is already building in Hough. Construction is nearly done on the 42-unit Lumos Apartments at 1866 E. 93rd St. Behind it at 1839 E. 90th St. will be a follow-on project to the Lumos, a second 42-unit apartment building. At 1830 E. 82nd St. will be their third 42-unit apartment building. These developments aren't lonely. On both sides of East 90th north of Chester, The Inspirion Group of Cleveland is building a 131-unit first phase of the Addis View apartments. As many as four phases totaling more than 400 apartments are planned. Marous Development Group of Willoughby is also getting in on the action with a planned 127-unit market-rate apartment building at East 82nd and Chester.
In addition to a 38-unit apartment building, 39 for-rent townhomes are also due to start construction shortly along East 97th Street and Woodward Avenue as part of the Park Lamont development in Cleveland's Hough neighborhood (GLSD).
And it's not just buildings getting built. The "Park" in Park Lamont is the new site of Orr Park on the north side of Lamont. It is being built on both sides of the Citizens Leadership Academy thanks to $800,000 from Signet Real Estate Group, including a $300,000 donation to the city. Signet built Axis At Ansel apartments on the site of the old Orr Park, which the Akron firm bought for $580,000. The 160-unit Axis At Ansel is another market-rate real estate development. It opened in 2021, leased out quickly, and now is for sale — presumably so that Signet can use the sale proceeds for a future development. However, Signet is mum on that.
While nearly 800 new market-rate apartments in Hough would have been unheard of a few years ago, representatives of Famicos and some developers, want to make sure there is a healthy mix of incomes in the neighborhood. Otherwise many newly hired or unskilled laborers working jobs in University Circle might not be able to afford to live so close to those jobs anymore. While that notion also would have been preposterous a few years ago, it isn't anymore. Hough has some of the fastest rising rents in Greater Cleveland, according to rent.com.
"There are housing needs for STNAs (State Tested Nursing Assistants), janitors, nurses, junior researchers, doctors and everything in between," Hawthorne said. "As the city shifts to planning for a 15-minute city, we should be trying to build 15-minute neighborhoods around employment centers that are growing and adding additional workers like the University Circle and Midtown areas. It will be challenging maintaining a balance between old and new and ensuring that we don't leave everyday middle-class people out of the equation. Glenville and Hough were mixed-income communities and it is my belief that mixed-income communities are healthy communities."
That's why Famicos and other real estate interests want to make sure that affordable housing options are in the mix as more and more market-rate buildings are added.
"Hough has few affordable housing options and continues to be fast-growing, with no way to ensure economic diversity and inclusionary housing practices are maintained so close to job opportunities," wrote Jonathan McKay, vice president of development at Columbus-based Woda Cooper Development Inc. in a Feb. 7, 2022 letter to Cleveland City Council Clerk Patricia Britt.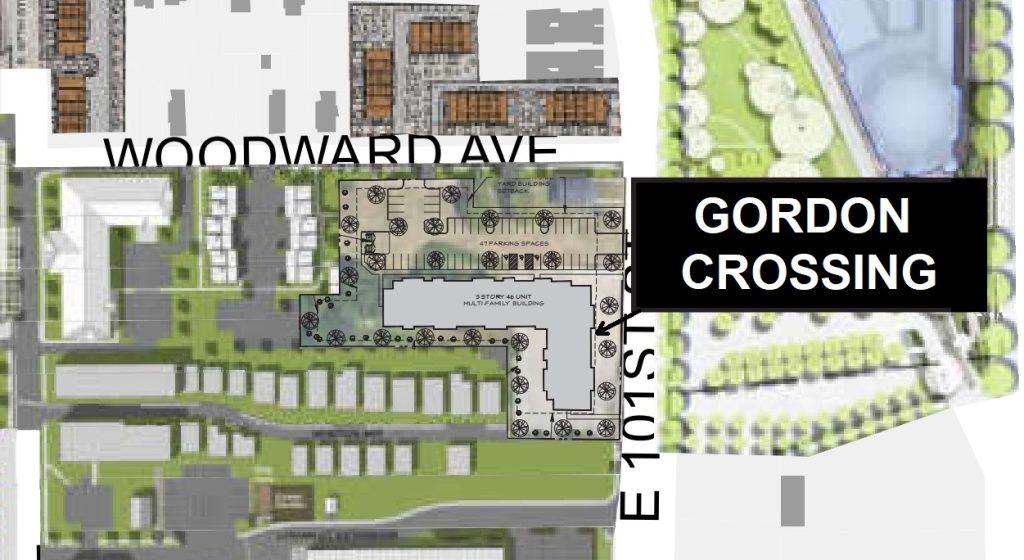 A conceptual site plan for the Gordon Crossing Apartments at the southwest corner of East 101st Street and Woodward Avenue would have the three-story, 46-unit building set back from Woodward. That would put the apartment building in the backyards of homes in the Newton Avenue Historic District rather than a new 47-space parking lot for Gordon Crossing (Famicos/City Architecture).
His firm requested and received City Council support for seeking Low-Income Housing Tax Credits (LIHTC) so Woda and Frontline Development Group of Beachwood could build Gordon Crossing, a 46-unit apartment building proposed for the southwest corner of East 101st and Woodward. Gordon Crossing won LIHTCs earlier this year and may start construction on the $12.2 million project sometime next year. Frontline, a minority-owned firm led by founder and President Sheila Wright, is already working in Hough, but farther west near League Park at East 66th Street and Lexington Ave. There it has broken ground on The Allen Estates consisting of 237 housing units — modern homes, brownstones and mid-rise apartments with ground-floor commercial spaces.
Another minority-owned, female-led firm working in Hough is Baltimore-based Northern Real Estate Urban Ventures (NREUV) owned and managed by Gina Merritt. Her expertise is in structuring financing for affordable housing. She owns 51 percent of 9410 Hough GP, LLC, with the Sullivan brothers of Galveston, TX owning the remainder of that general partnership. Their partnership seeks to renovate a vacant, 10-story apartment building at 9410 Hough with workforce housing and add a two-story community center to the west in the $36 million project. The former 116-unit Kingsbury Apartments was built by the U.S. Department of Housing and Urban Development (HUD) in 1973 but has been vacant for a decade.
Famicos intends to share services and amenities at the community center with Project Community Capital (PCC), a social capital platform founded by Merritt that connects people in low-income communities with jobs. On the first floor will be a health care suite and fitness center with a second-floor conference center, work stations to get help writing resumes, research employment and entrepreneurial opportunities, get educational assistance in basic finance, homeownership and more. PCC also provides mentors and grants of up $15,000 to help get new businesses off the ground, Merritt said.
In developing 9410 Hough Apartments, she also wants to help develop minority- (MBE) and female-owned business enterprises (FBE) in Cleveland by assisting them in winning construction contracts for the project. Her company and general contractor Sullivan Land Services Co. have already held sessions with prospective MBE/FBE firms and intends to hold two more this month. Check with NREUV's social media for updates.
"I'm hoping to close on financing soon," Merritt said. "It's a challenge with interest rates going up and construction costs high. We'll need public financing to bridge a (funding) gap. We're talking to the city to figure that out. It will be a nice mix for the community to have these rental price points and the community center will create more opportunities. The first line of defense in combatting poverty is employment. University Circle is like the next downtown where you can walk to work. That's why it's important to have this mix of incomes or Hough will gentrify."
After being introduced to Cleveland, Merritt said she is very encouraged by the desire of local residents to improve their community. And, she said she is encouraged by the real estate investment and development opportunities that are already occurring in Hough and elsewhere in and near the fast-growing University Circle area.
"The investment that is happening is crazy," she said. "We have multiple projects in the pipeline in the neighborhood. I can't say where but there are three projects you may hear about in the next couple of months. We want to invest more in Hough and in the city of Cleveland. We want to bring our experience and our love of community to Cleveland."
Another with love for the community is Cameron Orlean, vice president of Orlean Enterprises of Beachwood. His firm has built infill housing in Glenville, renovated Fenway Manor's subsidized senior apartments next to the giant Circle Square development in University Circle and will soon be renovating the Amesbury Rosalind Apartments in Hough. The latter involves 66 subsidized apartments spread among three sites along East 93rd that will be thoroughly renovated for $14.7 million in partnership with Renewal Development Associates LLC of Columbus. The largest cluster of these apartments is a 40-unit site sandwiched between 9410 Hough and Orr Park.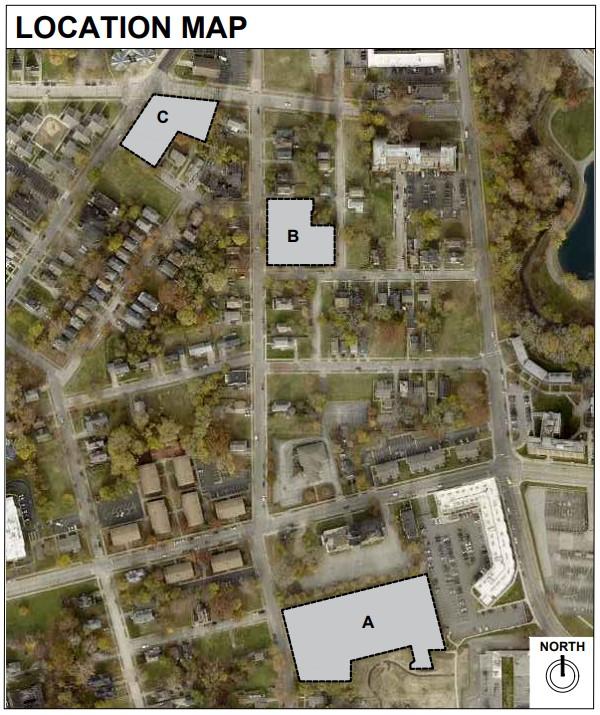 The 66-unit Amesbury Rosalind Apartments are actually divided among three locations along East 93rd Street in Hough. The largest of these is Site A which has 40 two-story units located just south of the 9410 Hough Apartments and west of the new Axis at Ansel development on Ansel Avenue/East 101st Street (City Architecture).
"I happened to be driving around Amesbury and throughout Hough last week and it was quite remarkable to see all of the various new developments in the area surrounding Amesbury," Orlean said. "My grandfather, Arthur Orlean, originally developed and built Amesbury Rosalind Apartments in 1983, and it has operated as HUD Section 8 apartments ever since."
The apartments are designed like two-story attached cluster homes with gabled roofs and a mix of brick and aluminum siding facades. The apartments will all be gutted and then completely renovated with new flooring, lighting, bathroom fixtures, kitchen cabinets and appliances, heating/ventilating/air conditioning units, free WiFi internet plus a new outdoor recreation and fitness area, according to construction permit applications submitted to the city last month. The work was enabled by a competitive LIHTC award made by the state earlier this year.
"The award of 9 percent Low Income Housing Tax Credits from the Ohio Housing Finance Agency allows us to do a significant amount of rehabilitation to the apartments and common area spaces at the property," Orlean said. "We have been very successful utilizing these credits to rehabilitate and modernize our portfolio. We have completed approximately 15 LIHTC redevelopments of existing multifamily properties, which has helped us to preserve and improve affordable housing for our residents."
Another LIHTC application could be submitted in 2023, this by Famicos to renovate its Park Village Apartments, 9221 Hough. The 75-unit affordable apartment complex that stands on both sides of Hough was built in 1968 and last renovated in 2003 — two years after Famicos acquired it. Now it's due for another freshening up although it's still too early to know how extensive that renovation will be or how much it might cost, Hawthorne cautioned.
"It's going to be a while on that project," he said.
END
Our latest Greater Cleveland development news