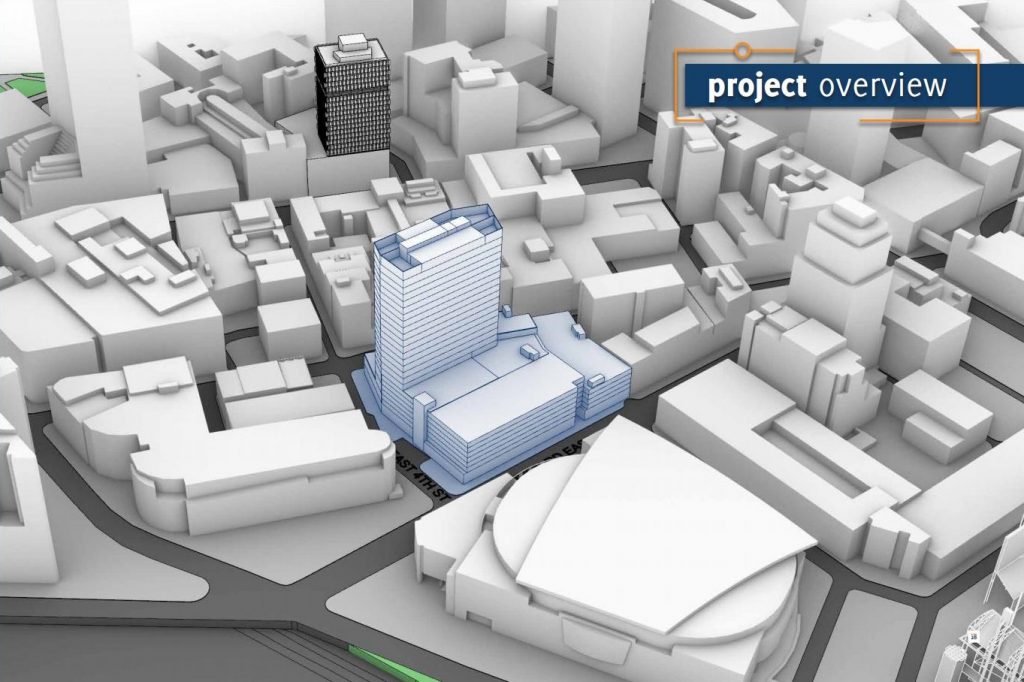 Stark Enterprises reportedly has a new buyer for the nearly 3 acres of land on which it publicly sought to build the high-rise, mixed-use development called nuCLEus. Considering the likely high sale price, the buyer is someone with deep pockets who will want to develop the site quickly with large buildings to recoup its big investment (Stark). CLICK IMAGES TO ENLARE THEM.
ID, plans of buyer a mystery
If it's December, then there's a new buyer emerging for the so-called "nuCLEus" properties owned by Cleveland-based Stark Enterprises. But there's a few differences with the potential sale of downtown land in the Gateway District compared to last year's deal that fell through. Perhaps the most significant difference this time is that Stark's CEO isn't denying it.
As was the case last December, the identity of the buyer is unknown and so is the sale price plus any proposed end use. But, as before, the buyer has to be someone with deep pockets because the sale amount of the nearly 3 acres of land — currently mostly parking lots — is going to be significant. The land is located between Prospect Avenue and Huron Road in the vicinity of East 4th Street. It also includes several structures, two of them in poor condition — the seven-story Arena-Stadium Parking garage at 501 Huron and the Herold Building, 310 Prospect. A third structure is a two-story brick building containing Mr. Albert's Men's World clothier, 618 Prospect.
Over the last two weeks, and especially busy today, certificates of disclosure were filed with the City of Cleveland's Building Department by the Planning & Zoning Resource Co. (PZR) of Oklahoma City for nearly all parcels in the area where Stark Enterprises had planned to build a high-rise, mixed-use development called nuCLEus that was ultimately killed by the pandemic. PZR, one of the oldest firms of its type, provides analysis reports on acquisitions and real estate property to buyers and lenders, according to Crunchbase.
Certificates of disclosure are typically requested for all properties during the due-diligence phase of a pending sale and transfer to a new owner. That phase can last up to a year or more. The certificates will disclose if there are any unresolved building or zoning code violations for the subject property. They are legally required for all residential property sales in the city of Cleveland. But many lenders and title companies also request them for commercial property transfers as part of their due diligence into the history and zoning of a property.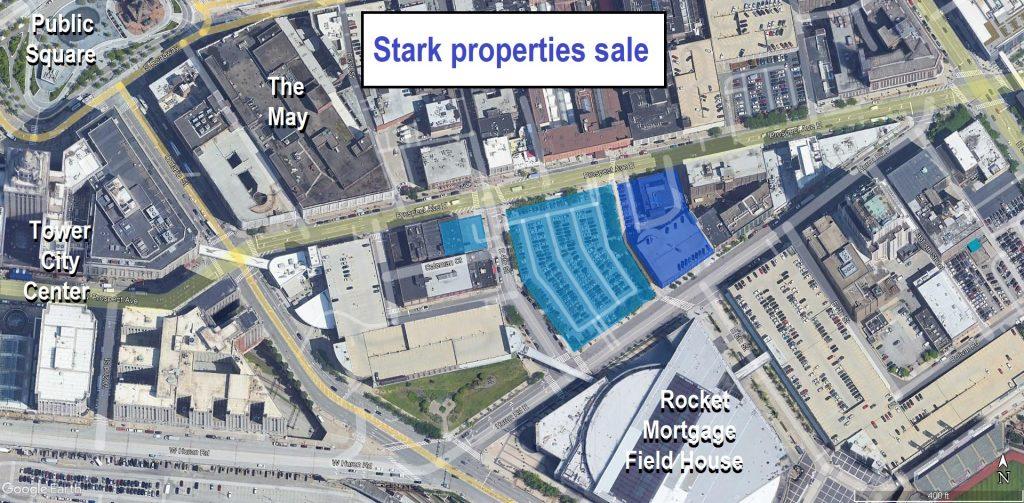 These areas shaded in blue in downtown Cleveland are those that are apparently part of a pending sale by Stark Enterprises. The parcels for which certificates of disclosure were requested, which is a routine part of the sale transaction process, are entirely within those blue-shaded areas (Google/KJP).
So far, PZR requested and received certificates from the city for 422 E. 4th and two parcels at 2155 E. 4th; 419 and 501 High St. which is a former alleyway in the middle of the parking lots; 401, 413, 507, 601, 611 Huron; plus 310, 320, 420, 424, 500, 514, 600, 620, 630 Prospect, according to public records from the city's Building Department. That's 19 of 21 parcels in the nuCLEus cluster. Either the certificates from the last two parcels are still to be requested or they simply are not needed because the land uses and histories for them are identical to neighboring parcels for which certificates have already been received.
The parcel at 310 Prospect is owned outright by Stark through an affiliate called Herold Building, LLC. The condemned building was acquired in 2014 for $1 million and has been vacant ever since. The rest of the properties are owned by a joint venture named Gateway Huron LLC, formed between Stark and Reuven Dessler's J-Dek Investments Ltd. of Solon. They purchased 20 parcels in 2014 for $18.25 million, according to Cuyahoga County property records.
Based on recent sales of comparable land, the market rate for this 3-acre property is probably in the $20 million to $40 million range. Those comps are the $49.4 million Sherwin-Williams paid in 2020 for 7.2 aces of surface parking lots west of Public Square for its new global headquarters skyscraper. Or the $7.15 million City Club Apartments paid last year for a half-acre of land at 776 Euclid Ave. to build its new apartment tower. Given those robust prices, the buyer is likely going to want to develop it as soon as possible and build something big in order to recoup its investment.
Stark Enterprises' CEO Ezra Stark had no comment regarding the potential sale when contacted by NEOtrans today. That's actually a positive sign considering that, when asked last year by NEOtrans about the potential sale of the nuCLEus site, Stark denied there was any purchase agreement in place. However he acknowledged that his firm has received interest in the Gateway District properties even though it is not publicly marketing them. He said that a handful of certificates of disclosure requested by Cleveland law firm Thompson Hine LLP's real estate group in December 2021 was merely in anticipation of any buyer inquiries.
But according to multiple sources, Stark had a purchase agreement with Bedrock Real Estate of Detroit to acquire the nuCLEus site. Bedrock reportedly had big plans for the site. Those same sources said Bedrock later cooled on the nuCLEus site and warmed to the Tower City Cuyahoga Riverfront site, advancing the latter to today's big development masterplan announcement. It shows that, even though there again appears to be a nuCLEus property sale in the works, it doesn't guarantee that the sale will close.
Sources said Stark got an offer from Bedrock in late-2021 after the nuCLEus project was put on hold. It's largest pledged tenant, Cleveland-based law firm Benesch, grew tired of waiting for Stark to amass financing for nuCLEus, including an innovative new mechanism called the Transformational Mixed Used Development tax credit that Stark had brainstormed. So Benesch bolted for a tenant deal at Key Tower and the TMUD program became reality after that. The round-two, 2023 TMUD award winners will be announced by the Ohio Tax Credit Authority on Dec. 7, according to a notice e-mailed this week by the authority.
Who might be the buyer? There's speculation that a deep-pocketed, out-of-town investor/developer is acquiring the Stark property. One of those could be Philadelphia billionaire David Blitzer, the new minority owner of the Cleveland Guardians baseball team and potential majority owner in six years, is interested in developing a baseball village around Progressive Field. Earlier this year, the team exercised an option to buy for $2 million a half-acre of land at East 9th Street and Bolivar Road but told NEOtrans it wouldn't develop that parcel until after ballpark renovations were completed in a couple of years. The Guardians provided more information to NEOtrans today in light of recent news.
"We've communicated multiple times going back to July that actual (renovations) work wouldn't be done until after 2023 season due to the planning and design of all projects," said Curtis Danburg, vice president of communications and community impact at the Guardians. "The delay was how a few news sources played it yesterday though which was completely off base and not breaking news. The (breaking) news was bringing on a diverse associate construction manager. (There's) no correlation whatsoever on (what's happening with) the Stark lot."
END
Our latest Greater Cleveland development news