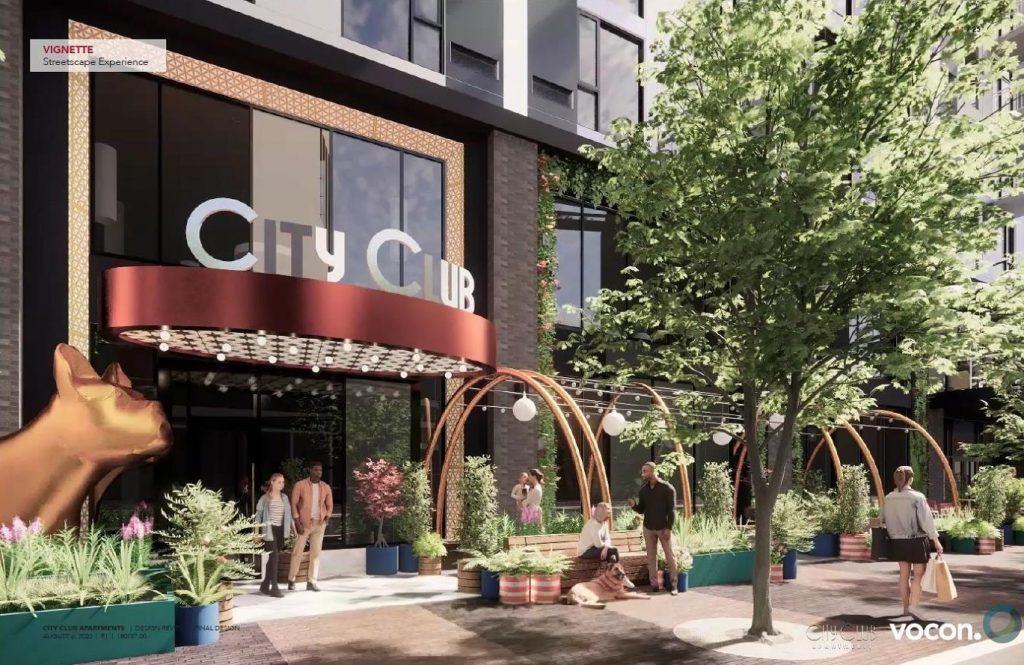 From the outset of design for the new City Club Apartments tower in downtown Cleveland, being a dog-friendly environment was emphasized as demonstrated in this and other renderings as well as by floor plans which assumed a dog day care business would be a tenant. A Cleveland-area businessman wants to take up them up on that suggestion by opening a dog day care franchise there (Vocon). CLICK IMAGES TO ENLARGE THEM
Dogtopia may expand in NE Ohio
A national dog daycare chain is eyeballing the Greater Cleveland area and may start by planting its flag in downtown Cleveland. Dogtopia franchisee and self-described dog lover Alex Mazzenga of Cleveland Heights is seeking to open a dog daycare business at the City Club Apartments, 776 Euclid Ave, according to a building permit application filed with the city this week. The investment necessary to build out the space, estimated by the permit at up to $1 million, shows there's some serious puppy love involved.
Dogtopia Cleveland could occupy approximately 6,800 square feet divided among three levels at the east side of the work-in-progress 23-story apartment tower at the corner of Euclid and the East 8th Street alley. Plans for the high-rise have always assumed a dog day care would be there, offering have space in the basement, ground floor and a small, 226-square-foot space on the second floor. A dog day care would have its own dedicated elevator, according to City Club Apartments plans approved by the city more than a year ago.
Construction of the building, which had its groundbreaking ceremony one year ago, is scheduled to be completed in the third quarter (July-September) of 2023. Build-out of the three or four commercial tenant spaces will start in the second quarter (April-June) next year, according to a leasing presentation by commercial brokerage Colliers. Construction of the tower's frame is rising into the fifth floor this week, as seen on the live construction cam. Cleveland Construction of Mentor is the general contractor.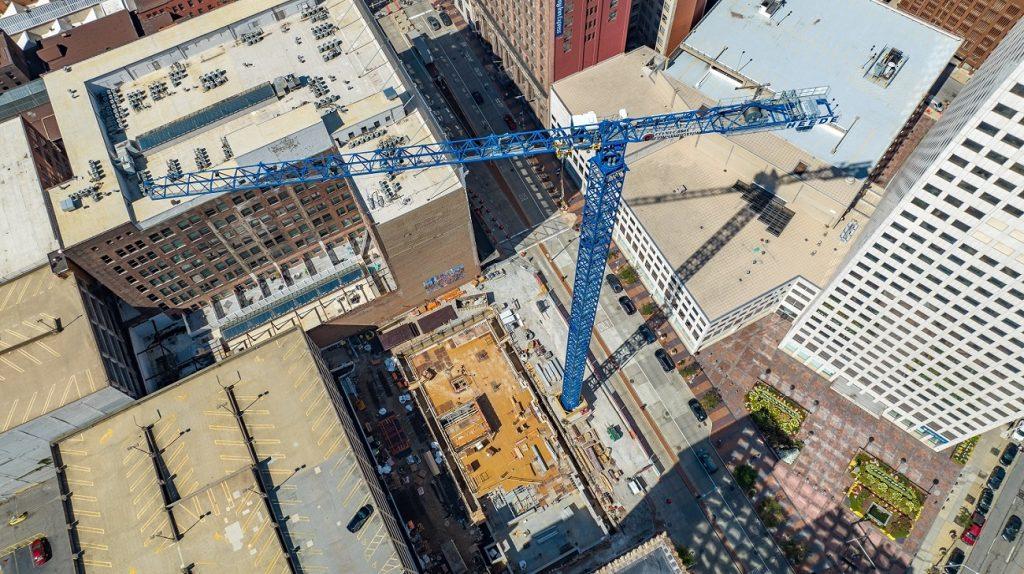 Recent overhead view of the City Club Apartments construction site on Euclid Avenue near East 9th Street (Aerial Agents via Cleveland Construction Inc.)
In business for nearly two decades, Dogtopia already has 241 locations in the USA and Canada including about 20 that are listed as "coming soon." They have three Ohio locations with the closest in Canton, near Belden Village Mall. There are two in Columbus with one downtown. Suburban Detroit has seven locations, Greater Pittsburgh has three, and two are in Greater Indianapolis. Dogtopia offers daycare, short- and long-term boarding, spa services and safety which includes a meet-and-greet to make sure each dog is a good fit for an open-play environment.
In an e-mail to NEOtrans, Mazzenga confirmed his interest in one or more Dogtopia franchises. However, he cautioned that the application was submitted to the city of Cleveland to determine if any zoning approvals for a dog-related business that allows overnights stays require a conditional use permit or a variance — as they often do. That process could take months and no lease can be finalized until that situation plays out, he noted.
"My wife and I believe very strongly in the research that families with dogs live longer, healthier and happier," Mazzenga said. "Whitney, my wife, brought this to my attention when we were considering adopting our dog and it has been very true for us. We also believe if you wish to raise an outstanding citizen — canine or human! — they need a routine that includes friends, exercise and education. With that in mind, we sought out to add a very safe and fun option for the pet parents of Cleveland."
This wouldn't be the first business in downtown Cleveland that's devoted to pets or the first dog daycare there. But Audrey Gerlach, vice president of economic development for the Downtown Cleveland Alliance (DCA) said she welcomes more of these types of businesses to serve the growing residential population in Cleveland's urban core.
"Downtown residents' pet ownership has increased since the beginning of the pandemic, and accordingly, the neighborhood is ready for more amenities for pets," Gerlach said. "We are happy to have Haymarket Pet Company, a shop in the 5th Street Arcades offering pet food, toys, and supplies, as well as Fluff n' Stuff on West 10th Street, which offers doggy daycare, boarding for dogs and cats, and grooming. DCA looks forward to the addition of more amenities for pets in other areas of downtown."
As many as three other commercial tenant spaces are available at the City Club Apartments building, according to Colliers' leasing presentation. One is shown as a potential ground-floor coffee shop measuring 1,018 square feet, next to and integrated with the building's lobby. The coffee shop will also offer some outdoor seating, the leasing presentation shows.
On the first and second floors of the west end of the building, nearly 6,000 square feet of space is available for a restaurant, including 450 square feet of outdoor space. Below it is a 2,828-square-foot cellar space presented as a possible speakeasy, in reference to Prohibition-era establishments that served alcohol illegally. A speakeasy has its roots in British speak-softly shops where smugglers met in dens over food and drink.
But how many of those commercial spaces are leased or still available is not clear from the leasing presentation. Fabi Miller, vice president of Colliers in Cleveland, said he could not say if those proposed uses are an indication of who will ultimately occupy them next year when the building opens. So he was also not at liberty to identify any potential end users by name at this time.
"As per ownership instructions, we are not allowed to make any advertisement of what tenants are coming into City Club until the ownership makes their announcement first," Miller said.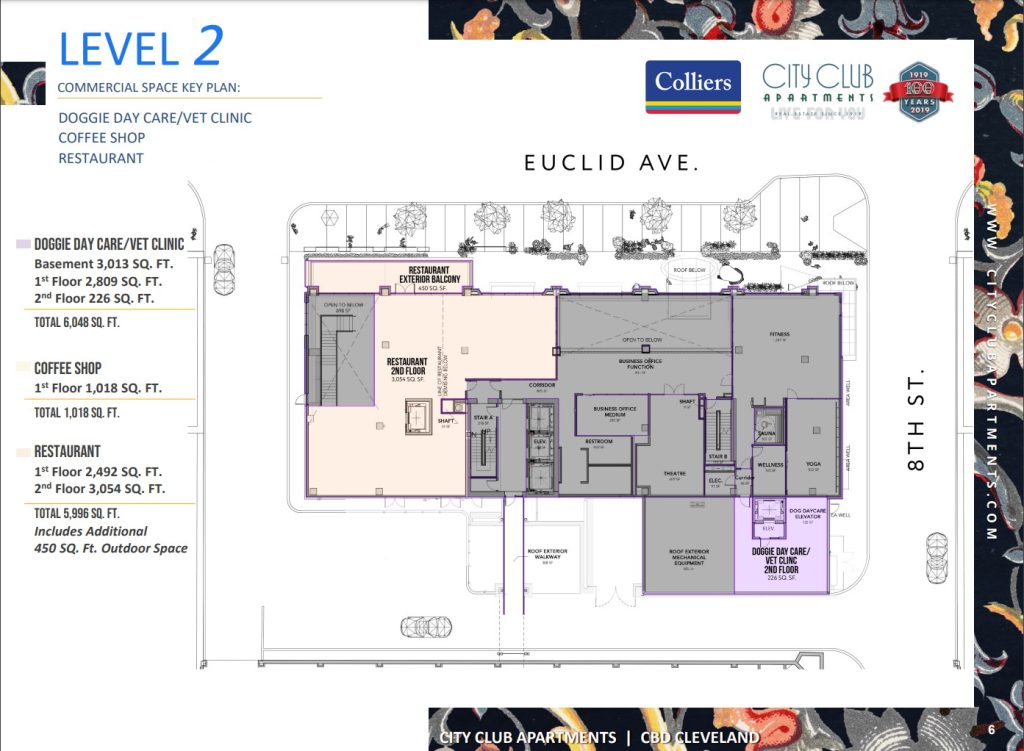 Second-level floor plan of the City Club Apartments on Euclid Avenue at East 8th Street in downtown Cleveland (Colliers).
City Club Apartments will be a 304-unit, nearly 250-foot-tall apartment building which the company calls a community. It will feature indoor and outdoor theaters and an entertainment Sky Club with a gourmet kitchen. A heated rooftop pool and hot tub will be wrapped with sun loungers and cabanas. There will be a Sky Park with fire pits, grilling stations, game areas, lounge seating plus a Bark Park and Zen Garden. A 24/7 whole body fitness center, multi-function yoga room, sauna and wellness room will also be part of the community.
City Club representatives said this location will be their first in Cleveland, suggesting a second location is in the works. A source said the second location is being considered in University Circle and will depend on the leasing performance of their downtown building. City Club Apartments is based in the Detroit suburb of Farmington Hills and is unrelated to the City Club of Cleveland public forum of debate next door at 850 Euclid. That City Club is moving in the Fall 2023 to 1317 Euclid in Playhouse Square.
END
Our latest Greater Cleveland development news