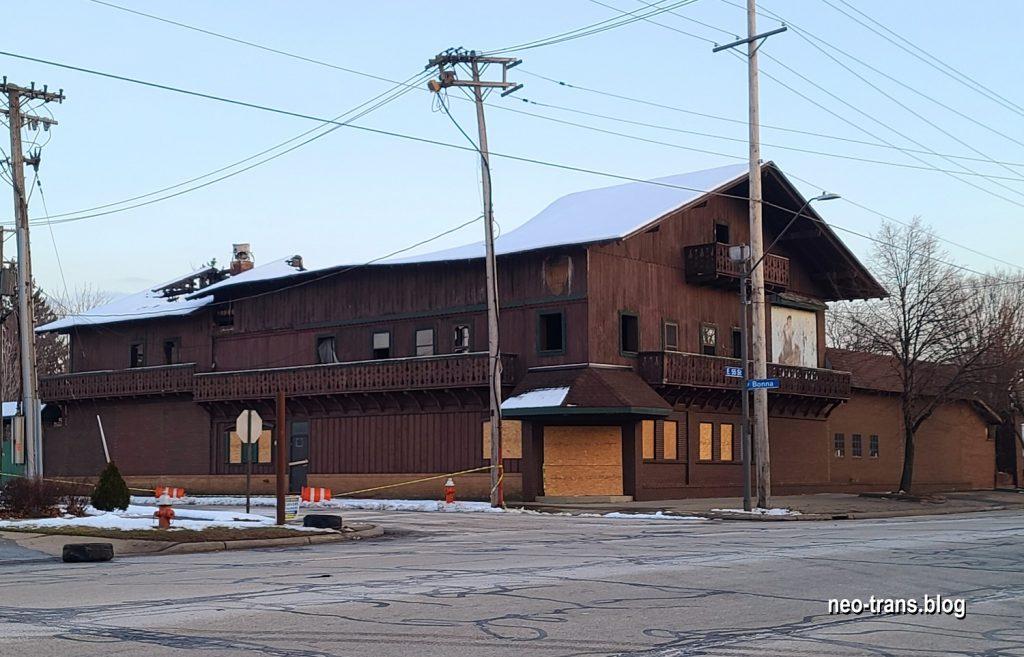 With part of its roof missing from a November fire, the chateau-like Frank Sterle's Slovenian Country House on East 55th Street awaits its fate this week. The ethnic and cultural institution on Cleveland's east side since 1954 is days away from getting demolished (KJP). CLICK IMAGES TO ENLARGE THEM.
Closed east-side cultural icon saw November fire
If the demolition permit application filed Jan. 20 with the city wasn't enough of an indication, the heavy equipment in the parking lot of Frank Sterle's Slovenian Country House certainly is.
A longtime ethnic and cultural institution, not only for the neighborhood but for the entire metro area, is coming down. And that breaks the hearts of Slovenians, Croats and others who grew up in the St. Clair-Superior neighborhood. Among those is Joe Cimperman, president of the pro-immigration economic development organization Global Cleveland and a former Cleveland city councilman. He grew up nearby on East 74th Street near St. Clair Avenue.
News of the imminent demolition of Sterle's, 1401 East 55th St., hit him like learning of a friend's death. Events big and small in his life had occurred there, from the party following his first communion in 1978 to a repast meal after his father's funeral in 2002. Amid its long, communal dining tables, he hoisted shots of slivovitz, a plum brandy, with family and friends to celebrate a man's life. For a Slovenian family, the best place for such a remembrance was Sterle's.
"It really stresses my Slovenian heart to hear this," Cimperman said in a phone interview. "At least when it was open and you could drive past, you would smell the smells of wonderful food and hear the sounds of polka music from inside. And when you visited, you would see everyone there, like (Brecksville) Mayor (Jerry) Hruby and Senator (Sherrod) Brown. The servers wore lederhosen and brought out food family-style on large plates and in big bowls. And they had schnitzel figured out. It was such a magical place."
"It was definitely an iconic building in the neighborhood," said Bojan "Bo" Knez, founder of one of the largest housing development companies in Northeast Ohio and childhood friend of Cimperman. He emigrated from Slovenia to America when he was seven years old and settled in St. Clair-Superior. "Sterle's sewed together the fabric of Slovenian and Croatioan cultures. It was a great place for new year's parties, for lunches and dinners. I knew the place didn't have long when I saw the (demolition) equipment in the parking lot."
Sterle's closed as a public restaurant in June 2017 after a 63-year run in the same location. Frank Sterle, an immigrant from Slovenia, settled in the neighborhood that was populated with Slovenians, Croats and other eastern and southern Europeans. He opened a small building on East 55th with a few picnic tables and one waitress. It eventually expanded to 14,000 square feet, gained its chalet decor on the outside and beautiful scenic murals of Slovenia inside and out, including crests of towns that Cleveland's Slovenian diaspora came from, Cimperman noted.
"After Frank's death in 1986, the restaurant was taken over by Mike Longo and Margot Glinski, both immigrants — from Italy and Germany, respectively," according to Cleveland Rocks-Cleveland Eats. "When Mike died 25 years later, Margot retired and Rick Semersky purchased Sterle's in 2012."
Semersky also opened Goldhorn Brewery next door which remains in business. Unfortunately his other businesses in the neighborhood didn't last, including Cafe 55 and The Market. But few other closures hurt as much Sterle's.
"Sterle's is not closing," Sterle's chef Natasha Pogrebinsky told Scene Magazine in 2017. "We are rebranding and focusing more on large groups and private events. Just because we are not going to be open for public dinners, it's not like the restaurant is going to be torn down."
Despite efforts to continue Sterle's as an event and party center, it didn't work and the property fell into foreclosure. It was put up for bid at a sheriff's auction. The Famicos Foundation, a community development corporation working in east-side neighborhoods, acquired the closed restaurant and its 1.23-acre site for the minimum bid amount of $187,334 in August 2021, according to Cuyahoga County records.
If there were any hopes of reviving the restaurant, it went up in smoke on the afternoon of Nov. 22, 2022 — two days before Thanksgiving. Although the building was vacant and no one was injured, the fire heavily damaged the building — collapsing a large section of the roof. Cause of the fire was not immediately available.
Famicos will spend about $100,000 to demolish the restaurant, remove foundations and fill in the basement with clean dirt, according to a demolition permit application filed with the city Building Department last week. Not only is the demolition equipment already on site, but so are the piles of dirt to fill in the hole left behind, effectively burying the neighborhood icon.
"No definitive plans at this point," Famicos' Senior Project Manager Khalid Hawthorne said when asked what will happen with the site next. "We are looking at a few options based on area needs and other activity in the area."
"I feel like I've lost a friend," Cimperman said. "The thing about growing up in St. Clair was that Sterle's was as close to a country club as we could get. We didn't grow up in Bratenahl. Sterle's made good times a little more fun and the hard times a little easier to take. We've already lost Sokolowski's and now we've lost Sterle's. This makes me want to go to Marie's (4502 St. Clair) twice as often. This is one less visible representation of what Cleveland really is."
END