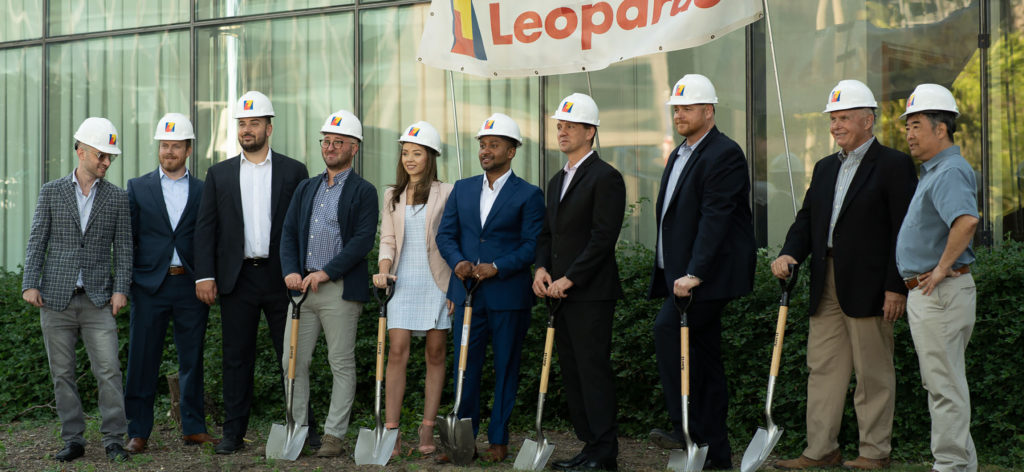 Leopardo Companies' first project in Cleveland certainly won't be its last. In September 2022, representatives of Leopardo Companies' joined with those of Wolfe Real Estate, Bluelofts, Inc., Sandvick Architects, and Comprehensive Zoning Services to start redeveloping the former Ohio Bell headquarters at 45 E. 9th St. in downtown Cleveland into The Bell, a $102 million mixed-use project featuring 367 apartments (Leopardo). CLICK IMAGES TO ENLARGE THEM
Sees more local development opportunities
Chicago-based Leopardo Companies is already making a name for itself in Cleveland by serving as the construction manager of two major development projects in downtown. But while some construction companies might be content with overseeing a couple of big building projects in a secondary market like Cleveland before moving on to the next opportunity somewhere else in the country, Leopardo has different ideas.
Instead, the 46-year-old family-owned firm has just signed a lease agreement to open a 3,800-square-foot office this spring in downtown Cleveland at 1020 Bolivar Rd. Not only will that office house construction employees who are overseeing existing projects in Cleveland, it will also accommodate staff who will seek out and support clients throughout Ohio. That includes staff for Leopardo's new real estate development arm, LCI Development Partners.
"I look at Cleveland as a hidden gem," said James Leopardo who in 1977 founded the broad-based family of companies that bear his name. "I think its a wonderful city. There's a lot of opportunity not only for construction but for development, too. There are so many incentives for development in Cleveland. It's clear to me that the city is embracing urban investment and growth. That's why we're putting a stake in the ground here."
"We're looking at potential developments on the near-West Side and in the Health Tech Corridor between downtown and University Circle," said Justin Parr, a partner in LCI Development Partners which launched two years ago and already has closed 11 deals all over the country. "We help get deals done by virtue of bringing equity to the table, aligning interests between the developer and general contractor very early on in the process, and help de-risk the pre-construction process to increase the likelihood of successful outcomes of development projects. We're willing to initiate deals as a stand-alone sponsor/GP (general partner) or partner with other developers as a co-sponsor/co-GP. We're a family business that is broad-based in its experience and very entrepreneurial."
"The development arm is extremely important to us because it helps us plug ourselves into deals and bring added benefit," James Leopardo said. "We're looking for good people to help us grow. And our people really like our family atmosphere in the workplace."
Leopardo's Cleveland office will join those it already has in downtown Chicago and suburban Hoffman Estates, plus Orlando, FL and Bermuda Dunes, CA, near Palm Springs. The growing markets those offices oversee tells a lot about how highly Leopardo thinks of the growth opportunities the Cleveland market offers, ranging from its booming health care and biotech sectors to it being a growing climate refuge. Location is and will always be the driving force of the real estate industry.
And location is why Leopardo chose Bolivar for its Cleveland office, said Anthony Leopardo, son of the founder and president of electrical construction contractor Grand Kahn Electric, a Leopardo company. He is also director of strategic relations for Leopardo Companies. Next door to its new office is where construction work is due to start in mid-April on The Apartments At Bolivar and for which Leopardo isn't just the construction manager. It's also co-developer with New York City-based SomeraRoad on the project that will deliver a new, seven-story building with 184 market-rate apartments, 3,331 square feet of ground-level retail and a 283-space parking garage in between.
Although construction won't be underway before the Cleveland Guardians' baseball home opener April 7, Anthony Leopardo said the Leopardo Companies will have a display trailer near East 9th Street and Bolivar for crowds to visit during opening day. It's not a coincidence that they're stepping up to the development plate for the Guardians' opener. The Leopardos are avid baseball fans and builders of an $80 million project to expand the Field of Dreams Movie Site in Dyersville, Iowa with nine new baseball fields, dormitories for youth teams, a hotel, outdoor concert amphitheater, a 100,000-square-foot field house, an RV park, jogging trails, and a large park inclusive for children and adults with disabilities.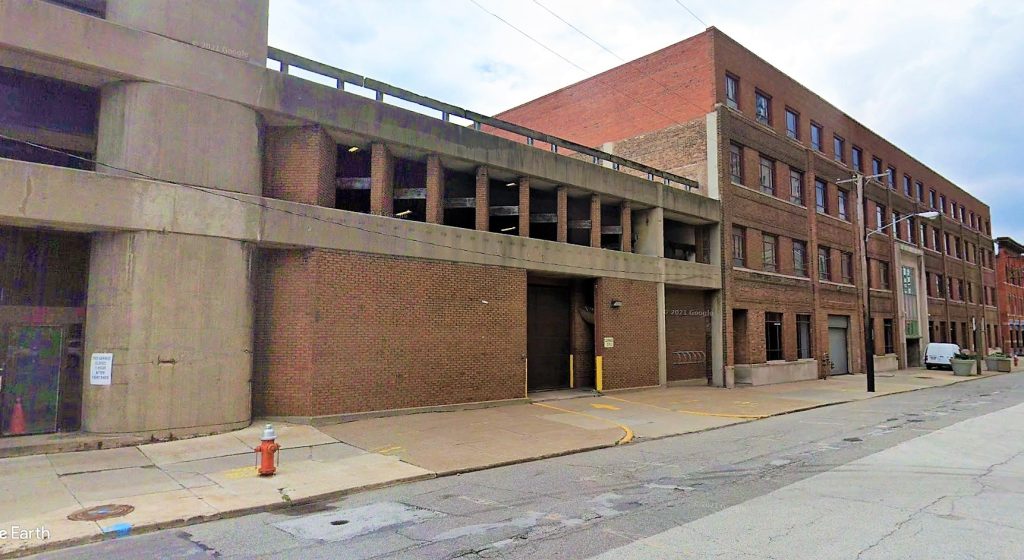 On Bolivar Road in downtown Cleveland, Leopardo Companies and SomeraRoad will add an apartment building atop the parking garage at left. At right, in 1020 Bolivar, Leopardo will lease space for its Cleveland office from which it will seek and support current and future development and construction projects in Ohio and especially in Cleveland (Google).
The Apartments At Bolivar follows Leopardo's first foray into the Cleveland market. That introduction was the construction management of The Bell, a $102 million renovation and conversion of the former Ohio Bell Headquarters, 45 E. 9th St., that saw a groundbreaking ceremony in September 2022. Work is well underway on the 526,000-square-foot adaptive re-use of the 16-story downtown office building into 367 apartment units, community spaces, retail spaces, fitness area and a rooftop amenity deck with an outdoor pool and hot tub. Dallas-based developers Wolfe Real Estate and Bluelofts, Inc. are leading that project that is due to be completed in about one year.
Leopardo has pursued and is pursuing a wide variety of construction and development markets. The first sector James Leopardo mentioned during an interview with NEOtrans are new-build and renovation projects in the health care field, namely medical offices that are both on- and off-campus of their health care systems. The company also focuses on multi-family, retail, industrial, office and civic projects with small groups running those markets to provide a family atmosphere in working with clients, he said.
There are multiple companies under the Leopardo corporate umbrella that also provide that family atmosphere in reaching their development goals. Those are Leopardo Construction, LCI Development Partners, Alexander West Capital, Grand Kahn Electric James, and Leopardo Energy, James Leopardo said.
Among Leopardo's many construction projects are the Wrigleyville Lofts near Wrigley Field in Chicago, renovation and expansion of the Edith Spurlock Sampson Senior Apartments in Chicago's Lincoln Park, a new 12-story boutique office building for Sterling Bay real estate in Chicago, a 75,000-square-foot expansion of the Rush Copley Medical Center Surgery Unit in Aurora, IL, infrastructure upgrades to South Euclid's city hall, police department, fire department, service center and community center plus infrastructure improvements to streetlights, traffic signals and public facilities in North Royalton.
END