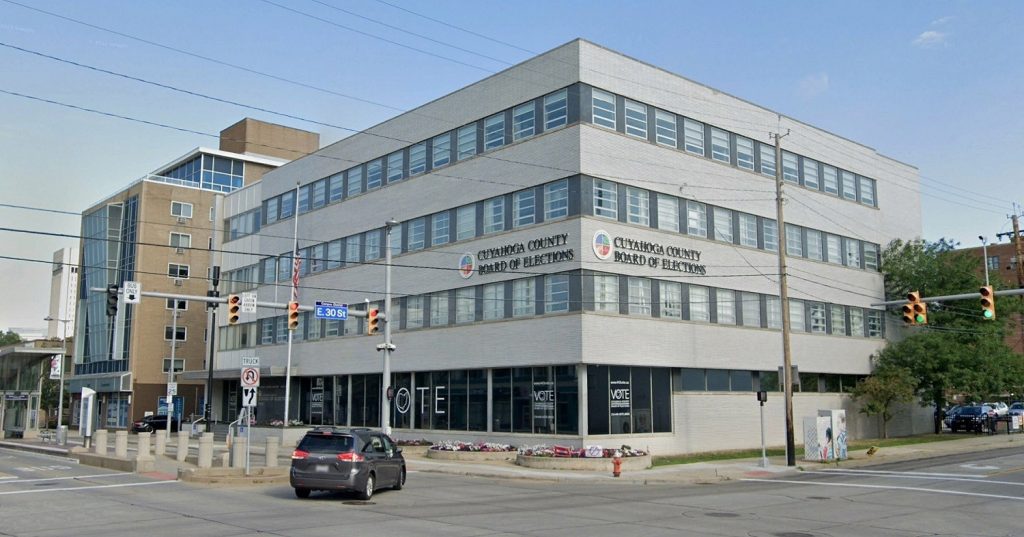 When most of us think of the Cuyahoga County Board of Elections, we think of this 1950s-era structure called the Robert Hughes Building at the northwest corner of Euclid Avenue and East 30th Street. But there are also two other locations used by the Board of Elections which it would like to consolidate by Jan. 1, 2024 in an existing, relatively low-rise building that's accessible by car and transit (Google). CLICK IMAGES TO ENLARGE THEM.
Existing, accessible buildings to be considered
Cuyahoga County's Department of Public Works this week issued a request for proposals from building owners and real estate brokers who can accommodate the requirements of a proposed consolidation of operations by the Cuyahoga County Board of Elections (BOE) into a new location. For decades, the BOE's main offices have been located at 2925 Euclid Ave. in Cleveland's Midtown neighborhood. But it also has two other locations that, in total, equal the size of their main offices and could be consolidated into a new, accessible location by year's end, county officials said.
Specifically, the county wants to buy or rent existing, high-quality, handicapped-accessible space by Jan. 1, 2024 on the fewest floors possible to consolidate its 75,000 square feet of offices from the northwest corner of Euclid Avenue and East 30th Street and 66,000 square feet of storage from the county Archives, 3951 Perkins Ave. It also wants to bring into the consolidated location a 7,000-square-foot cold storage facility whose current location was not identified. Bids must be submitted to the Department of Public Works by 11 a.m. April 17.
Different combinations of consolidations will be considered, such as the offices with the dry storage, or the dry storage with the cold storage, or all three at the same location. Thus a minimum of 55,000 square feet and a maximum of 180,000 square feet for office space, including approximately 500 parking spaces for the maximum option is requested. While transit access is important to the county officials, they emphasized that the number of parking spaces was paramount.
They came to that conclusion after the presidential election of 2020 when the streets and parking lots near Euclid and East 30th were overwhelmed for weeks with cars whose occupants sought to vote early. Several nearby properties offered temporary parking, including Cleveland State University's Campus International High School on Chester Avenue. Cleveland police and county sheriff deputies provided traffic control. County officials don't want a repeat of that situation leading up to the November 2024 election.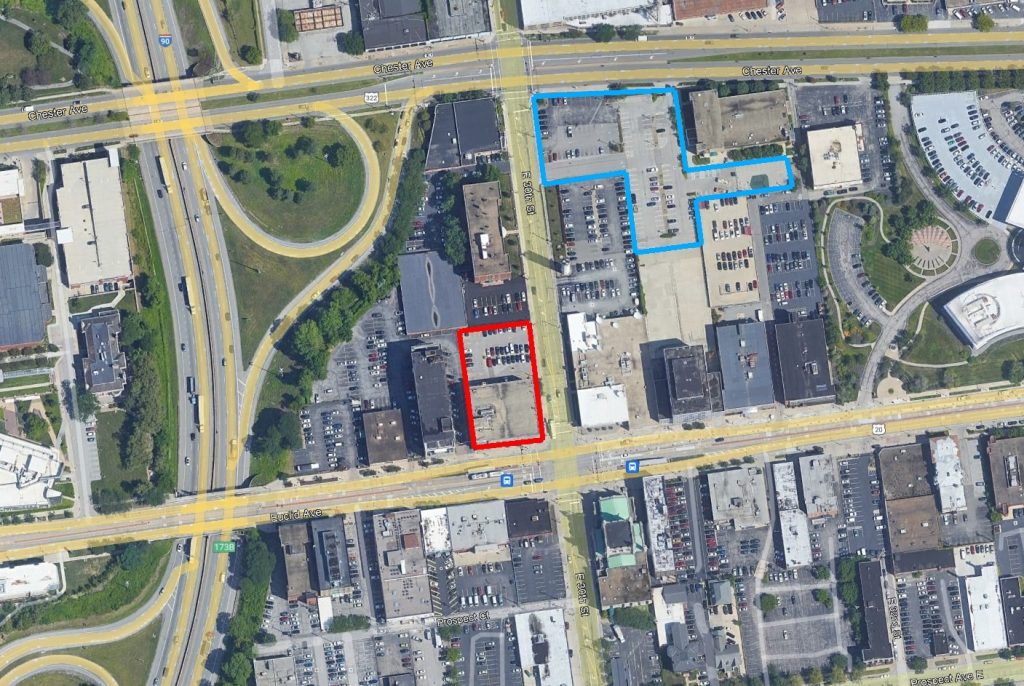 The current location of the Cuyahoga County Board of Elections offices and parking lot is outlined in red. During early voting leading up to the presidential election of November 2020, voters overwhelmed the largest temporary parking lot available, outlined in blue, at the Campus International High School on Chester Avenue (Google).
"The BOE has been sited at the Hughes Building for many years and now requires new office space to accommodate and possibly consolidate many of their operations, as well as to provide for the additional needs presented by the recent rapid growth of early voting, significantly including parking," wrote Paul Sturman, senior project manager for the county's Public Works Department, in the RFP. "The BOE is seeking a vendor to propose a long-term solution to address these needs."
A spokesperson at the League of Women Voters of Greater Cleveland declined to comment on where the BOE should relocate or what areas would be preferable.
Since new office tenants are hard to come by in the wake of the pandemic and the rise of remote working, attracting a tenant that's willing to fill up to 180,000 square feet of space is very tempting. But even with many office tenants reducing their spatial uses, some are still leasing spaces for more than another year. Other tenants are spread throughout buildings preventing large blocks of contiguous floor space from being available. Building owners may seek to rework leases or offer to move tenants onto fewer floors to open up space to comply with the county's RFP.
Even then, a low-rise building with that much square footage in a site that's "centrally located in Cuyahoga County with excellent road, highway and public transit access" may be difficult to find. But real estate insiders said they're already aware of property owners who've responded, including some outside downtown Cleveland although they didn't wish to reveal them yet.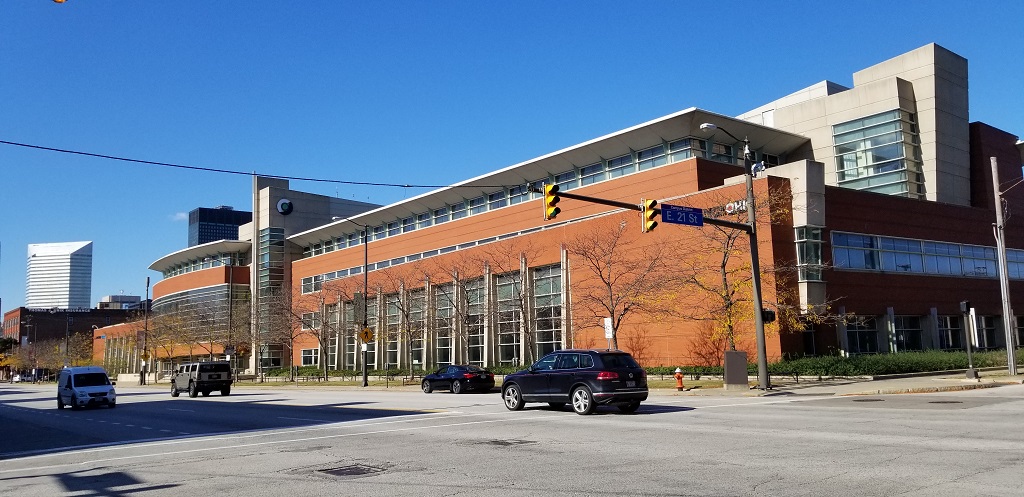 Real estate insiders suspect that county officials, in their search for a new Board of Elections offices and storage space, will consider the former Plain Dealer headquarters, 1801 Superior Ave., in downtown's Superior Arts District. However, other sites outside of downtown are also reportedly being submitted for consideration (KJP).
Some suspected that an ideal candidate might be the former Plain Dealer building, 1801 Superior Ave., which claims to offer 235,312 square feet of office and storage space and 800 parking spaces. The 22-year-old Class A building is near the Superior Avenue interchange to Interstate 90 and served by frequent, 24-hour bus service on Superior. The building is mostly vacant, with its only tenant being Step Forward, formerly the Council for Economic Opportunities in Greater Cleveland.
NEOtrans reached out to a spokesperson at Solon-based Industrial Commercial Properties LLC, which acquired 1801 Superior one year ago, to see if they will be submitting any of its properties for consideration as the new BOE offices. There was no response prior to publication of this article. The BOE offices are currently located in the service area of the Downtown Cleveland Alliance (DCA) which would like them to stay downtown.
"DCA supports businesses and organizations choosing to locate or remain in Downtown Cleveland," said Audrey Gerlach, vice president of economic development and chief of staff at the DCA. "We believe that a Downtown location provides an advantage, especially for civic organizations, by being accessible to everyone in Greater Cleveland via transit or other modes of transportation."
She had no comment on what should become of the four-story Hughes Building, constructed in 1957 and named after the late Republican Party boss of Cuyahoga County. It sets on 0.72 acres in an area that's seeing other nearby office buildings of a similar age be converted into housing, especially for students at Cleveland State University. Those include the University Studios next door, at 2901 Euclid, originally built in 1960 as offices but renovated in 2010 by NM Residential of Fairview Park with 160 small apartments. In 2020, at 3101 Euclid, The Inspirion Group Ltd. redeveloped a 1950s-era, vacant, nine-story office building with 85 apartments.
END