Touted as Cleveland's first 'COVID-inspired building'
Treo, named for where Tremont meets Ohio City, is the first of the big, market-rate apartment buildings to come to this no-man's land part of town. Built on the site of a former auto repair and scrap yard business along a lesser-traveled section of West 25th Street, Treo's first resident moved into the 171-unit property last week as construction work is substantially completed.
Its leasing performance is being closely watched by developers of other properties at the west end of Tremont's Lincoln Heights section which, until now, had escaped the frantic level of development seen in the rest of Tremont or in Ohio City. But several other large-scale developments are planned nearby, including the West 20th Apartments, the sprawling APL site, and the recently announced Hub 27 development which could include a grocery store.
Developing Treo, 2461 W. 25th St., is Chicago-based Mavrek Development along with Cleveland-based general contractor Krueger Group and financier Schiff Capital Group Ltd. of Columbus. The 211,516-square-foot building and its 1.3-acre site was built for $38 million but when soft-costs of development are included, such as property acquisition, legal fees and demolitions, cost of Treo was actually about $45 million, according to Cleveland Development Advisors.
"Residents are living in the building now as construction is complete for the majority of the building," said Mavrek CEO Adam Friedberg. "Only some minor punchlist work is being completed."
Before leasing started, it was offered for sale last year to maximize the benefits of its Opportunity Zone financing but its listing at Bellweather Enterprise was since withdrawn due to rising interest rates. Leasing is now underway, with residential units 20 percent leased. Public tours of the building are available for interested tenants. And a 2,235-square-foot indoor retail/restaurant space, plus an outdoor patio at the corner of West 25th and an extension of Moltke Court remains available. Its leasing is being handled by CRESCO Real Estate.
Bobby Krueger, owner and president of Krueger Group, gave NEOtrans a tour of Treo last week with just a few weeks to go before work is finished on May 1. Work is about to begin on landscaping as construction of the courtyard is wrapping up, installation of appliances in apartments is continuing and completion of the lower-level of the two-level, 190-space parking garage remains to be done. The upper-level garage is completed, including murals custom-painted by on just about every wall in the garage by Chicago muralist Afrokilla.
"We're the first to deliver in this market a COVID-inspired building," Krueger said. "We had the good fortune that we were under contract to design this building when COVID hit. We were able to pause, see how the world behaved and try to take all of that and program it into the building."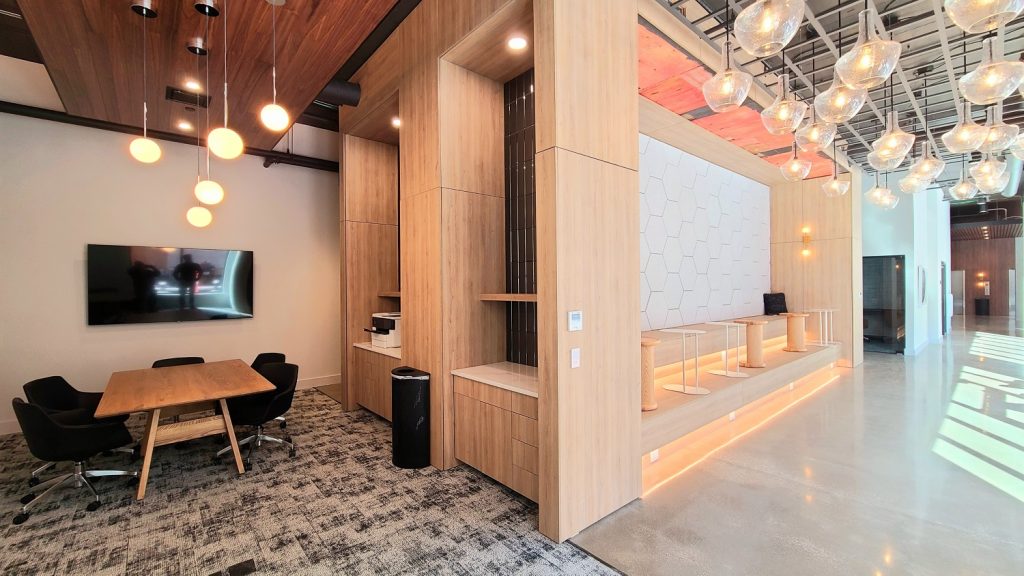 Co-working spaces and features on the ground-floor of Treo are among the features added to the building during its redesign three years ago in the midst of the pandemic. At left is a conference room and printer station. To the right of it is a sitting area where people can sit and work on movable tables facing the courtyard. Beyond on three Zoom rooms, enclosed by glass (KJP).
The result was a lot of remote-work features and contact-less technology. All residents will get a key card to tap on Latch-product panels that also use phone apps and digital combination locks to gain entry to the building and certain rooms within the building including the mail and packages room. The mail room offers a dry-cleaning drop-off/pick-up feature for D.O. Summers plus a custom-painted mural by Chad Fedorovich and Nick Wyatt from Cleveland Mural & Paint. On-site management is provided by RHM Real Estate Group based in Lyndhurst but with a leasing office by Treo's the main entrance.
Also near the front entrance, located off the courtyard, is a lobby with two sitting areas and a digital fireplace. Beyond the lobby is a co-working space for remote-workers who live in the building. It features acoustic panels to deaden noise plus ambient background music to provide a calm setting in the co-working area and other common areas. In the co-working area are three dedicated Zoom rooms with glass partitions, a sitting area with movable tables that faces the courtyard, a printer station, conference tables and a Starbucks Coffee machine. And thankfully there are bathrooms near the coffee machine, too.
"If you're working from home, you have the opportunity to come down here and make some phone calls, do some work," Krueger said.
In addition to the retail/restaurant space that faces West 25th, another ground-floor space also faces that busy street — a large fitness center. The goal is to shed light on the street from active uses within Treo, especially ones that are likely to be used after the sun sets. Buildings with lots of windows facing the street illuminate an area, make it feel more alive and help it feel safer.
"That's important as we're trying to engage the outside world," Krueger added.
The apartments above and the two-level garage below are serviced by two passenger elevators and one freight elevator. The latter is primarily for moving tenants' belongings in and out of the building, as well as for service people and large deliveries. While the garage levels and the first floor are constructed of reinforced concrete, the four residential levels above are built of wood framing. There are some apartments on the first floor on the east and north sides of the building, but due to the sloping ground, most of these are anywhere from several feet to two levels above the ground.
The 171 apartments are a mix of studios, one bedroom juniors (a smaller, more affordable one-bedroom apartment), standard one bedrooms units and two-bedroom suites with market-rate rents currently at just over $2 per square foot. That's roughly $1 per square foot less than the nine-story Intro that opened last year in the heart of Ohio City's Market District — a 10-minute walk up West 25th to the West Side Market, lots of restaurants and shops plus the Ohio City Red Line rail station.
Treo is immediately adjacent to a freight railroad line that hosts about a dozen trains a day. But while touring two of the residential units next to and above the tracks as a freight train was going by, it was almost impossible to hear the train. If you opened a window, then you could hear a train's steel-flanged wheels against the rails curving toward the Cuyahoga Valley.
"We actually did a sound study and, obviously being where we are, we wanted to be very thoughtful in terms of our tenants' experience in making sure that we're able to mitigate as much noise as possible," Krueger noted. "So we've been pretty happy with the results."
Each of the residential floors has 9-foot-9-high ceilings, giving the interiors an airy feeling, almost like century-old buildings that pre-dated air conditioning. All of the units have tall windows and most have walk-out balconies with the other having Juliet balconies. In the bathrooms, the mirrors were custom-designed and built. They are backlit with storage. The showers are a European, walk-in style. Every unit has a washer and dryer with a hot water heater on a shelf above. The hot water tank is equipped with a sensor to notify a central panel when the tank isn't working properly. Samsung is the brand of choice for Treo's major appliances — washer, dryer, stove, dishwasher, refrigerator.
"We tried to be very thoughtful in terms of how we program the (residential) space, whether it's the square footage, the positioning of the windows, or having a dedicated workstation," Krueger said. "Storage is a big key for us too. We thought it would be an elevated opportunity to do all of the cabinets similarly. So if you look at the base cabinets and closets, we're utilizing the same material. Then we did an upgraded closest systems so you have a lot of storage in every unit."
The fifth floor has unobstructed views of the city. To the north and east, toward Ohio City and downtown, those views will likely remain unobstructed due to Treo being perched on the south rim of the Walworth Run which descends into the Cuyahoga Valley.
Next to the lower-level parking garage, the dog-wash/spa area of Treo looks out on to the dog run and railroad tracks where pups can chase trains from the safe side of a high fence (KJP).
At the northeast corner of the building is Treo's amenity deck with a food station, outdoor grills, and a seating area with gas-powered fire tables. Inside the building from that deck, through large glass windows and doors, is a lounge with seating and an indoor grill. On a sink counter are two taps and a touch screen on which residents can swipe their Treo card and get two free drinks per day, Krueger said.
On the building's lowest floor, between the garage and the railroad tracks, is a bicycle parking room for about 70 bikes, an indoor dog wash and an outdoor, fenced-in dog run. There are individual vehicle entrances to each level of the garage, accessed from a sloping West 20th Street. That slope offered a natural, external ramp for the garage, thereby saving on construction costs.
If you miss out on renting at Treo, Krueger Group is also developing and constructing another, albeit small building on Cleveland's West Side, plus a third in Rocky River. Their other Cleveland development, called Breakwater Lofts, is due to be completed by the end of this year on West 58th Street at Breakwater Avenue in the Gordon Square area. In Rocky River, construction of Center Ridge Apartments is just getting underway and should be done in 2024.
END