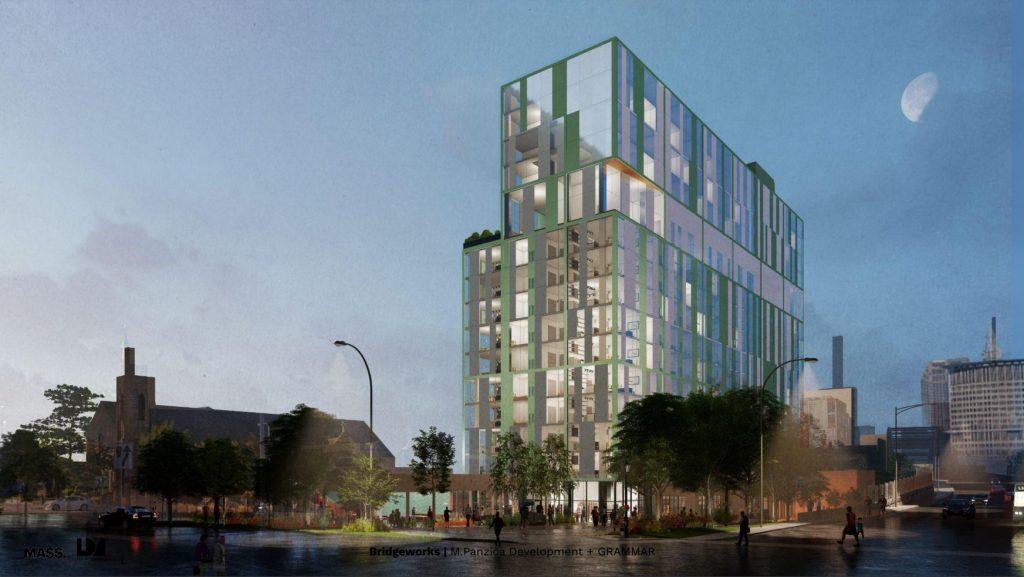 Thanks to the closing of a financing gap, developers of the long-planned, 15-story Bridgeworks tower at the northeast corner of West 25th Street and the Detroit-Superior Bridge anticipate demolishing vacant buildings on the site in June with construction following immediately thereafter. In their place will rise a mixed-use tower with apartments, hotel, offices, retail, parking and public spaces (MASS/LDA). CLICK IMAGES TO ENLARGE THEM.
Funding gap filled to launch new Ohio City tower
ARTICLE UPDATED APRIL 13, 2023
For more than two years, a planned high-rise at the west end of the Detroit-Superior Bridge in Cleveland's Ohio City neighborhood has sought public funding to fill a financing gap. After missing out twice on tax credits from a statewide program, the developers looked closer to home and found the resources to start and finish construction. This week, the developers united under Bridgeworks LLC were awarded the final pieces of the fiscal puzzle to the $108 million project, allowing them to start work in June, they said.
On April 13, the Cleveland-Cuyahoga County Port Authority Board of Trustees authorized the issuance and sale of $80 million in taxable Lease Revenue Bonds plus $4.13 million of taxable Bond Fund Tax Increment Financing Bonds. With that financing and other recent approvals, construction on the Bridgeworks project is due to be completed by the fourth quarter 2024.
"It's an exciting time for Cleveland and the Bridgeworks project is the latest renovation effort that the Port has been a critical partner to help this project get to the finish line," said Rhonda Winslow, vice president of development finance for the Port of Cleveland, in a written statement.
On April 11, Cuyahoga County Council awarded Bridgeworks a $2 million Place-Based/Mixed-Use Economic Development Loan to assist with the construction of a 15-story, mixed-use development project located at 2429 West Superior Viaduct. The development, to be constructed on the former site of the vacated County Engineer's office, lab and garage, will include 140 apartments, half of which will be priced as more affordable "workforce" units, plus a 132-room hotel provided by a new-to-Cleveland Motto By Hilton brand, a 120-seat restaurant and bar on the 11th floor, 12,000 square feet of office space, and the addition of a 210-space parking garage.
"It's an exciting project in that it will be the first hotel on the west side of the (Cuyahoga) River, so that's kind of a cool thing," said District 6 County Councilman Jack Schron Jr. who chairs council's Economic Development Committee. "This will be another hub for activity, with a restaurant, low-income housing and a hotel all combined into one package."
The other big piece of public funding that is allowing Bridgeworks to move forward is a 30-year tax-increment financing (TIF) agreement unanimously approved by Cleveland City Council on March 13. The TIF diverts the increase in future non-school property taxes based on the proposed improvements for up to 30 years though it does not exempt the developer from payments in lieu of taxes (PILOTS) to ensure the Cleveland Metropolitan School District receives what it would have otherwise received if not for the TIF.
"I'm really excited to see this corner transform from a surface parking lot to a vibrant and active use, especially on one of Cleveland's most transit- and multimodal-connected corners," Ward 3 Cleveland City Councilman Kerry McCormack told NEOtrans.
The Bridgeworks development team is lead by M Panizca Development and Grammar Properties and is their second big project in the booming Hingetown section of Ohio City. The partnership had teamed up previously to deliver for $60 million the nearby Church + State development featuring 11-story and six-story apartment buildings over ground-floor retail and structured parking. Despite opening during the depths of the pandemic, Church + State's market-rate apartments leased quickly although a couple of retail spaces remain available.
In text messages to NEOtrans, Bridgeworks' Michael Panzica confirmed today that he anticipates demolition work of the former county Engineer buildings at the northeast corner of West 25th Street and the Detroit-Superior Bridge to start in June. He said construction could also get underway in June, suggesting an early June start for demolition work. He also confirmed the Motto by Hilton brand, formed in 2018 to offer micro-hotel accomodations with "an urban vibe in prime global locations." But he didn't respond when asked if the development team had all of the city approvals to start work.
A review of the Building Department's web portal shows several pending, unapproved permit applications for the project which are one to two years old, including for demolition. A previously approved permit was awarded for a partial demolition of the county Engineer's 58-year-old, three-story, 22,395-square-foot laboratory/office building and the single-level, 82-year-old, 13,649-square-foot Engineer's garage.
But that permit was left to gather dust as the developer didn't want to spend money demolishing buildings unless they had enough resources to construct Bridgeworks in its place. And, the design was later changed to demolish everything except a former "ticket booth" and entrance to the subway that ran on the lower level of the Detroit-Superior Bridge. The booth could be repurposed as part of a future project to reactivate the subway deck as a public space. On the southeast corner of West 25th and the Detroit-Superior Bridge is the site for the Irishtown Bend Park and a vacant, vandalized building that is due to be demolished to stabilize a hillside and expand the park.
"The county is excited to assist with a project that can help accelerate the growth of the Hingetown district in the Ohio City neighborhood," said County Executive Chris Ronayne who is also a backer of the subway deck's reactivation. "This project will not just bring apartments, a hotel, and office space, but will also create public space and amenities directly across the street from Irishtown Bend Park. It will make a critical connection between the Ohio City neighborhood and the West Bank of the Flats, and will turn an underutilized property into a valuable community asset. This is exactly what community and economic development are all about."
One year ago, Bridgeworks won a $223,500 Ohio Brownfield Remediation Program grant from the Ohio Department of Development to help fund costs of cleaning up and demolishing the former Engineer buildings. The Engineer's properties were vacated by the county over a period of 10 years, ending in 2019 when the county put the property on the market.
In June 2021, Bridgeworks LLC acquired the property as it was considered surplus by the county. The developers took title to the 2.5 acres of land, easements and on-site structures, paying the county $4.15 million, public records show. Only about 1.6 acres of the site is developable. The county's loan was recommended for approval by the Cuyahoga County Community Improvement Corporation (CCCIC) for the 289,429-square-foot development.
The project is expected to create 58 new jobs with a payroll of approximately $2,171,520 annually, according to county records. The building will feature 140 residential apartments on floors two through 10, a restaurant on the 11th floor, and 130 hotel rooms on floors 12-15, plans show. The project received design approval by the city's Design Review Committee and Landmarks Commission.
Bridgeworks was passed over twice for tax credits from the state's Transformational Mixed Use Development (TMUD) program, reserved for megaprojects. In or with 10 miles of cities having more 100,000 people, eligible projects must involve an investment of at least $50 million and be either 350,000 square feet in mass or 15 stories in height. Bridgeworks met the latter threshold but its $9,299,608.90 request was not approved last December. Nor was its $7,944,817.92 TMUD application the year before. Despite redesigns to reduce construction costs, inflation and rising interest rates offset those savings.
END