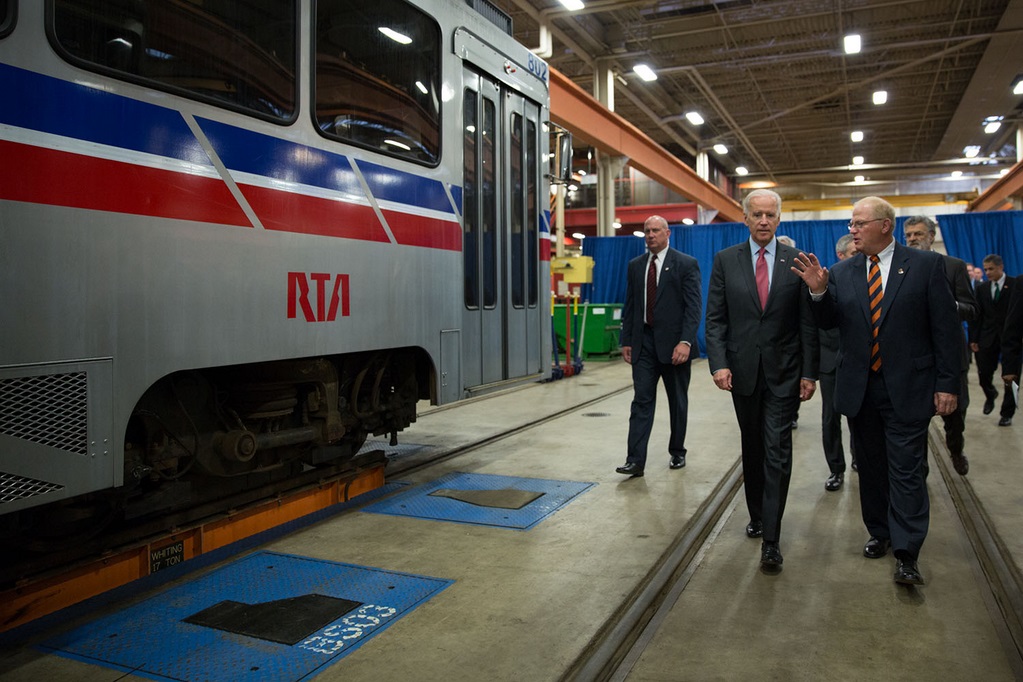 In 2014, then-Vice President Joseph Biden got a tour of the Greater Cleveland Regional Transit Authority's already aging rail car fleet at the Central Rail Facility near East 55th Street. Giving the tour was former GCRTA General Manager and CEO Joe Calabrese along with Cleveland's previous Mayor Frank Jackson. Calabrese informed Biden that GCRTA needed more federal funding to replace its old trains. The biggest chunk of that federal funding was awarded today (GCRTA). CLICK IMAGES TO ENLARGE THEM.
Federal grant is single-largest-ever for GCRTA
In 2021, as chair of the U.S. Senate Banking, Housing and Urban Affairs Committee, which has jurisdiction over public transportation, U.S. Senator Sherrod Brown (D-Ohio) championed the creation of a new federal program to fund the replacement of aging rail transit cars. Today, he shared the news that the Greater Cleveland Regional Transit Authority (GCRTA) was awarded $130 million from this program to narrow a funding gap in its $393 million effort to replace its four-decade-old rail car fleet. The award represents the largest single grant to the GCRTA in its 48-year history.
Making the announcement at a large ceremony held at GCRTA's rail yards and maintenance facility at East 55th Street was Brown along with Federal Transit Administrator Nuria Fernandez, U.S. Rep. Shontel Brown (D-11), GCRTA General Manager and CEO India Birdsong Terry and many GCRTA employees. This event follows an April 18 vote by GCRTA's Board of Trustees to order new rail cars from California-based manufacturer Siemens Mobility.
The first 24 trains, arriving in 2026, will replace aging rail cars operating on the Airport-Downtown-Windermere Red Line with an option for up to 60 rail cars to replace by 2030 the trains on the Blue and Green lines linking downtown's Waterfront with Shaker Heights. The Blue and Green lines' infrastructure in Shaker Heights is scheduled to be completely rebuilt for $115 million over five years, from 2024-28, after the Cleveland portion was rebuilt in the past decade for more than $50 million.
"Cleveland-area riders rely on GCRTA's rail cars to take them to work, school, or appointments and then to take them back home again, and the age of the current rail fleet threatens the ability of GCRTA to reliably provide its essential services," said Brown in a written statement. "Replacing GCRTA's aging fleet with modern vehicles is essential to the quality of life, equity and future economic and cultural growth of the Cleveland region."
In dollar terms, GCRTA's $393 million rail car replacement program is the largest capital improvement program in the authority's history. Even after adjusted for inflation, it is $100 million more than the next-largest capital project — the Euclid Corridor bus rapid transit line that opened in 2008. Since branded as the HealthLine, if that $200 million project was built today, it would cost $286 million. And the HealthLine's construction was funded by multiple, smaller federal funding awards, plus state and local funds, over multiple years.
Today's grant awarded by the Federal Transit Administration means GCRTA now has identified about $355 million for its rail car replacement programs. The grant reduces the funding gap for modernizing Greater Cleveland's Rapid rail fleet to $38.6 million. GCRTA officials said they hope to get most if not all of that over the next few years from the Ohio Department of Transportation (ODOT), including $33.1 million from ODOT's Surface Transportation Block Grant Program and/or its Congestion Mitigation/Air Quality program and $5.5 million from ODOT's Office of Transit and projects.
Two years ago, when the multi-year funding ceiling, called an authorization, for federal surface transportation programs for roads, transit and rails was renewed by Congress, Brown and his Senate committee created the nation's largest-ever federal investment program for public transit — $89.9 billion over five years. That authorizing law, called the Infrastructure Investment and Jobs Act, provided Ohio transit agencies with $1.286 billion over the same period and created a new, competitive application program for replacing transit agencies' rail cars. It was authorized at $1.5 billion over five years and funded at $600 million for 2023. Brown said he created the program with the GCRTA in mind but noted other rail transit systems have significant backlogs of old rail cars that need replacement, too.
The Rail Vehicle Replacement Program makes funding available competitively to help fund capital projects to replace rail rolling stock, according to GCRTA. For the purposes of this program, rail rolling stock is defined as revenue service, passenger-carrying vehicles, or propulsion (locomotives) vehicles necessary for the provision of rail public transportation. The program is a set-aside of the Federal Transit Administration's State of Good Repair Formula Grants Program.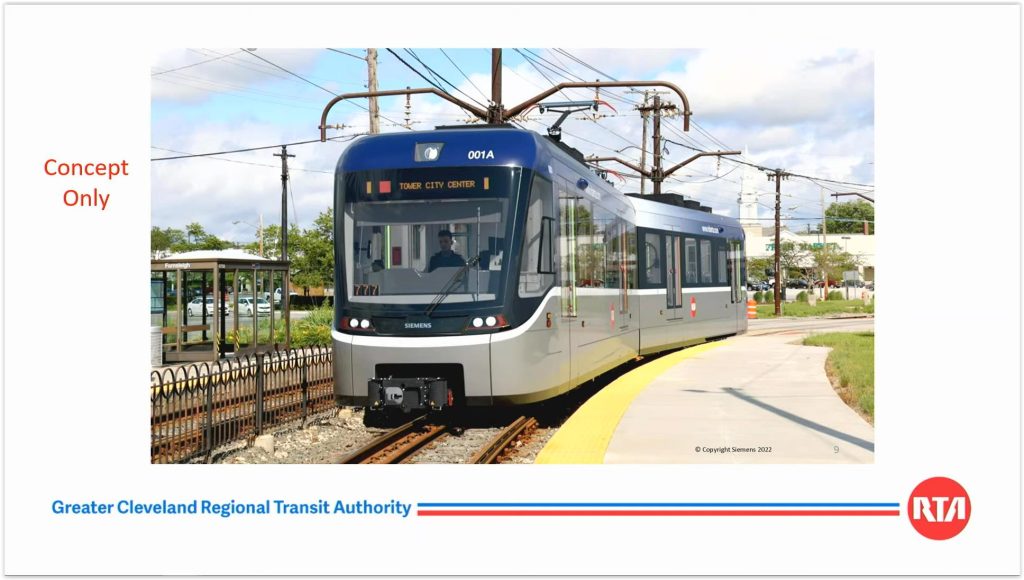 A conceptual image of the new trains ordered from Siemens Mobility by the Greater Cleveland Regional Transit Authority. Following modifications to stations and the authority's maintenance facilities, the new trains will be able to operate over all three Rapid lines, including offering new services through downtown without having to transfer between trains (Siemens).
NEOtrans broke the news that GCRTA would choose Siemens' Model S-200 railcars to replace both the heavy-rail trains on the Red Line and the light-rail trains on the Blue and Green lines. Coinciding with modifications to Red Line stations and maintenance equipment at the Central Rail Facility off East 55th, the move will standardize GCRTA's 34-mile rail system for the first time in its history.
The heavy-rail Red Line is a legacy of the pre-GCRTA Cleveland Transit System, just as the light-rail Blue and Green lines trace their heritage to the Shaker Heights Rapid Transit. But even after GCRTA in 1975 took over the two former municipally owned rail systems, they continued to lack interoperability, creating inefficiencies in operations, training and maintenance. Now, GCRTA is considering vastly expanding the amount of rail services it offers by being able to run any train over any line, such as routing Shaker Heights trains through downtown to Hopkins Airport or running Red Line trains from Windermere to downtown's Waterfront, in addition to existing services.
"The new (rail) vehicles would allow GCRTA to create more routes that don't require transferring at Tower City," said GCRTA Public Information Officer Robert Fleig. "That would more than double the existing number of routes."
END