Vacated industrial site shows signs of life
Mystery guest: will you enter and sign in, please? In borrowing that phrase from the long-running television show What's My Line, NEOtrans has learned who the guest is and where they want to be. But we haven't yet learned the "what" in terms of what they intend to bring. But according to permit applications filed last week with the city of Cleveland's Building Department, it appears to be a very large project.
Here's what we know: Independence-based construction contractor TY Inc. submitted two building permit applications to do site preparation work in the Cuyahoga Valley at two locations on Bradley Road in the city's Old Brooklyn neighborhood. Both permit applications say the site is at 4300 Bradley Rd., currently the Cleveland Division of Police's Tow Unit/Impound Lot No. 2. The city-owned property measures just over 7.3 acres or 310,427 square feet. But the applications reference the neighboring property owner — Connell Aluminum Properties LLC, which owns a large amount of land on both sides of Bradley and totals 29 acres or 1.5 million square feet. Connell's address is 4338 Bradley.
One application is for "site development" for a building in a work area of 696,960 square feet or exactly 16 acres. That application specifies the work as "Soil grade and fill" activity, according to the city's Building Department web portal. The other application is for a building in a work area of 87,120 square feet or precisely 2 acres. That application doesn't specify whether the work area is for the building or for the site but is presumably for site development in anticipation of constructing a new building.
E-mails sent to Connell Aluminum Properties, an affiliate of Boston-based Connell Limited Partnership which owns and invests in industrial companies, were not responded to prior to publication of this article. When asked what the permits are for, Tom Simich, president of TY Inc., said he didn't know what the applications are for either but said he will probably learn more when the city's permits are issued.
"I don't know what it is," Simich said. "When we get permitted, we might be able to talk about it."
"This has not hit my desk nor am I aware of it yet, as well as nothing to show for in the systems so you'll have to reach out to the councilwoman and/or the CDC (community development corporation) for more info," said near-West Side City Planner Britany Pabon.
"Nobody from any of the companies that you mentioned has reached out to my office," said Ward 12 Councilwoman Rebecca Maurer. "I would have serious reservations about a large industrial use on that land along the Cuyahoga River, particularly given the expansion of nearby residential areas since the prior aluminum facility (Wabash Alloys LLC) closed. I hope that these companies reach out and begin a conversation about what they are envisioning."
"We don't have any information on the property or what work might be contemplated for the site," said Lucas Reeve, executive director of the Old Brooklyn Community Development Corp. "We're attempting to reach out and learn more."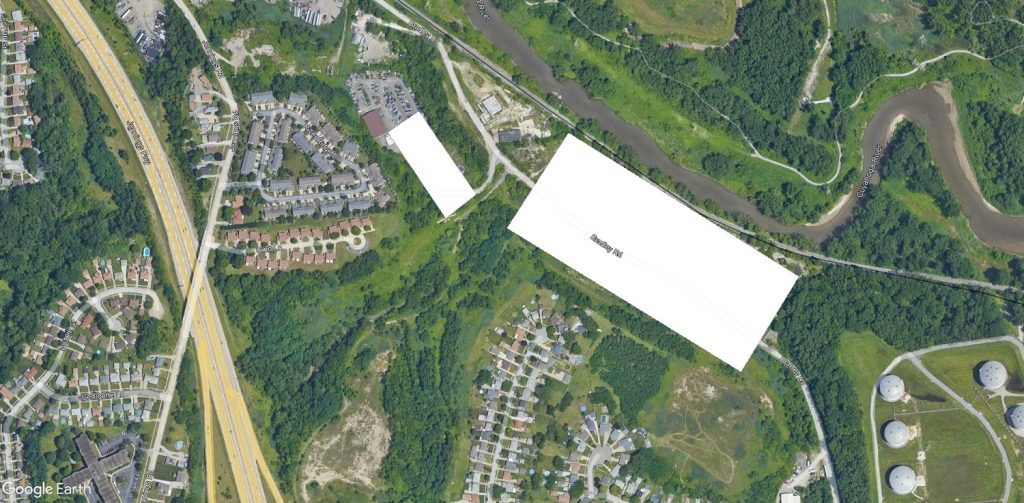 The two white blocks show the scale of two overly simplified development sites, one 696,000 square feet and the other 87,000 square feet, along Bradley Road. These are meant to show only the scale of the land area to be prepared for development, not the actual shape of whatever development footprint is being considered here (Google/KJP).
To put the scale of the site development work into perspective, the total of 18 acres or 784,080 square feet is larger than the 650,000-square-foot footprint of the Amazon Fulfillment Center building in Euclid. And to use an aluminum plant for comparison, since Connell Aluminum Properties was specified in the permit applications, the largest building for the Alcoa Power and Propulsion plant on Harvard Avenue, doing business as Howmet Castings & Services, Inc., has a footprint measuring approximately 560,000 square feet. Another Alcoa-owned plant building is about 507,000 square feet. Storage, ancillary facilities and parking take up additional acreage at both comparison sites.
As noted earlier, the Connell and city impound lot properties are far larger than 18 acres, combined. The 29-acre Connell properties are level on the river side of Bradley but only a narrow strip of level land exists on the hillside of Bradley before sloping upward 80-90 feet to residential areas along Skylane, Starlight and South Ridge drives. That hillside is one of the former construction and debris landfills in the immediate area currently or formerly owned by Bradley Road Inc.
The most recent development masterplan for the lands along Bradley, done by the Northeast Ohio Areawide Coordinating Agency in 2002, proposed "Continued business and heavy industrial uses along Bradley Road, from Jennings Road southeast to the Brooklyn Heights city limits. Many of these firms provide environmentally important materials recycling services that utilize the byproducts of the valley's heavy industrial base."
That was three years before the U.S. Environmental Protection Agency Region 5 reached an agreement with Wabash Alloys LLC on alleged clean-air violations at the company's aluminum recovery plant at 4365 Bradley Rd. EPA assessed an $11,160 penalty against Wabash. The plant closed shortly thereafter and was demolished over several years, from 2007-2009. The property was sold to Connell in 2007, property records show. Schuman and Co. built the plant starting in the 1910s, sold it in the 1960s to Alloys & Chemicals Corp. which in turn sold it in 1973 to Wabash Smelting Inc., later known as Wabash Alloys.
END