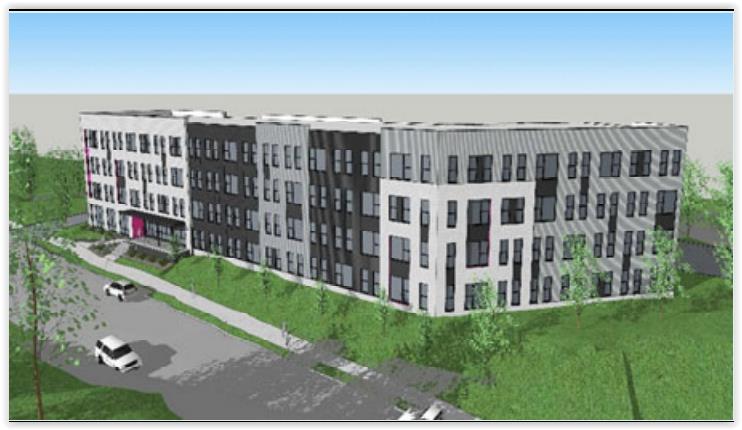 Plans by real estate developer Flaherty & Collins to build the Depot On Detroit got a boost by winning Low-Income Housing Tax Credits from the state yesterday. The affordable housing development is planned next to the Greater Cleveland Regional Transit Authority's West Boulevard-Cudell rapid transit station (City Architecture). CLICK IMAGES TO ENLARGE THEM.
Winners are in Cleveland, Cleveland Heights
Six housing developments in Cuyahoga County won federal Low-Income Housing Tax Credits (LIHTCs) yesterday from the Ohio Housing Finance Agency (OHFA), improving their chances of seeing construction in the near future. Those projects and 23 others elsewhere around the state received conditional LIHTC commitments. Developers will use those awards to leverage additional financing in the creation or rehabilitation of rental housing for low- to moderate-income Ohioans.
Proposed developments benefitting from this year's tax credits would create or preserve 1,361 apartments for families, seniors and individuals at risk for homelessness, according to a written statement from OHFA. Winning applicants were awarded more than $29.9 million in 10-year federal Low-Income Housing Tax Credits. Many projects that received LIHTC awards also were provided short-term, low-interest loans through OHFA's Housing Development Loan (HDL) program.
"The investments we announced today will create new housing opportunities in 21 counties and help address our housing shortage," said Executive Director Shawn Smith. "OHFA is working to ensure Ohioans have access to safe, affordable places to call home."
Of the developments receiving tax credit reservations, 41 percent will create or preserve housing for Ohio families, 45 percent will create or preserve housing for older Ohioans, and 21 percent will create or preserve supportive housing for Ohioans. There will be 211 units created in the rural counties. OHFA reviewed 69 applications requesting more than $70.4 million in credits. Recipients were selected based on the policies and goals of the program, including affordability, geography, accessible design, supportive services, leveraged economic investment and proximity to amenities.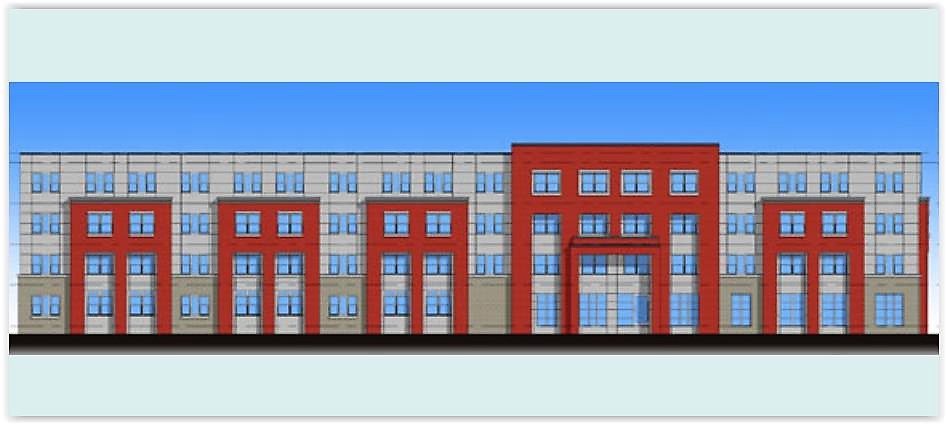 The planned Emerald Senior Apartments are proposed to be built on Superior Avenue in Cleveland's Glenville neighborhood, between two other planned apartment buildings (HDS).
Applicants receiving conditional commitments are listed in alphabetical order:
Emerald Senior, 11100 Superior Ave., in Cleveland's Glenville neighborhood, is a 62-unit, new-construction permanent supportive housing development to serve seniors and senior veterans experiencing long-term homelessness in Cuyahoga County. The $17 million project was awarded $1.075 million in LIHTC plus a $1.75 million HDL. The site for Emerald Senior is located in between two other planned developments along Superior — the Gold Coast Lofts at East 105th Street and the Garrett Square Senior apartments at East 125th Street.
Bringing together the expertise of Emerald Development and Economic Network, Inc., CHN Housing Partners, architect Hiti, DiFrancesco and Siebold, the Benjamin Rose Institute on Aging, and the U.S. Department of Veteran Affairs, Emerald Senior will provide residents with a welcoming environment in close proximity to transit, amenities and medical services. On-site supportive services will be available to help residents meet their goals, on-site property management and a 24-hour front desk.
Hope Homes I, in Cleveland's Buckeye-Shaker, Mt. Pleasant and Lee-Harvard neighborhoods, received $900,000 in LIHTC plus a $1.25 million HDL for a $10 million project. Hope Homes I is a 30-unit, scattered site, single-family project that will provide 28 homes for families at or below 60 percent of the area median income, and two market-rate homes. Hope Homes I will contain approximately 27 three-bedroom two-story homes and a trio of three-bedroom, one-story accessible homes. The project will be sited on vacant lots formerly held by the City of Cleveland Land Bank in the affected neighborhoods on Cleveland's East Side.
CHN Housing Partners is the developer and will offer its nationally recognized lease-purchase program to create homeownership opportunities which has already transferred more than 1,200 homes to income-eligible buyers. CHN's service delivery program will provide wrap-around services to eligible families to help improve their education, career and physical and financial health.
Noble Station, 2222 Noble Rd., Cleveland Heights, is a $14.7 million, 52-unit new-construction development for families by TWG Development LLC. It won $1.248 million in LIHTC and $1.25 million in HDL to build a four-story building with an elevator and one-, two- and three-bedroom flats. There will be a leasing office, lobby and interior/exterior security cameras. All units will have a dishwasher, garbage disposal and washer/dryer hookups. The site is across the street from a Save-A-Lot supermarket, 1 mile from Severance Town Center, and 3 miles to University Circle. Noble has Greater Cleveland Regional Transit Authority (GCRTA) bus service. The adjacent neighborhood is subject to an ambitious revitalization plan.
Puritas Senior Apartments, 14410 Puritas Ave., in Cleveland's Bellaire-Puritas neighborhood, won $1,151,952 in LIHTC and $1.75 million in HDL for a proposed $14.4 million, 48-unit senior housing project. Commonwealth Development Corporation of America seeks to provide affordable housing for seniors in a neighborhood that has not benefited from new affordable housing development in over 20 years, according to the statement by OHFA.
In partnership with Lakewood Senior Citizens, Inc., Puritas Senior will provide wholistic, service-oriented housing for the senior tenant population, providing residents with a wide-array of health, wellness and socialization services. The project will serve seniors ages 55 and older who have incomes between 30 percent and 70 percent of the area's median income. The building's amenities will include a fitness center with senior-specific equipment, a community room with kitchenette, laundry facilities plus enhanced site and building security.
The Depot on Detroit, 10300 Detroit Ave., in Cleveland's Cudell neighborhood, is a partnership between Flaherty & Collins Development LLC of Indianapolis, Cleveland-based Northwest Neighborhoods CDC and GCRTA. The $18.4 million project proposes 61 one-, two- and three-bedroom apartment units for families at or below 60 percent of the area median income. The project is transit-oriented as it is located on the GCRTA Red Line at the West Boulevard-Cudell station which is also served by several GCRTA bus routes.
Transit passes will be provided free of charge to all Depot on Detroit residents to enhance their mobility. The development will provide a community room with kitchenette, television and computers, a fitness center and on-site parking in a surface lot. The project will be financed with $1.25 million in LIHTC, a $1.75 million HDL, Cleveland and Cuyahoga County HOME funds, 811 vouchers for disabled people, a primary mortgage and deferred fees from the development team.
Warner and Swasey II, 5701 Carnegie Ave., in Cleveland's Midtown neighborhood, is part of a larger historic adaptive reuse of the prominent historic Warner and Swasey former manufacturing facility and is considered by some developers to be the key to causing more development nearby. Led by Pennrose LLC of Philadelphia, this joint public-private revitalization effort totaling $50 million will bring a 56 affordable apartments and a dynamic mixed-used, mixed-income, mixed-population development located between downtown and University Circle.
Warner and Swasey II won $1.25 million in LIHTC and $1.75 million in HDL yesterday. In December, the project received $2 million in Ohio Historic Preservation Tax Credits (OHPTC) to help Pennrose defray costs resulting from the project being passed over each time in previous OHPTC rounds although it had won $1 million in Low-Income Housing Tax Credits in 2020. Warner and Swasey is a short walk to transportation on the HealthLine bus rapid transit plus a grocery store and medical facilities. The units will include studios, one-bedrooms, and two-bedrooms affordable to households ranging from 30-60 percent of the area's median income with 25 percent of the units serving extremely low-income residents.
Developers and their investment partners claim tax credits over a 10-year period to offset the costs associated with construction or rehabilitation of a housing development. In exchange for the credits, owners must maintain rents that are affordable and limit occupancy to residents with low-to-moderate incomes for a minimum of 30 years. OHFA has administered the Housing Tax Credit program to facilitate the creation and preservation of more than 150,000 units in the state since 1987.
END