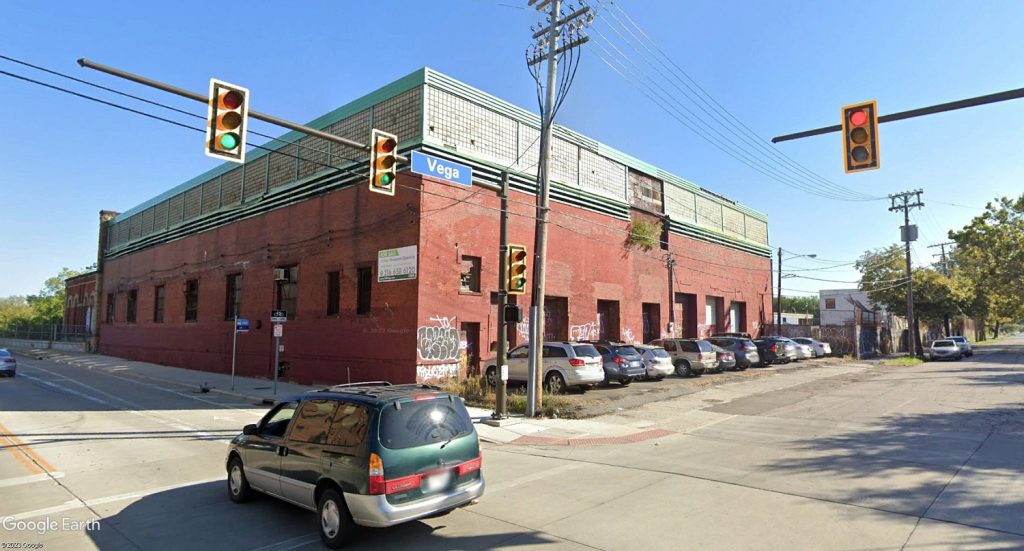 Once the site of the Leisy Brewing Co. and known more recently as the Caraustar recycling plant, this property at the northeast corner of Fulton Road and Vega Avenue in Cleveland has sold to a new, enigmatic company called Sanctus Capital LLC that apparently has deep pockets. It is one of many property acquisitions by Sanctus in the past year (Google). CLICK IMAGES TO ENLARGE THEM.
Former Leisy Brewery, Club Alma Yaucana land bought
A deep-pocketed company that's less than two years old and based in suburban Westlake has been busily acquiring residential properties in Cleveland, primarily on the city's West Side. And last week, the company, Sanctus Capital LLC, made its biggest purchase yet — a 5-acre parcel at 3400 Vega Ave. sold by Caraustar Recovered Fiber Group Inc. that was home to Leisy Brewing Co., once Cleveland's largest independent brewery.
It followed another large purchase in March when Sanctus Capital acquired the properties belonging to the oldest Puerto Rican social club in the city, Club Alma Yaucana de Cleveland, 2674 W, 25th St,, at the northwest corner of Barber Ave. The purchase didn't yet include the social club itself. Instead it was for four adjacent, mostly vacant parcels except for one small house on Barber, totaling about two-thirds of an acre.
What's even more intriguing is that Sanctus Capital paid cash for both transactions — $750,000 for the Caraustar property and $155,000 for Club Alma Yaucana's properties, according to Real Property Conveyance Fee Statement of Value and Receipt forms filed with the Cuyahoga County Fiscal Officer. Both acquisitions are next to Interstate 90 and are at the fringe of hot neighborhoods where real estate development is brisk.
In addition, Sanctus Capital has acquired numerous, scattered properties with single family homes on them, often through sheriff sales or by survivorship and executor deed transfers but also through more common warranty deed transfers, county records show. A man named Jesus J. Vega was listed on some the deed transfers as trustee of the Sanctus Capital Trust. Vega could not be located for comment.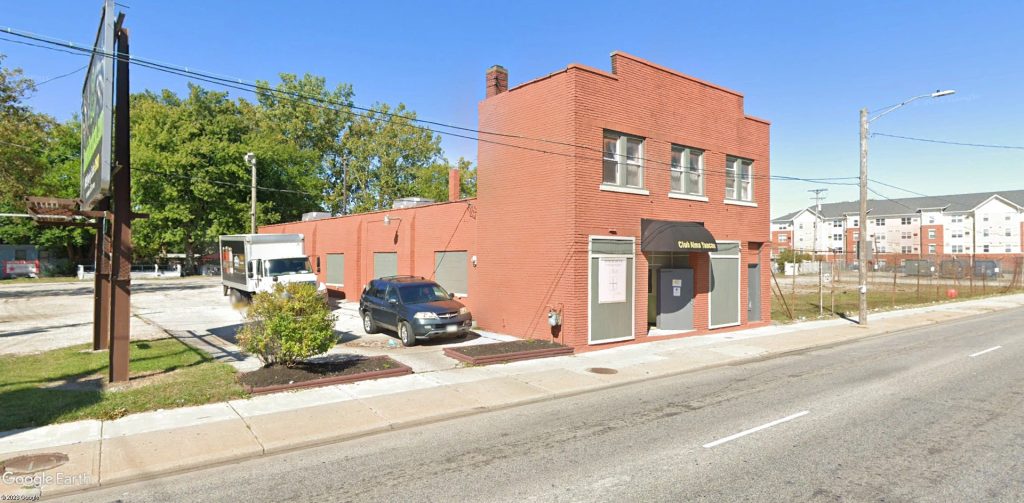 Club Alma Yaucana de Cleveland on West 25th Street, just north of Interstate 90, is sitting on a developing stretch of West 25th that is attracting real estate investors' interest. One of those investors bought the land surrounding the city's oldest Puerto Rican social club and which was owned by the social club. The buyer's intentions remain a mystery (Google).
What is Sanctus Capital and what do they intend to do with their new acquisitions? NEOtrans reached out to Sanctus Capital through a phone number and a contact form posted on a Web site for Sanctus Builders LLC, a company that registered with the Ohio Secretary of State in January and has the same Westlake address as Sanctus Capital. However, no one from Sanctus has responded prior to publication of this article. An as-yet unreturned voicemail message was also left for Avon Lake resident Andy Lembach, a partner at Sanctus Capital according to his LinkedIn profile.
Sharon Sweda, president and owner of American Patriot Title Agency in Sheffield in Lorain County, signed the deed transfer for Club Alma Yaucana in March. NEOtrans contacted her seeking more information about the buyer's intentions. She said she forwarded NEOtrans' request to her client, noting that she would not be willing to disclose private information.
Real estate broker Jarrod James of ERA Real Solutions Realty in Rocky River handled the purchase of the Caraustar property for Sanctus Capital. He said he also would pass along to Sanctus Capital NEOtrans' request for more information about the buyer's intentions for the site. So far, no one from Sanctus Capital has contacted NEOtrans.
"They are a private company," James said of Sanctus Capital when asked about their plans for the former Caraustar property. "They probably don't want to speak publicly about it."
Joseph Khouri, senior vice president of advisory and transaction services at real estate brokerage CBRE, represented the seller Caraustar. When asked about the buyer's intentions for the site, he directed inquiries to James and said he didn't know anything about the buyer. "Jerrod's the only guy I dealt with," Khouri said.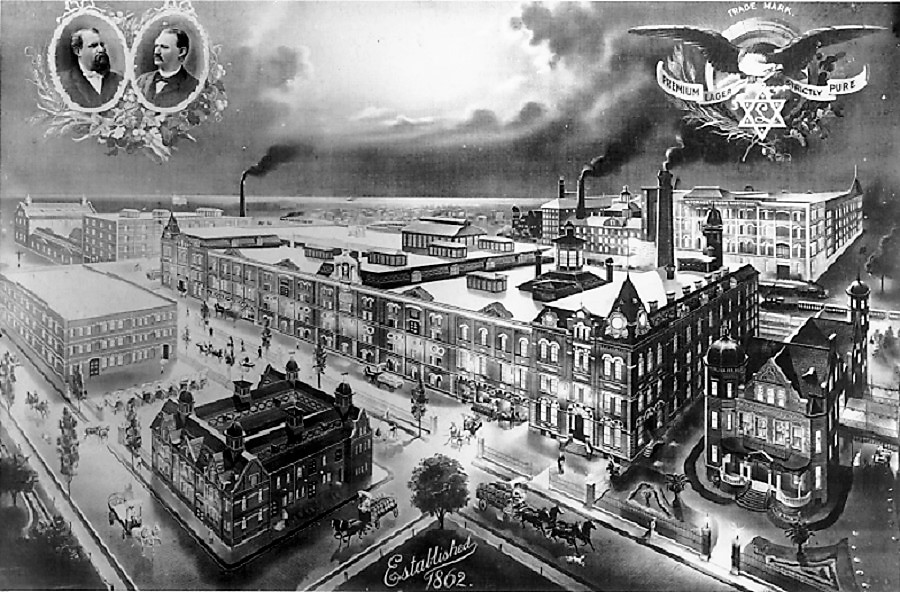 Looking northwest along Vega Avenue toward Fulton Road and the railroad tracks, the Leisy Brewing Co. had already grown quite large by the 1890s, which is when this illustration was produced. Also visible is the Leisy family's mansion seen at right. Most of the complex was demolished in the 1970s and the property as sold last week to an enigmatic buyer (WRHS).
A legal source familiar with the former Caraustar property, originally listed for sale at about $1.5 million, expressed surprise at how quickly the sale was completed. The source, who was not authorized to speak publicly about the deal, noted that it was transacted in about a week from initial contact to closing with no due diligence including environmental assessments conducted. The source said the property had large underground tanks and related facilities going back to its earliest days as a brewery.
In 1864, German immigrant Frederick Haltnorth opened a small brewery that bore his name on Vega at Fulton. it was acquired in 1873 by several brothers of the Leisy family, also originally from Germany. They began the Leisy Brewing Co. and soon expanded and modernized Haltnorth's brewery to where it covered eight acres on both sides of Fulton and extended east along Vega to where the family built a palatial mansion. The plant closed during Prohibition but a Leisy descendant reopened it upon repeal. The plant closed permanently in 1958 after it expanded to a new location in Buffalo and after Ohio enacted an $0.36-a-case tax on the distribution of beer. Much of the Vega Avenue plant was demolished in the 1970s.
This section of the Clark-Fulton neighborhood is seeing increased attention by real estate investors as development activity spreads west and south from Ohio City and Tremont. Just north of the Red Line rapid transit tracks, Knez Homes has completed the first phase of the Bailey Bridge Townhomes with 56 units and is looking to pursue a second phase. Investors have also been eyeing the Scrapcom scrapyard, 3301 Monroe Ave., as well as the now idle Gypsy Brewing Co. production plant, 2400 Fulton Rd., after the local brewer's parent Platform Beer Co. was acquired in 2019 and closed by Anheuser Busch.
Similarly, real estate development along West 25th has been increasing in recent years. Nestle USA's LJ Minor Factory is across the street from Club Alma Yaucana. Just west of it on Barber is the former Julius Spang Baking Co., now the BVQ Lofts apartments. To the south on West 25th is the new home of the Tremont Animal Clinic and, just beyond, The Pivot Center for Art, Dance and Expression. Just north on West 25th is St. Joseph Commons transitional housing and the newly opened Treo apartments, with more developments planned like Hub 27 and the West 20th Apartments.
Prior to publication, Metro West Community Development Corp. Executive Director Emily Lee and Associate Director Nick De Leon didn't respond to e-mails seeking information about Sanctus Capital's property acquisitions in their service area.
END