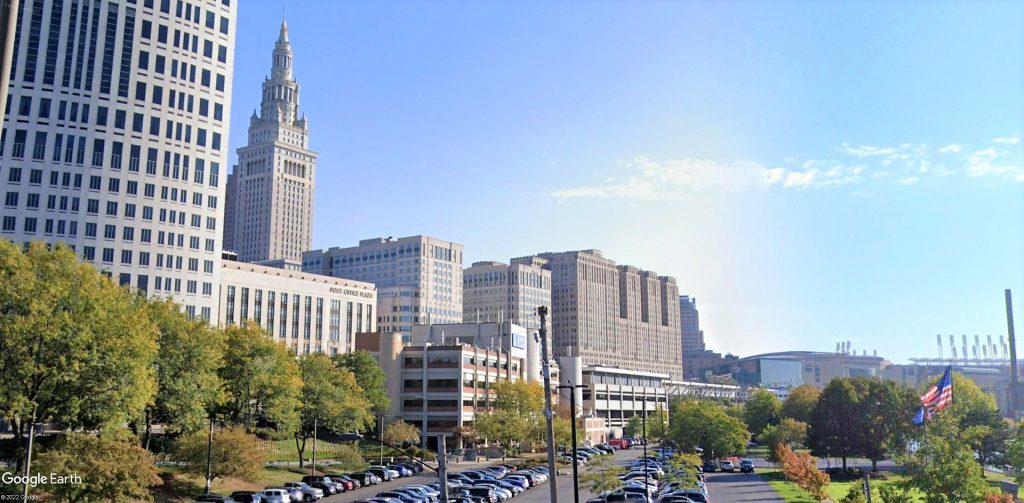 Sherwin-Williams' research center (center-foreground) and its headquarters (to the upper right of the research center) are both visible from the Carter Road lift bridge over the Cuyahoga River. This riverfront site is due to become Bedrock Real Estate's major play for downtown Cleveland over the coming decades (Google). CLICK IMAGES TO ENLARGE THEM.
Sales set the stage for Bedrock's big downtown moves
ARTICLE UPDATED JULY 6, 2023
Newly available public records show that Bedrock Real Estate of Detroit paid $48.5 million total for Sherwin-Williams' soon-to-be-vacated Landmark Building and John Breen Technology Center, both in downtown Cleveland. Although the sale of those properties closed last week, their sale amounts weren't public available until today. The Landmark Building is currently Sherwin-Williams' global headquarters and the Breen Technology Center is the global coatings giant's primary research and development (R&D) facility for another year or so.
Breaking down Cuyahoga County property records, through an affiliate called Sapphire Acquisitions LLC, Bedrock paid $38 million for the 900,000-square-foot Landmark Building, 101 W. Prospect Ave. And another Bedrock affiliate called Savoy Acquisitions LLC paid $10.5 million for Sherwin-Williams' 140,000-square-foot Breen Technology Center, 601 Canal Rd. That purchase included the neighboring 126-year-old Baltimore & Ohio Railroad (B&O) depot, 829 Canal, as well as 9.67 acres of riverfront land on which Sherwin-Williams' parking lots, athletic courts, jogging track, gazebo and greenspace are located. The Fortune 500 coatings firm is building a new research center in suburban Brecksville where it will also combine its automotive coatings research facility, now located in Warrensville Heights.
The Breen Technology Center, built in 1948 and expanded in 1998-2005 was built on the site of Sherwin-Williams' first headquarters, from 1866-1930 before it relocated to the then-brand-new Landmark Building. The Breen Center and its surrounding land were appraised by the county at $13,735,300 for tax purposes before March 2022 when NEOtrans broke the story that Bedrock was buying Sherwin-Williams' R&D property. The property sales nearly equal the $49.4 million Sherwin-Williams paid for the land for its new downtown headquarters in which it also sold a 90 percent stake for $210 million to Benderson Realty Development Co. of Florida.
"As part of the Cuyahoga Riverfront Master Plan, Bedrock has officially closed on its acquisition of the Sherwin-Williams properties," Bedrock Cleveland confirmed in a written statement last week.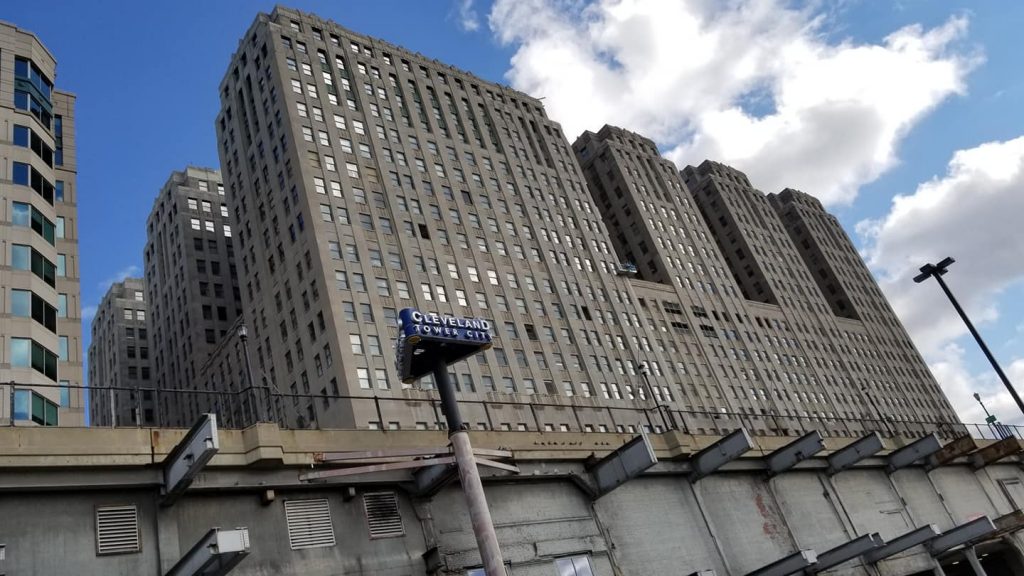 This has been Sherwin-Williams' headquarters since the Landmark Building was built in 1930. It will be vacated at the end of next year when the Fortune 500 company relocates to a 36-story skyscraper it's constructing on the west side of Public Square. Bedrock acquired it last week for $38 million (KJP).
All of the structures on the R&D property except the vacant railroad depot are due to be demolished for later phases of an ambitious riverfront redevelopment championed by Bedrock, owned by billionaire Dan Gilbert. Bedrock has not announced its plans for the B&O depot. However, plans for Bedrock's first phase of the riverfront are becoming clearer.
They reportedly include a relocated practice facility for the Cleveland Cavaliers basketball team that's owned by Gilbert, plus a Cleveland Clinic sports health center, a high-rise hotel and a residential building that could include condos. There's also an office tower, possibly for Gilbert's large and local Rocket Mortgage offices which face a Dec. 31, 2026 lease expiration at the Higbee's Building one block away. Gilbert does not like his companies to pay leases to non-Gilbert-owned companies.
As with the B&O depot, Bedrock also has yet to declare its intentions for the Landmark Building. In addition to serving as Sherwin-Williams' headquarters, the 22-story, 93-year-old Landmark Building was also the headquarters for the Standard Oil Co. of Ohio, Republic Steel and the Erie Lackawanna Railroad Co. simultaneously and as recently as the mid-1970s.
Sherwin-Williams grew to fill out 90 percent of the building by the 2000s. To accommodate that growth, Sherwin-Williams in 1985 bought the building, comprised of three seamlessly connected Art Deco-styled structures — the Midland, Guildhall and Republic buildings. A fourth structure was to be added to the Landmark office towers but was never built. That void has been filled in recent years by various large murals for Sherwin-Williams, the Cleveland Cavaliers and LeBron James/Nike on the unfinished brick façade. Bedrock plans to build a covered bus loading and layover facility in this space, according to its riverfront masterplan.
The Landmark Building has had several other office tenants recently. But two of its largest, McCarthy Lebit Crystal & Liffman Co LPA and Reminger Co., LPA, departed for other downtown locations in the last couple of years. After Sherwin-Williams leaves in late-2024 for its new 618-foot-tall headquarters now under construction nearby at 1450 W. 3rd St., the Landmark Building will be almost entirely vacant. The Landmark Building is physically connected by underground corridors lined with retail spaces to reach Tower City Center's Avenue mall, also owned by Bedrock, a rapid transit station.
Bedrock's silence on the Landmark Building's future has led to speculation that it is a candidate for a residential conversion like other historic office towers Bedrock has converted in downtown Detroit. With multiple natural light wells, favorable floor layouts, underground parking, plus its inclusion on the National Register of Historic Places, the Landmark is well-positioned for a switch to residential. It also has a grand, 6,000-square-foot former banking lobby in which Sherwin-Williams has its Centers of Excellence, displaying the company's 157-year history of growth. That lobby could host a luxurious amenity space for residents.
Sherwin-Williams' riverfront properties were combined as a single parcel last March before transferring to Bedrock last week, county records show. To enable the transaction, the city of Cleveland removed a lien it had on a former B&O right of way that was built on the original Ohio & Erie Canal. That railroad right of way was abandoned in the 1980s, through the Breen Center site, north to the lakefront. The removal of the lien was signed for by since-fired Economic Development Director Tessa Jackson who said she signed it at the direction of others in the Bibb Administration.
In that same document, the city also removed a lien to the remainder of the B&O right of way south to Interstate 490 which has not been abandoned and tracks remain in place. That lien included a reversion of ownership to the city in the event B&O successor CSX Transportation discontinued rail freight service, which it has. The lien's removal could increase the costs for if not block a proposed extension of the Cuyahoga Valley Scenic Railroad north to downtown Cleveland, said a group advocating the extension.
END