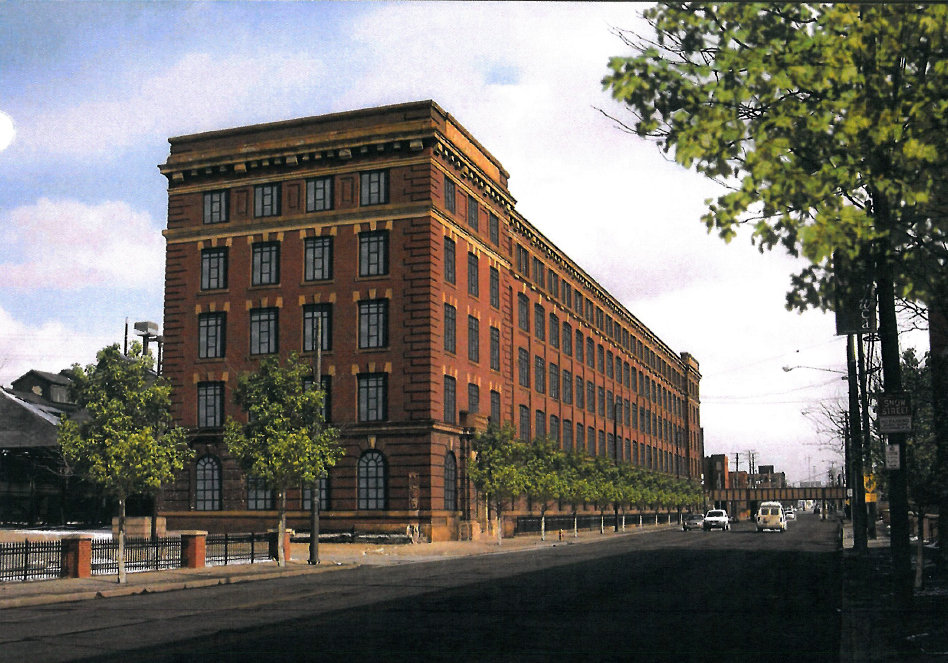 Funding procurement for the Warner & Swasey redevelopment has advanced far enough to where the project is up for conceptual approval by the city this week. Plans show the long-abandoned site will be reborn with 112 affordable apartments for seniors and families plus a future phase offering 28 market-rate apartments. The project is considered by many to be a catalyst for further development in Midtown (Geis). CLICK IMAGES TO ENLARGE THEM.
New projects enter construction, planning
Long considered as the affordable and accessible place to live between downtown and University Circle, the Midtown neighborhood of Cleveland is starting to take off. Multiple development projects are under way or planned in this area, midway between two of Ohio's largest employment hubs — the city's central business district and its eds-and-meds hub. And a project that many consider to be the key to unlocking further development in Midtown is finally moving forward.
The Warner & Swasey redevelopment, 5701 Carnegie Ave., by Pennrose LLC of Philadelphia is up for conceptual review at City Planning Commission's Design Review Committee on Friday. The 3.15-acre property is owned by the city but Pennrose won an option several years ago to buy the land. It will exercise that purchase option if the project wins design approvals and nails down enough funding to proceed with the first two phases of development.
With much of the financing for the project now in hand for those phases, this project will turn a long-standing vacant eyesore into 112 units of affordable housing for families and seniors plus another 28 apartments for area workers. There are also two ground-floor commercial spaces totaling about 20,000 square feet that will be available for lease. Cleveland Neighborhood Progress, a social services organization, has expressed interest in occupying one of those spaces.
For a century, Warner & Swasey manufactured machine tools at this and other factories. But since 1985, this 220,000-square-foot manufacturing plant with its signature brick building along Carnegie just east of East 55th Street has sat empty. Increasingly, it has been vandalized and discouraged some developers from investing in the area despite the neighborhood's strategic location.
After getting passed over several times for Low-Income Housing Tax Credits (LIHTC), Warner & Swasey in May finally won $1.25 million in LIHTC and $1.75 million in short-term, low-interest loans through the Ohio Housing Finance Authority's Housing Development Loan program. In December, the project received $2 million in Ohio Historic Preservation Tax Credits (OHPTC) to help Pennrose defray rising costs resulting from the project being passed over each time in previous OHPTC rounds since winning an initial $1 million in LIHTC in 2020.
U.S. Senator Sherrod Brown is seeking an additional $5 million in federal funds for the project. Pennrose said it is also seeking a 9 percent Competitive LIHTC for the first two phases of the project, called WSI and WSII, which would put affordable housing in the long building along Carnegie Avenue. It is also seeking New Market Tax Credits for the third phase, WSIII, which is the Wedge Building, having triangular-shaped floorplates located north of the long building by the railroad tracks. Additional federal and state historic tax credits are being sought as well.
"WSI is 56 units of senior housing on floors 2 and 3" of the long building along Carnegie, according to a presentation to be viewed by the design review committee. "WSII is 56 units of family housing on floors 4 and 5, and WSIII is 28 units of market-rate housing located in the Wedge Building (north of the long building). The units will be housed within a completely renovated shell and structure. The site can accommodate approximately 50-70 surface parking spaces north of the complex with another 50 within the open shed structures."
The presentation cites that the total construction cost is around $36 million for the first two phases, although the second phase is estimated at about $22 million with property acquisition, site clean-up and other non-construction costs bringing the final tally to more than $60 million. The renovation will include exterior masonry restoration, window and roof replacement, mechanical-electrical-plumbing-technology systems, new elevators and new interior upgrades.
Former MidTown Cleveland Inc. Executive Director Jeff Epstein, now the city's chief of integrated development, has called Warner & Swasey an "incredibly catalytic" project, in that it would have ripple effects for additional development on Carnegie, Euclid, Chester and East 55th. Current MidTown Cleveland Director Ashley Shaw opened but did not respond to two e-mails from NEOtrans seeking comment on this project and the others sprouting up in the area.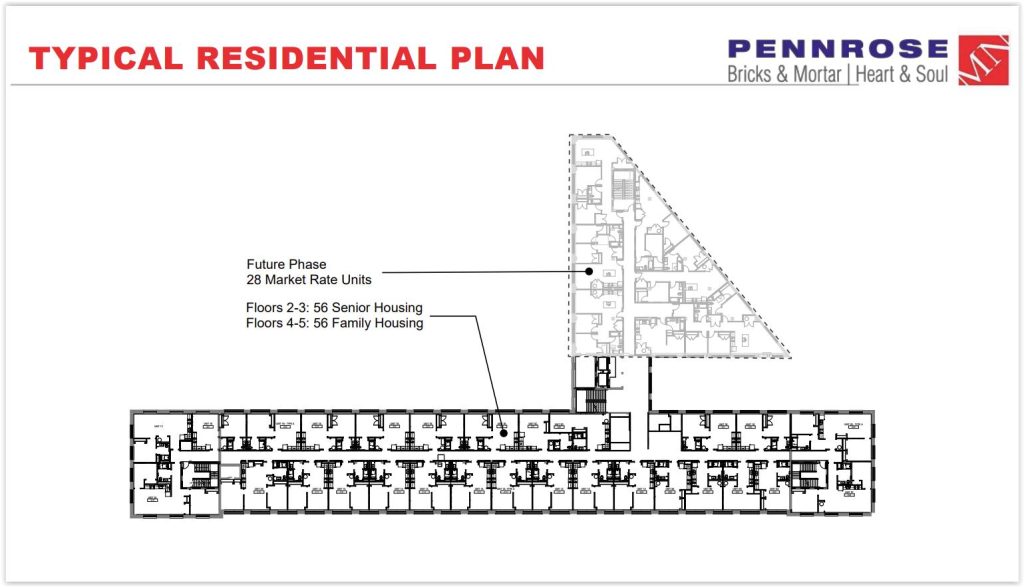 Typical residential floors in the Warner & Swasey redevelopment showing all three phases with the first two in bold, offering 112 affordable apartments for seniors and families in the long building along Carnegie Avenue and another 28 market-rate workforce housing in the Wedge Building north of it along the railroad tracks (Moody Nolan).
Other developments sprouting up in the area include phase two of Signet Real Estate Group's Foundry Lofts, after the 160-unit phase one quickly leased out. The first phase of development, at 7240 Euclid Ave., opened nearly a year ago and was 75 percent leased within a matter of a few months said Kevin Belt, senior vice president and managing director of Akron-based Signet. Construction is under way on the $15 million, two-building phase two which will add another 82 apartments at the Carnegie end of the project site.
Also under construction is the $12 million The 70th that will add 64 apartments at 2024 E. 70th St. Developed by the Sabor Group USA that was originally founded in Hungary 25 years ago, The 70th has been in the works for several years. Its general contractor JCI Contractors of Ashtabula first submitted its building permit application to the city in April 2022 but finally paid all fees in June 2023 and the permit was issued soon thereafter, city records show.
"Just as we are proud of our contribution to the revitalization of Budapest, Hungary, our focus in the USA is on developments in emerging areas and urban renewal," Sabor Group said on its Web site. "We believe in areas with a strong local community, who together with our rich experience in planning and development can build a better future for all."
A second phase for The 70th is already being considered, Sabor's Web site says. Last year, an affiliate of the Sabor Group acquired 0.884 acres of land at 2051 E. 69th from the George Family Enterprises Ltd. for $650,000. The property includes a century-old light-industrial building measuring nearly 24,800 square feet, according to county records. Sabor Group owns other properties in Midtown, including The Agora building, 5000 Euclid Ave., that's being converted to 61 apartments and modern offices plus ground-level restaurants. It also owns the Offset Lofts, 3800 Euclid, which has a dozen apartments over Sabor's street-level offices.
While the high-rise Dream Hotel at 3615-3635 Euclid appears dead, its developers Templelive Cleveland, an affiliate of Beaty Capital Group of Fort Smith, Ark., continues a $10+ million renovation and clean-up of the Masonic Auditorium with $1.45 million in Ohio Brownfield funds. Across the street is a 10-story former Holiday Inn that Crimson Rock Capital of New York City plans to turn into a 189-room Delta by Marriott hotel for $39 million. The developer in 2022 won a $3.9 million Ohio Historic Preservation Tax Credit award to support the renovation work but no plans or permit applications have been submitted to the city as of yet.
Others may soon enter the Midtown market, including possibly Cleveland-based NRP Group. As one of the nation's largest apartment developers, NRP Group typically builds mid-to large-scale developments in markets with strong potential. It currently is building a 315-unit apartment complex on Scranton Peninsula in the Flats, just south of downtown's Public Square. There are rumors that NRP Group has been eyeing a site at 4415 Euclid that extends over to Chester Avenue.
However, Scott Skinner, vice president of development at NRP Group, said his firm does not have any land under contract in Midtown and therefore doesn't have any active deals in that neighborhood. He said his firm would certainly consider any opportunity for developing affordable housing in Midtown and in other Cleveland neighborhoods.
"In Cleveland, NRP is focused primarily on developing affordable housing," Skinner told NEOtrans. "The need for quality affordable housing is tremendous in every neighborhood in Cleveland, and that includes Midtown."
The area around the intersection of Euclid and East 55th is also worth keeping an eye on. Much of the property at and near this intersection has been acquired by the Cleveland-Cuyahoga County Port Authority. And MidTown Cleveland issued in 2021 a request for qualifications from prospective developers but little has been shared by the development corporation since about what will come next.
Just east of East 55th and the elevated railroad tracks, a port-owned site on the south side of Euclid has been visited in recent weeks by geotechnical crews taking soil samples and doing exploratory excavations. Unfortunately, no one is talking yet about what might be in the works here.
END