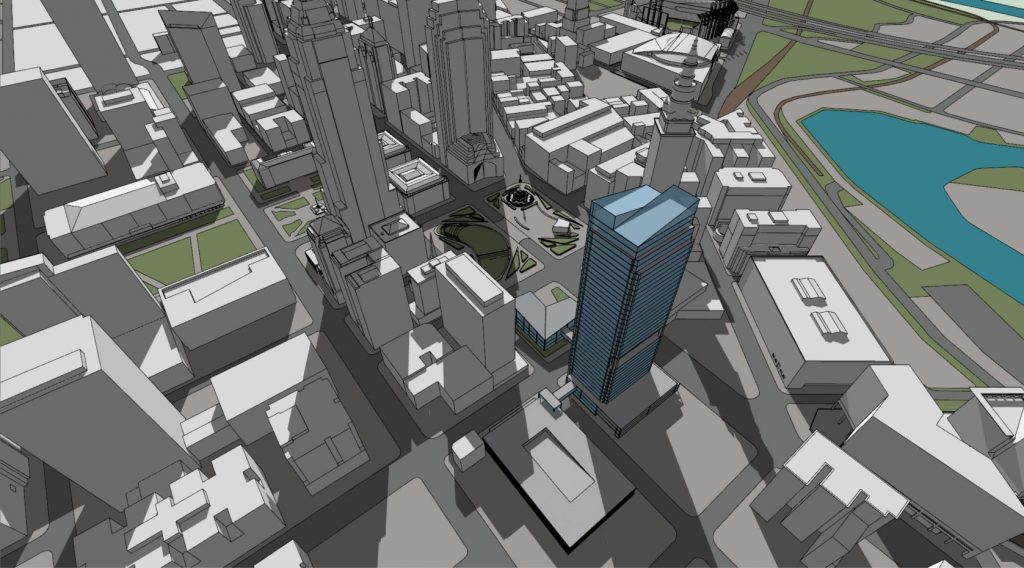 This is the most detailed image of what Sherwin-Williams' new headquarters complex will likely look like, based on official massings and input from the HQ design team to NEOtrans' graphic artist. This unofficial rendering shows the HQ tower's unique crown that's planned (Ian McDaniel).
CLICK IMAGES TO ENLARGE THEM
While City Planning Commission members review months-old massings of the planned Sherwin-Williams headquarters delivered to them only last week, you're getting the first look at more detailed images of what the new HQ will reportedly look like.
SHW's design team is comprised of hundreds of people from among lead architect Pickard Chilton, HQ interior architect Vocon Partners LLC, and base building architect HGA Architects and Engineers, LLC. They are all guided by a group of SHW executives called the Building Our Future Committee (BOF).
As the city is poring over the conceptual-level massings prior to the City Planning Commission's July 20 meeting, SHW has already moved into composing schematic-level designs. Those are more detailed drawings that the commission isn't going to see until Aug. 31.
Schematic plans aren't usually drawn until after conceptual plans are approved by a planning commission. Otherwise, the schematic plans would have to be redrawn or at least refined. But SHW's design team doesn't expect many surprises as it has been in regular contact with the city's planning department throughout.
On the other hand, planning department staff are city employees who guide project plans. They don't decide whether the projects will get the green light to apply for building permits. That's the job of volunteers who serve on the planning commission.
These latest images shared by NEOtrans show the SHW tower at West 3rd Street and and Superior Avenue topping out at just over 600 feet tall. The height was decided by the BOF Committee last month but not yet communicated to the planning commission.
Also decided by BOF but not yet seen by planning commission is how to top-out the skyscraper. It will not look like any other skyscraper in downtown Cleveland. In fact, there aren't any towers that we at NEOtrans are aware of which have this unique set of rooflines. In some respects, it's a slice of how multiple sawtooth rooflines appeared atop some area factories.
A word of caution – some of the graphics shared here are not official. While some of the graphics themselves do not come from sources on SHW's HQ design team, word descriptions used to sketch these massings did come from the design team. It is our understanding that these are the most detailed and accurate we have posted so far as we have gathered more information.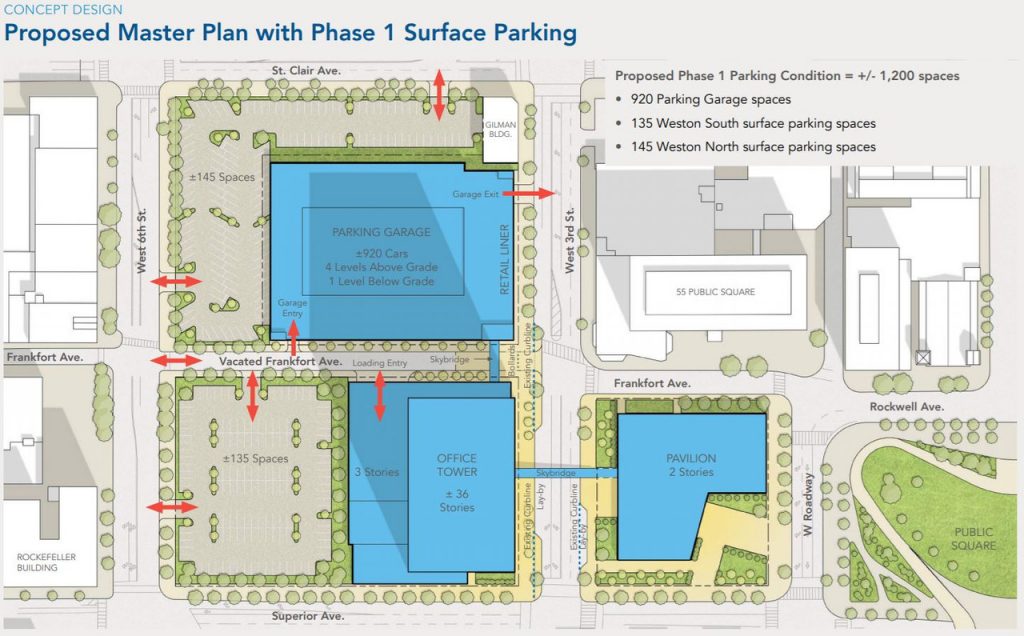 Official master plan for SHW's global HQ in downtown Cleveland. The existing 987 surface parking spaces will be replaced with about 1,200 spaces in lots and decks on SHW's property for up to 3,500 SHW employees. Existing parking, public transit, biking and walking will provide the remaining HQ access (SHW).
The massings posted here also show the true height of the learning pavilion on Public Square. It will accommodate SHW's conference center for training purposes and the Center of Excellence's historical displays for new recruits and VIPs. Although it will be only two stories tall, the pavilion will rise nearly 50 feet above Public Square, sources said.
Earlier concepts for the pavilion on Public Square had it rising three stories tall but the third floor wasn't deemed necessary. Also removed from the pavilion's plan was a rooftop patio for employees. The two terraces planned in the lower mid-section of the HQ tower will provide the HQ outdoor, social setting for executives to sip their after-work martinis or to host other social gatherings. One terrace will face Public Square and the other will face westerly into the setting sun.
NEOtrans has also reported for months that the SHW HQ would have two skywalks extending from the HQ tower. One would be above West 3rd to the Public Square pavilion and the other above Frankfort Avenue to the new parking deck.
City planning department officials pushed back on the skywalks, sources said. But when the City Planning Commission, City Council and the mayor's committee on streetscapes and infrastructure recently allowed two skywalks into JACK Entertainment's casino (only one of which was built so far), its case for objecting to one or both of SHW's skywalks was weakened.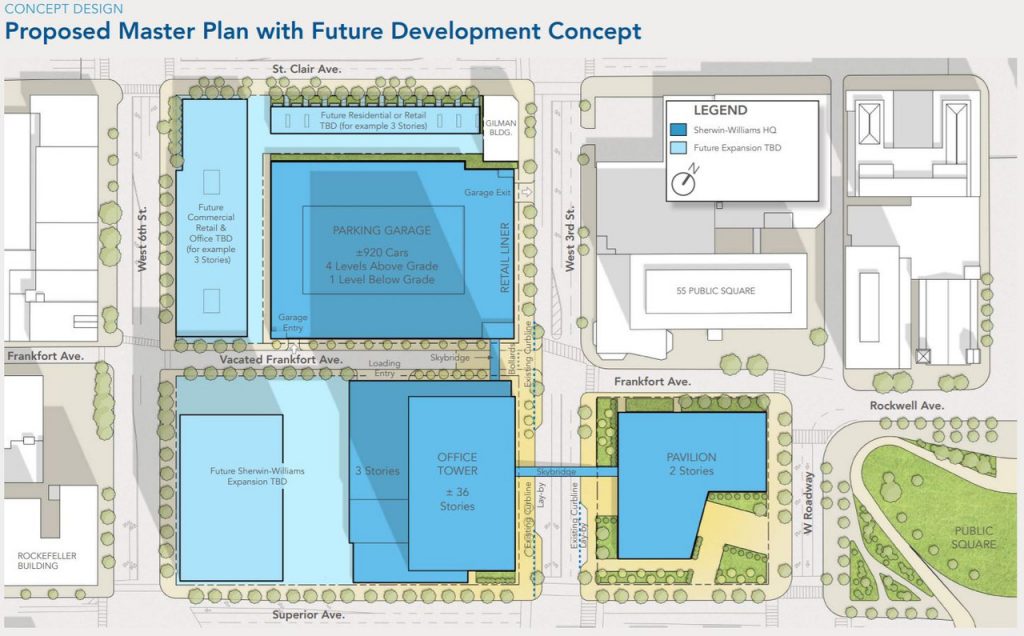 SHW's long range plan for its HQ campus in downtown Cleveland offers about 2.8 acres of land for SHW expansion as well as for supportive development along West 6th Street and St. Clair Avenue. But the parking garage and a vacated Frankfort Avenue will be largely a dead zone with few active uses like restaurants or retail along it (SHW).
SHW has also reportedly made the case that the skywalk over West 3rd won't take much pedestrian activity off downtown streets. In fact, most users of the pavilion will walk on city sidewalks to reach it.
They will primarily be out-of-town SHW vice presidents, salespeople, information technology, human resources and other on-the-job development trainees walking from downtown hotels to attend one-day or multi-day training sessions at the pavilion. No hotels will be connected to the pavilion unless one is built someday on land being held for future expansion of the HQ or other development along West 6th Street and St. Clair Avenue.
Currently, training is done at locations in the southwest suburbs and University Circle. Moving it downtown means more pedestrian activity around the new HQ and its Public Square pavilion. And for those visiting the existing HQ from out of town, many currently stay at two hotels — the Ritz Carlton and the Renaissance Cleveland Hotel. From both of those, they can visit the existing HQ without ever setting foot on a downtown sidewalk. At the new HQ, they will have to step outside.
Instead, the skywalk over West 3rd is for board members and C-suite-level executives to attend board meetings and other high-level confabs at the pavilion. They will be able to do so without having to put on their coats and boots just to cross the street. Yes, it's an executive privilege, but SHW is paying for it.
For those who want downtown buildings to have a street presence and create pedestrianism, the greater concern exists with the proposed parking garage and SHW's proposed treatment of Frankfort.
First, design team sources say the parking garage will have only one small commercial space available for lease. It will be the only publicly accessible space in the entire HQ complex. Proposed to be on the West 3rd side of the deck, it would measure only 2,000 square feet of floor space, although presumably it could be subdivided into more than one storefront.
Unfortunately, the active use proposed along the West 3rd side of the parking garage is at the bare minimum of what is required under the city's building code. An active use is considered to be a store, restaurant, café, business, hotel or similar.
The code requires a liner building to be constructed along the street frontage of a parking garage. That liner building must be at least equal to the width of the parking structure it screens, minus all permitted vehicular access points. Active uses in the liner building are required along 70 percent of the building's frontage. The depth of the liner building from the sidewalk must be no less than 15 feet, per city code.
If the 2,000 square feet of floor space in the liner building doesn't change prior to its Aug. 31 submittal, SHW's design team did the absolute minimum required. The West 3rd frontage of the parking structure, minus its vehicular exit, is about 190 feet. And 70 percent of that is 133.33 feet. Multiply 133.33 feet times the 15 foot depth and you get 2,000 square feet.
Design team sources said no additional floors are proposed as part of the liner building. Above the first floor will simply be additional screening — a false front for the parking garage to make it look like a real building and not a parking deck.
Second, not even a false front was proposed for Frankfort, a street SHW is asking the city to vacate. Vacating a public right of way causes it to be absorbed by adjoining parcels. The parcels adjoining Frankfort are owned by SHW.
SHW considers Frankfort to be an alley. City planners consider it to be a street. If it is a street, then SHW must provide a liner building with actives uses along Frankfort's frontage, minus its proposed vehicular entrance at the west end of the deck. If it is an alley, SHW doesn't have to provide active uses or even a liner building. By vacating Frankfort, that debate is moot.
So instead of narrow Frankfort becoming a street full of life similar to East Fourth, lined with shops and restaurants primarily for pedestrians, it risks becoming a lifeless chute for cars and service vehicles like Walnut Street east of East 9th Street.
Vacating Frankfort was unanimously approved by City Planning Commission July 2. Cleveland City Council approval also is required; its next meeting is July 14. Ward 3 Councilman Kerry McCormack, who represents downtown, reportedly supports the vacation of Frankfort. Council as a whole seldom goes against the wishes of a council member when it comes to matters involving their own ward.
Conceptual plans may be approved by planning commission without significant changes July 20. More detailed schematic plans will be submitted to the commission Aug. 31 for approval on Sept. 14. According to SHW's timetable, final designs will be given to commission Nov. 16 with the expectation that its members will approve them Nov. 30.
Considering that SHW's design team is anticipating the city's next steps, as evidenced by SHW already working on schematic designs, look for SHW to be ready to move quickly on getting shovels in the ground shortly after getting the city's final go-ahead at the end of November.
END