Thirteen four-story townhomes would line the east side of Coltman Road in Cleveland's Little Italy and block views of a four-story apartment building from the west. Another four townhomes would rise on East 123rd Street located south of the apartment building that is a source of discontent for two nearby residents who are trying to block construction work now under way (SixMo).
CLICK IMAGES TO ENLARGE THEM
Cuyahoga County Common Pleas Court Judge Michael J. Russo issued a preliminary injunction yesterday against parties involved in the development of the long-vacant and neglected Woodhill Supply site, 1862 E. 123rd St. in Cleveland's Little Italy. The development is a $15 million mix of townhomes and an apartment building. However construction continues as terms of the injunction have apparently not been met.
For Russo's order to take effect, two complainants initiating the case would have to first file a $200,000 bond with the court. The bond had not been filed as of midday today, court records show. NEOtrans also visited the development site today and noticed that construction appears to be continuing.
The action was brought by David D. Watson and Susan C. Stone who live together near the development site at 1876 E. 120th St., according to public records. They are contesting the granting of a zoning variance June 7 by the city of Cleveland's Board of Zoning Appeals and Zoning Administrator Richard Riccardi for the development on property owned by University Circle Inc., a community development corporation. The city, Riccardi and UCI were all named as defendants.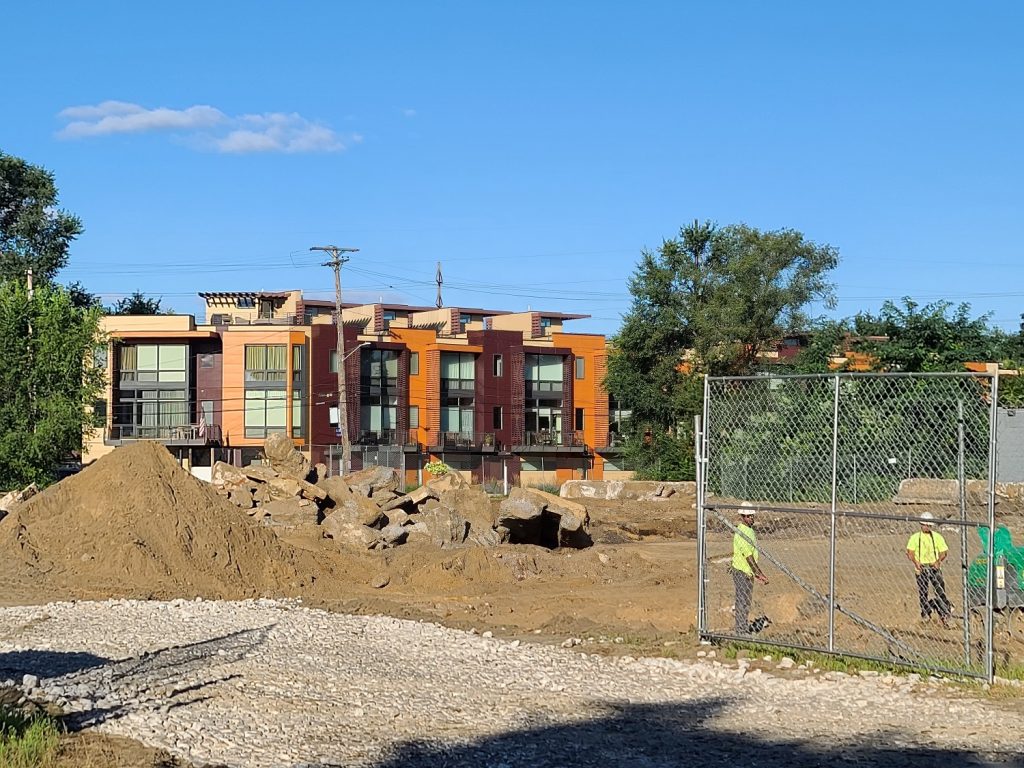 Construction work on an apartment building at the Woodhill site was under way when this west-looking photo was taken recently from East 123rd Street. Beyond the apartment development site is a parcel where a row of four-story townhouses are proposed, then there is an intersection of two streets. Beyond that are the 27 Coltman Townhomes where the plaintiffs reside. (KJP).
In their complaint filed July 2 by attorneys Anthony R. Vacanti, Hannah M. Smith and John P. Slagter, Watson and Stone allege that the city's Board of Zoning Appeals' granting of the variance was "unconstitutional, illegal, arbitrary, capricious, unreasonable and (an) unsupported decision under Chapters 2505 and 2506 of the Ohio Revised Code." Watson and Stone are partners in separate law firms; Watson is at Thompson Hine and Stone is at Kohrman Jackson & Krantz LLP.
Those chapters grant authority of a county's common pleas court to review actions by local governmental entities such as a municipal zoning board. In an hours-long hearing held by Russo Aug. 31, Watson and Stone pleaded that the actions by the defendants could potentially harm their property rights and that the defendants allegedly did not take into account possible negative impacts on the plaintiffs.
According to an affidavit filed with the court by Michael Panizca, manager of Woodhill Coltman Partners, Watson and Stone apparently are not concerned with townhouses planned to be located across the street from their home. The apartment building, for which construction is under way, is rising on a property that is two parcels away and across the intersection of East 120th and Coltman Road. The plaintiffs' lacking ownership of a contiguous parcel to affected property, thereby affecting the plaintiffs' standing in the case, was raised in the hearing.
"Mr. Watson appears to only be objecting to the apartment building that was granted the variance," Panzica said in the affidavit.
"When the variance was granted, they had just recently split the lot," said Slagter, who referred NEOtrans to the extensive proceedings in the Aug. 31 hearing for additional information. Citing pending litigation, he did not wish to comment further.
Woodhill Coltman Partners LLC is under contract to purchase the 2-acre property owned by UCI, according to Panzica's affidavit. In it, Panzica stated that construction of the development, ultimately including 17 townhomes and a four-story building with 80 apartments, began Aug. 23 four days after the city issued a building permit. Both Panzica and UCI President Chris Ronayne refused to comment.
Watson filed for a temporary restraining order Aug. 27. According to the court's docket, Russo said at the Aug. 31 hearing it was his intention for the "court to rule promptly." By that time Woodhill Coltman Partners had already expended more than $702,768 for construction, design services, due diligence, legal fees and permit fees for construction of the project, Panzica's affidavit noted. Construction continued and additional expenditures were made during the two weeks it took for Russo to make a decision.
"Foundations for the project will be trenched in the coming weeks," Panzica said in the Sept. 1 affidavit. "If construction of the project is delayed Woodhill Coltman Partners LLC will incur additional construction expenses. Additionally, if construction of the project is delayed now, the project may not be completed in order to reach completion during peak leasing season causing additional losses."
Panzica's affidavit was later dismissed by Russo, court records show. Russo claimed the city and UCI would suffer "minimal injury" as a result of his order. Woodhill Coltman Partners includes M. Panzica, City Six, Geis Companies, Gustav Development, Knez Homes and SixMo architects.
This isn't the first time Watson has used the courts to fight development of the very same site. Starting in 2015 Watson delayed for three years a proposed 205-unit apartment project by Visconsi Companies Ltd. It was on the site of Woodhill Supply Inc. which moved out in 2010 after four decades in business there. The buildings abandoned by the plumbing supplier caught fire in 2015 and were demolished in 2016. Although Watson lost on appeal, Visconsi gave up. So even though Watson lost in the courts, he succeeded in stopping the development.
END