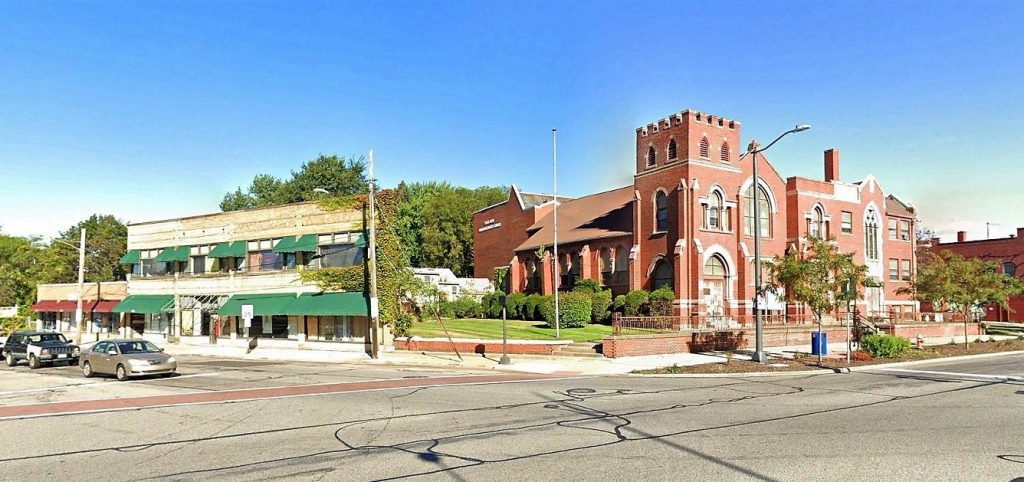 At the northwest corner of Pearl and Memphis roads in the heart of Old Brooklyn are several neglected, historic structures that would be replaced with a mixed-use development. The St. Luke United Church of Christ and the Greenline buildings will be demolished if financing is secured for affordable apartments and ground-floor commercial spaces at this location (Google). CLICK IMAGES TO ENLARGE THEM
St. Luke UCC to be razed; PRUMC to stay
Financing could be secured this spring for the redevelopment of the northwest corner of Pearl and Memphis in the heart of Cleveland's Old Brooklyn neighborhood. But a casualty of the investment would be the 119-year-old St. Luke United Church of Christ (UCC), 4216 Pearl and the Greenline commercial structures, 3426-34 Memphis, that range from 80-110 years old.
In their place could be a mixed-use building of several stories with 45-50 apartments over a 3,000-square-foot ground-floor commercial space, according to a presentation given earlier this week during an online community meeting of the Old Brooklyn Community Development Corp. (OBCDC). Joining with OBCDC to pursue the development is the developer Cleveland-based NRP Group and architect Hooker DeJong Inc. of Grand Rapids, MI.
OBCDC Executive Director Jeffrey Verespej cautioned that the proposal is still at a preliminary stage and until there is financing in place, there is no project. He said OBCDC has control of the 0.56-acre site and NRP Group will submit a Low-Income Housing Tax Credit application in February to the Ohio Housing Finance Agency in the hopes of winning an award in May.
"It's an incredibly important (street) corner in the neighborhood," Verespej said. "Unfortunately, for 10 years it hasn't been a corner that adds vibrancy to the neighborhood."
Due to a declining congregation, St. Luke's closed in 2014 and was put up for sale. It was listed at $300,000 but the owners turned of the utilities in 2016 which allowed mother nature to decay the building faster. Over time, the list price was raised rather than lowered, turning away potential buyers, Verespej said. OBCDC was interested in acquiring the building, but not at the seller's asking price. More than $1 million was needed just to stabilize the church structurally with millions more needed to update the church's accessibility and heating, cooling and electrical systems.
Finally, after nearly six years, the congregation lost its tax-exempt status, forcing it to donate the property to the Cuyahoga County Land Reutilization Corp. OBCDC secured rights to acquire the property which it would exercise if it found a new user for the church. Although the church isn't a protect historic place, it is located in the South Brooklyn Commercial District which is listed on the National Register of Historic Places.
"In two years, we walked 100 people through the property — artists, retailers, churches, restaurateurs, preservationists, even brewers," Verespej said. "No one could make it work. After two years, leading historic preservationists told us it wasn't feasible to rebuild the church. We were worried it would be demolished for a drive-through for a restaurant or something. We wanted that corner to be a center of vibrancy for the neighborhood."
OBCDC needed to have parking for whatever might replace St. Luke's at the Greenline Building on that small site. So Verespej and his staff worked with the adjacent Pearl Road United Methodist Church (PRUMC) to see if it is willing to share its parking lot. Developers that focus on low-income housing were approached and the OBCDC board voted to pursue project with NRP Group. A Web page was created by OBCDC for the Pearl-Memphis development proposal.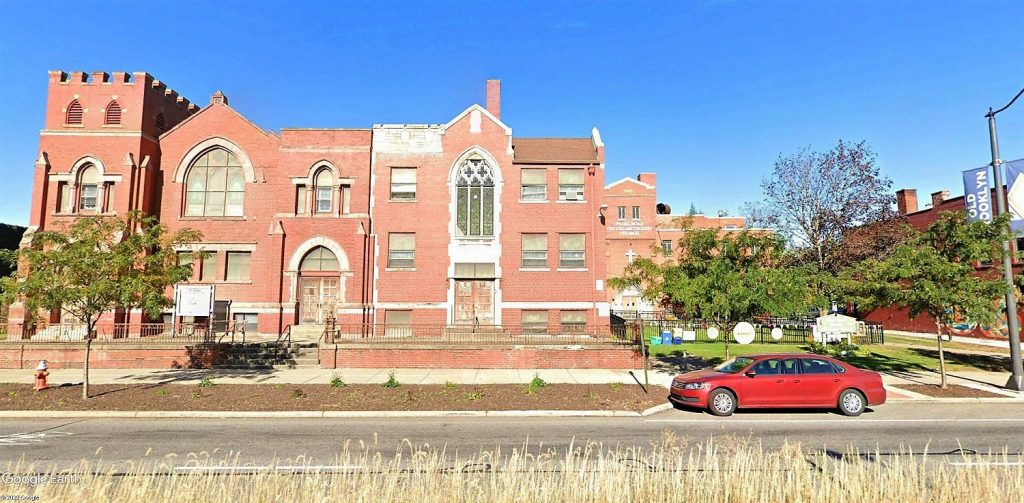 Three church buildings are visible here along Pearl Road, just north of Memphis Road, in Old Brooklyn. At left is the 1903-built St. Luke United Church of Christ. Next to it is a 1925-built school for the St. Luke parish. Both are proposed to be demolished. Behind both and partially visible is the 1923-built Pearl Road United Methodist Church that will remain standing, per NRP Group's development plan (Google).
"The Old Brooklyn CDC took over the abandoned Saint Luke's UCC property and has been looking for a way to either renovate it or replace it," said PRUMC Rev. Harlen Rife in an e-mail to NEOtrans. "At times, we at Pearl Road UMC have joined the discussion to see if some of our property or portions of our building could be included in this project as well. At the moment, the OBCDC is putting forward a plan from NRP that would demolish and replace the Saint Luke's building, but would not directly impact our building."
PRUMC has been existence for 208 years and has been at the same site, albeit in different structures, since the 1840s, according to its Web site. Old Brooklyn was formerly Brooklyn Township which was among the earliest European-American settlements in Cuyahoga County. Harlen said he was looking forward to the future and OBCDC's final plans.
"It might involve negotiated access to our parking lot as we have parking and the Saint Luke's property does not," Harlen added. "That has not been concluded. So, at the moment, Pearl Road UMC is involved in this project simply as a deeply invested neighbor. We are committed to working with the OBCDC and our neighbors in Old Brooklyn to find a use for that corner that strengthens our community and reflects our vision of a just and loving God."
If tax credits are secured in May, architectural and design work could start right away with a community meeting on the proposed design held this summer, according to OBCDC. Tenant relocation planning and support could occur next winter with construction possibly following as early as spring 2023. Construction could take about a year, Verespej said.
Verespej joined OBCDC as executive director in 2014 — the same year St. Luke's closed. With the gears solidly in motion to replace the church and a new opportunity awaiting, he is leaving OBCDC Feb. 4. Verespej will become chief of staff and operations at Cleveland Neighborhood Progress which provides planning and financial assistance to community development corporations in Cleveland.
END