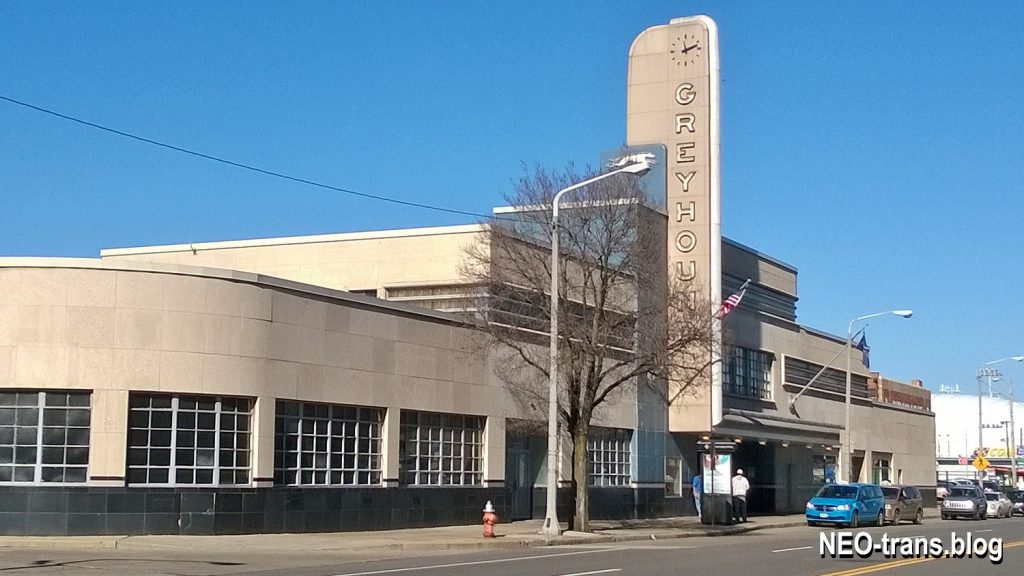 For 75 years, Greyhound buses have called on this streamline moderne station on Chester Avenue on the east side of downtown Cleveland. But those days may be coming to an end soon as the bus company looks to cut costs and serve cheaper, less centrally located stops (KJP). CLICK IMAGES TO ENLARGE THEM.
New bus stop may be ID'd in 'coming days'
Article updated May 15, 2023
Cleveland may soon join the list of medium- and large-sized cities whose central business districts have lost their Greyhound bus stations to less-accessible locations. And that's of concern to low-income travelers, college students and others trying to save money or avoid the stress of driving while traveling to and from Cleveland's station at 1465 Chester Ave., downtown.
Greyhound's transportation business was sold in 2021 by United Kingdom-based FirstGroup PLC to Germany-based FlixBus. FirstGroup then sold off its many station properties, including Cleveland's. Earlier this year, real estate development firm Twenty Lake Holdings of Stamford, CT acquired 32 Greyhound stations nationwide from FirstGroup for $140 million including Chicago's which may be demolished for two apartment towers.
Cleveland's 75-year-old streamline moderne-designed station was among them, selling for $1.72 million to Twenty Lake affiliate GH Cleveland OH, LLC, county records show. The station was listed on the National Register of Historic Places in 1999. The sale not only included the 36,580-square-foot station building but several adjacent properties totaling 2.25 acres that are the target of a future, as-yet undisclosed real estate development. A Twenty Lake spokesman told NEOtrans "Greyhound will not be part of the site's future" and noted that the bus company has a "flexible lease" that allows them to leave at any time. In fact, a Greyhound spokesman confirmed that a move may be afoot very soon.
"At this time, we are leasing our (Cleveland) terminal back from Twenty Lake Holdings. We are exploring all long-term options. I may have more information for you in the coming days," said Mike Ogulnick, public relations manager for Greyhound.
The Cleveland Greyhound station's interior shows numerous amenities that existed when this photo was taken in 2015, including climate control, seating, restaurant/gift shop, vending machines, restrooms, electronic device charging station, televisions, video games and more. All of those may not be provided at the new station site (KJP).
At public meetings for the proposed North Coast Connector downtown, planning team members were asked by NEOtrans if Greyhound was included in the planning for a potential multimodal station as part of the connector project. They said Greyhound representatives declined to be part of the planning while the Greater Cleveland Regional Transit Authority (GCRTA) and the national passenger rail service Amtrak are active, participating members of a working group of stakeholders for the project. Instead, they said Greyhound appeared to be interested in another location but either weren't aware of the site or couldn't comment on where it was.
"Nothing has been decided," said Cleveland Planning Director Joyce Huang.
"We (county officials) have been in regular communication with Greyhound," said Tyler Sinclair, communications specialist for Cuyahoga County, who said city and county officials are trying to keep the bus service downtown. "We're committed to working collaboratively with Greyhound."
However, two sources who declined to be identified said a location being considered for Cleveland's Greyhound new station may be GCRTA's Triskett Red Line rapid transit station. The rail station, located on the city's west side, is next to Interstate 90 and served by Red Line trains from 3:30 a.m. to 1:30 a.m. The Triskett station is a park-and-ride station with a big parking lot next to GCRTA's huge Triskett bus garage. It is the only west-side Red Line station without any connecting GCRTA bus routes. The station does not have a waiting room with seating, public bathrooms or food services. It is set in a mostly residential area with some light industries along the adjacent railroad tracks.
By contrast, Greyhound's downtown Cleveland station is open 24 hours, heated in winter and cooled in summer, has seating, WiFi, electronic device charging stations, and a restaurant/gift shop that closed during the pandemic and didn't reopen. A new Greyhound station may have little more than a curbside pick-up/drop-off, despite nine of Greyhound's and partner Barons' combined 30 daily buses arriving and departing Cleveland between midnight and 6 a.m. according to online schedules.
When asked if the reports are true that Greyhound will be moving to the Triskett station, GCRTA's Public Information Officer Robert Fleig said "I have nothing to report."
Barons Bus, a Greyhound partner, is headquartered at 13315 Brookpark Rd. in the Cleveland suburb of Brook Park. Some of Barons' scheduled bus services carry passengers to and from a stop outside the Barons garage, next to their HQ. So there's a possibility that Greyhound may end up there instead of or possibly in addition to the Triskett station. Barons bus services are owned and operated independently but partner with Greyhound by offering tickets at Greyhound's Web site and serve Greyhound stations.
"I consider it a mistake, making service inconvenient, far from hotels, restaurants, attractions and connections with other (transportation) carriers," said Mark Schwinn who lives in Cleveland's Little Italy, doesn't own a car and often travels to Chicago by bus for work. "If the terminal location is a hassle to get to, ridership will decline. Personally, Triskett would be easier for me to get to via the Rapid but everything else is a negative."
Nearly one out of four Cleveland households don't have a car, according to the U.S. Census. Another 45 percent of households in Cleveland share one car, often among multiple wage-earners. So when someone in that household is driving the car out of town, that family becomes a no-car household. Census data shows most of the no-car households are on the city's east side and inner-ring eastern suburbs, including 35 percent of no-car households in East Cleveland, 17 percent in Euclid and 13 percent in Warrensville Heights. In western suburban Lakewood, which is next to the Triskett station but has no bus service to it, 14 percent of households are without a car.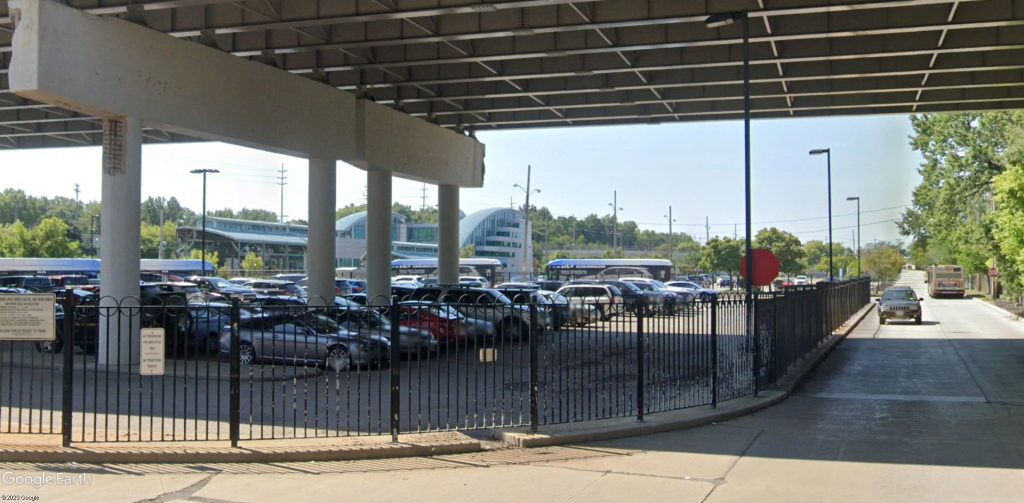 The Greater Cleveland Regional Transit Authority's Triskett rapid transit station as seen from below Interstate 90 and near the entrance to the transit bus garage. The site has no waiting room for travelers, restrooms, food service, sidewalks, restaurants nearby, or even local bus service to nearby neighborhoods. It does have frequent rail transit service, however (KJP).
Among Greyhound and Barons, a total of 15 bus arrivals and 15 departures are scheduled in and out of downtown Cleveland's Greyhound terminal each day — which pales in comparison to the more than 200 daily Greyhound buses that served Cleveland in the 1960s. All Aboard Ohio, the passenger rail and public transportation advocacy group, said Greyhound boarded 250,000 passengers per year in downtown Cleveland a decade ago. But that has since fallen dramatically. Greyhound now offers only one or two direct buses per day in daylight hours from Cleveland to places like Cincinnati, Buffalo, Detroit and Pittsburgh. Many rural bus routes were erased over the past 30 years.
"Intercity bus lines have literally pulled out of small-town and middle America and what's left of their service deteriorates by the year from both poor facilities and fewer bus frequencies," said Stu Nicholson, executive director of All Aboard Ohio. "Greyhound's possible move to Triskett just sounds like more of the same."
In Cincinnati, Dayton and Columbus, Greyhound and Barons moved out of their downtown terminals to locations with little or no shelter, amenities within walking distance or local public transportation. In Cincinnati, the bus stop was moved last fall to a modular building at 398 E. Galbraith Rd. in suburban Arlington Heights, a location with no local bus service, nearby restaurants or even sidewalks along Galbraith, which connects two ramps for Interstate 71.
In Dayton, which like Cincinnati has 18 percent of households without cars, the bus service moved its stop out to 5136 Salem Ave., in suburban Trotwood where there is no shelter or seating but there is a 30-minute transit bus ride into Dayton. In Columbus, the downtown Greyhound station was closed this past winter after bus service moved to a Central Ohio Transit Authority storefront on the other side of downtown at 25 E. Rich St.
END