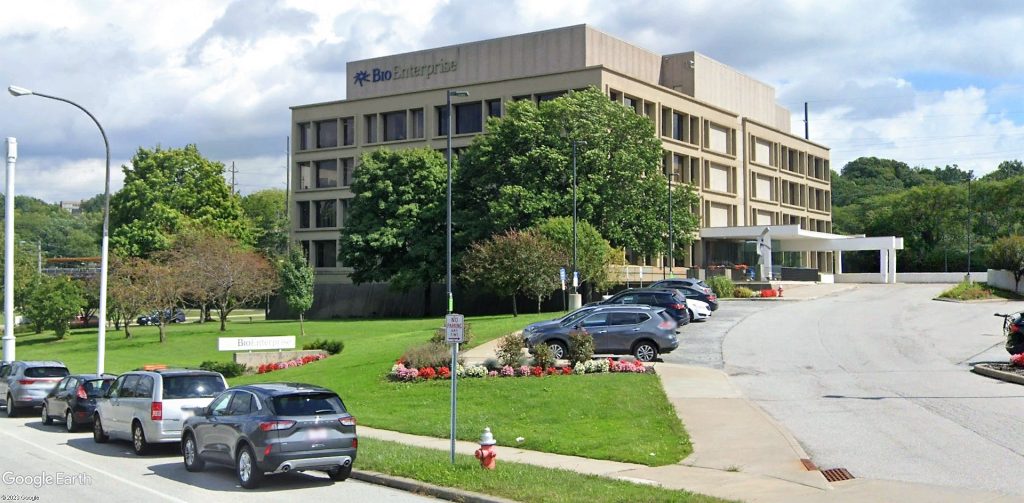 In Cleveland's booming University Circle, bad news doesn't hang over a property for long. The former BioEnterprise building on Cedar Avenue at the bottom of Fairhill Boulevard, is about to become the new home of the Human Fusions Institute which was scattered across Case Western Reserve University's campus and even across the country. The research institute will strive to improve human-machine interaction (Google). CLICK IMAGES TO ENLARGE THEM.
Human Fusions Institute finds a home
After announcing last month that it will join others in acquiring BioEnterprise Corp.'s assets, Case Western Reserve University (CWRU) has developed plans to remake a portion of the nonprofit business incubator's University Circle property into a home for a nascent research effort for improving human-machine interaction. Called the Human Fusions Institute (HFI) and founded in 2019, the national effort based in Cleveland at CWRU to advance socially responsible innovations in prosthetics, robotics and even gaming could see renovation work start later this year.
Proposed to occupy the entire 22,568-square-foot third floor of the former BioEnterprise building, 11000 Cedar Ave., HFI will unite under one roof laboratory workshops, office, meeting and collaboration spaces from multiple locations across CWRU's campus and possibly from across the country. Led by Dustin Tyler, professor of biomedical engineering based at CWRU's Wickenden Building, 2071 Martin Luther King Jr. Dr., HFI includes researchers at the University of California, Los Angeles and the University of Houston. The renovation work carries a $5.93 million price tag.
The research institute will also gain specialized program components such as a large robotics test arena, advanced technology presentation space, a water tank for testing submersible devices, audiovisual and security system enhancements and other features, according to design documents submitted by Cleveland-based Bostwick Design Partnership to the city of Cleveland yesterday. But the goal isn't just to unite the research into one well-equipped space. It's also intended to turn HFI's innovations into commercially productive ventures so that the public can benefit from them, according to CWRU officials.
"The renovation is part of the process of converting parts of the building that previously housed BioEnterprise into space for research and potential business incubation emerging from campus innovation," a CWRU spokesman confirmed to NEOtrans.
That was a similar mission for BioEnterprise since it was founded in 2000. The nonprofit corporation and its incubating tenants began occupying the first and second floors at 11000 Cedar in 2004. The four-story office building was built by the Case Institute of Technology in 1967. Later that same year, Case merged with Western Reserve University to become CWRU.
BioEnterprise faced legal and financial difficulties in recent years, including paying the Cuyahoga County Convention Facilities Development Corp. $127,000 to settle overbilling allegations involving BioEnterprise's marketing and management of the Global Center for Health Innovation in downtown Cleveland. The center is now being converted into expanded convention space. CWRU, the Cleveland Clinic Foundation and University Hospitals announced last month they would acquire the nonprofit corporation's assets under CWRU's stewardship and honor the 13 leases of BioEnterprise's tenants at 11000 Cedar.
The third and fourth floors and the surrounding 3.25 acres of property at 11000 Cedar will remain under the ownership of CWRU, as will an electronic control room on the lower floors of the building, according to Cuyahoga County property records. HFI or any commercial ventures resulting from the institute's research could expand into the fourth floor or to available spaces on the lower floors.
HFI's focused research mission could lead to more potential commercial spinoffs. For example, by zeroing in on human-machine interfaces, HFI researchers hope to foster technologies and products that make it possible for someone's nervous system to operate and sense their prosthetic limb, organ or other prosthesis as delicately and as naturally as possible. Or to allow police or military explosive ordnance disposal or repair technicians to manipulate robotic arms while actually feeling the delicate tension in wires from a safe distance. Or to produce video games that provide more realistic experiences that enhance the game's surroundings while being sensitive to societal concerns.
A new home for HFI has been in the works for a while and it remains to be seen if 11000 Cedar will be a temporary or permanent home. The reason is that CWRU is developing a $300 million, 250,000-square-foot research center at the current site of Yost Hall on the Case Quad. Yost is due to be demolished this summer, as soon as swing space for classrooms, labs and offices are relocated to the Frances Payne Bolton School of Nursing and to a renovated, 11,131-square-foot space at the Health Services Building, 2145 Adelbert Rd., for the Math, Applied Math and Statistics (MAMS) Department is provided, according to building permit applications submitted to the city last week.
The new research facilities are a key part of CWRU's efforts to increase externally funded research from $400 million per year to $600 million per year over the decade. The HFI, the planned new research center and their expanded budgets are aided in part by the Cleveland Innovation District — an initiative of JobsOhio and multiple local partners including CWRU. The university's Next Generation Health Care initiative, a beneficiary of innovation district funding, will not only nurture CWRU's biomedical technologies but support drug development to advance diagnosis and treatment for cancer, cardiac, neurological and infectious diseases.
Another beneficiary of the Cleveland Innovation District, which promises thousands of jobs locally in the coming decade, is the expansion of the Cleveland Clinic's Global Center for Pathogen and Human Health Research, just a few blocks father west from HFI along Cedar. At the northwest and northeast corners of Cedar and East 100th Street, two six-story buildings will start rising by the end of the year. Together, the two buildings represent an investment of about $420 million.
END