A growing employer is seeking to move from the suburbs to downtown Cleveland and has less than a year to do it. CBIZ, Inc., founded in 1987, has grown to 4,800 employees in more than 100 offices nationwide with more than 200 of them at their headquarters in 6050 Oak Tree Blvd. in Independence.
The firm has to move by March 1, 2022, so the firm isn't a candidate for a proposed new office building like the 25-story building in nuCLEus or any other office towers in consideration. And, for that matter, CBIZ cannot consider moving to renovated office space planned in several existing buildings about to go under the knife like 925 Euclid, 55 Public Square or the Rockefeller Building.
That's the word from two real estate brokers who spoke off the record because they did not want to compromise future business deals. Allegro Real Estate Brokers & Advisors was hired by CBIZ to help it find a new home. Locally, Adam Gimbel, an Allegro principal, is handling the search.
But CBIZ, which provides accounting, tax, insurance and human resource services to businesses is seeking 50,000 to 60,000 square feet in a downtown office location. It also wants building naming rights for wherever it lands, the sources said. CBIZ is the sole company name on its current building.
The source also noted that MAI Capital Management, LLC will be taking over CBIZ's space at Park Center in Independence after CBIZ leaves. MAI is currently located at 1360 E. 9th St., Suite 1100, downtown. But a trading of spaces wasn't in the cards for CBIZ.
The brokers with whom NEOtrans spoke said CBIZ representatives did not like MAI's space nor did they like other existing office spaces they visited downtown. There is an East 9th office location being considered but the sources did not wish to identify it at this time.
If CBIZ lands downtown, it will be the latest of many such moves. The offices and studios of iHeart Media Cleveland recently announced it will move more than 100 employees from Independence to 668 Euclid Ave.
FM Global, a Providence, RI-based commercial property insurer, will soon be relocating more than 100 employees from the Great Northern Corporate Center in North Olmsted to the North Point Tower, 1001 Lakeside Ave., in downtown Cleveland.
Fathom marketing recently moved its 100 employees from 8200 Sweet Valley Drive in Valley View to a renovated space at Stonebridge Plaza, 2020 Center Street in the Flats. Also moving from the suburbs to an historic building downtown was Goldwater Bank N.A. Mortgage Division, which left 23500 Mercantile Road in Beachwood for the Utica Building, 2217 E. 9th. Goldwater has 46 employees here and has plans to more than double that.
And the biggest suburb-to-downtown move is the upcoming shift of CrossCountry Mortgage, LLC and its 500 headquarters employees with hundreds more hires expected after its new offices opens.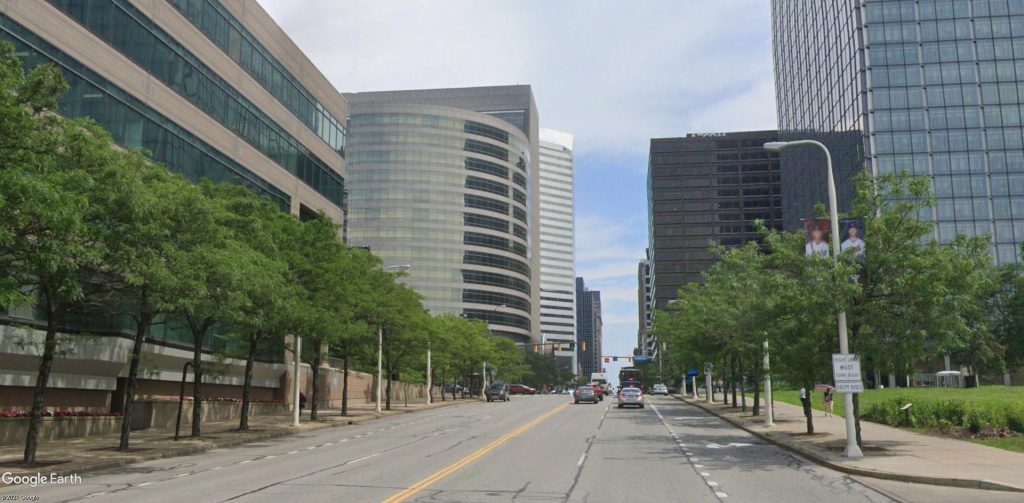 As part of its search, CBIZ is reportedly looking at sites along East
9th Street in downtown Cleveland — a prestigious address for many
financial and business development firms (Google).
The fast-growing firm has begun renovating for $40 million the former Tap Packaging (previously The Chilcote Co.) complex in the 2100 block of Superior Ave. CrossCountry is currently located at 6850 Miller Rd. in Brecksville.
In addition to offices, their new location will feature ground-floor retail/restaurants along Superior and a 40-unit apartment building fashioned from a structure at 2110 Superior. Apartments will be offered first to CrossCountry employees who may wish to work from home part of the time.
Many are also watching Moen Inc. USA, which might also make a move downtown. Among its options, Moen reportedly is considering an expansion of its existing headquarters at Interstate 480 and Great Northern Blvd. in North Olmsted or build a new HQ to replace its 27-year-old, 141,221-square-foot office building.
Moen, now with more than 600 HQ employees, has outgrown its 1993 HQ building and has since expanded into leased offices on the other side of I-480 along Country Club Boulevard. With growth continuing, all site options are on the table including a move out of Greater Cleveland.
END