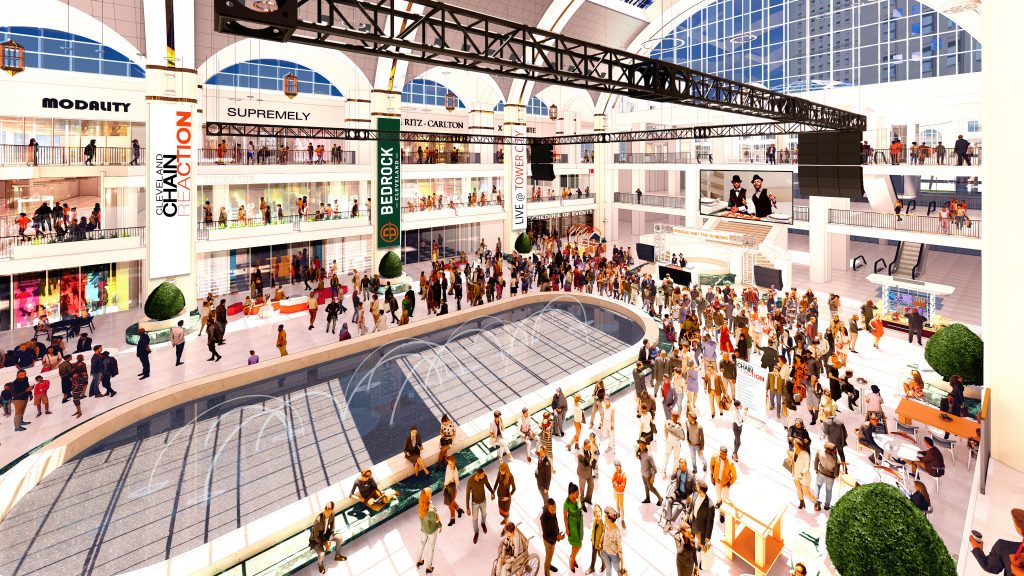 This rendering of what Bedrock Real Estate intends to with the south concourse of Tower City Center's The Avenue shopping mall in downtown Cleveland, including a partnership with Chain Reaction to award three entrepreneurs 18 months of free rent at Tower City stores (Bedrock).
CLICK IMAGES TO ENLARGE THEM
Ten days ago, news broke that Bedrock Real Estate would aggressively market its Tower City Center complex so it could exchange its cobwebs and echoes for business tenants and retail customers. NEOtrans opted to not respond to this press release.
Why? Because I was skeptical about how serious Bedrock was. Understandably, shopping malls across the country were dying with some getting replaced by Amazon distribution centers. NEOtrans broke the news about several of them locally, starting with the first one at Euclid Square Mall. And all of those mall deaths occurred before the pandemic got other malls sick, too.
Bedrock has contributed to the loss of tenants at Tower City as much as the growth of e-commerce and the decline of downtown's office workforce. But while downtown's workforce dipped, its residential population shot up and held strong through the pandemic. Residents are a more lucrative market for retail than workers who tend to make larger purchases nearer to where they live, a recent study showed. But that study also said downtown niche retail can draw customers from far away.
Furthermore, Bedrock has now owned the former Cleveland Union Terminal railroad station-turned-Tower City Center for five years and not been able to reactivate its 366,000 square feet of retail and public spaces. The opposite has happened. It has entertained previous ideas and none of them panned out, including CityBlock (NEOtrans broke the story on that one, too). So why are they are suddenly serious about redeveloping the downtown mall into, of all things, a mall? I had my doubts.
That was until this past week when two events happened.
In 1989, Tower City Center was in the midst of its conversion from the Cleveland Union Terminal railroad station to a retail center, office and hotel complex. But as more shopping and lifestyle centers like Crocker Park, Legacy Village and Pinecrest opened in the suburbs, fewer shoppers came downtown and Tower City (Cleveland Magazine).
The first event was a note I received from a Bedrock source. "I'm surprised that you haven't commented on our plans for Tower City on your blog," the source wrote.
I expressed my skepticism and asked why I shouldn't be skeptical.
"You can probably assume what you like from my having reached out to you," the source wrote. "Wish I could be more forthcoming. Keep up the good work. I know a lot of us have appreciated your blog. You seemed to know things about SW (Sherwin-Williams' headquarters site search) before we did or before they did for that matter."
The other event came two days ago from two Tower City tenants reporting to NEOtrans that they were contacted by Bedrock's local staff. The inquiries went something like this: "We'd like to know what your intentions are about remaining at Tower City Center." One was asked if it would be willing to make improvements to their retail space.
Those tenants are in a part of the mall that was unaffected by June's flood. A sprinkler above The Avenue mall at Tower City broke and flooded the mall near the Public Square entrance. Bedrock began securing city permits this week to make significant repairs to the flood damage, according to Building & Housing Department records.
If Bedrock is going to be courting retailers, who might they be? Let's consider the market, which involves both timing and population. And let's look at what is called "comps" in the real estate business, or comparables.
A real estate source who does a lot of work in site selections locally was contacted by NEOtrans for his input. He said Bedrock's initiative is mostly about the upcoming National Basketball Association's (NBA) All Star Game, to be held Feb. 20, 2022 in Cleveland.
To a lesser extent, the Rock & Roll Hall of Fame and Museum's induction ceremony on Oct. 30 will play a role. Both events will be held at the Rocket Mortgage Fieldhouse which is connected to Tower City by an underground walkway. Some pop-up retailers may be added by October but it will take longer for other retailers to come on board. That's why the NBA All Star Game is a bigger deal, the real estate source said.
Look for Bedrock to bring in athletic retailers like Nike, Under Armour and Moosejaw plus streetwear shops along the lines of RSVP Gallery or Bodega. Bedrock founder and Cleveland Cavaliers owner Dan Gilbert wants to put his best foot forward at the All Star Game. NBA stars start businesses. Others provide capital to them. And some are free agents, looking for a new team and a new home with cool stores to flash the cash.
For comps, look no further than what Bedrock did to draw businesses to their properties along Woodward Avenue, Detroit's version of Euclid Avenue. They gave free or reduced rent to retailers that would draw business to benefit other nearby retailers. Finding the right mix of retailers is the key to any successful shopping area.
Along Woodward, you'll find all of the above-mentioned athletic retailers plus Bonobos, H&M, Warby Parker, lululemon, Le Labo, Shinola, Madewell, American Cycle & Fitness, UPS Store, FedEx Office, plus wine stores, day spas, drug stores, bank branches and lots of restaurants and clubs.
Those businesses alone would certainly reactivate Tower City. But what's equally intriguing is Bedrock's stated desire to work with Chain Reaction, a Cleveland-based economic development project, business bootcamp and competition that helps groom the next generation of local entrepreneurs.
Chain Reaction is produced by Cleveland Neighborhood Progress, the Greater Cleveland Partnership's Council of Smaller Enterprises, JumpStart and Cleveland Development Advisors. As a sponsor, Bedrock says it will provide mentorship to participants throughout the program's duration, as well as prizes for the top three entrepreneurial finalists of their competition, combined for 18 months of brick-and-mortar tenancy at Tower City Center.
And, as NEOtrans reported earlier this year, look for Bedrock to develop the Riverview phase of Tower City in the coming months and years. It has considered developing this site for some time, including for Sherwin-Williams HQ as alluded to earlier.
Now, Gilbert has one of his own locally growing corporate office end-users that will be looking for a new building soon — Rocket Mortgage. Add to that a possible hotel and more apartments either in a new building and/or in Sherwin-Williams old HQ in the Tower City complex. They will need Tower City stores and other businesses to patronize.
Will Bedrock be able to attract the chain retailers, even by offering free rent as pop-up retailers over the coming months? Will they stay after the pop-up period expires and they have to pay rent? And how will Tower City's existing retailers who have stuck it out through some pretty dark times react to newcomers getting a free ride?
It will depend on how much new foot traffic the pop-up retailers attract to Tower City and the existing shops. There's a lot for Bedrock, Tower City and downtown retail in general to prove here. I no longer doubt Bedrock's sincerity to try something here. But there are still a lot of questions that have yet to be answered. And they will be, given time.
END