This is the Nineteenth edition of Seeds & Sprouts – Early intelligence on Cleveland-area real estate projects. Because these projects are very early in their process of development or just a long-range plan, a lot can and probably will change their final shape, use and outcome.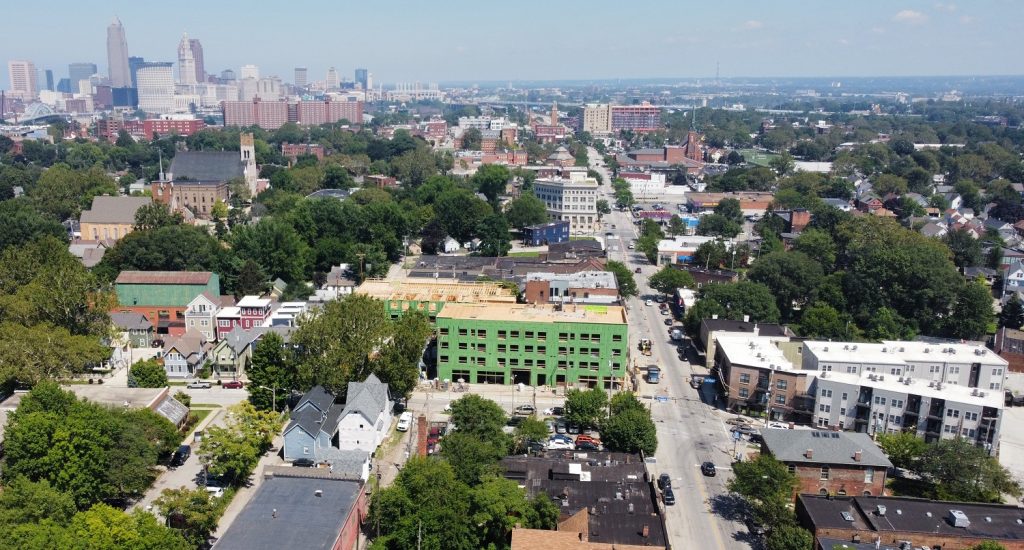 From Ohio City to downtown Cleveland and beyond, people are renting Greater Cleveland apartments in record numbers so far this year. Nowhere is that more true than in downtown Cleveland which accounted for nearly one-third of all rental activity in Greater Cleveland (Adam Greene). CLICK IMAGES TO ENLARGE THEM
CoStar report: Cleveland apartment demand set to break records
International real estate research, marketing and analytics firm CoStar released a report this week showing that demand for apartments in the Greater Cleveland market is on track for a record-breaking year.
So far in 2021, more than 2,500 apartments have rented in Greater Cleveland, keeping pace with 2015 which holds the most recent record. The pandemic was a dominant factor in this year's performance. After a sharp drop in demand in 2020, CoStar cites "a return to the office and to downtown living are fueling demand in the market."
One-third of all apartment demand in Greater Cleveland in the first half of 2021 was generated by downtown activity, the report showed. Downtown vacancy remained higher compared to historical trends as the pandemic combined with the addition of several large new apartment buildings to reduce demand and increase supply.
The largest of those projects was the 34-story, 318-unit Lumen Apartments tower in downtown's Playhouse Square District. Leasing at The Lumen began in early March 2020, only days before the economy was virtually shut down by the pandemic.
Leasing at The Lumen started slowly but soon took off; about 85 percent of the apartments are leased at monthly rents of $1,400 for a studio to more than $7,000 for a penthouse, according to leasing agent Greystone Properties. See more about The Lumen in the article "Retail spaces in two new Cleveland buildings are gaining tenants."
This year, the combination of a slowdown in construction activity and a sharp rise in demand have pushed Greater Cleveland apartment vacancy to an historic low of 5.1 percent. Vacancy in downtown Cleveland in the third quarter was dropping quickly below 14 percent, down from its peak of more than 20 percent in the fourth quarter of 2020, CoStar's report said.
CoStar predicted demand should remain healthy for the foreseeable future despite multiple large downtown apartment buildings that are due to see construction in the coming months, including City Club Apartments, The Centennial, 55 Public Square, 45 Erieview and the Rockefeller Building. Those and other projects represent 60 percent of the planned apartment units in Greater Cleveland and may keep downtown vacancy rates above historical averages.
Clearstead to expand downtown Cleveland office presence 40 percent
To accommodate its continuing growth, a prominent financial management firm is significantly expanding its office space in downtown Cleveland. Clearstead Advisors, LLC will increase its presence in the 21-story Oswald Centre, 1100 Superior Ave. by expanding from the seventh floor into the sixth floor, according to building permit applications submitted to the city this week.
Monica Fletcher, senior associate of marketing at Clearstead, confirmed the expansion. She said the institutional and independent investment consulting advisory firm will grow from 24,546 square feet it currently leases to 34,415 square feet.
The reason for the additional space is that Clearstead has grown from 80 Cleveland employees in April 2020 to 93 today and expects to add at least four more employees after the office expansion. Company-wide, employment has grown from 85 people in 2020 to 101 today, Fletcher said.
"Clearstead has had double-digit growth in the past few years and having a downtown location has been important to its growth," Fletcher said in an Aug. 27 e-mail to NEOtrans.
Overseeing the expansion and office retrofit work is Ullman Electric Co. of Cleveland. Much of the work focuses on installing new electrical fixtures, receptacles and breakers, according to the building permit application. Cost of the renovations was estimated in the application at $56,400.
International real estate information firm CoStar reported this past week that office leasing velocity in the Cleveland market remains healthy despite the lingering pandemic. Downtown properties remain attractive despite some firms reducing their office spaces and/or subleasing those spaces with the growth in remote working.
Ohio City grows southwest with Harbor 44 phase 2, The Clermont
Two proposed developments would respond to the growth of population and demand for higher-quality urban housing in the southwest part of Cleveland's Ohio City neighborhood. But unlike many new housing units built in Ohio City, these two developments propose to offer a mix of market-rate and affordable units.
Local Development Partners, LLC's (LDP) is proposing both. The larger of the two is Harbor 44 project-phase two. The 22,000-square-foot first phase was entirely commercial — offices over retail spaces — at the southeast corner of Lorain Avenue and West 44th Street. The building has nearly filled up all spaces.
"Building upon the success of the first phase of Harbor 44, this development will build new residences — both for-rent apartments (called Harbor Flats) and for-purchase townhomes (called Harbor Row) — along two vacant blocks of W. 44th Street," LDP's Principal James Asimes said.
Just south of the first phase will be Harbor Flats, a 12-unit apartment building with studios plus one-bedroom and two-bedroom suites. Each apartment will have a private terrace or balcony space. Harbor Row will offer 11 for-sale townhomes. Seven larger townhomes will front West 44th, each with a garage and terrace. Along West 43rd Place will be four smaller townhomes, known as mews, with an eye towards affordability.
"We've been trying to come up with more small, for-sale products," Asimes said. "This (the mews) is a good way to accomplish that. We want to roll out more of these (mews)."
Farther southwest, a dozen Horton-Harper-designed townhome-style apartments are planned to replace two existing houses at 2222 Fulton Road. Called The Clermont, named after Robert Fulton's first steamship, each unit will have a large living room, modern kitchen, full bathroom, plus a washer and dryer. First-floor units will have a front patio with more outdoor space for all residents in the rear of the building.
"The Clermont is designed to provide a more affordable new apartment — with price points that better appeal to the budget of a teacher, nurse, or civil servant compared with other new apartments in the area," according to a project brief published on CoUrbanize.
Seven off-street car parking spaces and bike parking will be behind the building and the developer has an agreement with an adjacent property owner for three additional off-street car parking spaces, or 10 total. Removing the existing curb cut on Fulton Road will open up additional street parking. The Clermont is located on the Greater Cleveland Regional Transit Authority's frequent Nos. 22 and 45 bus routes.
Retail spaces in two new Cleveland buildings gain tenants
Two new buildings that opened in the past year in highly visible locations are gaining ground-floor retail tenants that will likely increase the foot traffic and enhance the vibrancy of those locations.
One retail addition is First National Bank (FNB) of Pennsylvania which is leasing 804 square feet of space in The Lumen apartment tower in downtown's Playhouse Square. The Hermitage, PA-based financial institution is investing $165,000 to remove interior walls and construct a new bank branch, according to a permit application filed yesterday.
In keeping with the district's unique and sometimes theatrical lighting, the branch will feature several LED-illuminated marketing displays. They include a ticker-like ribbon above the glassy façade, plus an LED wall and 65-inch digital monitor inside the bank branch, as noted in planning documents submitted to the city.
Since 2013, FNB has had a regional headquarters and bank branch in the 55 Public Square building which is undergoing renovation into a mix of apartments and upgraded office spaces. While the Playhouse Square branch will help provide an alternative banking location during 55 Public Square's construction, the new branch is far enough away and in an area of strong population growth that will allow it to remain permanently.
Playhouse Square Foundation and Houston-based Hines Interests included two retail spaces at The Lumen. With this space leased, it leaves 1,135 square feet of ground-floor commercial space available in Ohio's tallest residential tower, according to a LoopNet listing.
The other addition is AT&T which is opening a store in the Euclid3 apartment building that was completed last year in the Uptown section of University Circle. City records show AT&T will be taking a 1,610-square-foot ground-floor space in Euclid3 at 11601 Euclid Ave. and invest $75,000 to build-out the space.
The global telecommunications firm will join a local merchant that opened up earlier this year in the new 49-unit apartment building developed by Bluewater Capital Partners, LLC. New Millennium Studio, a small chain of beauty salons, leased 1,211 square feet, leaving about 580 square feet available on the ground floor.
Animal emergency hospital to relocate from Brook Park to Cleveland
Responding to growth needs, MedVet Cleveland West, a 24-hour animal emergency hospital, plans to relocate from a small, difficult-to-find facility in Brook Park to a new, much larger building on Emerald Parkway in Cleveland.
MedVet Cleveland West is located in a cramped, 11,700-square-foot building at 14000 Keystone Pkwy. on a dead-end industrial street that ducks under Interstate 480. The hospital would like to hire more staff to handle more patients but it simply doesn't have the room.
So the hospital's parent company, Southlake TX-based Cleveland Healthcare I, LLC, plans to invest $6 million to build a new animal hospital that's triple the size of the existing one, according to documents submitted to the city. The 35,000-square-foot facility would rise on a 4-acre site at 1234 Emerald Pkwy., near Interstate 480's Grayton Road interchange and Hopkins Airport.
MedVet is a chain with more than 30 animal hospitals located across the United States. It has three locations in Northeast Ohio – Cleveland-Brook Park, Akron-Copley and Youngstown-Girard. A fourth location in Mentor recently closed.
END