It's not much to look at right now, but a five-story commercial building at the southwest corner of St. Clair Avenue and West 3rd Street in downtown Cleveland appears to be the subject of a power play. That play ultimately involves Sherwin-Williams (SHW) and the neighboring site where its proposed global headquarters is due to rise starting this winter.
The reason why it's in play is because the building, 1350 W. 3rd St., is the subject of a purchase agreement that may close at the end of this month, according to two sources who spoke off the record. Both the reputed buyer, Welty Building Co., and seller, an affiliate of the Realife Real Estate Group, did not dispute the rumor that a sale was pending.
The simple transaction, however, is made more intriguing by the sources' information that SHW had recently tried to buy the property and that Welty, in a joint venture with the Gilbane Building Co., is SHW's global HQ's construction manager. The sources wished to remain anonymous as they were not authorized to speak publicly about the matter.
NEOtrans came across a Sept. 30 filing with the Ohio Secretary of State for a new company called 1350 W III, LLC. The name approximates that of the address of the five-story structure built in 1882 as The Gilman Building in the Warehouse District. Elizabeth G. Schultz Yeargin, an attorney at the Akron-based law firm Brouse McDowell, filed the incorporation documents. She acknowledged receipt of a NEOtrans e-mail asking her to reveal the owner of the LLC or to ask the client to reveal the ownership. However, she did not otherwise respond.
Brouse McDowell is the same law firm used by Akron-based Welty. NEOtrans then received information from the sources that Welty was behind the incorporation of 1350 W III LLC and would use the affiliate to acquire the building and its 0.085 acres of land from a Realife affiliate, 1350 W6 LLC.
"We (have) nothing of value to share today. Thanks for reaching out," said Tom Charek, president at Welty Development Co.
James Asimes, director of acquisitions at Independence-based Realife, said he would not comment on any news regarding 1350 W. 3rd but said that he might be in a position to comment by the end of this month.
The subject property is the only building still standing in the Warehouse District's so-called "Superblock" which was once filled with a mix of mercantile, office, printing and other 19th-century commercial structures. After the post-war construction of highways into downtown, the Superblock increasingly gave way to surface parking lots until only the Gilman stood. It is also the only Superblock property SHW hasn't been able to acquire for its proposed $300+ million HQ complex and supportive developments.
It is not for a lack of trying, the sources said. The global coatings giant paid $49.4 million for 6.9 acres of Superblock parking lots and was willing to pay for 1350 W. 3rd so it could knock down the Gilman Building. Sources said SHW or its HQ development team don't want to try to match Gilman's style or size for development on land it owns westward along St. Clair which it wants to make available for HQ-supportive developments.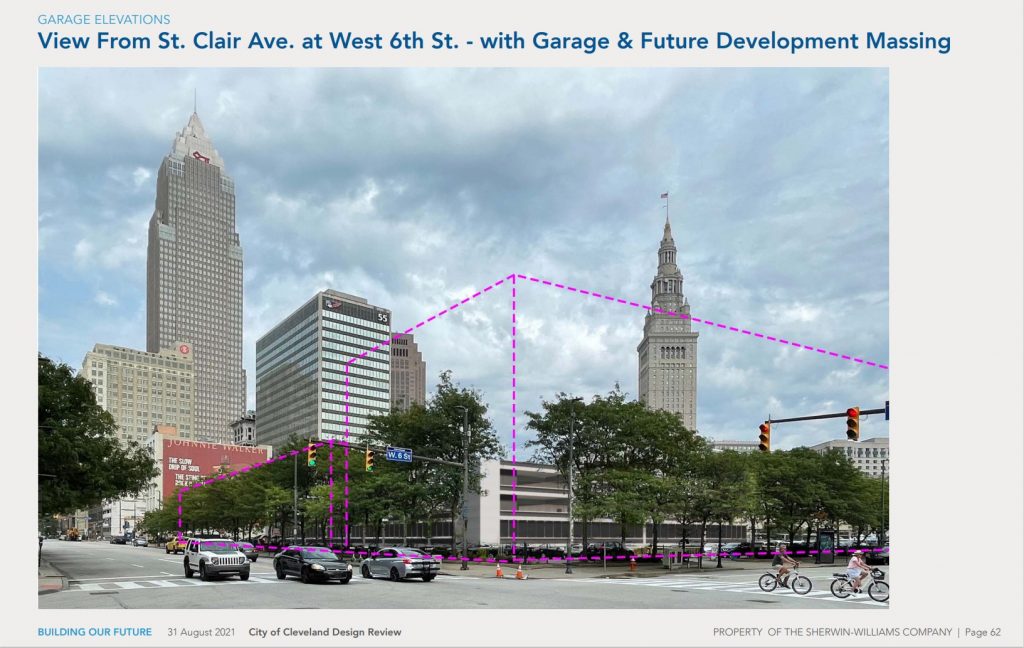 Looking easterly in this rendering of the proposed SHW HQ garage (minus the HQ tower for simplicity's sake), the Gilman Building is visible at left with the Johnnie Walker billboard on it. The dotted purple outline shows how a future development could scale in front the parking garage and hide it from the streets. The Gilman appears out of place with SHW's vision (SHW).
Likewise, Realife reportedly wanted to sell 1350 W. 3rd. And it allegedly wanted to be paid handsomely for it. No sale amounts were shared by the sources. In 2007, Stark Enterprises acquired the property (then called the Titanic Building) for $1.3 million to be its new HQ. In late 2018, affiliates of Stark Enterprises and Realife entered into a mortgage in which Stark lent $1,650,000 to Realife and awarded a deed to the property at 1350 W. 3rd.
Per the mortgage, Realife must make regular payments to Stark and get Stark's permission for any improvements, demolitions or any other changes made to the property, according to documents made public during a foreclosure action that was ultimately settled out of court. Realife has been attempting to get tenants into 1350 W. 3rd, including an eCommerce firm and, more recently, a co-working business. Both fell through.
But another legal battle followed as Realife sought to sell the property to SHW. In March, the 155-year-old corporate giant sent a cease and desist letter to Realife, telling it to stop using a tiny, neighboring sliver of SHW's property for a trash receptacle and a parking space. SHW soon placed concrete barriers and fencing to prevent Realife from using that small piece of land which is separated by a guardrail from the rest of SHW's property.
Realife filed a complaint in Cuyahoga County Common Pleas Court, claiming it has a prescriptive easement to use the land through adverse possession, essentially squatter's rights. To achieve squatter's rights under Ohio law, a property will need to be considered abandoned by the deed holder for an extended period of time and that the current user has been using it productively for at least 21 years. Realife says it and prior owners of 1350 W. 3rd have been using the sliver of land for longer than 21 years. The case remains unresolved.
The two sources say the proposed deed transfer includes restrictions that reportedly have angered SHW. One is that the buyer may not be allowed to sell it to SHW. The other proposed restriction is that the buyer may not be allowed to demolish the Gilman Building. Welty apparently has no end user or plan in mind for 1350 W. 3rd, sources said.
Julie Young, SHW's vice president of global corporate communications, did not respond to an e-mail seeking confirmation and more information prior to publication of this article.
The Cleveland City Directory shows the Gilman Building's original address was 182-184 Seneca Street prior to the city changing north-south street names to numbered streets based on their distance from Public Square. The Gilman Building was designed by anarchist/socialist architect John Edelman, mentor to the famous architect Louis Sullivan who credited Edelman with the concept of "form follows function," said building preservation consultant Steve McQuillin. Sullivan is commonly considered a "father of skyscrapers" and "father of modernism."
Built in 1882 for the A.S. Gilman Printing Co., it later had tenants like the Ingraham Brush Works and the tobacco firm G.H. Mack & Co. It also had a billiards hall on the ground floor, according to Sanborn Fire Insurance maps of the late 1800s. More printing companies populated the building into the 1900s in a neighborhood once filled with printing, bindings and publishing companies. The Gilman Building in Cleveland and the Decker Building in New York City are Edelmen's only surviving structural works.
END