What's one way a company can express its confidence? By scheduling a groundbreaking ceremony for its new headquarters complex two weeks before final designs for said complex are due to be voted on by the city.
The groundbreaking ceremony for Sherwin-Williams' new global headquarters is scheduled for 3 p.m. Nov. 16 in a temporary tent to be erected at 226 West Superior Ave., according to event venue plans submitted to the city yesterday by Lasting Impressions Event Rentals. The location is the middle of the so-called Jacobs Lot, named after the Jacobs Group which owned the parking lot on Public Square for 30 years before SHW bought it last year.
According to the submittal, the tent is to be installed Nov. 12, used Nov. 16 and removed the following day. There will also be VIP parking and media parking on Frankfort Avenue between Public Square and West 3rd Street. The opaque tent will have a VIP entrance/exit, crew/media/restroom exit, stage and shovel area and media riser. Outside will be a toilet trailer plus a separate area for HVAC, electrical generator and TV production as well as a fire lane surrounding the groundbreaking venue.
Normally, NEOtrans wouldn't post the site plans for a groundbreaking ceremony. But this is the first time that the Jacobs Lot on Public Square has had any uses other than parking scheduled for it in more than three decades. And it's not every day that Cleveland gets to celebrate the start of a project whose end result will be a 600-foot-tall tower (B&H).
The date of the groundbreaking coincides with SHW's scheduled submittal of final documents Nov. 16 for its $300+ million, roughly 1-million-square-foot headquarters complex. Conceptual plans were approved by the city in July with schematic plans approved Sept. 14. Proposed is a 36-story, 616-foot-tall office tower at the northwest corner of West 3rd and Superior, a two-story corporate training/orientation pavilion on Public Square and a 920-space parking garage north and west of Frankfort and West 3rd.
When the city approved schematic plans last month, it did so with few conditions, mostly of a minor nature. They included urging SHW's HQ development team to consider small changes to the pavilion and the garage. No changes were proposed for the office tower.
Specifically, City Planning Commission members suggested the HQ team add height to the garage's first floor for a larger retail space fronting West 3rd. They also wanted the garage designed so that additional levels of parking could be added in the future. SHW rejected the potential for addition as unnecessary. Commission members also urged that the pavilion be at least partially designed with a green roof.
SHW's rejection of those suggestions are unlikely to cause the city to deny the issuance of a building permit. But since no permit has been issued yet, nor is one likely to be issued for some time, the scheduling of a groundbreaking ceremony may come as a surprise. Actual construction may not occur for weeks or even a couple of months after the ceremony, although site preparation in the meantime is possible.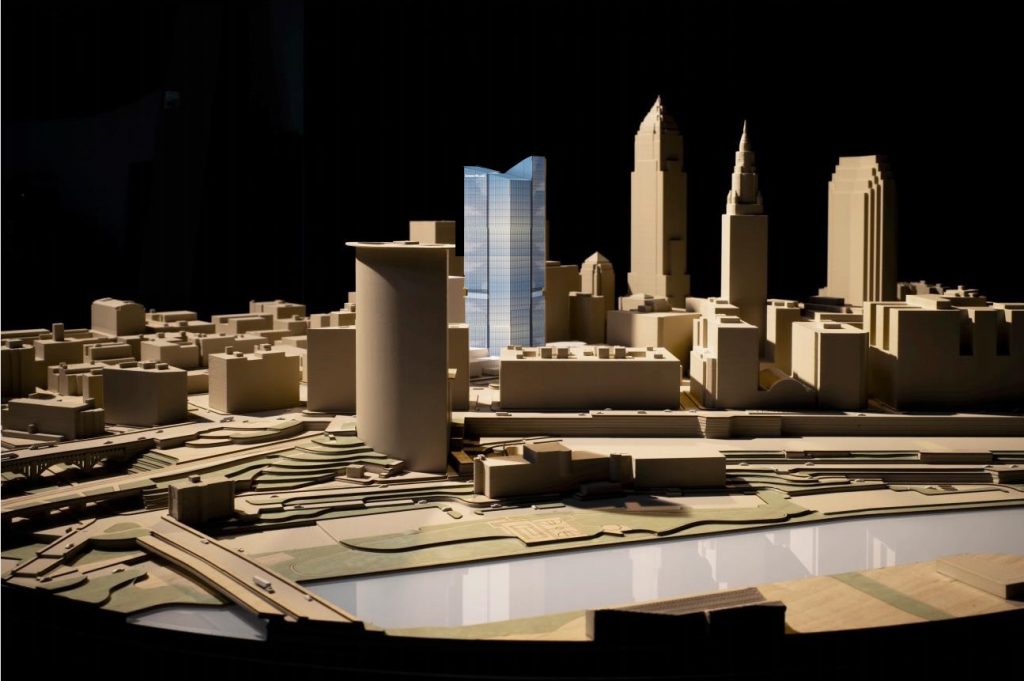 The new Sherwin-Williams headquarters tower will be Cleveland's fourth-tallest, trailing Key Tower, Terminal Tower and 200 Public Square. The global coatings giant's headquarters for the past 90 years is the low-rise building at the far-right of this model, produced by SHW HQ architect Pickard-Chilton (SHW).
On Sept. 24, Osborn Engineering, a member of SHW's HQ development team, submitted the first permit applications to the city's Building & Housing Department. But those were for zoning site plan reviews and approvals for the HQ tower, pavilion and garage — not actual construction. Even so, such reviews can take weeks or longer. As of today, the zoning site plan review is continuing.
Those applications were submitted so Osborn could also request a plat consolidation from the county, combining 37 parcels owned by SHW into only two or three properties. That would also include vacating Frankfort between West 3rd and West 6th streets as a public right of way. SHW will take ownership of Frankfort and use it for garage and service vehicle access to the new HQ.
SHW will continue to submit designs and other planning documents to the city, even after the "final" documents are submitted next month. Some of those will include plans for lighting, signage, landscaping and interior build-outs for the new HQ. And that doesn't include the possibility of a phase two for the HQ, featuring a roughly 300,000-square-foot building for SHW expansion plus contractors and other firms with whom SHW does business.
Nor does it include future spin-off development on land SHW owns along West 6th and St. Clair Avenue which SHW would like to lease or sell to developers and/or end-users. NEOtrans reported earlier this week the only parcel in its so-called "Superblock" that SHW doesn't own, 1350 W. 3rd, is the subject of a pending sale and ongoing power play between SHW and its current owner, Realife Real Estate Group.
END