City Club Apartments sees 'quite a bit of progress'
For more than two months, an approved construction permit for the foundation of a high-rise apartment tower in downtown Cleveland has sat at the city's Department of Building & Housing office, ready for the architect of record or general contractor to come pick it up.
No one directly involved with the 23-story City Club Apartments project was willing to say precisely why construction workers haven't descended upon the current parking lot site at 720 Euclid Ave. to build the tower. But a high-ranking city building department official said a typical reason why a construction permit isn't pulled right away is because contractors are waiting for the subject property's sale to close. That was backed up by other information.
"The foundation permit was reviewed and approved 8-10-21 and is awaiting the contractor to pick it up," said Chief Building Official Thomas Vanover in responding to an e-mail from NEOtrans. "It is not uncommon for people to wait for the property to close before they pull the permit."
The approved permit that's awaiting pickup is for the apartment tower's foundation and site utilities along with an earth retention system for the protection of adjacent properties. Phased approval of permit applications, 44 to 146 pages each, for foundation/utilities, structure, civil/landscaping, architectural features, interior, tech/specialty, mechanical systems, electrical systems and others is being pursued, a common practice. City Planning Commission reviewed and approved the general design of the project in August 2020.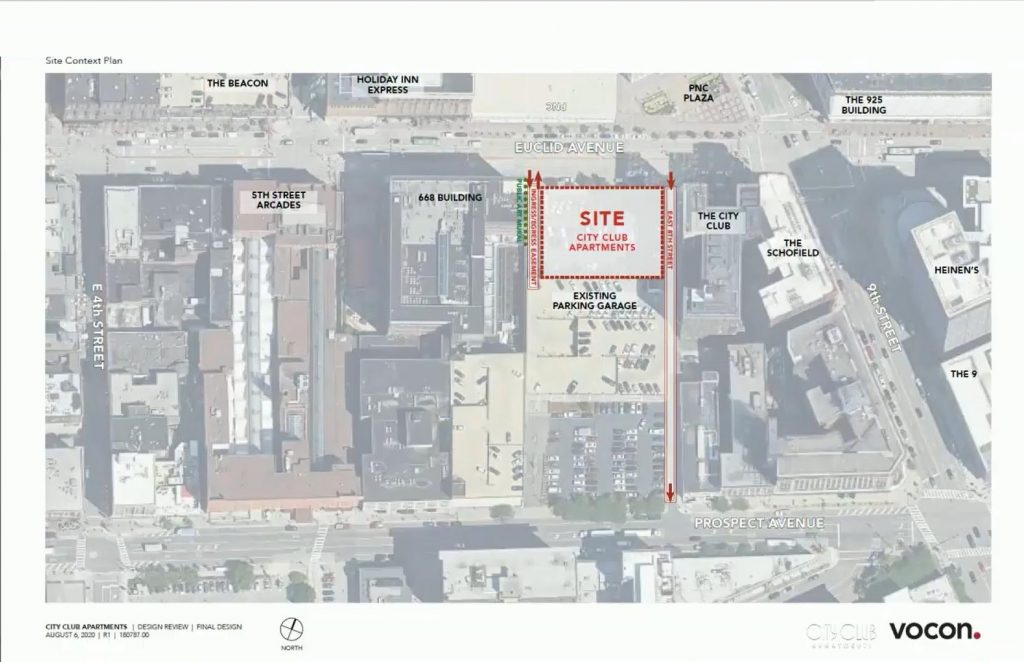 The half-acre site for the new apartment tower is to be sold to an affiliate of Michigan-based City Club Apartments. It is at the north end of a nearly 2-acre property currently owned by the Goldberg family which extends south from Euclid Avenue to Prospect Avenue. It includes a mid-block parking garage to be used by residents of the City Club Apartments, primarily at night (Vocon).
"There has been quite a bit of progress in this project," Vanover said. "There hasn't been a delay. Like most projects of this size, it has been submitted in phases beginning with the site and foundation and then the structure."
With the foundation permit approved, Vanover said his staff is now in the process of reviewing the structural plans for the nearly $100 million project. Some aspects of the plans need revision via an adjudication order to be made soon, but that is routine in projects both large and small, he said.
However, in the most recent submittal of plans, the city assigned the wrong ownership for the property — that of David Bishoff of Columbus who owns the neighboring City Club Building, 850 Euclid. Neither he or his property are affiliated with City Club Apartments, a chain of residential buildings headquartered in the Detroit suburb of Farmington Hills.
Bishoff said he had nothing to do with filing the apartment tower documents with the city. After he was asked by NEOtrans about it, Vanover had the ownership information corrected on the filing by the end of today.
"It appears that the wrong parcel number was used," he said. "Because the address 776 Euclid does not currently exist, a place holder is put in until the transfer closes. This is then changed prior to (permit) issuance. In this case, it looks like the assumption was made that the City Club Apartments were on the City Club (Building) parcel."
The nearly 2-acre property extending south to Prospect Avenue is owned by affiliates of the Goldberg family, GSK 720 Euclid, LLC & 720 Euclid Garage, LLC. A half-acre piece of the property fronting Euclid on which the 300-unit, market-rate apartment tower will rise was carved out of the 2-acre parcel last November and will transfer to CCA CBD Cleveland, LLC, an affiliate of City Club Apartments.
"The effect of the plat is to consolidate the 10 historical parcels and to split the approximately one-half acre parcel fronting on Euclid Avenue for sale to and development by CCA CBD Cleveland, LLC of the City Club Apartments project," wrote Mara Cushwa, partner and chair of Calfee, Halter & Griswold LLP's Real Estate practice group, in a Nov. 18, 2020 letter to the Cuyahoga County Fiscal Office Department seeking the plat change.
Goldberg will retain ownership of a six-level, 540-space parking garage in the middle of the property which City Club Apartment residents will use under an agreement with CCA CBD Cleveland. However, no deeds or property leases involving CCA CBD Cleveland, LLC have been recorded by the county. And none have been recorded for GSK 720 Euclid, LLC & 720 Euclid Garage, LLC in recent years.
The architect of record for this project is Mike Cucciarre at Vocon Partners, LLC in Cleveland. He did not wish to comment for this article. The general contractor is Mentor-based Cleveland Construction Inc. A spokesman for the general contractor was asked if there were any updates about a potential groundbreaking.
"Cleveland Construction is excited to get started on the City Club Apartments and we expect the owner to share more information on the groundbreaking soon," said Shawn Zbasnik, marketing specialist at Cleveland Construction.
If actions speak louder than words, then Cleveland Construction's opening of a field office in downtown Cleveland last month with a three-year lease is shouting. The general contractor has four major development projects throughout downtown Cleveland that are under way or about to begin. But the field office is located just 350 feet from the City Club Apartments site, much closer than any of its other projects.
An e-mail sent to City Club Apartments' Chairman and CEO Jonathon Holtzman along with his Chief Brand Officer Peter Burgoyne seeking clarification of the pending property sale was not responded to prior to publication of this article.
END