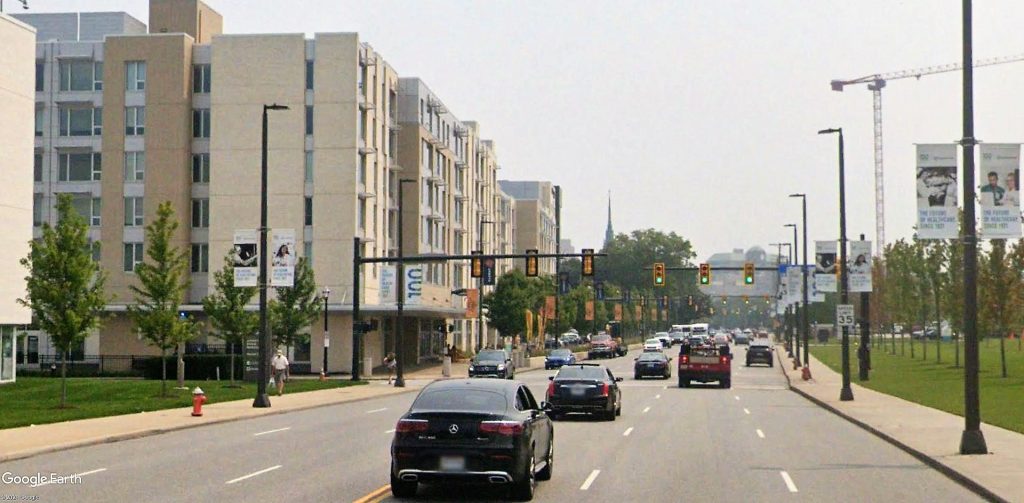 Six years ago, the Finch Group started a trend of adding modern apartment buildings along Chester Avenue. At left is their mixed-use Innova Development, between East 97th and 101st streets. At right is the construction crane for what will be University Circle's tallest tower — the 24-story Artisan Apartments. West of here, behind the camera, hundreds more apartments are planned or under construction (Google).
Cleveland Clinic, eds-n-meds growth drive investment
As long as the Cleveland Clinic Foundation and other local eds-and-meds employers keep adding jobs, new housing is going to keep getting added to nearby neighborhoods. Hough is one of those neighborhoods, and Chester Avenue is the street that is attracting much of the investment.
The tallest apartment building currently under construction in Cleveland is on Chester in neighboring University Circle. The Artisan, 10600 Chester, is the first new construction project in the Circle Square development. At 24 stories and about 250 feet tall, the 298-unit apartment tower will be the tallest building in University Circle. It follows the 247-unit Innova Apartments, 10001 Chester, that opened in phases in 2015 and 2017.
Along Chester in Hough, there are another 641 apartments under construction or planned with more in an early stage of development. Developers believe there is demand for up to 10,000 new housing units to be added in and near University Circle in the next five to 10 years.
One of the largest developments is the first phase of the 424-unit Addis View Apartments. It started construction in May on the west side of East 90th Street just north of Chester. By the end of 2022, the 131-unit first phase should be done. Inspiron Group is the developer.
Work began in late August on The Lumos apartments a block away on East 93rd Street, starting with 42 units led by Arpi Development with financing from Agostino Pintus and Kenny Wolfe. Later phases could add approximately 118 more units. Construction on the first phase is due to take about a year.
Although a groundbreaking date hasn't been set yet for the planned 57-unit Chester75 at the northwest corner of Chester and East 75th Street, it's getting close, said Khrys Shefton, director of real estate development at the Famicos Foundation. Famicos, a community development corporation that works in Hough and nearby Glenville, is the project's developer. They acquired the 0.84-acre site two years ago.
Another development could be in the works based on recent actions. In the last couple of weeks, survey crews were measuring a vacant site nearly twice as large as Chester75's. This one is between East 81st and 82nd streets on the north side of Chester. Marous Brothers has owned much of this property for nearly 15 years; it added less than a quarter of an acre to it this past summer.
A Marous representative acknowledged the activity but wouldn't yet say what, if anything is in development. The Willoughby-based firm develops small- to medium-sized apartment buildings and clusters of townhouses.
Meanwhile, on the south side of Chester in MidTown Cleveland Inc.'s service area, the development corporation earlier this month acquired several parcels totaling 0.4 acres. The property is between East 72nd and 73rd streets and next to the One Midtown townhouse development.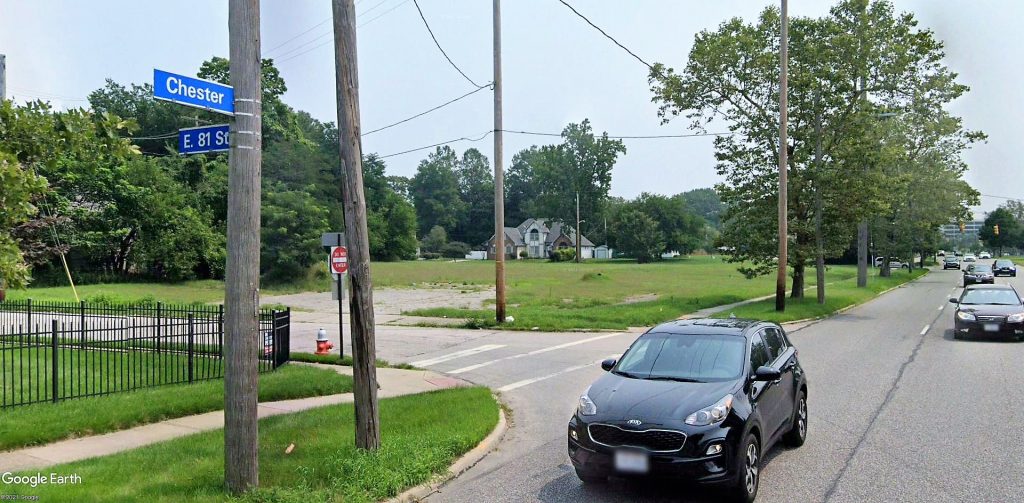 One of Chester Avenue's largest vacant pieces of land under one owner is this property between East 81st and 82nd streets. Owner Marous Brothers, which primarily develops apartment buildings and townhomes, has been adding parcels to this large swath and doing survey work here in recent months (Google).
"The East 73rd Street property is a buy and hold," said Richard Barga, vice president of economic development at MidTown Cleveland. "(It) might fit into longer term plans down the road."
"The more the merrier," Shefton said of the growing number of developments in a recent interview. "As the CDC (community development corporation), we love to see more private development come into the neighborhoods. The CDC comes in when no one else is there. The more folks who come to start development will get the neighborhood turned around faster."
Farther east along the south side of Chester, the Cleveland Clinic recently acquired the ORCA House properties and demolished three buildings on them. Located between East 89th and 90th streets, the structures were used as an addiction rehabilitation center. A Clinic spokesperson said the health care system had no immediate plans for the 2+ acre site.
END