One of the largest vacant tracts of land near Cleveland's urban core moved closer to development this week with City Planning Commission's approval of schematic plans for Silverhills at Thunderbird. The project is located on the mostly undeveloped Scranton Peninsula across the Cuyahoga River from downtown Cleveland. That huge peninsula, once home to steel production facilities and lumberyards, sat mostly vacant for 40 years. It is finally coming back to life (Dimit). CLICK IMAGES TO ENLARGE THEM
Scranton Peninsula's long post-industrial path to productivity
Friday was a big day for Scranton Peninsula in Cleveland's Flats. A new brewpub opened in a repurposed industrial structure next to the Cuyahoga River. City Planning Commission gave conditional approval to plans for a new neighborhood that would add more than 300 housing units to the city's riverfront. And the commission approved new zoning for a large area of the Flats to support additional development.
BrewDog Cleveland opened Dec. 3 in a 20,800-square-foot, 103-year-old building at 1956 Carter Road. The Scotland-based chain calls its brewpubs as "outposts" but in Cleveland, that description is certainly accurate. BrewDog Cleveland is one of the few active uses on Scranton Peninsula.
The peninsula was named for Scranton Road, which in turn was named after 19th-century land owner Joel Scranton. It was once dominated by Republic Steel's Upson Nut Division plant and the sprawling Northern Ohio Lumber property, both of which faded away in the 1970s and 80s. Left behind was the residue from the chrome coatings of bolts and nuts and the preservatives and pest-control chemicals added to lumber. The polluted soil rendered the peninsula a hot potato for real estate developers who didn't want to handle it.
But the peninsula's soils west of Cleveland's first railroad were assessed by prior owner Forest City Enterprises and acute problem areas cleaned up or covered with clean fill. A consortium of developers comprised of Fred Geis, J Roc Development and investors like Savannah, GA-based Matt Weiner organized as East West Alliance, acquired 25 acres of land and began to market it. They call their development vision for Scranton Peninsula — Thunderbird.
The larger, 55-acre portion of Scranton Peninsula originally owned by William Averell east of the old Cleveland, Columbus and Cincinnati Railroad remains inert. These properties and others like them to the south along Scranton Road are locked in the ownership of the Scranton-Averell Inc.. whose origins rest with those 19th-century land owners as do some of the firm's present-day investors.
Some of their families have passed down shares in the company through the generations and their revenue streams watched over by its president, a Rocky River attorney named Thomas Stickney. NEOtrans has attempted to contact Stickney to no avail over the years to learn why nearly all prospective deals to develop their Scranton Peninsula properties have failed, including Sherwin-Williams' bid to put its new research facility on the peninsula.
Reportedly others have had difficulty in reaching Stickney as well. But not everyone. The old Ferry Cap & Screw, 2151 Scranton, was sold in 2018 by Scranton-Averell to WXZ Development, Inc. of Fairview Park. That commercial property's residential conversion has been halted while a new stormwater sewer is being constructed past its front door.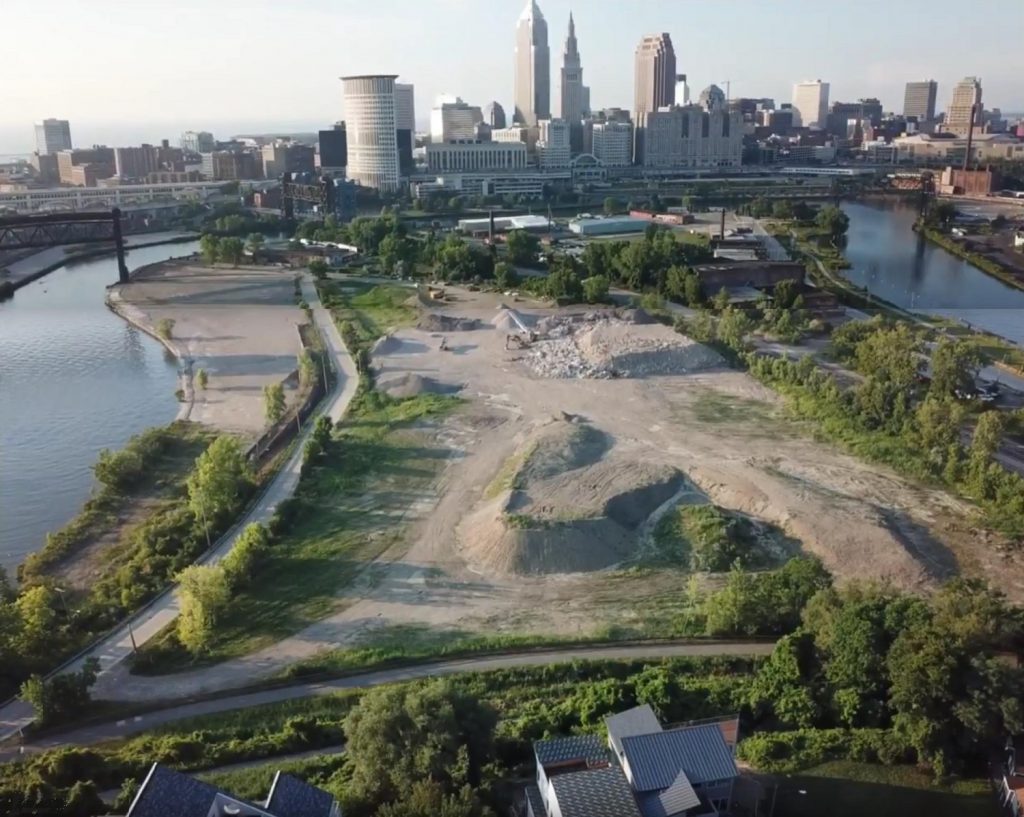 Most of Scranton Peninsula remains undeveloped due to pollutants from industrial activity that began nearly 200 years ago but faded away decades ago. The land has sat fallow ever since, wrought by high clean-up costs and Cleveland's low rents. But environmental clean-up funding has become more available while Cleveland's residential demand and rents are going up, making development here more viable (AerialAgents).
The general public began to return to Scranton Peninsula in 2014 when the Scranton Flats section of the Towpath Trail was built along the peninsula's east side, below the Lorain-Carnegie Hope Memorial Bridge. That trail was further extended last year across the Carter Road lift bridge, creating greater connectivity. Built across the neck of Scranton Peninsula was another multi-purpose path — the Cleveland Foundation Centennial Lake Link Trail. It stimulated ideas of what could be done with the peninsula, including several reports from Cleveland State University.
To help spur development on Scranton Peninsula, as well as on Columbus Road Peninsula and to preserve the Irish Town Bend hillside for its eventual park, these areas were rezoned. One property that was removed from the rezoning was land that the George family acquired after the city said it wanted the property for the new park. The land is now the subject of an eminent domain proceeding by the Cleveland-Cuyahoga County Port Authority.
No reason was given by City Planning Commission members as to why the George property was excluded from the rezoning. Planning Commission Chair David Bowen recused himself from voting on the rezoning, not because he said he felt there was a conflict of interest, but because of recent media coverage about his architectural firm's involvement with George's project, he said.
The rezoning, approved Friday by the commission, features an urban form overlay on land bounded by Detroit Avenue, the Cuyahoga River, Carnegie Avenue and West 25th Street. The goal is to facilitate the development of the new park, permit residential uses by-right in the Flats, leverage public assets and investments to spur new private investment, ensure compatibility among new non-industrial and existing industrial uses, and ensure new developments are advancing the city's walkability goals, according to a summary provided by the city.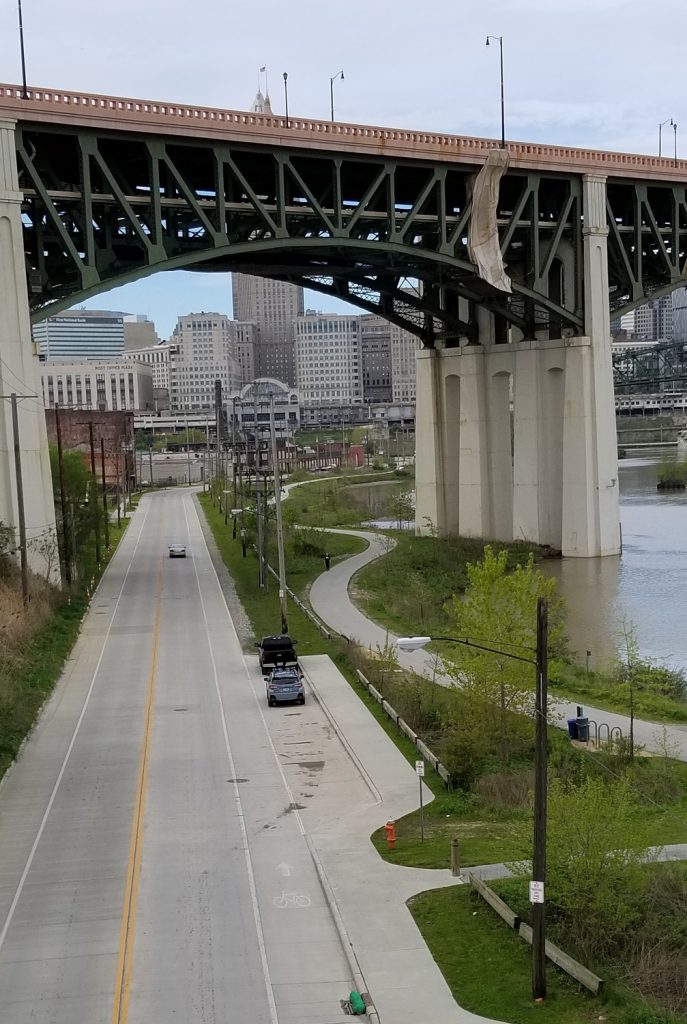 Looking north along Scranton Road toward Scranton Peninsula with the Scranton Flats trail and park along the Cuyahoga River at right. The view is from the Cleveland Foundation Centennial Lake Link Trail. The addition of parks and trails to and through Scranton Peninsula reintroduced the public to this long-neglected landscape and caused Clevelanders to imagine what could be done with the underutilized land (KJP).
Also approved Friday, albeit with conditions, were schematic plans for the Silverhills at Thunderbird development. The plans show 300 apartments in two separate buildings — one five stories tall with 258 units and the other four stories with 42 units. Parking would be provided in a mix of a parking deck, outdoor spaces and some tucked under the Carter side of the south building. Poor soil conditions next to the Cuyahoga River require deep foundations for the proposed buildings.
Silver Hills of Cleveland is partnering with Edwards Communities of Columbus on what would be the first new-construction development on the peninsula in decades, possibly since the new Jim's Steak House opened in 1939 at 1800 Scranton Rd. Jim's closed in 1997 and reopened as River House, then Club Aqua then Mega Niteclub before it was demolished in 2011 as a nuisance. On the other side of the peninsula, Silverhills at Thunderbird's developers have an option to buy 4.16 acres of riverfront land for their project.
"We promote urban walkability and we go into a lot of neighborhoods that are up-and-coming and help take the first step to help create that modern urbanism with the walkability," said Silver Hills Principal and Founder Seth Mendelsohn who has worked on similar waterfront projects in other cities. "So we're excited for this project especially in our hometown."
Mendelsohn, who previously was a vice president at Cleveland-based NRP Group, one of the country's largest developers of apartments, is attempting to do what his prior employer gave up on. About 14 months ago, NRP Group decided to focus on affordable housing. It abandoned what would have been one of its last market-rate projects — a 330-unit apartment-townhouse complex across Carter from where Silver Hills/Edwards plans their development.
Site plan for the Silverhills at Thunderbird development, with north at right. The development would be comprised of two buildings, one offering about 258 apartments in a five-story building that mostly hides a parking garage. The other building would have 42 apartments in a four-story building, but would appear as three stories from Carter Road, at the bottom. At the left is a proposed brewpub on land purchased last summer by Great Lakes Brewing Co. (Dimit).
"It's obvious, with respect to the zoning proposal that was approved today, this (development) is the 'why' behind that," said City Planning Director Freddy Collier. "With respect to the whole vision for the Thunderbird initiative is really to create that grid and urban feeling down here. I think this project contributes to that."
But the city suggested Silverhills at Thunderbird's developers had designed their project in a way that may discourage public access to a riverfront boardwalk proposed by the Thunderbird partnership. In approving their schematic plan, the planning commission attached a condition that the developer and its designer, Lakewood-based Dimit Architects, revisit how to make the river more visible and feel more accessible to the public.
"You can be on streets like Lake Shore (Boulevard) and not know you're by water," Collier added. "When you're traveling along Carter, it's important to have visual cues that are going to pull you through (to the river). Because the site is so dense and the frontage along Carter is pretty large, the one pedestrian access point that you have between the two buildings is good but it would have been great to have something more substantial with respect to people being able to see the water from Carter. Sometimes developments of scale along water, if they're massive, can send a 'hands-off' message to the general public."
Commission member August Fluker derided the project's name, saying Silverhills "exudes exclusivity." He voted to approve the schematic design, nonetheless.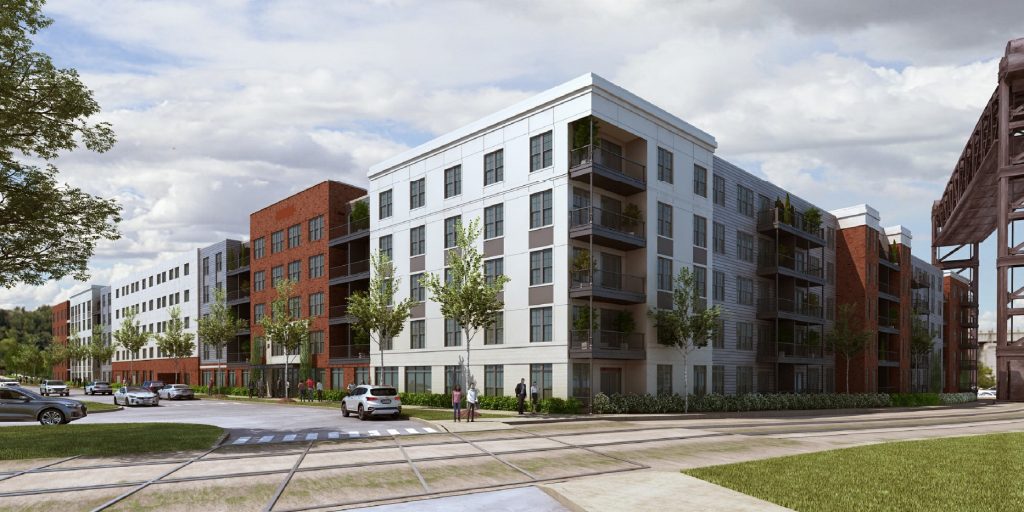 Streetview from Carter Road at crossing of the Flats Industrial Railroad track, looking southwesterly at the larger of the two buildings in the proposed Silverhills at Thunderbird development. A public walkway would be built to the right, between the new development and the unused railroad line. South of here, the railroad right of way could become a trail. The new BrewDog Cleveland brewpub is off to the right and out of view (Dimit).
Bowen suggested raising up the pedestrian walkway between the two proposed buildings in the Silverhills at Thunderbird development to make it and its users feel more prominent. Dimit's project architect Gary Ogrocki said the railroad bridge between the Silver Hills/Edwards development and the new BrewDog brewpub will also have a walkway along it. And since Flats Industrial Railroad is no longer using the track or bridge, it offers an opportunity to improve riverfront access.
"We are actively working with Flats Industrial Railroad to get that land under control and working with property owners to maximize access to the river," said Jim Haviland, executive director of Flats Forward, a community development corporation.
"We want to bring connectivity to Scranton Peninsula," Mendelsohn said. "We're especially excited about the breweries that are going in and the parks that are going in."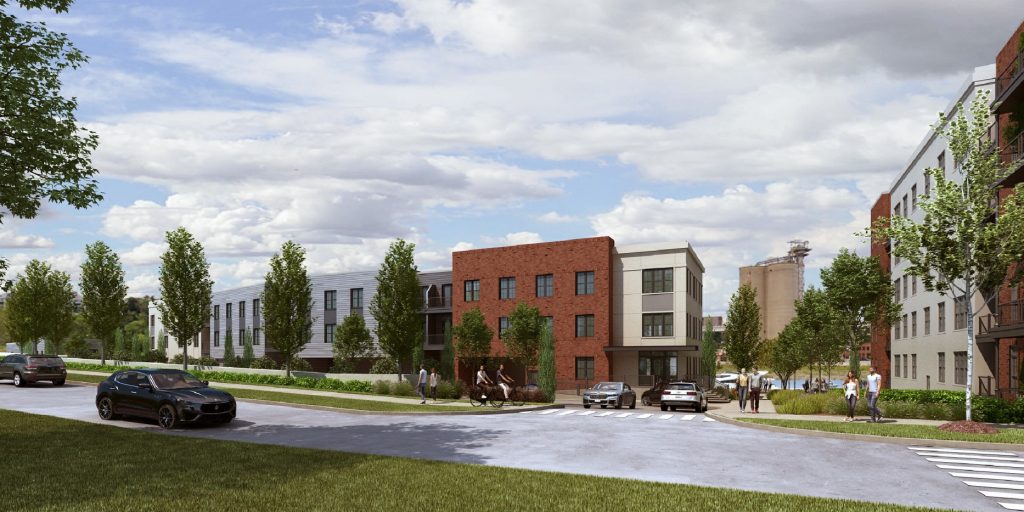 The smaller of the two buildings in the proposed Silverhills at Thunderbird development is seen here, along with an easement at right for a public walkway between the two planned buildings to access a planned riverfront boardwalk. These developments would create a post-industrial neighborhood centered around pedestrian- and bike-accessible recreation plus other urban amenities (Dimit).
Those appear to be the next steps for Scranton Peninsula. In fact, on the Silver Hills at Thunderbird site plan, it shows an outline of a proposed building just south of their project, on 1.873 acres of riverfront land purchased last summer by an affiliate of the Great Lakes Brewing Co. That's the second purchase of Scranton Peninsula land by Great Lakes, based just up the hill in Ohio City. In 2018, Great Lakes acquired 8 acres of land across Carter for a possible canning operation or brewery expansion but has yet to develop the property.
On its newly acquired riverfront parcel, Great Lakes reportedly is looking at developing a brewery venue that's a little smaller than BrewDog's redeveloped building at the north end of Scranton Peninsula. Great Lakes is also considering hosting food trucks but the concept is still preliminary and no plans have been publicly released, Mendelsohn noted.
If the Silver Hills/Edwards development is realized and leases out quickly, it may cause a stronger momentum shift for Scranton Peninsula than the outpost that the new recreational trails or BrewDog have established here. But BrewDog and the multi-purpose trails are finally getting the public back on to the peninsula for the first time in decades. Seeing the open land that still exists here so close to downtown will invariably cause people's imaginations to stir. And that's seldom a bad thing.
END