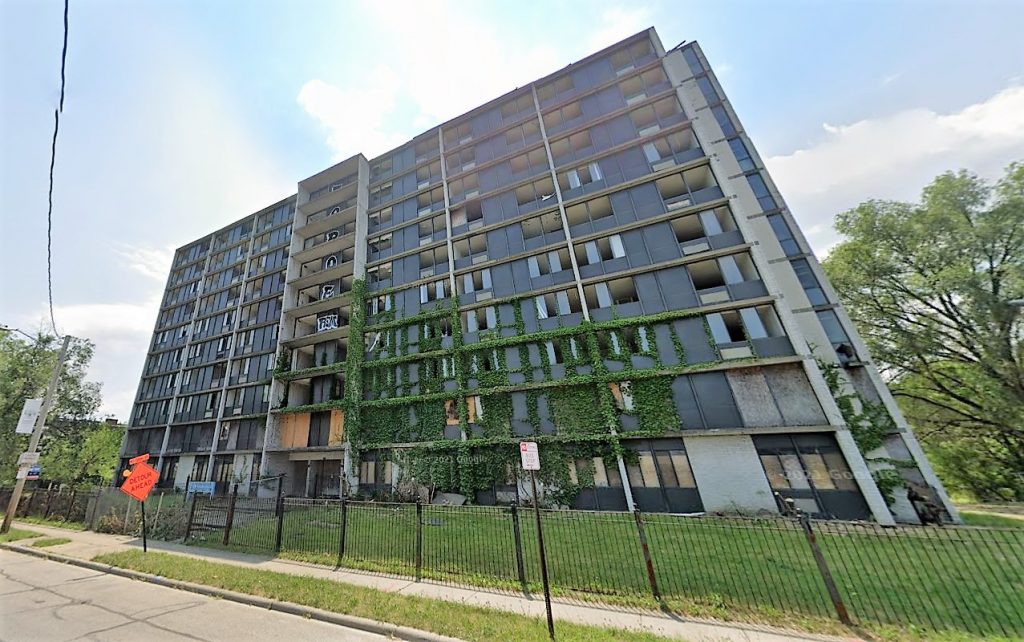 Vacant for at least a decade, stripped of salvageable items by thieves, open to the elements and now vines are climbing up the side of the condemned 10-story apartment building at 9410 Hough Ave. as seen in this July 2021 view. But that's not deterring SLSCO Ltd. from taking on the project and even expanding it to include a large new community center (Google). CLICK IMAGES TO ENLARGE THEM.
Affordable housing and community center planned
A major project to redevelop a vacant and blighted 10-story building, as well as to construct a large community center on Hough Avenue on Cleveland's East Side was revealed by a city official at today's City Planning Commission meeting. The development is one of many planned or underway in the Hough neighborhood which had long been a poster-child for urban decay in Cleveland.
The $34 million project would redevelop the former apartments at 9410 Hough Ave. and construct a large addition to the 97,570-square-foot apartment building, according to a building permit application filed last week with the city. That 1973-built structure is proposed to be renovated into 116 affordable apartments — the same number with which it was originally constructed using federal housing funds.
As it sat vacant for 10 years and condemned by the city, the U.S. Department of Housing and Urban Development (HUD) put the building on its distressed list. It urged Sullivan Land Services Co. (SLSCO) Ltd., a Galveston, TX-based onstruction company that participates in large federal government projects including disaster response efforts and distressed properties, to bid on the project at an auction earlier this year. SLSCO acquired the property in June for $1.5 million, Cuyahoga County property records show.
County records also show that the same SLSCO affiliate, 9410 Hough GP LLC, acquired two more parcels about 1,200 feet farther north in the same June transaction. One is a 1.04-acre parcel at 1533 Crawford Rd. and a 0.77-acre parcel 1551 E. 93rd St. The two parcels are adjacent, separated only by an alley called Amwell Avenue. However no building applications are pending or were submitted for either parcel in recent years, according to city records.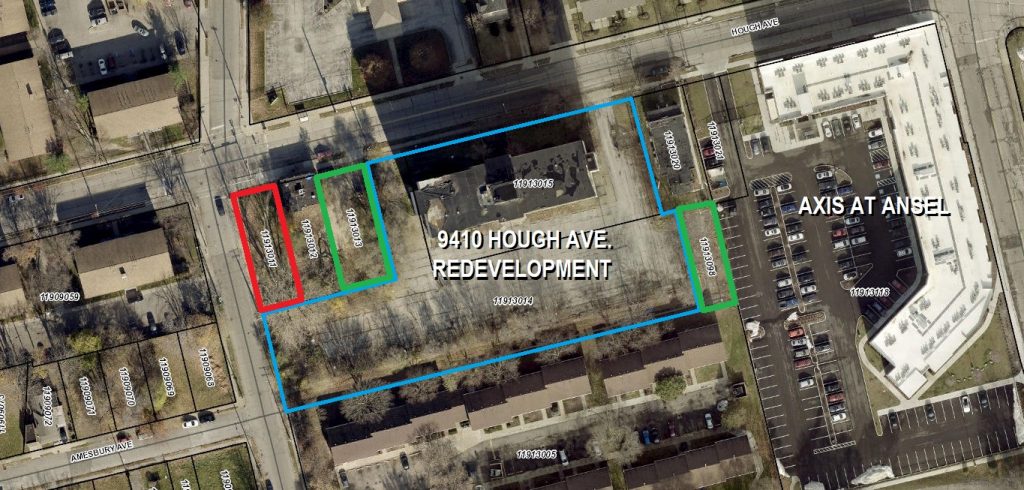 Outlined in blue is Sullivan Land Services Co.'s redevelopment of 9410 Hough Ave. into affordable apartments and a large community center. The two parcels in green are in the Cleveland Land Bank and being sold to SLSCO. The red-outlined property is a land bank parcel that was proposed to be sold to SLSCO but was retained at the last minute because it is next to and of interest to an active business — Dixon's Market. The new Axis at Ansel apartments, seen at right, opened last year (KJP/MyPlace.cuyahoga.us).
SLSCO Program Manager Ron Ashy acknowledged receipt of two e-mails from NEOtrans over the past week seeking more information about the project but otherwise did not respond prior to publication of this article. City of Cleveland's Director of Community Development Michiel Wackers addressed Planning Commission today about the project. He said he didn't invite the developer to speak to the commission about the project due to the commission's busy agenda today.
The project was on planning commission's agenda because several adjacent vacant City Land Bank parcels were proposed to be sold to SLSCO to accommodate the proposed addition. However, City Planner Kim Scott asked the commission to remove from consideration a parcel at the southeast corner of Hough and East 93rd Street because it was next to and of interest to an existing, neighboring business — Dixon's Market. The developer's purchase of the two remaining adjacent parcels was recommended and referred to City Council which may approve it Dec. 6.
"The project itself is to take an existing condemned building and redevelop it with 116 affordable housing units — 55 one-bedroom and 61 two-bedroom units," Wacker said. That's the same number of apartments the building originally had, according to county records.
"The project will have on-site parking, laundry facilities, fitness center and a community center," Wacker said. "The developer (SLSCO) is providing employment assistance, entrepreneurial assistance, health care, arts and culture opportunities, financial literacy and children's programming which is largely the reason why they need the additional land bank lots in order to create that community center."
SLSCO will create a nonprofit organization to own and operate the community center, as well as to receive $8 million in federal American Rescue Plan Act of 2021 (ARPA) funds. Those funds would be used to help build the community center. Wacker said he was not aware if those funds would be awarded as a loan or a grant. But he said the ARPA funding would be used to fill a remaining gap in SLSCO's capital stack for the overall project, including the apartment building.
"With affordable housing, there's always a gap," Wacker quipped.
The project is also due to receive HUD funding as well as 4-percent tax credits from the Ohio Housing Finance Agency. HUD reportedly has issued letters regarding its pledged financial commitment to the project, Wacker added. However the dollar amount of that award wasn't publicly available at this time.
In December 2019, there was a previous attempt at buying and redeveloping 9410 Hough, formerly known as the Kingsbury Apartments and, before that, the Coventry Courts. The seller was the CLE Venture Fund LP and was asking $2.3 million. The buyer was unknown. However that deal fell through.
The property is next to the market-rate, 163-unit Axis on Ansel apartments, 1750 Ansel Rd. That $35 million project by Signet Group of Akron opened in August 2020 in anticipation of the coming school year at Case Western Reserve University, Cleveland Institute of Music and Cleveland Institute of Art. Yet the leasing wasn't slowed by those institutions' pandemic-induced remote-learning. Instead, the building leased out in just one year, reflecting the strength of the housing market in and near University Circle.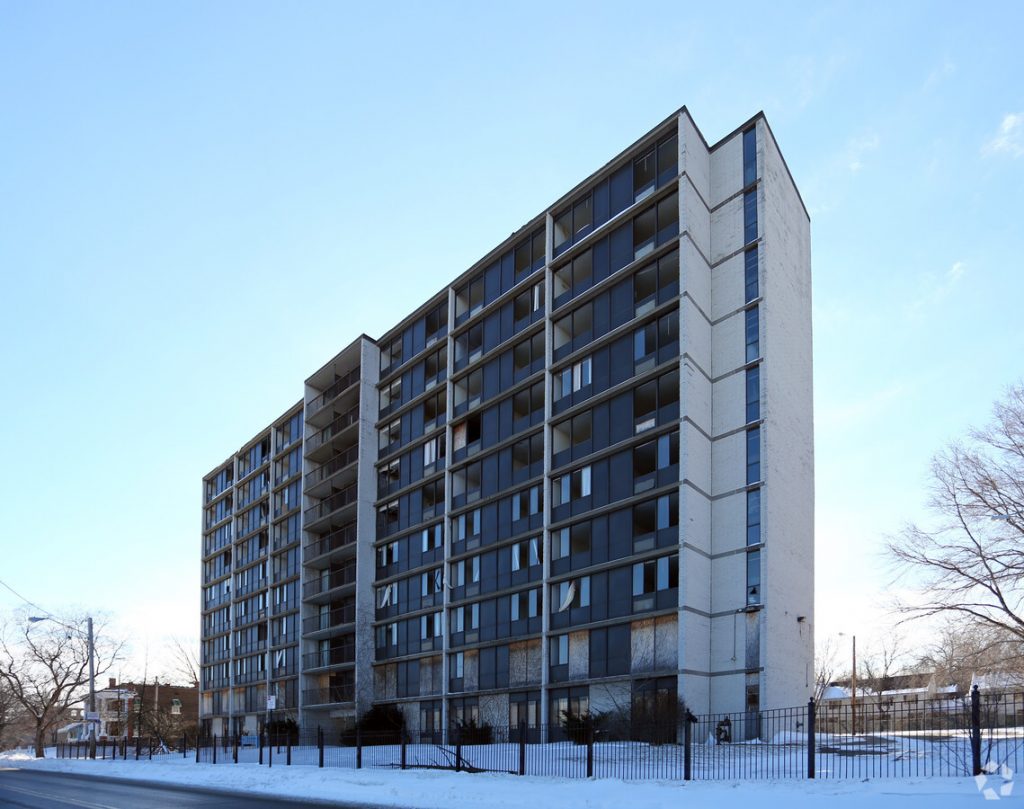 Looking cold and lonely two years ago, the condemned 10-story apartment tower at 9410 Hough Ave. increasingly has more neighbors like the Axis at Ansel that now stands in the background. More are coming with new developments being announced with increasing frequency (LoopNet).
That strength also is causing property values and rents to rise faster in University Circle than anywhere else in Greater Cleveland, with rent pressures spilling over into Hough. According to Rent.com, University Circle rents increased in 2019 over the prior year by 44.28 percent, resulting in an average rent for a one-bedroom apartment of $1,853. The spillover effect meant a 7.74 percent rent increase in Hough, resulting in an average rent for a one-bedroom apartment in this neighborhood of $1,415.
Affordable housing is seen by many as a means of Hough retaining its long-time residents who never left despite its long road to recovery from the race riots of 1966. The goal is to make sure residents don't get priced out of a neighborhood they worked hard to stabilize and caused drug-related and violent crimes to diminish.
"I'm so proud and honored to have seen the Hough neighborhood take giant strides forward with these projects, but other developments that have occurred during my tenure as council member," Ward 7 Councilman Basheer Jones said.
Among the other real estate developments occurring nearby included ARPI Development LLC's Park Lamont project featuring a 38-unit apartment building and two groups of townhouses totaling 39 units at Lamont Avenue and East 97th Street. This will be ARPI Development's second project in Hough. It is building The Lumos apartments at 1866 E. 93rd St. On the north side of Lamont Avenue, Orr Park is being expanded west of Ansel Avenue and the Citizens Leadership Academy, 9700 Lamont, was bought in October by an affiliate of the Friends of Breakthrough Schools of Cleveland.
In the vicinity of Hough and Crawford Road, still-crystalizing developments are emerging on two sides of the intersection. Murad and Gabi Hanna are planning housing on the north side of Hough with Kismet Investments LLC pursuing a mixed-use development on the south side. More details about those developments may emerge in the coming weeks.
END