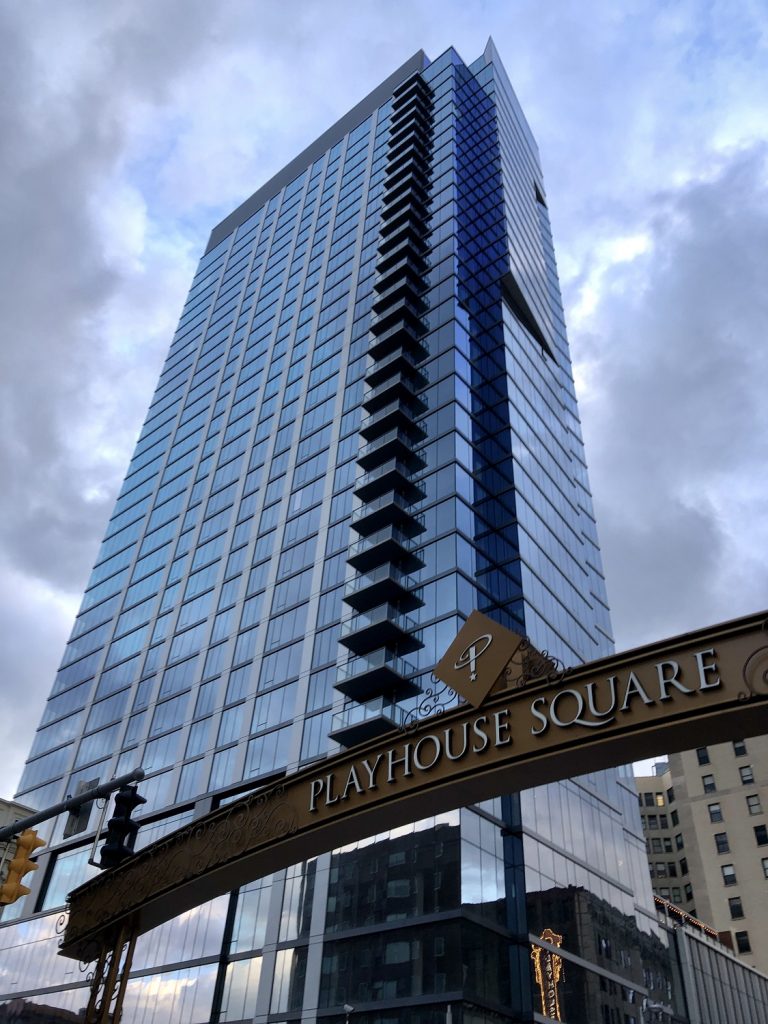 Soaring nearly 400 feet above Euclid Avenue in downtown Cleveland, The Lumen is the tallest residential building in Ohio. The 318 apartments leased out in less than two years despite the pandemic and civil unrest. Now stabilized, the building will reportedly be sold so that Playhouse Square Foundation can pursue an encore building (Ian Meadows/UrbanOhio). CLICK IMAGES TO ENLARGE THEM
Lumen fully leased, to be sold to avail resources for encore project
UPDATED JAN. 31, 2022
Talk about bad timing. Building tours for potential tenants of The Lumen — the largest new residential development in downtown Cleveland in 40 years — began in early March 2020. Less than two weeks later, the nation had gone into a virtual economic shutdown in response to the COVID-19 pandemic. Two and a half months after that, protests and riots following the murder of George Floyd swept the nation and downtown Cleveland was not spared.
It wasn't a great time for the Playhouse Square Foundation (PHSF), owner of The Lumen, to try and fill 318 luxury apartments having monthly rents of more than $2 per square foot. And some of the units at or near the top of the 34-story tower command nearly $3.50 per square foot. The building is at the southwest corner of Euclid Avenue and East 17th Street.
Understandably, leasing started out slowly. But as people learned how to adjust to life during a pandemic, leasing picked up speed throughout 2021. In normal, calmer times, a big, market-rate apartment building like The Lumen would typically take two years to lease-up, called a stabilization period. In robust economic times, that period might be cut in half. The Lumen stabilized in just over a year and a half. Nearly half of its tenants came from outside Greater Cleveland.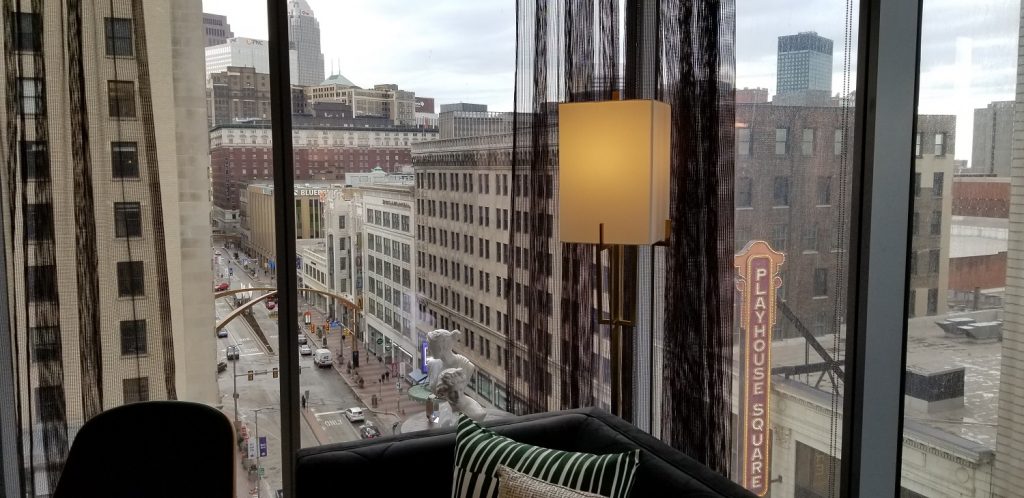 With less than two weeks to go before the nation was shut down in response to the pandemic, tours by potential tenants of The Lumen had just started while the building was still under construction. Through floor-to-ceiling windows, this view looks west along Euclid Avenue from one of the model units. (KJP).
PHSF officials were and are understandably impressed. So were the folks at Greystar Real Estate Partners, a large, national real estate firm based in South Carolina that develops and manages multifamily properties. Greystar manages The Lumen which was developed by Hines of Houston. Greystar was so impressed with The Lumen's lease-up that, according to sources close to PHSF, they went looking for sites downtown to develop their own high-rise residential building. But they may not have to look far.
Before the pandemic, PHSF sources said they would pursue a second large apartment building if leasing at The Lumen met or exceeded expectations. Now, those sources are saying that PHSF will sell The Lumen to free up finances at the nonprofit organization to pursue that second building.
"With The Lumen now 90 percent leased, we have engaged a brokerage firm to explore a valuation of the building," said Cindi Szymanski, director of brand marketing and communications at PHSF. "Depending on that valuation, we may decide to pursue long-term financing, sell or do nothing."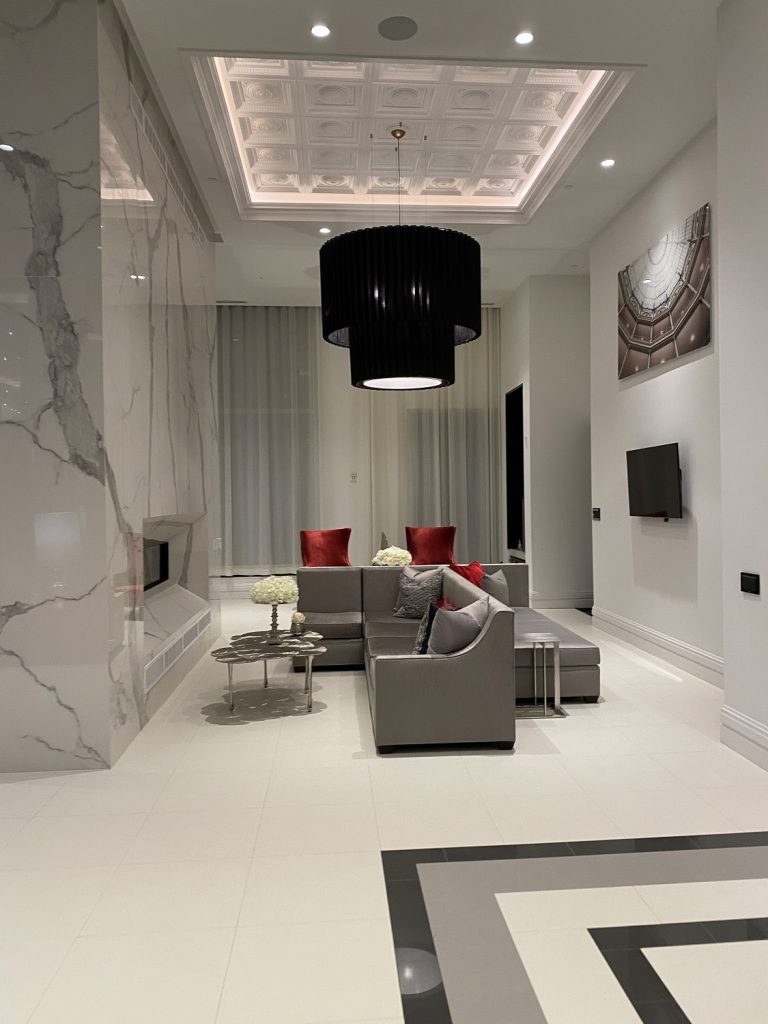 The finishes in The Lumen are top-notch, including those in the fifth-floor amenity level shown here. The architects were Solomon Cordwell Buenz of Chicago and Vocon of Cleveland. Some buildings are called luxury multifamily properties but they don't really deserve the tag. The Lumen clearly does (Ruken/UrbanOhio).
She said the foundation has not made any other decisions about the future of The Lumen or an encore development to The Lumen. NEOtrans sources acknowledge that, but also are aware of what conversations are being had at PHSF regarding The Lumen and a desire for a follow-on project.
Because PHSF is tax-exempt and doesn't seek a financial return on its investments, it was able to build The Lumen for less money per square foot than other recent or pending high-rise apartment towers in Cleveland. And it will be able to sell The Lumen for less money than another for-profit developer, such as Greystar, could build a comparable tower.
But it should be noted that there is no tower within 140 miles of Cleveland that can compare to the 396-foot-tall Lumen. It is not only the tallest residential building in Cleveland, it's the tallest in Ohio. The closest residential tower that's taller is the 410-foot-tall, 30-story The Residences at the Alcoa Building in Pittsburgh that was converted from offices. Another one nearby is the 475-foot-tall, 96-year-old Book Tower in Detroit but is a mixed-use building. And there's the 43-story, 417-foot-tall Landmark Place apartments in Hamilton, ONT built as apartments 48 years ago. None are as new, were built as apartments or offer the contemporary luxury as The Lumen.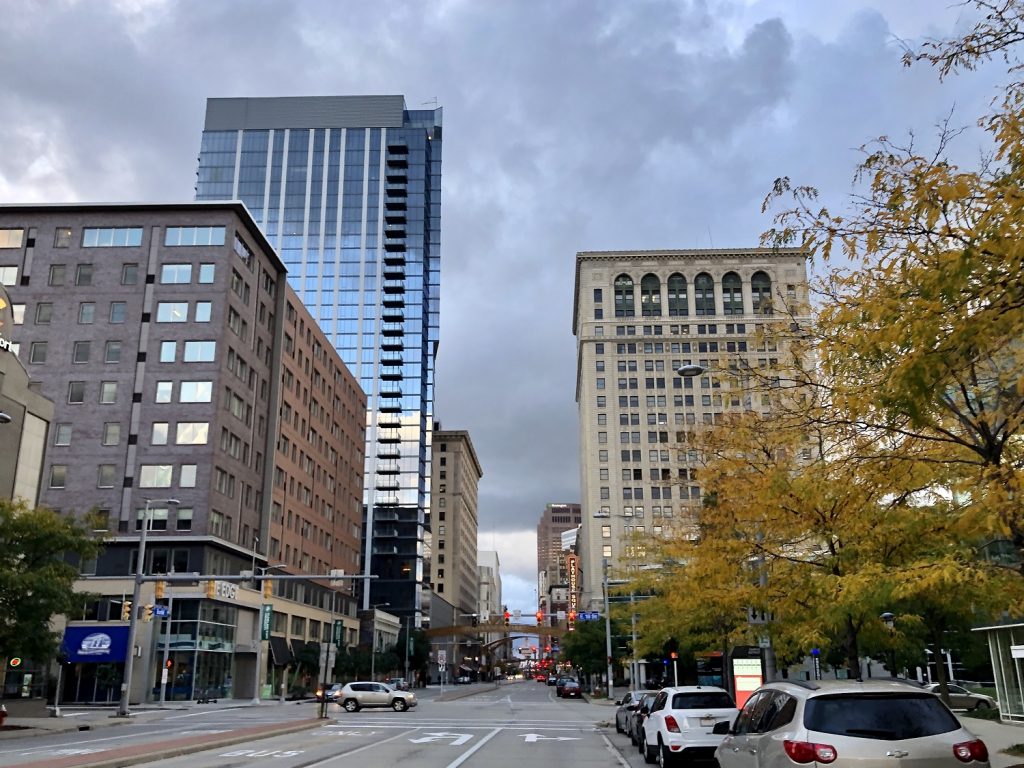 Looking west along Euclid Avenue, from Cleveland State University's campus into Playhouse Square, The Lumen dominates the skyline from this vantage point on the east side of downtown Cleveland. Leasing success with The Lumen is prompting the Playhouse Square Foundation to pursue a follow-on residential project (Ian Meadows/UrbanOhio).
The Lumen was built for $138 million and sources are saying that PHSF will sell it on the market through their broker CBRE. The project received significant public sector support including $50 million in tax-free bonds from the Port of Cleveland, a $4 million grant from the State of Ohio's Capital Budget, a $10 million loan from Cuyahoga County, 30-year tax increment financing and a $1 million loan from the City of Cleveland. PHSF also received millions of dollars in donations for recent capital campaigns to limit increases in its debt burden.
Even so, it has taken significant debt to build The Lumen. Once its debt-to-equity ratio is improved by selling The Lumen, a second building can be afforded to achieve one of PHSF's goals — to create a more vibrant theater district. And the best way to do that is to put more people and their wallets in the district around the clock.
While PHSF's bread-n-butter are its visitors from elsewhere downtown, the city, metro area and beyond, having more people living there creates a more sustainable dynamic. The Lumen brought roughly 450 people to live, play and some work in the district 24/7 even when it's not showtime, regardless of a pandemic or civil unrest.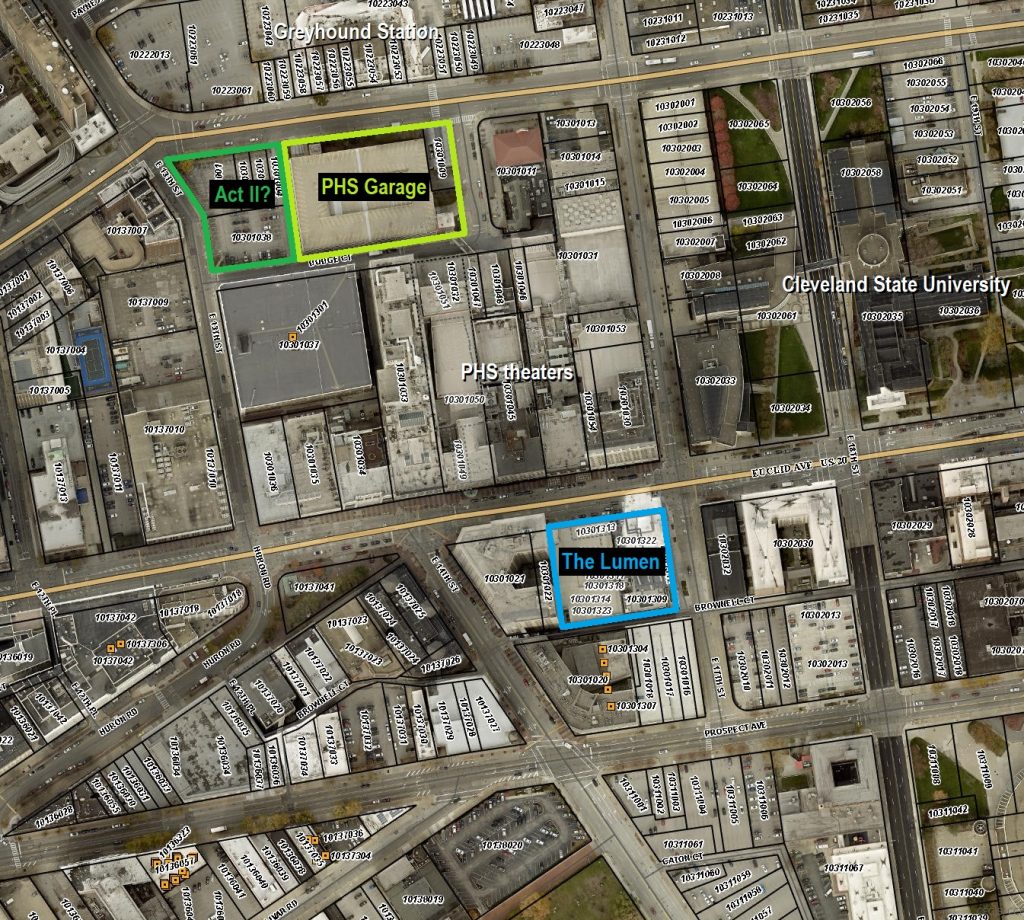 The Lumen's location on Euclid Avenue is outlined in blue with a potential site for an encore project dubbed Act II shown in dark-green in the upper-left. That site is at the southeast corner of Chester Avenue and East 13th Street. Next to it in light-green is the Playhouse Square garage at 1450 Chester. It is connected to the Playhouse Square theaters and several adjoining restaurants and shops (MyPlaceCuyahoga/KJP).
So adding more residents is in PHSF's interest. But where?
Before the pandemic, a 0.9-acre site at the southeast corner of Chester Avenue and East 13th Street was in PHSF's crosshairs for a new building that some have dubbed Act II, according to two sources. In 2016, the foundation strategically acquired the 114-space parking lot for future development. PHSF did that as it was wrapping up the financing package for The Lumen which was also built on a parking lot.
A reason why PHSF reportedly likes this site is because it's next to a 750-space parking deck the foundation already owns. And while it still needs that parking garage, PHSF doesn't need as many parking spaces as it did before it built The Lumen. The reason is that PHSF overbuilt The Lumen's parking garage with 550 spaces, perhaps 200 more spaces than were needed for the apartment tower's residents. It did so in order to put more feet on Euclid Avenue.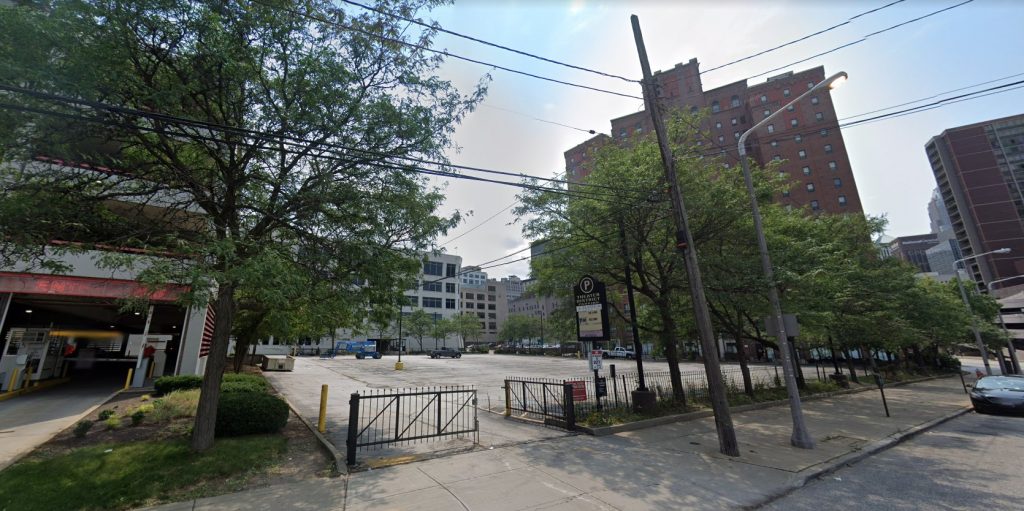 In 2016, the Playhouse Square Foundation acquired this 0.9-acre parking lot at Chester Avenue and East 13th Street for future development. Whatever is built here — including an encore to The Lumen — could avail itself of hundreds of parking spaces in the garage at left, also owned by the foundation. This view is from Chester (Google).
One of the downsides of the PHSF parking garage set on Chester and behind the theaters is that visitors walk through an enclosed walkway into a passageway that takes them into several theaters, restaurants and shops without ever having to step outside. From Euclid, it looks like the theater district isn't very lively even though there are thousands of people inside dining, shopping and watching shows. So, with The Lumen parking deck, about 200 cars full of people are now walking out on to Euclid in the theater district in addition to hundreds of Lumen residents.
No additional parking may be needed for a residential building at Chester and East 13th, especially if the development is kept to 200 apartments or less. If more are desired, then a small garage on the lower floors of the building or behind it would probably be needed.
A building with floorplates shaped like an upside-down L would be positioned to maximize views of the downtown skyline and Lake Erie while opening up a public space at the street corner. Such a design might offer floorplates of about 20,000 square feet. At 200 apartments, that's roughly a 20-story building. At 300 apartments, it could be a 30-story building. The land here is zoned for general retail and a height district of 6, meaning a mixed-use building as tall as 600 feet can be built without a variance.
Two potential downsides of developing this site is that it could create the same problem that the Chester parking garage creates for the theater district — that residents of a building at Chester and East 13th may not step outside onto city streets as much. They could walk through the parking garage and the passageway into the theaters or use the restaurants. But the counter argument is that a downtown resident is more likely to wander beyond that passageway and out in to the city more often than occasional visitors might.
Another downside is that Chester isn't Euclid Avenue. Across the street from the development site is a sea of parking lots and the Greyhound station. But all of those properties would be under greater pressure to be developed if the Chester-East 13th site is developed.
In the early 2010s, the city began to solicit bids for its parking lot on the northeast corner of Chester and East 13th. It might do so again. Private parking lot owner Shaia Parking Inc. is reportedly soliciting offers to develop its lots near the Greyhound station. And Greyhound has been seriously wounded by the pandemic. The company was sold to FirstGroup Plc last fall and its real estate arm is selling off bus stations nationwide. Cleveland has recently considered uniting Greyhound, Amtrak and regional transit in a lakefront multimodal terminal. Those efforts have been renewed.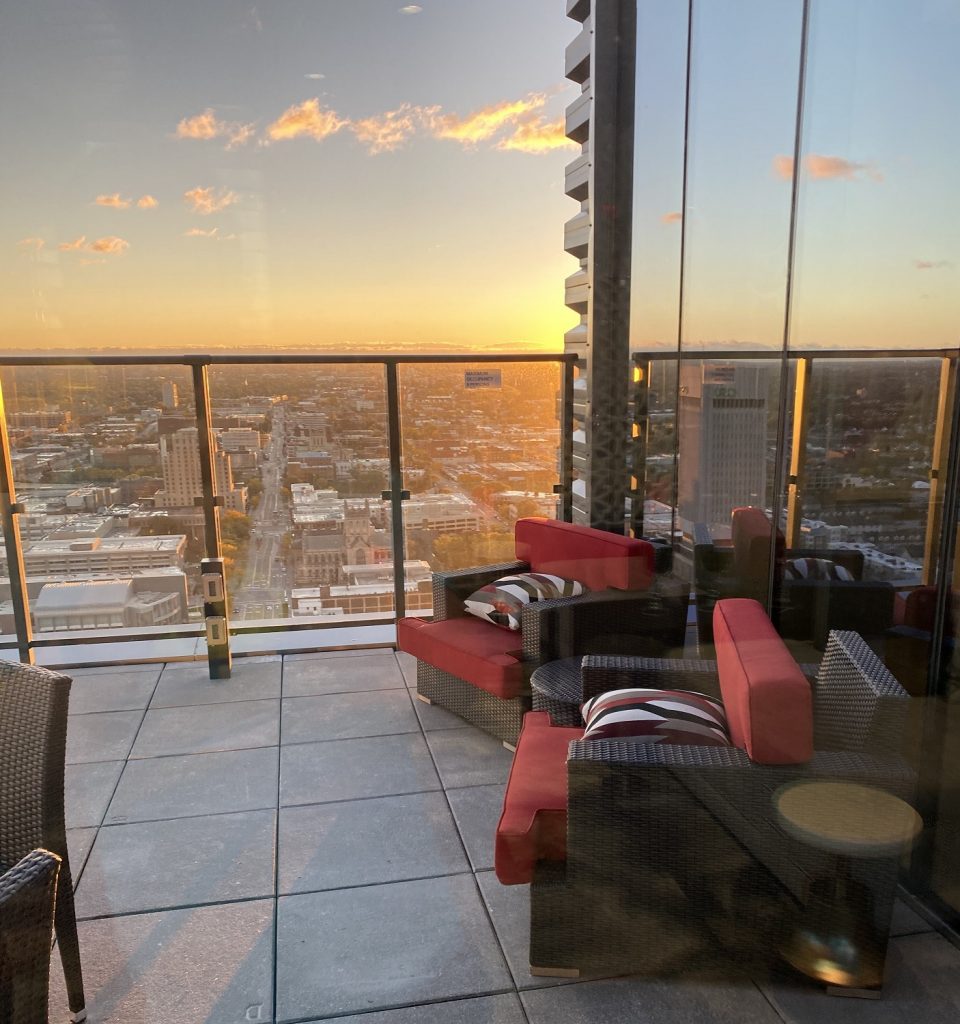 The top of The Lumen offers spectacular views, such as this morning scene looking east. The 22-story Fenn Tower looks tiny from this perch, as does the reflected 363-foot Rhodes Tower at Cleveland State University. Will an encore to The Lumen be shorter, as tall or even taller than The Lumen? We may soon find out (Ruken/UrbanOhio).
While a residential building at Chester-East 13th would be at the edge of the theater district, next to acres of parking lots, it may not stay that way for long. The site is also a short walk to Perk Plaza, Star Plaza, the Simply Food grocer in Reserve Square, two convenience stores, Suzy's Soup & Deli, Masthead Brewing and is the same walking distance to the Heinen's grocery store as The Lumen.
There may be other locations that could be in play. On-and-off rumors are that the Union Club has tried to develop its parking lot at 1235 Euclid Ave. Another one of Shaia's parking lots is at the northeast corner of East 17th Street and Prospect Avenue and a prime development site. His competition, The Frangos Group, owns a huge swath of parking lots south of Prospect along East 14th Street and has been trying to develop them in partnership with Mike Maloof of New World Properties.
But none of the alternatives appear to be as attractive to PHSF as their own property at East 13th and Chester. So, as is often said here at NEOtrans, keep an eye on that space.
END