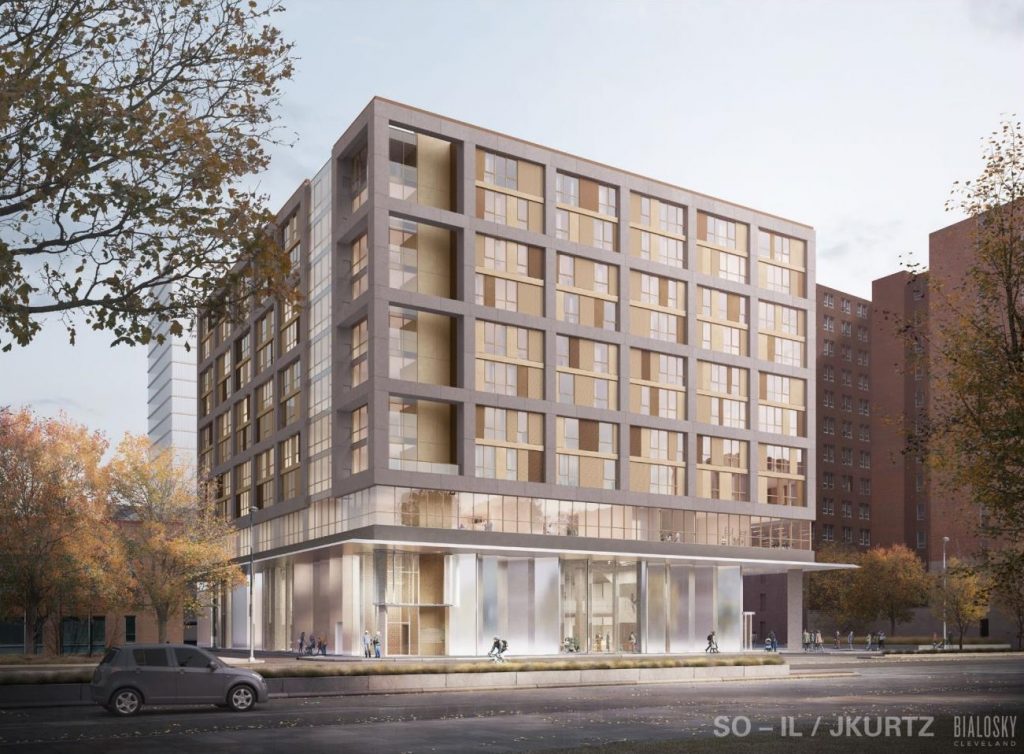 Builders of the Library Lofts apartment building and new MLK Branch Library hoped to start construction last summer of this 11-story building on Euclid Avenue in University Circle. Rising construction costs delayed the project until now, thanks to a revised agreement pending between the project's partners (JKURTZ/Bialosky). CLICK IMAGES TO ENLARGE THEM
Revised deal gives UC project new life
ARTICLE UPDATED FEB. 19, 2022
Partners involved in the planned 11-story Library Lofts building in Cleveland's University Circle neighborhood are finalizing a revised agreement that will allow the project to break ground as early as next month.
The project features 207 market-rate apartments above a new, two-story Martin Luther King Jr. (MLK) Branch Library at 10555 Euclid Ave. It was hoped last summer that a groundbreaking could be held soon. But rising costs of materials and labor shortages pushed up the project's cost and pushed back the start date.
Principals involved in a 2016 development agreement primarily between Cleveland Public Library (CPL) and Cleveland-based Midwest Development Partners (MDP) said they expect an amendment to that deal to be finalized next week. Central to that amendment is an increased financial contribution from the library system to cover the higher-than-expected construction costs.
The library system's preliminary budget for the MLK Branch Library was approximately $15.3 million. That amount is being increased to $19.9 million, said CPL Chief Operating Officer John Lang.
"From the CPL perspective, it's been a challenge to manage costs in the current construction market," Lang said in an e-mail interview with NEOtrans. "But we are very pleased with our partnerships with JKURTZ Architecture and Panzica Construction throughout the design and value management process. We are excited to finalize our agreement with MDP and to start construction next month on a world-class library which will be CPL's regional anchor branch for Cleveland's East Side."
"All of the costs have been negotiated by both parties to the satisfaction of each," said MDP Principal Steve Rubin who confirmed the hoped-for March groundbreaking.
"The amendment to our agreement is based on the facts on the ground," Rubin added. "That includes the design, materials, schedule issues and a lot more. It's a significant document. We're happy to be finalizing it right now."
When pressed for information about a more specific groundbreaking date, Rubin simply said "The sooner the better." MDP has already hired Mr. Excavator Inc. of Kirtland to install storm, sanitary and waterline infrastructure for Library Lofts. Permit applications were submitted Feb. 17 for the $300,000 job, according to city records.
CPL is under a time constraint to spend funds from a 2017 voter-approved 10-year, $100 million-plus bond issue to replace or rebuild all 27 neighborhood branches, followed by a $65 million renovation of the Main Library downtown.
The new MLK Branch Library is part of a $39.3 million Phase 1A of the Cleveland Public Library's master plan. The library system is required by the IRS to spend all of the bond issue's proceeds within a five-year period, with 85 percent spent in the first three years. However, a three- to five-year extension could be granted.
CPL originally budgeted $10.1 million from the bond issue for the MLK Branch Library. Plus it would receive $5.2 million from the sale of the existing, 1970-built MLK Branch, 1962 Stokes Blvd., to MDP and from MDP's use of air rights over the new library.
The old MLK Branch will be demolished for future phases of the Circle Square development. The roughly $60 million Library Lofts building will be the second of as many as six towers to rise in the $300+ million Circle Square area, bounded by Euclid, East 105th Street, Chester Avenue and MLK Drive. Chicago-based White Oak Realty Partners' 24-story Artisan apartment tower started construction last April.
Lang said CPL and MDP are sharing costs for specific aspects of the joint-use building. For example, MDP is installing the foundation and elevator while CPL is building out the loading dock, and so on.
"As we assessed community needs and worked through the design process, we realized that additional budget (authority) was required to make the new library what it needs to be, and like everyone, we've experienced market escalation over the past year," Lang said.
A construction agreement with Library Lofts' general contractor Panzica Construction is also being finalized in addition to the amendment to the development agreement, he explained.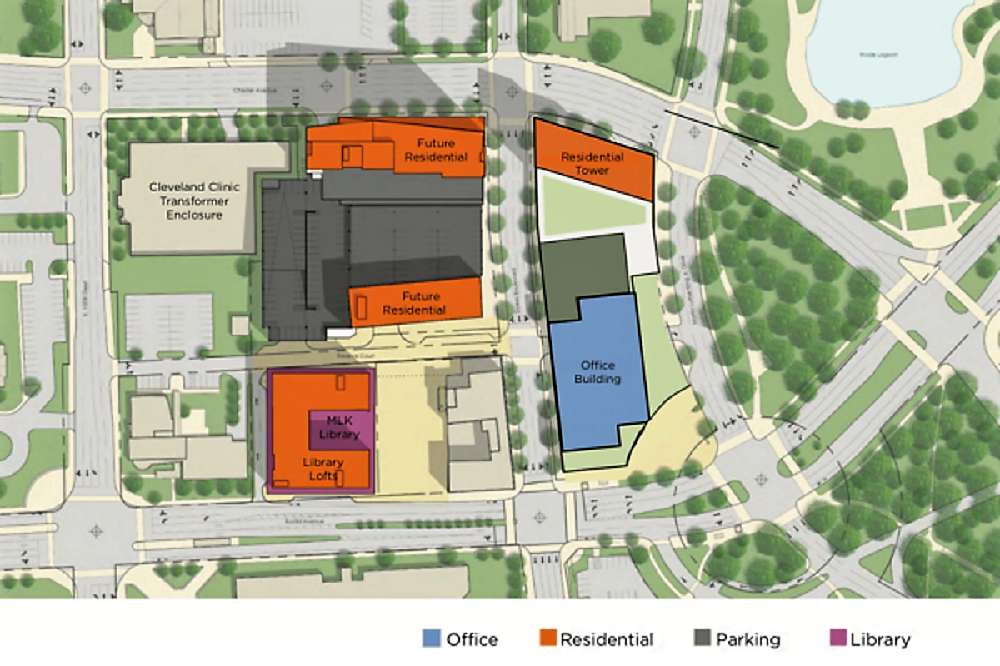 General site plan for the Circle Square development. Library Lofts including the MLK Branch Library is at the lower-left corner of the site on Euclid Avenue. The 24-story Artisan apartments, now under construction, is at the top-left part of the site along Chester Avenue. East 105th Street is along the left side of the image (MDP).
"So at this point our costs are firm and we are ready to roll," Lang said.
"We're at the 2-yard line," Rubin added. "We're very excited and I think it will be a beautiful building."
Final plans for Library Lofts were approved by the City Planning Commission in May, 2021. To make way for site preparation, Chicago-based Power Construction, which is building The Artisan tower, put 50 temporary library parking spaces on the east side of Stokes and added traffic control measures. Fencing and signage around the site will appear shortly before Library Lofts' groundbreaking.
MDP is also awaiting delayed word from the Ohio Department of Development on its application for a $19 million Transformational Mixed Use Development tax credit. However, that is not impacting the timetable of Library Lofts. But it could impact the timeable of a public parking garage proposed to be built behind it.
Future phases of Circle Square may include a residential tower possibly taller than Artisan, threatening its impending grab of the height crown among University Circle's buildings from the 2018-built, 20-story One University Circle apartments. Also planned for Circle Square is a second parking garage plus an office building approximately 13-15 stories high.
Other construction cranes in and near University Circle are likely to appear for new projects soon. The largest of these projects will be the Cleveland Clinic's biggest-ever building — a planned 1.1-million-square-foot Neurological Building in the 8900 block of Carnegie Avenue. These investments are boosting the number of jobs in the area and the demand for more housing.
END