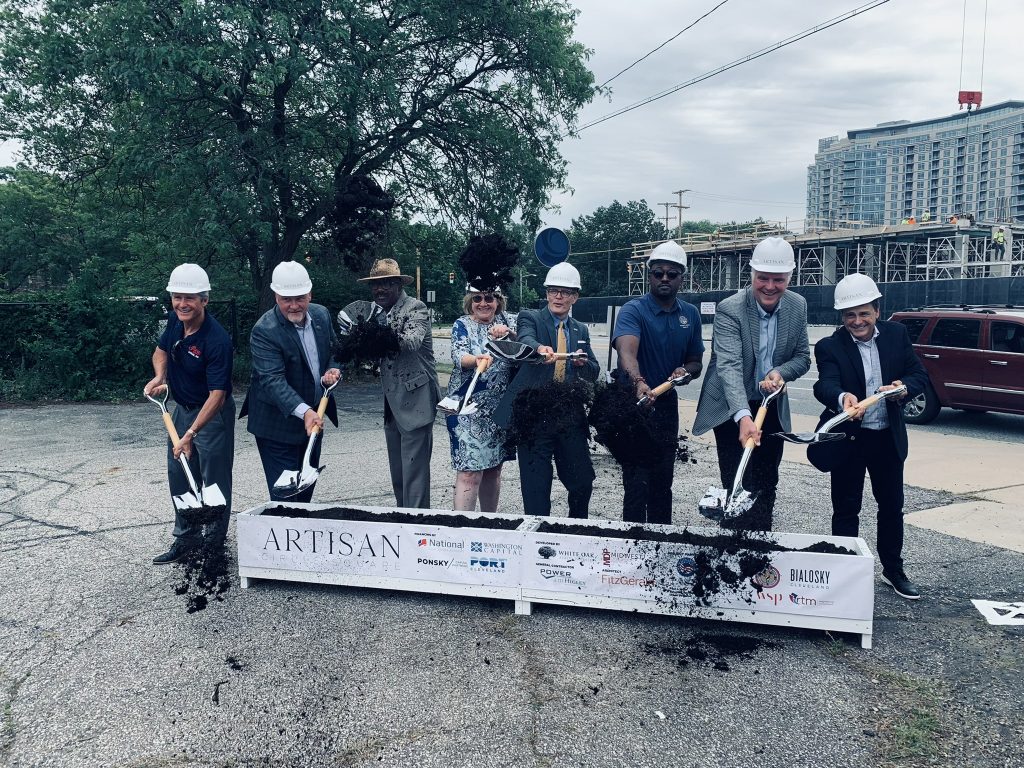 Although site work on the first new tower at Circle Square in University Circle began three months ago, a formal groundbreaking ceremony was held July 29 for the 24-story Artisan apartment building. Site preparation work is due to start next week for the next tower at Circle Square – the 11-story Library Lofts offering apartments over a new library (Chris Ronayne).
CLICK IMAGES TO ENLARGE THEM
Here comes another major construction project that will produce a tower crane in the sky over Cleveland, and over University Circle in particular. And we're just getting warmed up, Cleveland.
Site preparation work is scheduled to start on or about Aug. 2 for Library Lofts — the next phase of the massive Circle Square development. A tower crane for this project will likely arrive on the site well before Thanksgiving. And with all of the construction happening in Cleveland, there will be a lot for which to be thankful.
Chris Ronayne, president of the neighborhood development corporation University Circle Inc., confirmed to NEOtrans about the start of construction work for Library Lofts, 10541 Euclid Ave.
Cleveland-based Midwest Development Partners' roughly $55 million, 11-story building will feature 207 market-rate apartments above a new, two-story Martin Luther King Jr. (MLK) Branch of the Cleveland Public Library (CPL) — hence the name Library Lofts.
It will be the second of as many as six towers to rise in the $300+ million Circle Square development, bounded by Euclid, East 105th Street, Chester Avenue and MLK Drive.
It is near the location of where a dense, vibrant neighborhood called Doan's Corners stood. It was Cleveland's second downtown. But its theaters, shops and residential hotels declined starting in the 1950s and, except for the 13-story Fenway Manor, was completely demolished by 1990.
Work began in early April for the Artisan, 10600 Chester, a 24-story, 267-foot-tall residential-over-retail tower that will be the tallest building in University Circle. Artisan will have 298 market-rate apartments and 287 parking spaces over 14,005 square feet of ground-floor retail. It will overtake One University Circle which held the title as University Circle's tallest since 2018.
"University Circle was Cleveland's second downtown a century ago. And it is again thanks to investments like Circle Square," said Ronayne, who announced nearly a month ago he is running for the office of Cuyahoga County Executive.
The MLK Branch Library will remain open during construction. Once the new library is opened, the existing one, built in 1970, will be demolished for a future phase in the Circle Square development. Plans show a residential tower or possibly a hotel could rise on the old library site.
After the city approved Library Lofts' final design May 21, general contractor Panzica Construction set up a construction timetable for the project. That schedule shows, starting about Aug. 2, Chicago-based Power Construction will build 50 temporary library parking spaces on the east side of Stokes Boulevard and add traffic control measures. Fencing and signage around the site will follow a week or so later.
Site preparations and foundation work for the two-story concrete podium containing the new library will begin on or about Aug. 17. Construction of a 488-space public parking garage, between Library Lofts and Artisan, is due to start in March 2022 with garage work taking about nine months. Artisan and Library Lofts are expected to be completed in spring 2023.
Power Construction is the general contractor for Chicago-based White Oak Realty Partners which is building Artisan next door. These first two Circle Square towers, plus the new public parking garage, are being coordinated between multiple project partners.
"In partnership with CPL, Midwest (Development Partners), White Oak Realty, (architect) Bialosky and the Cleveland Building & Construction Trades Council, we'll have a library-centered neighborhood of more than a thousand new units in a buzzing, pedestrian friendly and transit-connected urban center," Ronayne added. "The future of the city is here."
It certainly is where most of Cleveland's major-new construction work is happening and will likely continue for some time. In addition to the Artisan and Library Lofts, four other major projects are due to start in University Circle in the coming months — all of which may warrant a construction crane.
Those four are also all associated with the Cleveland Clinic Foundation (CCF). Three of them are directly led by the CCF — a 400,000-plus-square-foot new Neurological Institute, a 100,000-square-foot expansion of the Cole Eye Institute and a 400,000-square-foot new Global Center for Pathogen Research & Human Health.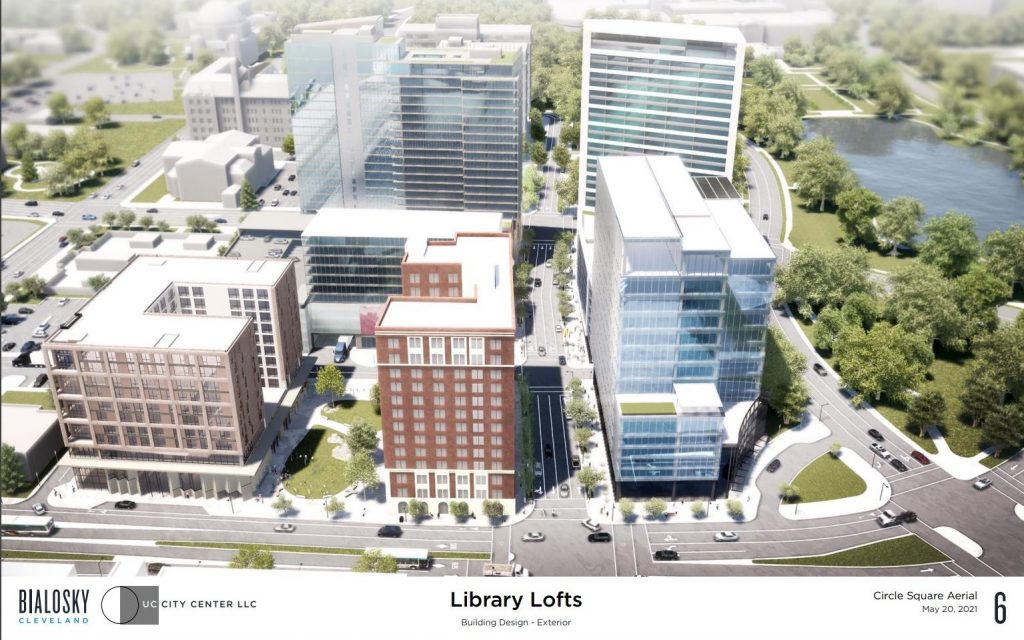 At the front-center is the historic Fenway Manor apartments. To the left of it is Library Lofts. In any other era, that would be one of the largest towers to rise in University Circle. Not this era. In the rear-center, the 24-story Artisan is already under construction. It may be eclipsed in height by another apartment tower to the right-rear and a new office building at front-right (Bialosky).
For the fourth project, the Clinic is working with a private developer, Fairmount Properties, to jointly develop hundreds of thousands of square feet of mixed uses in phases, just south of Cedar Avenue and west of East 105th.
A decade ago, Fairmount joined with the Wolstein Group to develop Flats East Bank downtown. It then joined with DiGeronimo Companies to build Pinecrest in Orange Village which opened in 2018.
In the first phase of its partnership with CCF, Fairmount envisions 300 micro-unit apartments, several dozen townhomes and a 40,000-square-foot Meijer grocery store rising 5-10 stories above the southwest corner of East 105th and Cedar. A second phase of roughly equal size could follow immediately west of it. Sources said financing for the project is still coming together.
Knez Homes, which is building hundreds of new housing units around University Circle, said the number of new jobs coming to that area over the next decade could create a demand for up to 10,000 new housing units.
Future phases of Circle Square may include a residential tower possibly taller than Artisan, making its altitudinal reign over University Circle possibly as brief as One University Circle's. Also planned is a second new parking garage plus an office building approximately 13-15 stories high that could also approach 300 feet in height.
END