Ten Northeast Ohio awards among 38 statewide
Several Greater Cleveland redevelopment projects in the works for years got a big boost today when they were among the 38 projects awarded nearly $40 million in historic tax credits by the Ohio Department of Development. The awards were part of the Ohio Historic Preservation Tax Credit Program that is administered in partnership with the Ohio History Connection's State Historic Preservation Office.
"Once restored, these sites are often crown jewels for communities," said Lydia Mihalik, director of Development. "We are proud to be part of the transformation and preservation of these unique spaces that will remain in our communities for years to come."
The largest historic tax credit that any one project could win was $5 million and there were four of those max awards statewide. One of those was the Homestead Theatre Block, part of the Studio West 117 campus on both the Lakewood and Cleveland sides of West 117th Street. But the theater complex itself, 11794-11816 Detroit Ave., is on the Lakewood side.
Known most recently as the Phantasy Theater entertainment venue, the Homestead was built in 1917 as a silent movie house. It continued to operate as a movie theater until 1979. Shortly after, it was redeveloped into a live music club for new-wave, alternative and industrial musicians. The theater's next act will be as a hub of entrepreneurship, arts, culture, health and human services for Greater Cleveland's LGBTQ+ community.
The state's award summary notes that the theater's blocked-in storefronts will be reopened, building systems will be upgraded, a new roof installed, as well as repair to historic finishes. When completed, this project will house a variety of restaurant and entertainment venues, offices, service providers, studio spaces and spaces for sports. An adjacent non-historic building will also be rehabilitated as part of the project.
Location and identities of the principal properties acquired for the Studio West 117th development that's centered around the Phantasy Theater (originally the Homestead Theatre). Detroit Avenue is the yellow line that runs generally left-to-right (west to east) in this view. West 117th Street is the yellow line running top-to-bottom (north to south) across the image (Google).
The development team led by Gaslamp Capital LLC of Cleveland is near to completing the renovation of the former Mack Products structures, located just north of the Phantasy Theater on Hird Avenue. Three connected structures totaling 29,298 square feet will become The Fieldhouse and host a gym, South American steak restaurant, Stone oven pizza kitchen and rooftop tapas bar. This first construction project in the Studio West 117 campus is expected to open as early as next month.
Total project costs to be supported by the tax credit award is $93,399,267, according to a release from the Ohio Department of Development. However, additional development properties on the Cleveland side that are part of the Studio West campus could bring the total to $125 million, said Cleveland City Councilwoman Jenny Spencer. Today's State Historic Tax Credit (SHTC) award follows a $4 million Brownfield grant given to the Studio West project by the Ohio Department of Development in April. The grant will fund the cleanup of the former National Tire & Battery (NTB) repair shop across Detroit Avenue from the Homestead/Phantasy theater. The NTB structures will be demolished.
"Between this SHTC award and the Brownfield award, we will be able to begin the predevelopment work needed to prepare the Phantasy and NTB properties for development — so therefore, 'groundbreaking' should be within the next few months," said Daniel Budish, president of Gaslamp Capital.
The SHTC and Brownfield awards approximate a request last year by Gaslamp for $8,687,615.20 in Transformational Mixed Use Development (TMUD) tax credits from the state to help fill gaps in financing for Studio West. But due to rising costs of development, Gaslamp will make another try for a TMUD credit this year. The deadline for submitting TMUD applications for this year's round is July 8. A primary beneficiary of the TMUD is a seven-story, 212-unit apartment building over a parking garage proposed to be built on the NTB property. A health clinic was also considered but didn't work out.
In addition to the redevelopment of the Phantasy Theater (at center-right) on Detroit Avenue in Lakewood into Studio West 117, its developers would like to construct a large apartment building on the site of the closed National Tire & Battery service center seen at left in this August 2019 view. A few months after this photo was taken, the NTB shop closed and was put up for sale (Google).
"We are still pursuing a TMUD award for the project to ensure that the project can contend with rising construction costs and interest rates and ensure that the spaces can remain affordable to our LGBTQ+ entrepreneurs and small businesses," Budish added. "We still have a long way to go on planning and design for the new construction NTB property, including formulating the designs, taking the designs to the community and city of Lakewood approvals."
Another Lakewood redevelopment project also won historic tax credits today — renovation and conversion of a portion of the former Lakewood Board of Education complex into mixed-use. Planned for several years by Liberty Development Co. of Westlake, the $2,271,000 project won $225,000 in tax credits to repurpose the East Rockport School, 1456 Warren Rd., with an undisclosed office tenant on the first floor and three apartments on the second floor. Just south of it, the larger building in the school board complex at 1470 Warren is not part of this application, according to state officials.
The Lakewood Board of Education building was constructed over many years and in many phases starting with the East Rockport School in 1879 and was used as a school until the 1950s when it began its use as administration offices for the district. The district offices moved out in 2019 to a repurposed Taft Elementary School, 13701 Lake Ave., and the building has been vacant since then. This project, combined with the development of the former hospital site, will add new life to downtown Lakewood, city officials say.
Liberty Development acquired the school property in 2018 for $500,000 and, in March, got the county to split the lot in two. As part of the lot split, Liberty plans to remove the building connector between the two historic structures. No plans have been announced for the south building. Dru Smiley, vice president of development at Liberty, said he was traveling today and unavailable for comment. Smiley is a former planning and development director for the city of Lakewood. His eventual successor to that post at the city, Shawn Leininger, said Liberty hasn't submitted plans to the city for the project but was pleased to hear of the tax credit award.
"This is great news for moving this important project closer to construction," Leininger said.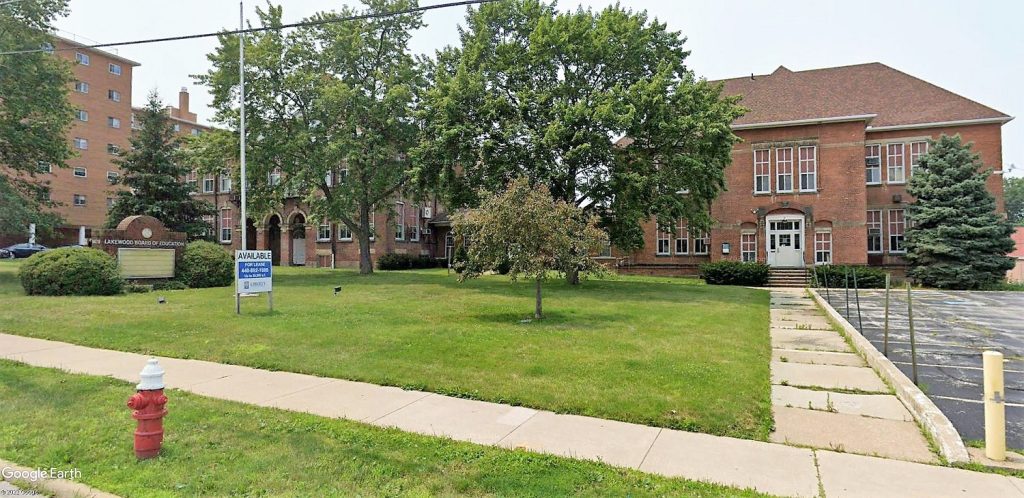 Joining in Lakewood's many pending real estate investments is the redevelopment of the East Rockport School, right, into offices topped by three apartments. It is part of the larger, former school board office complex that extended to the left behind the trees. Redevelopment of the portion at left will be for a second phase (Google).
Just south of Lakewood in Cleveland's Jefferson neighborhood, the redevelopment of another former school, Nathaniel Hawthorne Elementary, 3575 W. 130th St., was enabled by today's award of historic tax credits. State officials said the $24,564,179 project by Sustainable Community Associates won $2 million in credits to construct 36 apartments in the 105-year-old school while 57 additional units will be built elsewhere on the 2.5-acre property. This was one of 10 school properties the Cleveland Metropolitan School District disposed of last December.
The building was expanded in 1927 and in use as a public school until it vacated by the school district in 2012 due to its decaying condition. Extensive original historic features remain intact including flooring, floor plan, gym and auditorium, blackboards, cupboards and cloakrooms. While the developer hasn't finished assembling its project financing, called a "capital stack," this tax credit will help.
"We anticipate breaking ground end of the year or very early in 2023," said Josh Rosen, co-founder of Sustainable Community Associates. "We have not quite finished the capital stack but are very optimistic that we will be able to in the very near future. We see this project as a perfect example of what an investment in a Cleveland middle neighborhood could look like."
Yet another school property to be revived with the assistance of historic tax credits is St. Michael School, 3146 Scranton Rd., Cleveland. CHN Housing Partners of Cleveland plans to renovate the elaborate Victorian Gothic-styled building into 34 affordable senior apartments. Another dozen housing units are planned for the adjacent convent building on Prame Avenue. The $13,859,632 project was aided today by the award of $1,360,000 in tax credits.
St. Michael School served school children from 1906 until 2003. After that, the building was home to non-profit offices for several years until it went into foreclosure and became vacant in 2017. Suffering from water and mold damage, the building will be repaired and renovated. The Ohio Department of Development project summary said the auditorium/gym space will be retained, and the distinctive clay tile roof will be repaired.
NEOtrans broke the story about St. Michael's renovation into the Arch At St. Michaels apartments in July 2020. The architectural gem was near to reaching a point of irreversible decay and demolition but was saved by SoTre Properties' Managing Partner Eric Lutzo along with Kim F. Bixenstine and her husband Bart of Shaker Heights who convinced CHN Housing Partners to acquire the property and pursue its redevelopment.
In addition to apartments, the former school will have a community room, wellness center, on-site property management, service coordinator and dedicated maintenance and janitorial staff, said Laura Boustani, CHN's director of fundraising and strategic communications. Although CHN typically does new construction, it has two historic renovations on its resume. One is the Winton on Lorain, 9431 Lorain Ave. in Cleveland, completed in 2013. The other is the Westerly Apartments, 14300 Detroit Ave. in Lakewood, completed in 2019.
"This is great news for the neighborhood, which is seeing numerous economic development projects and improvements," said Ward 14 Councilwoman Jasmin Santana who represents the area. "St. Michael the Archangel Church is an historic site and reusing the school for affordable senior housing is a great addition."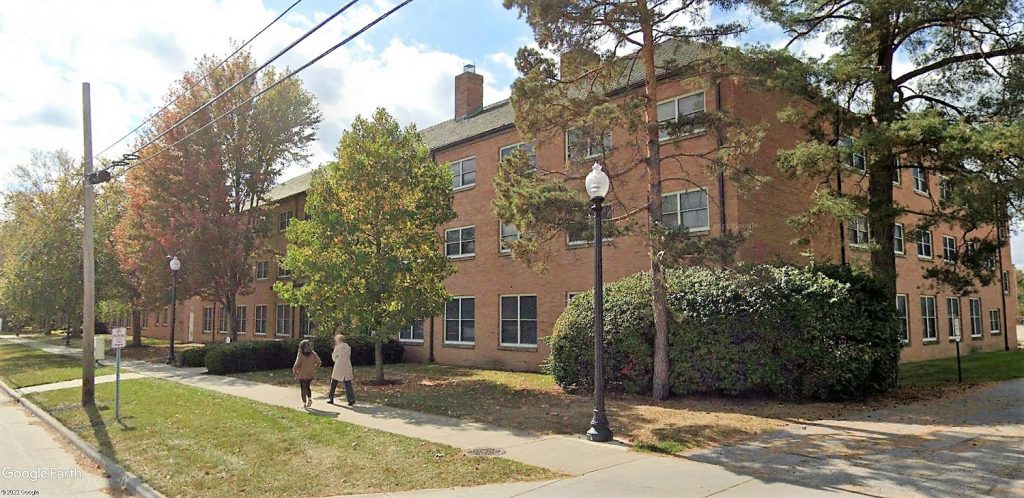 North Hall on Beech Street in Berea is vacant, but not for long. It will be rehabbed into 65 residential units for Baldwin-Wallace University students and support the institution's desire for a renewed campus living-learning community that ties together students with similar academic or special interests to support each other and enrich their academic experience (Google).
Six other Northeast Ohio developments awarded historic tax credits today were:
North Hall, 309 Beech St. in Berea, won $1,818,750 to help offset a total project cost of $18,400,026. North Hall is a residence hall on the campus of Baldwin Wallace University. Completed in 1958, the building helps to tell the story of increased college enrollment in the post-world War II era. The building, now vacant while it awaits rehabilitation, will house 65 residential units as well as common spaces. The university-led project will upgrade the building's systems, ADA accessibility, and turn a cluster of rooms in North Hall into a living-learning community for students studying STEM (Science, Technology, Engineering and Mathematics).
The Dixon Building, Robinson Building, 100 Washington, plus a new structure are part of a $36,420,749 redevelopment at the northwest corner of Broad Street and Washington Avenue in downtown Elyria. This development won $2 million, Elyria's first historic tax credit, and previously won a $3.4 million TMUD credit. The Dixon Building faces Ely Park, the center of downtown. In addition, the project also includes the adjacent Robinson building and a new apartment/commercial building that will be built in the next block. The Italianate-style building, constructed in 1873, will become home to a unique e-sports facility that will include arena space, offices, studios, and classrooms. In the new building, there will be 51 apartments over a first-floor wine bar.
A. Schrader's Son of Ohio Warehouse, 711 Johnston St., Akron, won $250,000 for the $2,621,717 project. It is the second half of an effort to rehabilitate the former Schrader Warehouse to a new use as a self-storage facility. The first half was funded in Round 26. Built in the 1920s, the warehouse originally served the company that played a role in Akron's tire industry and known for the Schrader Valve still used today in vehicle and bicycle tires. Original historic windows, hallmark of the daylight factory architectural style, will be repaired and retained and interior historic features such as concrete columns will be preserved.
First National Bank Building, 101 Central Plaza South, Canton, was awarded $1,120,250 to offset project costs of $5,713,300. Situated at a prominent corner in downtown Canton, the First National Bank Building was built in 1924. Designed by Frank L. Packard, the project focuses on the rehabilitation of select interior spaces including the historic banking hall. A few floors of the building still retain tenants and those floors were excluded from the scope of this project. After completion, the upper floors will be ready for new office tenants while the ground floor will be prepared for a restaurant tenant.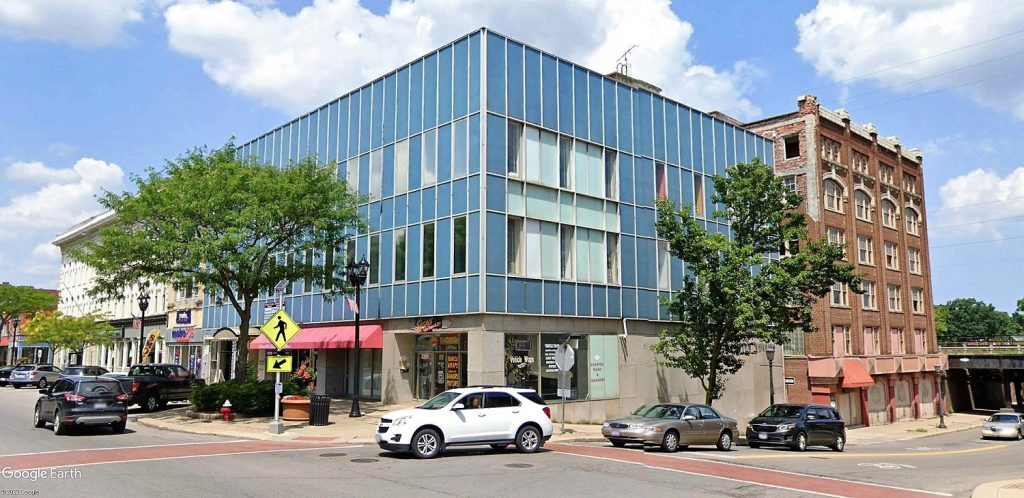 In downtown Elyria, the historic Robinson Building stands at the corner of Broad Street and Washington Avenue. It was built in 1878 but renovated with metal-cladding in 1950. To the left is the Dixon Building and 100 Washington (formerly Uncle Vic's) is at right. Local developer Kevin Flanigan is seeking to re-energize these properties (Google).
The Hoover West Factory Complex, 101 E. Maple St., North Canton, is a major project. It received the max tax credit of $5 million to aid the $89,190,068 redevelopment. The massive Hoover Factory Complex in North Canton includes the west portion, which is the scope of this award, and the east portion, a previously rehabilitated commercial development. Most of the project scope will encompass residential use with 226 one-, two-, and three-bedroom apartments. A small part of the scope will include commercial space. The complex is recognized for its iconic "HOOVER" sign on the tall smokestack.
Lastly, the Riddle Block, 200 W. Main St., Ravenna, is only the second project in this city to be awarded historic tax credits. It won $250,000 as part of the $1,586,808 redevelopment. The Riddle Block 9 is a four-story, mixed-use building on a prominent downtown corner. The building has commercial spaces on the first floor, offices on the second, and apartments on the third and fourth floors. Currently, only a few of these spaces are in use. After the rehab, there will be 20 apartments with two set aside for short-term rentals. Remaining historic storefront elements will be repaired and retained, as will pressed metal ceiling tiles in the retail spaces and an interior atrium will be repaired.
In total, the Ohio Department of Development awarded $39,874,792 in Ohio Historic Preservation Tax Credits for rehabilitation projects in 19 communities located in 16 counties. Developers are not issued the tax credit until project construction is complete and all program requirements are verified. Together, the projects are expected to leverage approximately $564 million in private investments. As the administering agency, the State Historic Preservation Office determines if a property qualifies as a historic building and that the rehabilitation plans comply with the United States Secretary of the Interior's Standards for Rehabilitation.
END